TRAXPayroll is an easy to use payroll application. Originally offered as an independent payroll services application, since BambooHR purchased it, you must have a current subscription to BambooHR in order to use TRAXPayroll.
---
Who is TRAXPayroll for?
TRAXPayroll is a good fit for small to mid-size businesses that are also interested in complete HR and employee management services. Those services, which are provided by BambooHR software, seamlessly integrate with TRAXPayroll to provide complete employee management capability.
---
TRAXPayroll's features
TRAXPayroll is designed for simplicity, using a three-step process which reads data from your current payroll data files.
TRAXPayroll includes both time card and time sheet entry options for your employees, which you can simply approve prior to running payroll. If you find changes need to be made after starting the payroll run, you can choose to reset the run, make the necessary changes and then continue with a new payroll run.
In addition, you can also upload employee hours from a spreadsheet application such as Microsoft Excel, although the process requires numerous steps, and can be tedious.
In addition to managing regular employee deductions, you can also upload one-time extra pay or one-time deductions to TRAXPayroll if necessary.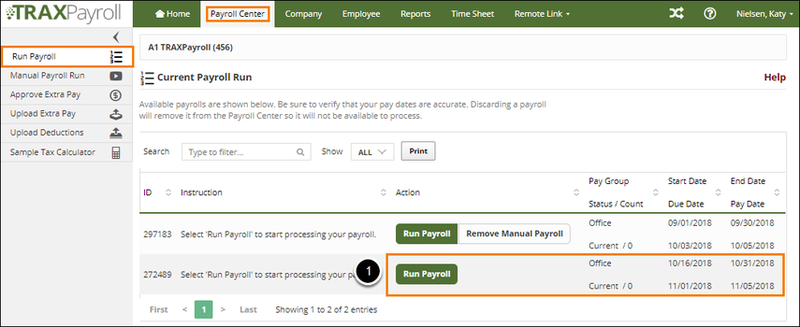 Once you begin a payroll run, the Process Hours option will appear on-screen, which provides details on the payroll run start and end dates, as well as the scheduled pay date.
A list of all current employees is also displayed on the screen, with their pay rate and any additional pay options such as overtime hours, PTO, sick or holiday hours, and a job category.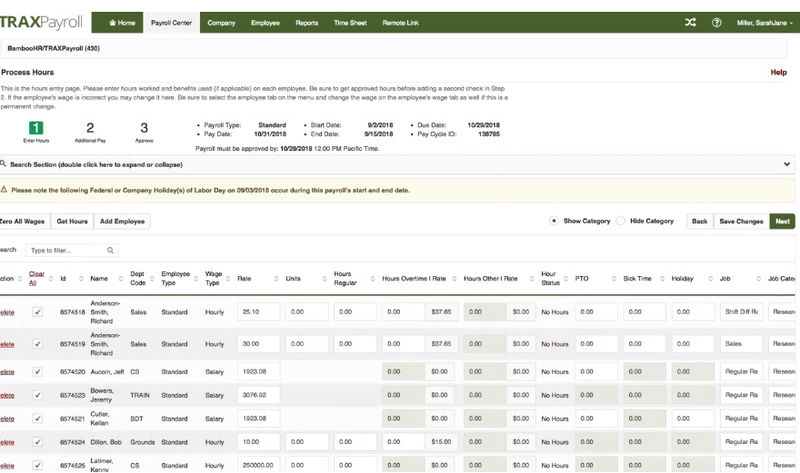 For those using the timesheet feature, you can click on the Get Hours tab to automatically import timesheet entries into the application. If you're doing an additional payroll run for commissions or bonuses you can zero out the current payroll totals for each employee and then enter the commission or bonus information.
In addition to easy payroll processing, TRAXPayroll also offers direct deposit capability, PTO tracking, and wage garnishment capability. You can also review wage reports to determine that imputed income is processed correctly.
TRAXPayroll works on both Windows and Mac platforms but does not currently offer a mobile app.
Here are some other features found in TRAXPayroll:
Integration with BambooHR
TRAXPayroll's integration with BambooHR is one of its most valuable features. Here are some of the tools and resources offered by BambooHR:
Benefit tracking
Document storage
Time-off management
Employee directory and organizational chart
Applicant tracking
Employee onboarding
Electronic signature capability
Training tracking
In addition, BambooHR also offers add-on Performance Management and Time Tracking modules.
Complete tax filing services
TRAXPayroll offers complete tax reporting and filing for your company, eliminating the need to calculate and remit taxable wages reports and payments manually.
During the initial setup process, you will be responsible for ensuring that all account numbers, tax rates, and pay frequencies are correct, and then TRAXPayroll handles the rest.
Easy employee setup
TRAXPayroll offers a simple, but thorough employee setup feature that includes three custom fields for tracking additional employee details.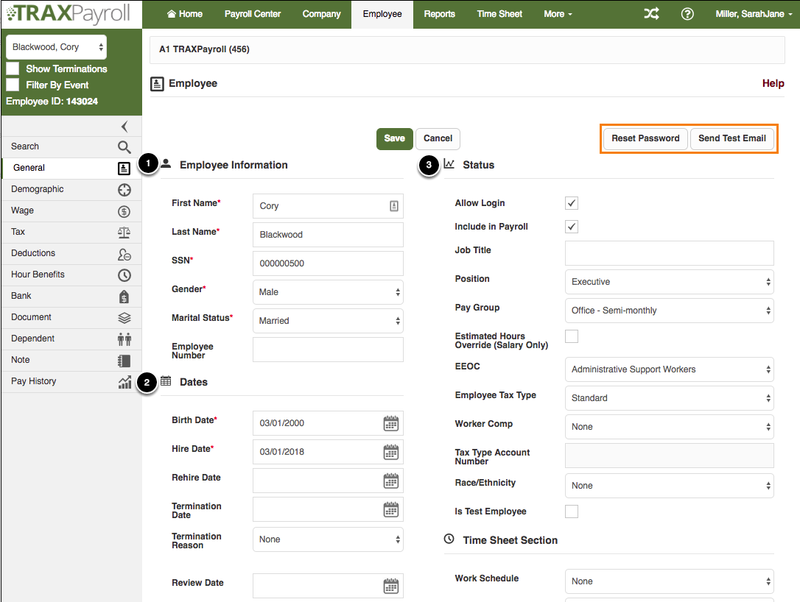 During the setup process, you can create paygroups in TRAXPayroll and later add all new and existing employees to a specific group.
In addition, all employee payroll data entered into TRAXPayroll integrates automatically with Bamboo HR, so if your employees are already entered in BambooHR, there's no need to enter them in TRAXPayroll as well.
Paygroups
One of TRAXPayroll's best features is the ability to add paygroups. This can be particularly useful for business owners that need to run multiple payrolls for different groups. For instance, you can choose to pay your hourly employees weekly and your salaried employees bi-weekly.
Once you create a pay group, you can assign your existing employees to the group, while also adding any new employees during the initial employee setup process. If you do choose to use paygroups, you will have to assign all employees to a group.
Though not likely to be used by smaller businesses, paygroups can be a major time saver for businesses with more than 25 employees.
Employee access
The employee access feature in TRAXPayroll provides employees with easy access to a variety of system features.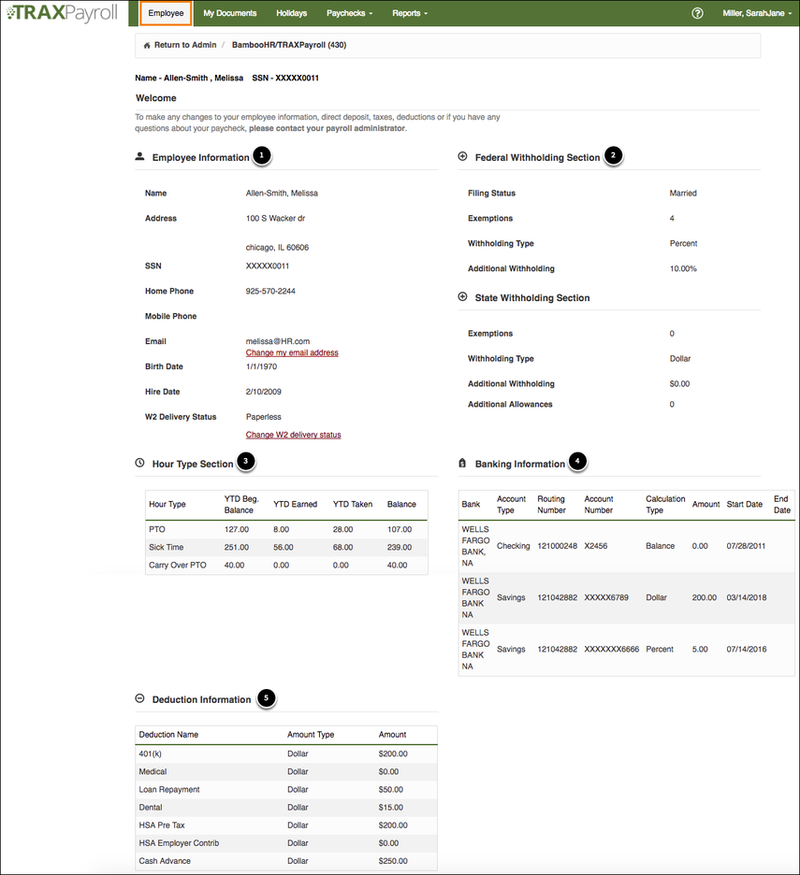 Once your employees have been given access to TRAXPayroll, they'll be able to view all of their personal information, access year-to-date earnings, see current tax deductions and access direct deposit details.
Your employees will also be able to view any documents or forms that you've uploaded to their file, such as I-9s or W-4s.
Time tracking
TRAXPayroll offers several good time tracking options that your employees can use to track their hours.
TRAXPayroll includes a time card option that allows your employees to enter their hours worked each day, with the ability to edit previous time entries prior to submitting the time card.
Along with the time card function, employees can also request time off, add one-time pay or expenses such as travel expenses, overtime, or holiday hours, or run a report. Employees can choose to use a calendar interface when entering time, or opt to clock in and out using the punch card option.
Payroll administrators and managers have the option to edit time card data for any employee, and the Time Sheet View Activity option provides you with an overview of hours worked for all of your employees.
Reports
TRAXPayroll includes more than 100 standard payroll reports. It also includes a built-in Report Writer for easy custom report creation.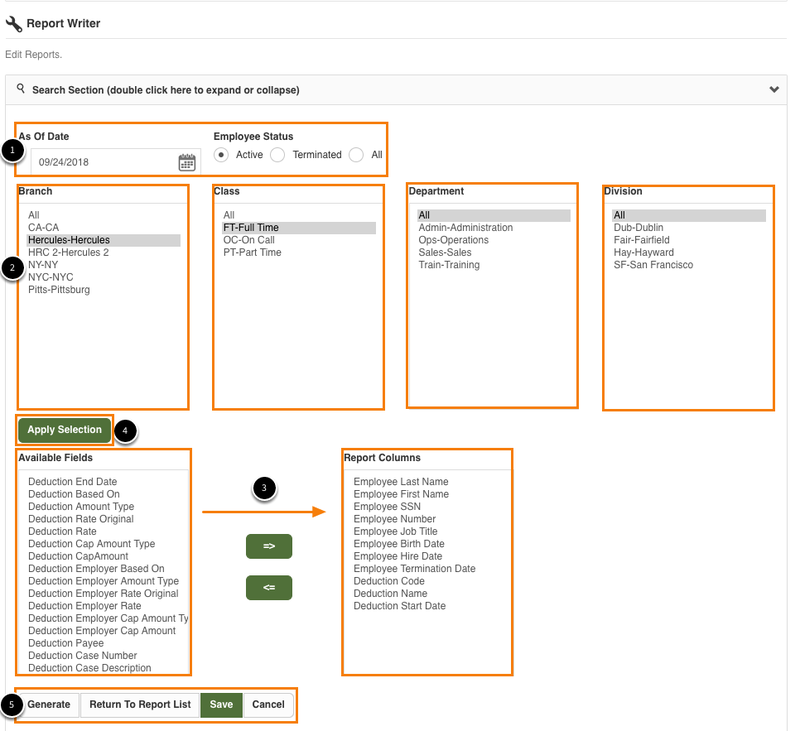 TRAXPayroll offers a variety of report options including pay cycle reports, pay stub and deposit reports, as well as payroll summary reports, a payroll register with hours, and a complete payroll register.
In addition, TRAXPayroll also offers a variety of Microsoft Excel reports, including employee summary, wage and hour, and cash requirements reports. Quarterly and year-end reports are also available in the application, and are designed to coincide with quarterly tax and year-end reporting requirements such as W-2s.
---
TRAXPayroll's ease of use
TRAXPayroll offers easy system navigation, so you can typically access related features and functions from the entry screen you're currently in. TRAXPayroll does have a multi-step setup process, but each step is clearly lined out and explained.
Once your company is set up, you can add all of the other information needed to run payroll, including company deductions, workers' compensation information, federal and state tax information, and banking information, which is required for transferring payroll funds and paying all related federal and state taxes.
You can also upload company handbooks and necessary employee forms such as an I-9 and W-4 for employees to access and fill out online.
TRAXPayroll includes various user rule options, so you can add payroll administrators as well as employees who will only have access to their own personal information and pay data.
After all of the necessary information has been added, if you're not sure how to start, just access the Run Payroll video to see step-by-step how payroll is processed.
---
TRAXPayroll's pricing
Neither Bamboo HR nor TRAXPayroll make their price structure available to the public, preferring instead to provide potential users with a customized quote.
---
TRAXPayroll's support
TRAXPayroll's Help Center offers excellent support options for a variety of categories, making it a good fit for experienced payroll processors as well as those still learning how payroll works. Clicking on a category will display a list of help resources including step-by-step instructions, short videos, and detailed help articles.
The Watch and Learn category offers instructional videos on how to upload hours, add global payroll updates, add additional time to a timecard or timesheet, and how to run payroll. There is also a video that shows you how to run a complete payroll in TRAXPayroll.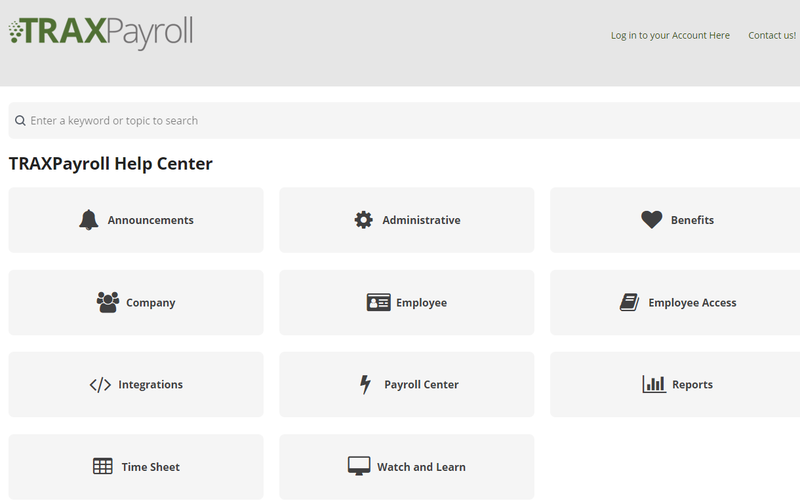 Toll-free customer support is also offered by TRAXPayroll during regular business hours, or you can choose to email tech support a question or concern.
---
Benefits of TRAXPayroll
Hiring managers will see the biggest benefit of TRAXPayroll is its seamless integration with BambooHR. However, the application does not offer integration with third-party accounting applications, so it's probably not the best fit for accountants that are currently looking for payroll software or services.
---
If you're using BambooHR, you should be using TRAXPayroll
TRAXPayroll is a solid payroll application that, when combined with BambooHR, can provide your small business with the tools it needs to pay your employees accurately, track their time, and manage sensitive HR documents.
It can also track information such as pay rate increases, employee training, and it can manage employee onboarding.
---
Frequently Asked Questions for TRAXPayroll
Do I have to use Bamboo HR in order to use TRAXPayroll?
Yes. Even though TRAXPayroll has been around for more than 20 years as a stand-alone payroll application, since being purchased by BambooHR, it is only being made available to current BambooHR customers.
Does TRAXPayroll handle all tax reports and remittance?
Yes. TRAXPayroll is a full-service payroll service provider, and handles all tax filing requirements for both federal and state reporting.
Can I pay contractors using TRAXPayroll?
Yes you can. TRAXPayroll will also provide contract employees with a 1099 at year-end, along with W-2s for your regular employees.

If you're using the BambooHR system to manage employee data, then TRAXPayroll is made for you. Offering full-service payroll services as well as excellent HR capabilities in BambooHR, combining these two applications may be the perfect solution for your business.
If you're using the BambooHR system to manage employee data, then TRAXPayroll is made for you. Offering full-service payroll services as well as excellent HR capabilities in BambooHR, combining these two applications may be the perfect solution for your business.
For other payroll options, be sure to visit The Blueprint's payroll software reviews.
---
How TRAXPayroll Compares
| | Online Access | Direct Deposit | Prepares Federal Tax Forms | Employee Access to Payroll Documents |
| --- | --- | --- | --- | --- |
| TRAXPayroll | | | | |
| Payroll Mate | | | | |
| Gusto | | | | |
| Paycor | | | | |