Experience can help you make better decisions. You feel like you've seen it all and know what the outcome will be and what action you need to take.
But basing a decision on gut feeling, while useful in some circumstances, is limiting. Situations change, people change, companies are different, people are different.
Instinct and gut feeling can help guide you, but you need to back up your decision with data. People analytics — also sometimes known as human analytics or HR analytics — can improve your decision-making by providing an unbiased analysis of the situation.
These analytics can also help you gain the trust of your employees, as you can show why you've made certain decisions, and how they will benefit your business.
---
Overview: What are people analytics?
Understanding what your employees are doing and why they are doing it is the foundation for a successful business.
With people analytics, you can use all of your human resources data to get an insight into exactly what is going on in your company, in both a positive and negative way. This differs from workforce analytics, which looks at the processes and tools you use to run the HR department.
People analytics tracks HR metrics to answer questions like these:
Do you have a high employee turnover? Why?
How long does it take you to recruit candidates?
What do employees care about and want to see more, and less, of?
Who are your best-performing employees?
You can use this data to make changes that improve the way you manage your workforce.
---
Why are people analytics important?
Using people analytics correctly can be very beneficial to your business, whether it's through improving decision-making, giving you the ability to try new ways of managing your workforce, or boosting employee morale.
Improve decision-making
If more than one person is involved in making a decision, then it can be difficult to come to a consensus when there's a difference in opinion. But if you've got the data and analytics to back up your decision and show the benefits, then it's harder to argue.
This means you can not only speed up decision-making but also feel more confident that you're doing the right thing.
Try new approaches
As a company grows, it often becomes less agile and less likely to try new approaches.
People analytics has two roles here. Firstly, it can help you win buy-in for taking a new approach. Secondly, as you can measure the success of any new process, if it's working, people can clearly see the benefits. If it's not working, you know early on and can change tack or stop the experiment altogether.
Boost employee morale
A lot of people feel like workplaces are not fair. They question why decisions are made, openly and behind closed doors, and they can lose confidence in the company if they feel like the wrong decision has been made or they have been unfairly punished or not rewarded.
When you can use analytics to back up your decisions and provide detailed explanations, employees are more likely to understand and accept them. This also means they are more likely to work to implement and support these decisions.
---
Challenges of using people analytics
It's not all plain sailing. Some roadblocks can prevent companies from making the most of their people data.
Siloed data
To make the best use of people analytics, you need to be able to share data from different systems between different departments.
For example, if your employees are quitting because they aren't being paid enough, then you need data from your payroll system to identify issues and see what changes you need to make.
If your data resides in silos across different systems that you can't access, you won't be able to get an accurate picture of what's going on.
Data privacy laws
It's important to collect, store, and use data in a way that ensures you comply with regulations. Whether that's GDPR or state or federal laws, you need to have policies in place that ensure that everyone who has access to people data knows how and when they can use it.
Securing that data is important too, and it can be expensive to ensure it's not vulnerable to outside attacks, especially for small businesses with limited budgets.
Employee suspicions
Employees might feel like you don't trust them or that you're trying to spy on them if you suddenly start collecting a lot more data. This can affect the morale of any workplace.
Adding your policy on data collection to your employee handbook can help your workers understand why you're collecting the data, how it will benefit the company, and how it can be used to improve the workplace as a whole.
---
Ways you can use people analytics in your business
People analytics can have far-reaching benefits for different parts of your business, from sourcing candidates to managing their performance, and working out how to retain top talent.
Recruiting
From creating a job ad, to targeting the right people, to interviewing candidates, people analytics can help you transform your recruiting process.
By monitoring the success of your job ads, you can find out what kind of language and design resonates with candidates and improves the application rate from top talent.
And by using keywords and demographic data such as location, you can make sure your ad gets in front of the right people.
People analytics can also help you decide the qualities you're looking for in candidates and screen out unsuitable applicants more quickly. You can also get an overview of how each job ad is performing and find out if you need to make any alterations.
Tip: Standalone recruiting software, or recruiting functionality within HR software, can give you the insight you need to hire better candidates quicker and more efficiently. Hiring software Workable's main dashboard displays the analytics of each job ad, which helps you understand what is working and what you need to change.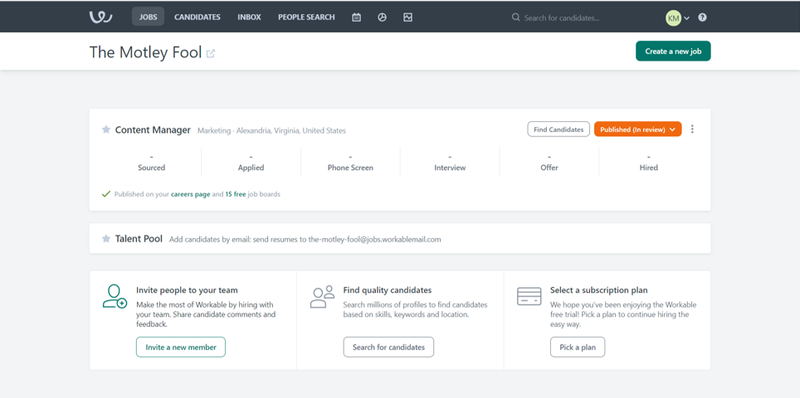 Performance management
Whether your employees are performing well or badly, people analytics can help you find out why, as well as evaluate what you can do to either turn the situation around or reward star talent.
You can collect 360-degree feedback on a regular basis, meaning that people get feedback from peers, managers, and employees.
You can also track the progress of goals by each individual employee, by department, and over the company as a whole.
If you notice that you are not close to meeting those goals, then you can delve deeper to find out why, as well as adjust the goals if they aren't realistic.
Tip: Instead of trying to collect and analyze data manually, implement a solution that can automate the process. HR software such as Zenefits contains performance management functionality that can help you keep an eye on your goal progress at different levels, as well as centralize your feedback data.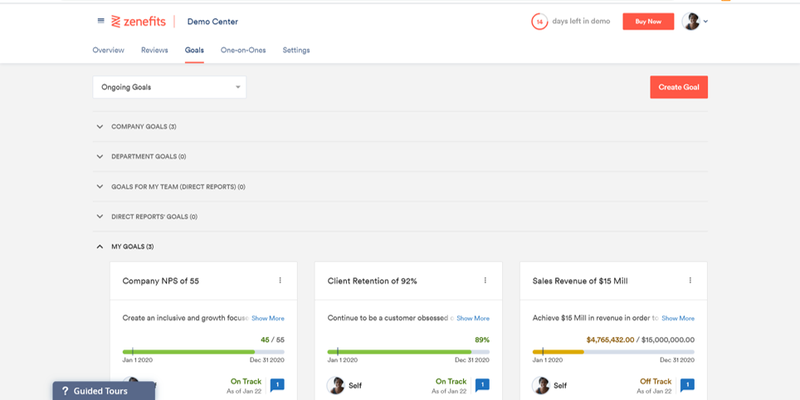 Talent management
Hiring talented people isn't enough. You need to make sure you are keeping them satisfied and helping them develop their skills so they don't walk out the door and take their expertise to your competitors.
Talent analytics, a subset of people analytics dedicated to managing talent, looks at areas such as employee performance learning and development, employee engagement, and succession planning.
By identifying your top employees through your performance management processes and data, you can start to put an action plan in place that truly engages talent enough to make them stay. You can also use this data to pick out future leaders who you can train up to take over from your current managers.
This also extends to providing thoughtful offboarding processes that collect data about why employees are leaving, as well as what kind of learning and development opportunities you could have given them to make them stay.
Tip: Centralizing your data is key, especially when it comes to a far-reaching area, such as talent management. By keeping all the tasks and information in one place, you can spot patterns and trends and take actions based on this data. BambooHR helps you to create employee directories that not only contain basic demographic data, but also information on compensation, performance management, training, offboarding, and time off.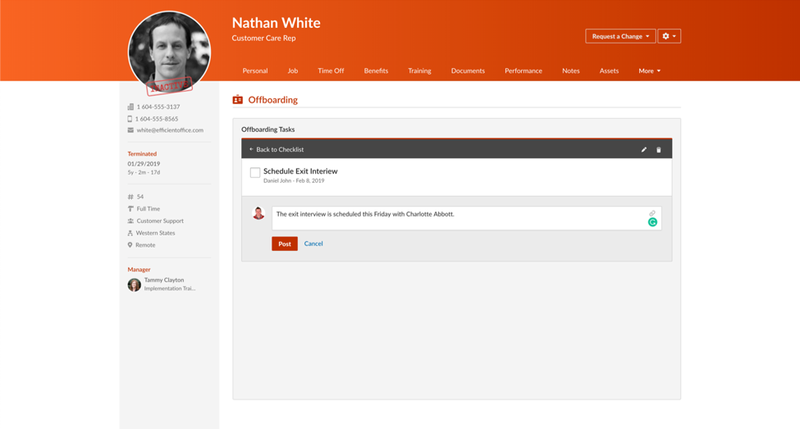 Employee retention
Understanding who is leaving your company and why is key to improving your employee retention rate.
With people analytics, you can analyze the characteristics and what the people leaving have in common. Do they have the same boss? Are they similar ages? How long have they been at the company?
Ask them why they're leaving. This can be in the form of an exit interview before they leave or an informal chat. Use this information to proactively identify people who might be likely to leave. Then you can put processes into place to stop that happening.
Tip: Send out surveys to find out what is bothering people while they are still at the company, and what they'd like to see more of. Bring this data together to see what changes you need to make at your company. Workforce management software like Workday lets you create anonymous surveys on different subjects. You can then get an overview of this data to spot trends and get insight.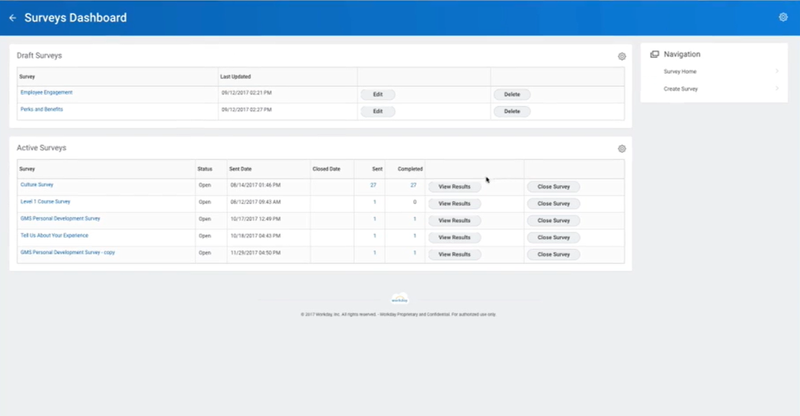 Workforce management
Unsurprisingly, people management is a crucial part of people analytics. Being able to staff your business correctly is crucial to optimizing profit and driving revenue while ensuring your workers are productive and satisfied.
Understaff your business and you'll end up with stressed-out employees who aren't committed to your company. Overstaff your business and you'll take a hit to your bottom line.
By using human resources analytics, you can use past data to predict how many people you will need for different shifts and different times of the year.
You can also track patterns in absences, noting if people get sick or want to take time off at certain times of the year, while better managing employee vacation to ensure people don't take too much time off during a busy period.
Tip: Many businesses still manage absences in an Excel spreadsheet. There are several issues with this. The first is version control. How can everyone ensure they are working from the latest copy? The second regards access. Having to email everyone each time they need access to the spreadsheet takes time.
That's why you need to automate the process so you can see the latest version of your data at any time, from anywhere. With BambooHR, you can not only get an overview of absences across the whole company, but you can drill down to each individual employee. This allows you to take action to understand if there is an issue and why and fix it before it gets too serious.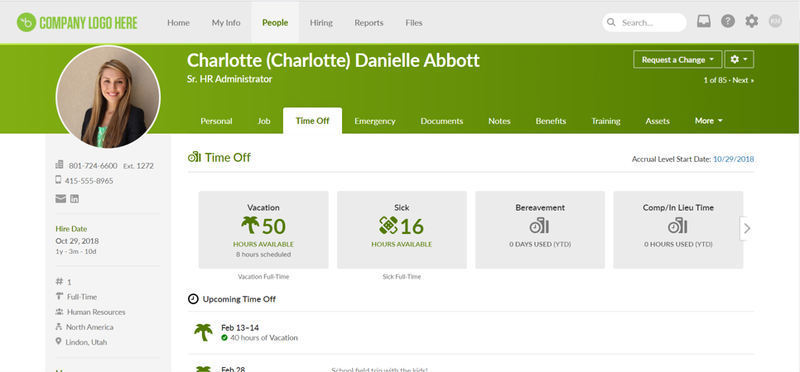 ---
Becoming a data-driven HR department
Becoming a data-driven people analyst takes the guesswork away from your HR decisions and allows you to make changes that are backed up by facts and concrete information.
You can spot trends that help you proactively make decisions that will improve the workplace, boost revenue, and keep employees happy.
By integrating people analytics into every area of your HR responsibilities, you can become more efficient and productive, boost employee morale, and take action that drives revenue and boosts profit.