Personalized customer service means different things to different people. For some, it may mean an email communication with their first name in the subject line. For others, it could mean a specially priced offer for customers living in their town. But how many of us really understand the concept of personalization?
It's crucial to know what it means because customers are increasingly expecting personalized service from brands. They often want to reach a live person via chat or phone, and they expect prompt answers via email. They also want relevant product suggestions and wish to receive special promotions from companies on their birthdays.
To help you provide a better customer experience and nurture customer relationships, we'll cover the ins and outs of personalized customer service.
---
Overview: What is personalized customer service?
Personalized customer service is about delivering customized experiences and assistance based on your consumers' profiles.
Personalization lets you provide tailor-made solutions to queries and problems your customers have with your products and services and, consequently, increase customer satisfaction. For instance, if a customer calls to request information about your product, personalize your customer service by referencing their preference on the previous purchase they made. This makes your customer care delivery more efficient and accurate.
---
The 5 best ways to offer personalized customer service
Customer communication is essential to creating and maintaining a loyal customer base. Use the tips below to communicate with your customers better by providing personalized customer service.
1. Leverage customer data
A surefire way of personalizing your customer service is to make your customers feel that you know them, their preferences, and their history with your business. Leverage customer data to improve customer care. Do away with guesswork and assumptions by using your customers' preferences and buying habits to provide the best possible service and experience.
Tips for leveraging customer data:
Use reliable customer service software: Use customer service software, such as customer relationship management (CRM) systems, to collect and organize customer data into a unified database. This includes your customers' order history, preferences, and other pertinent information you can use to deliver a better customer experience.
Gather data from multiple channels: Leverage your website, social media pages, and other channels to gain customer information. For instance, you can run surveys on your website while conducting contests on social media where your customers can join by commenting about the feature they love the most about your product.
2. Provide multiple customer care channels
Every customer is different. Some will prefer contacting you through email, and others like to reach you through chat or call. Personalize your customer service delivery by providing multiple channels so customers can contact you in their most preferred way.
Tips for providing multiple customer care channels:
Ensure seamless transitions from one channel to another: Provide smooth customer service experiences by ensuring your systems can pick up conversation threads from multiple channels. This way, if customers need to shift from one medium to another, your customer service reps can access previous customer data and interactions quickly and resolve issues more efficiently.
Implement consistency: Set up policies and standard processes to guarantee consistency on all your customer care channels. This prevents your team from sharing the wrong information with your customers.
3. Implement context-based support
Use a software program that can log your customers' concerns so you can implement context-based support. This keeps your team from having to repeatedly ask your customers about the nature of their problems.

When your customers call back because their issue recurred or their concern was never fully addressed, your support team can review previous notes and the problem's history to more fully grasp the situation. This gives your customers a better experience with your company, improving your customer service rating.
4. Learn from customer feedback
You can't provide effective personalized communication if you don't know much about your customers. The more information you obtain about them, the easier it is to offer relevant products and support.

That's why quick surveys on your live chat box, follow-up emails, and help center article feedback forms can do wonders for your business. Not only will your customers feel valued when you ask them for feedback, but your support team also benefits since they become more effective at addressing your customers' concerns. This improves customer retention and satisfaction.
5. Empower your customer service team with the right tools
Equip your customer service team members with the right tools to help them address your customers' needs and provide top-notch support.
For instance, creating a knowledge-sharing platform gives your customer service team a central hub to store and access frequently asked questions (FAQs) and essential company information. This keeps your customer service consistent, quick, and personalized, which helps nurture customer loyalty.
Below are other benefits of equipping your customer support team with the right tools.
Security: Chances are your customer support team is handling sensitive customer information, such as their addresses, the last four digits of their Social Security numbers, etc. By using reliable software, they can keep your customers' personal information secure.
Reduced expenses: Use chatbots so your support team won't have to deal with basic inquiries. Chatbots can answer simple queries, such as those about pricing and product availability. When your support team is freed from simple questions, they have more time to help customers with more complex issues.
---
Examples of personalized customer service
Below are three examples of brands that give personalized customer service experiences.
1. Wistia
Video hosting and analytics platform Wistia doesn't just help companies leverage the power of videos to create marketing and social media content. It also uses videos to offer a more personal approach to customer service.
Wistia's learning center provides how-to videos to help customers with their concerns. They have videos on how to choose a background for their users' videos, embed options and plugins, and a host of other things.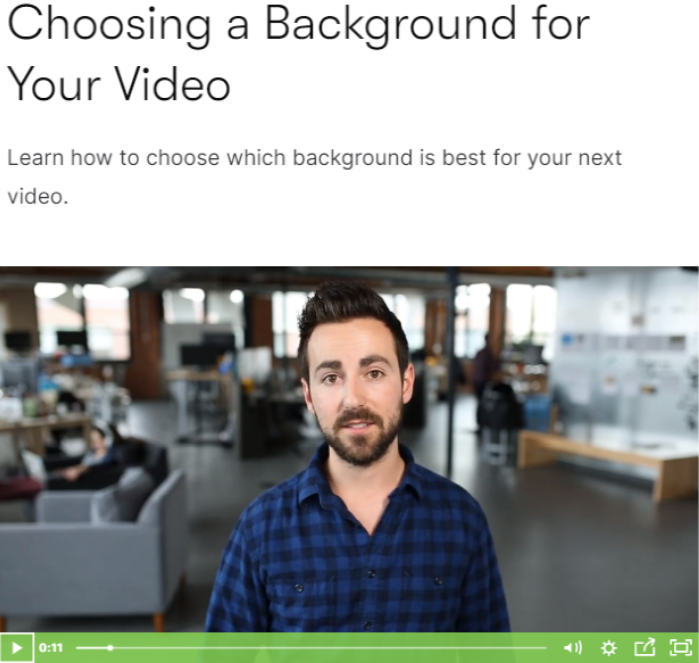 Through videos, show your customers how to troubleshoot or address their issues instead of merely telling them. Doing so makes your support more actionable and clear.
2. Glossier
Glossier's customer service department has perfected personalized customer care by collecting and responding to buyer messages and comments on social media and creating individualized experiences for each engagement.
For instance, after a customer purchased a product, one of Glossier's representatives reached out to them via email.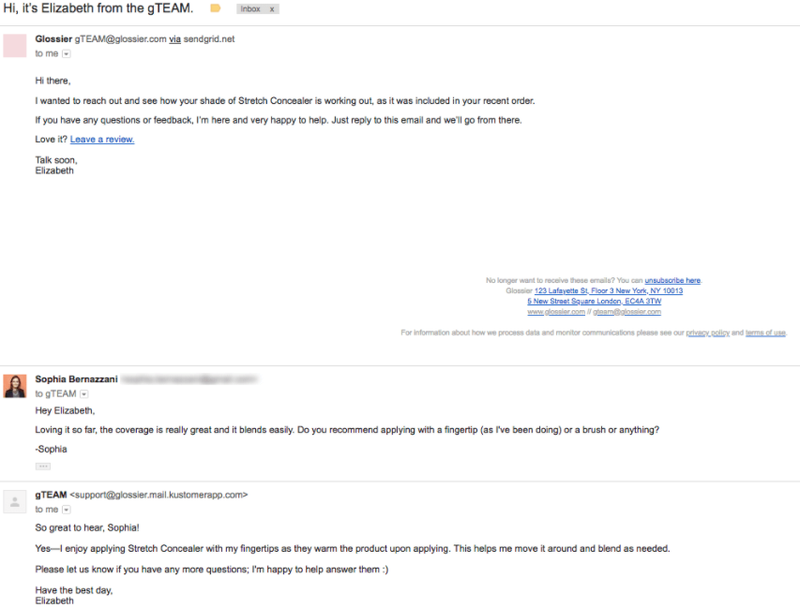 The approach was personal and refreshing since most companies would just send generic emails. It's also a great way to uncover product issues before your customers get seriously frustrated.
3. Lego
Lego has a service that delivers bricks or pieces accidentally left out during packaging. If you're missing a tiny yet vital piece to complete your Death Star or Eiffel Tower, go to the Lego website and provide the required information, and the company will deliver it to you.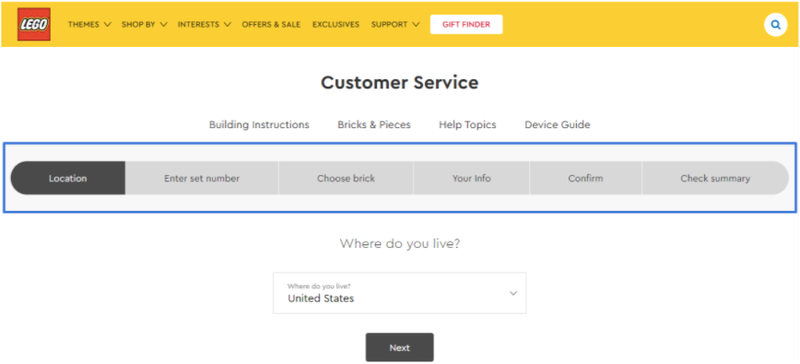 The Lego customer service page was personalized for customers with missing bricks or pieces. Because the page's function is specific, it's easier for customers to navigate the page and address their issues.
---
Personalize customer care to boost satisfaction and retention
Do away with generic messages and interactions and deliver efficient, personalized customer service. Add a personal touch to your customer service, and you'll leave your potential and current customers feeling valued and appreciated.
Optimize the many opportunities to improve and personalize your customer support, from emails to live chat services.