Motivating a sales team used to involve equal amounts of fear and intimidation à la the real estate sales "contest" in David Mamet's Glengarry Glen Ross: First place gets a Cadillac Eldorado and second place a set of steak knives. Third place? You're fired.
The development of customer relationship management (CRM) software, however, led to a data-driven approach to the sales process. We no longer rely on old canards like some salespeople have got "it" and some don't. Instead, one of many CRM benefits is the ability to closely examine each stage of your sales pipeline to identify areas of concern and leverage your strengths.
While it's easy to get lost in the weeds with CRM sales reports with multiple data points, The Blueprint's Pipedrive review concluded it's the easiest CRM software to use, and this usability extends to its account management reporting features.
---
3 types of reports Pipedrive offers
Pipedrive CRM reports provide actionable insights for your entire sales process, everything from qualifying sales leads to closing deals. Pipedrive generates pre-formatted reports or allows you to create your own. In granular detail, they break out what your sales team has done to better inform future sales strategies.
Pipedrive has three report categories: activities effort, Pipedrive performance, and sales performance. We'll look at each closely.
1. Activities effort
Activities effort reports provide an overview of your sales team's baseline productivity in adding and completing "activities." Pipedrive has six predefined activities:
Call
Deadline
Email
Lunch
Meeting
Task
Basic activities effort reports include activities added, activities completed, emails sent, and emails received. Generate reports for your entire sales team or filter by individual to discover who is outstanding in generating sales leads or is best at subsequent lead nurturing.
2. Pipedrive performance
Tracking activities alone doesn't tell the whole sales story, because tangible results are distinct from busywork that goes nowhere. Track the status and resolution of your deals with Pipedrive's four performance report categories:
Deals started: Number of deals initiated, the status of each one, and any associated products
Deals progress: Deals in your sales pipeline broken out by stage or the user assigned to them
Deal velocity: Average time from a deal's creation until it's designated as lost or won
Deal conversion: Percentage of deals lost or won at different sales pipeline stages
Filter these reports by users, users over time, deal stage, or deal stage over time for individual and sales team performance. Enable Pipedrive's Products feature to track the products most often associated with deals and track individual product performance over time in terms of deals won.
3. Sales performance
Like the Randy Newman song "It's Money That Matters," Pipedrive understands your sales efforts boil down to one key metric: the bottom line. Its Sales Performance reports take a deep dive into the hows and whys of deals lost and won and projects your future revenue, including breakdowns of:
Deals won: Number of total deals won, deals by user, and value
Deals lost: Number of deals lost by user, stage, and reason
Revenue forecast: Projected incoming revenue based on won, lost, and pending deals
Sales performance reports are about pattern recognition. Do sales vary at certain times during the year? Are deals lost at specific points in your pipeline? This information allows you to retool and refine your sales processes to maximize revenue generation.
---
How to customize and leverage your reports in Pipedrive
A computer science maxim is garbage in, garbage out (GIGO). Quality of output is dependent on quality of input. The same is true for your Pipedrive custom reports: You must thoughtfully set up your sales pipelines and related key performance indicators (KPIs) for the best data analysis.
1. Create your sales pipelines
First, define your sales pipelines from start to finish. I say "pipelines" because you likely have multiple sales processes, such as inside and outside sales, online sales, or product-specific sales funnels.
Pipedrive's default sales pipeline has five stages:
Qualified
Contact made
Demo scheduled
Proposal made
Negotiations started
Use the Pipeline pulldown menu to create new sales pipelines. The edit icon to the right lets you edit the current pipeline, including reordering, renaming, and/or adding new stages.

Be tight but loose when customizing a sales pipeline: Identify significant milestones and stages without becoming overly granular or prescriptive. A 30-stage pipeline requires too much time to manage — at the expense of actual sales activities. A good rule of thumb is to have sales processes with five to seven steps.
2. Customize activities
Pipedrive includes six predefined activities, but you can also create custom activities specific to your business or industry. Those listed in the column on the right in the screenshot below include brainstorming, presentations, and reservations.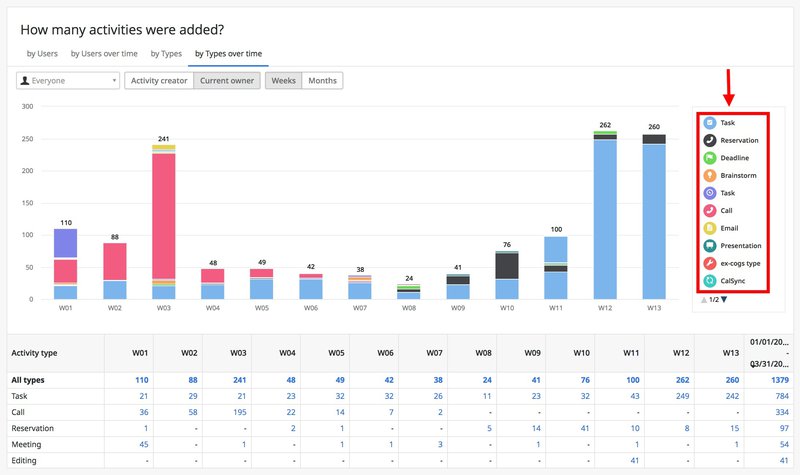 When I was a textbook publisher, for example, the majority of our sales came from instructional departments at colleges adopting our books. Key sales activities included identifying the faculty member who was the point person for a potential adoption, contacting them regularly, and scheduling a department-wide presentation of a text and its ancillary materials.
3. Increase sales pipeline efficiency
Business-to-business (B2B) sales typically have a longer timeline than business-to-consumer (B2C) sales, so it's critical to track average deal velocity — the overall length of your sales cycle — broken out by stage. Identifying when deals are won or lost by stage also helps address problem areas to improve your deal conversion rates.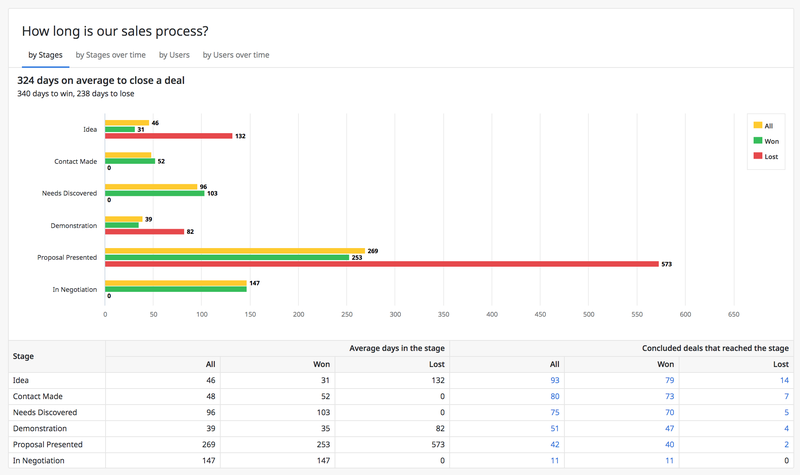 InEvent develops event management software, and Inside Sales Manager Carlos Pacheco said, "It was a real mess before we started using Pipedrive." With Pipedrive, InEvent consolidated its sales and customer information in a single CRM database.
The result? Powered by Pipedrive's workflow automation, InEvent's marketing department sent only qualified leads from its prospecting efforts to sales reps, which increased conversion rates.
4. Categorize reasons for lost deals
Winning deals is great, but the reasons deals are lost can be more instructive for your future efforts, because failure is the production of unexpected knowledge. Pipedrive allows users to write their own responses to explain why a deal was lost, but account admins can create predefined reasons to better categorize this information.
Does a particular sales rep have problems at a specific sales pipeline stage? Is a competitor undercutting your prices at the eleventh hour? Identify your areas of greatest vulnerability for remediation.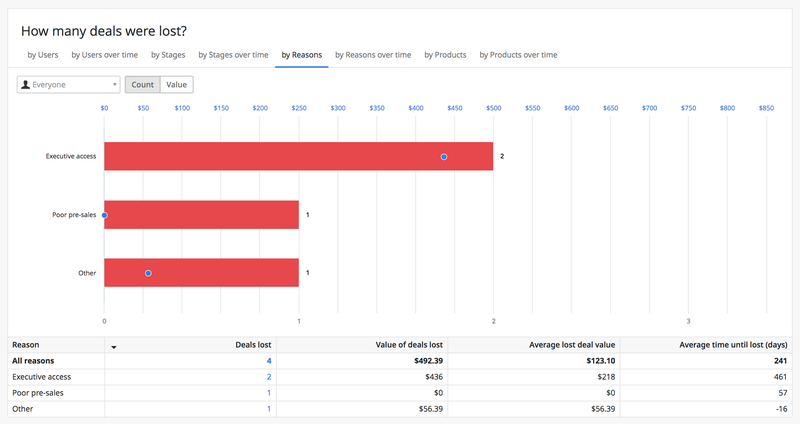 I spent about 10 years as a college English instructor before moving into textbook publishing. When I taught, I pooh-poohed the supplemental instructor resources — test banks, chapter outlines, and student writing or discussion prompts — included with textbooks because I had an unshakeable belief: Nobody tells me how to teach.
After we lost several adoptions of our first-semester college skills textbook, however, I figured out it was because we didn't offer online supplemental resources comparable to our competitors. Sure, teachers don't want to be told how to do their jobs, but they also don't want to reinvent the wheel with a new adoption. We began building out our instructor and student resources, which made that title more marketable.
5. Forecast revenue
Another useful automated Pipedrive report is revenue forecasting based on your won, lost, and pending deals. Knowing when you will — and won't — have money in hand helps you make key decisions about tax payments, capital expenses, and operating costs.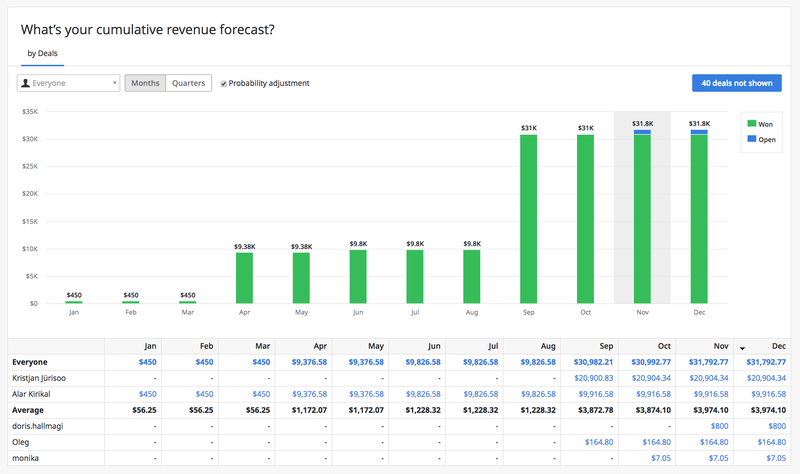 As a general rule, roughly two-thirds of annual revenue for textbook publishers comes in September and October, when payments for fall semester orders arrive.
Spring orders account for another quarter of revenue, and summer school sales make up the rest. Knowing that is helpful, but Pipedrive's more specific revenue forecast, especially as it incorporates the probability of pending deals, allows for better, high-level budget planning.
---
Maximize sales with Pipedrive reports
Whether you're new to analyzing in-depth CRM sales reports or an old hand, Pipedrive reports let you help your sales team instead of punitively yelling things like "Coffee's only for closers!" Still, if you're interested in learning more about inside sales' dark side, schedule a movie night with your sales team to watch Glengarry Glen Ross, so everyone can breathe a sigh of relief when it's over.