Whether you're preparing for the worst-case scenario (a lengthy power outage or your internet provider's service goes down), getting ready to do business in an outside environment, or have begun the search for a point-of-sale (POS) system that has offline POS system features, you'll need to become familiar with how to perform offline POS transactions.
The good news is that you don't need to let bad internet connectivity stop you from doing business. In this guide, we'll go through when you might need to use offline POS features, the benefits of a POS system that offers an offline transaction mode, and some frequently asked questions about offline POS transactions.
---
Overview: What are offline transactions?
Offline transactions are when merchants process credit card, debit card, and cash transactions when their POS system is in offline mode.
For example, when a merchant is experiencing bad internet connectivity, it can shift to its system's offline mode to continue accepting credit cards as payment, rather than losing a sale.
Not every POS system's offline mode will work the same — each will have its own capabilities. For example, Shopify POS's card drawer, receipt printer, and barcode scanner can function without an internet connection, meaning you can still process sales and accept cash payments.
As a hybrid POS system (a combination of cloud-based software and locally-installed systems) Toast POS allows users to continue to place orders, print tickets and receipts, and take credit card payments.
---
When you might need to use a POS system's offline mode
Whether unexpected or planned, there are a few instances in which you might need to use a system's offline POS features. Below, we go through some of the most common cases where merchants might need to use offline mode.
1. When your internet connection fails
Also known as a merchant's worst nightmare during a busy period, internet connection failures are one of the most standard reasons for using your POS tool's offline mode.
2. When your business operates in multiple locations
This is common in the field service industry. Workers such as plumbers, delivery drivers, HVAC technicians, and utility technicians may need to take payments in a variety of different locations — often in a customer's house or office building but sometimes at sites where there is no Wi-Fi connection available.
3. When your business operates outside of a physical building
If you run pop-up shops, attend farmers' markets, or sell at craft fairs — anything outside of a brick-and-mortar building — you'll likely rely on your system's offline mode to be able to process both card and cash payments.
---
4 benefits of a POS with offline transaction mode
As mentioned, not every POS system offers an offline mode feature, and not every system will offer the same offline features. Below, we go through several advantages of choosing a POS that does come with offline features.
1. You can continue processing payments while offline
Of course, the main benefit of having access to a POS system with offline mode is that some solutions allow you to continue to accept and process payments.
Square is one such system. Although its offline mode only works with magstripe credit card payments (you can't process chip payments or manually entered credit card details), Square's offline mode is one of the most advanced on the market and comes at no extra charge to the user.
Transactions are then processed automatically once merchants reconnect to the internet. Bear in mind that merchants are responsible for the costs of the transaction if the payment does not register upon reconnection to the internet.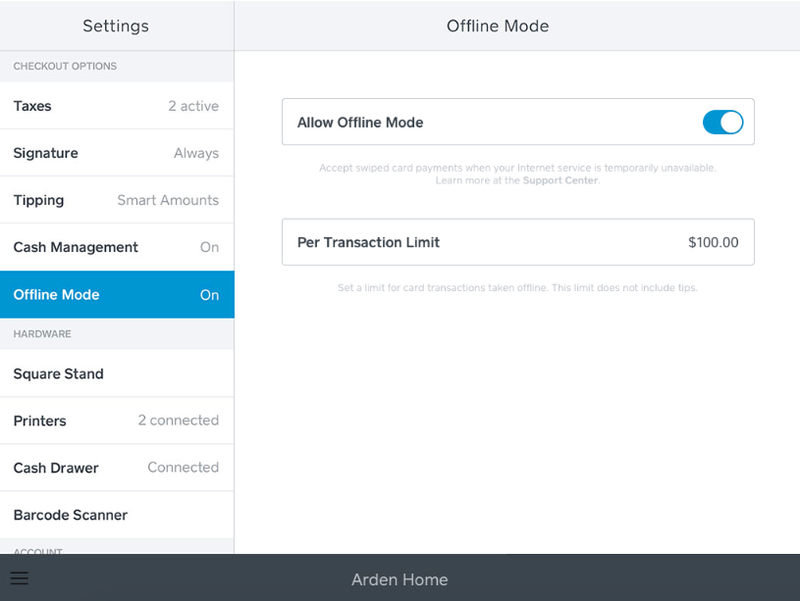 2. You can access the cash drawer while offline
At a minimum, if a POS solution offers an offline mode, this should enable you to keep taking cash payments when there is no connection to the internet.
For example, some systems will allow you to access the cash drawer and other POS hardware equipment such as:
Receipt printers
Barcode scanners
Barcode printers
Scales and kitchen printers (for restaurateurs)
3. Your data will sync once you regain connectivity
One of the worst consequences of a power or internet outage is the fear of losing valuable data and information that's been processed during the outage, such as customer and card details and inventory information.
Some, but not all, systems will automatically sync your data once you have reconnected to the internet.
4. You don't disappoint customers when there are connectivity issues
When customers can't pay with their preferred payment method, you risk damaging the customer experience.
However, when you use a POS system with offline capabilities, you can often mitigate the effects of a power or internet outage by offering them a similar payment experience.
---
Frequently Asked Questions for POS Offline Transactions
Are offline credit card transactions safe?
Offline credit card processing does come with risks to your business.
Though some POS systems allow you to take customer card payments, because the transaction isn't officially processed until you regain connectivity, you risk losing inventory and money if the transaction fails. Maybe the payment wasn't approved by the customer's bank, or perhaps the customer issued a chargeback knowing that you were experiencing connectivity issues.
Plus, it may take a while for the transaction to be reconciled once you're back online, and payment processors often offer different terms — some might require you to register the transaction within 24 hours, while others might give you more time.
We recommend setting a transaction limit when you experience an internet outage to protect yourself from losing large amounts of money and damaging your bottom line.
How much does a POS with offline transaction mode cost?
This depends on the vendor. Usually, offline mode is offered at no extra cost.
What are the common features of offline POS systems?
If a POS solution offers an offline mode, it should, at the very least, allow merchants to continue to process cash payments, including the use of the hardware to make that possible.
Other features include:
Credit card processing
Receipt printing
Automatic data syncing when the merchant regains internet connectivity
Can I store credit card information safely while using offline mode?
If you are rigorously following PCI compliance rules, then processing offline payments should not jeopardize your customer's card details. The POS terminal will read the card data and encrypt it, despite offline status.
---
Use offline mode carefully and sparingly
If you plan to only use a POS system's offline mode in emergencies, make sure you and your employees know exactly how it functions, its limitations, and what you and the customer can expect from processing an offline transaction.
However, if your business depends on using a POS system with a dependable offline mode feature, do your research before committing to any product. You can check out our full reviews of the best cloud-based POS software here to help you come to a decision.