A POS system is one of the most important investments you make for your business. Choosing the right one comes down to a combination of the right features and costs. Yet, POS pricing can be a difficult landscape to navigate — all vendors offer their own pricing tiers, equipment costs, and payment processing fees.
So, how much should your POS cost? We'll go into detail and break POS pricing down for you. We'll show you what to look for and what components to consider when you begin your search for the best POS system for your business.
---
Overview: What is a point of sale (POS) system?
At its most basic, a POS system combines software and hardware that receives and processes customer payments. In terms of what customers can see, POS systems are your cash registers, card readers, and handheld devices.
Many POS systems are complete business management solutions, handling other essential tasks such as inventory, customer, and employee management.
---
How much does a POS system cost?
As with most cloud-based software, POS systems costs are not straightforward. For example, while some vendors offer low monthly software subscription costs, they might charge a pretty penny for each additional POS user.
The cost of a POS system comprises several variables you need to know. We explore these below.
1. Features
Most POS solutions offer several pricing tiers, and costs are usually based on the features offered within each pricing band. As a rule, the more advanced the POS features, the more you can expect to pay.
If you're just looking for a system to help you process payments with some basic sales reporting, the "starter" pricing bands are often enough to meet your needs. However, if you own a larger business and require a more robust POS offering, one with accounting features, support for e-commerce, and including customer loyalty, you can expect to pay more.
As an example, let's consider Square for Retail. They offer a free option with limited POS features, a $60/month/location option for businesses that need more in-depth features, and a custom pricing option for a full-fledged POS solution with bells and whistles.

2. POS hardware
The amount you'll need to invest in POS hardware will depend on your business setup.
Some businesses that operate a cashless store can manage with just an iPad or a card reader to take card payments, a very inexpensive setup. However, to accept cash, you'll need a cash drawer, and If you need to scan items, you'll need a barcode scanner. Plus, if you operate in multiple locations, you'll need to consider how many hardware bundles you'll need.
Many POS vendors offer their own versions of POS hardware, and while many POS software solutions are compatible with a large range of non-proprietary devices, some vendors lock you into using their proprietary hardware by making their software incompatible with other devices.
This is an important component to consider for your final POS price, so do your homework on what each vendor offers.
3. Number of users
Often, POS solution plans have set user limits, so you'll need to pay for a different pricing band if you require more user accounts. Some will charge on a per-user basis, while other solutions come with plans that allow for unlimited user accounts.
4. Number of POS terminals and registers
More often than not, vendors charge by the number of POS terminals and registers you use. It's common to be charged a higher price for the first terminal, and a reduced price for every additional terminal.
5. Payment processing costs
Many POS solutions also offer their own in-house payment processing, with associated fees. These fees are normally charged on a per-transaction basis, and they'll differ according to card, keyed-in, and online transactions.
For example, Square charges the following payment processing fees:
Card transactions: 2.6% of each transaction + $0.10
Keyed transactions: 3.5% of each transaction + $0.15
Online transactions: 2.9% + $0.30
---
4 benefits of investing in a high-quality POS system
POS solutions not only help businesses take and process payments, but they also boost business performance in many other ways.
1. Seamless retail experience for customers
As we've mentioned, POS solutions aren't just systems for taking payments, they can help you manage your entire business. Many systems come with inventory management and customer loyalty features. This makes it easy for you to check stock levels for customer inquiries and help them spend their reward points because all their information is stored in one central hub.
2. Reporting and analytics
These days, access to data is the lifeblood of every thriving business. POS solutions automatically curate reports using accurate, recorded data to help business owners make informed decisions. Many solutions also allow users to create their own customized reports to suit their business.
POS users can access many reports. Common ones include:
Average Transaction Value (ATV), which shows the average amount a customer spends when they make a purchase
Best-selling and worst-selling products
Performance trends, such as best days of the week for sales, best time of day for sales, etc.
Historical data, such as year-on-year performance
Popularity of payment methods
Sales per employee
Number of returned items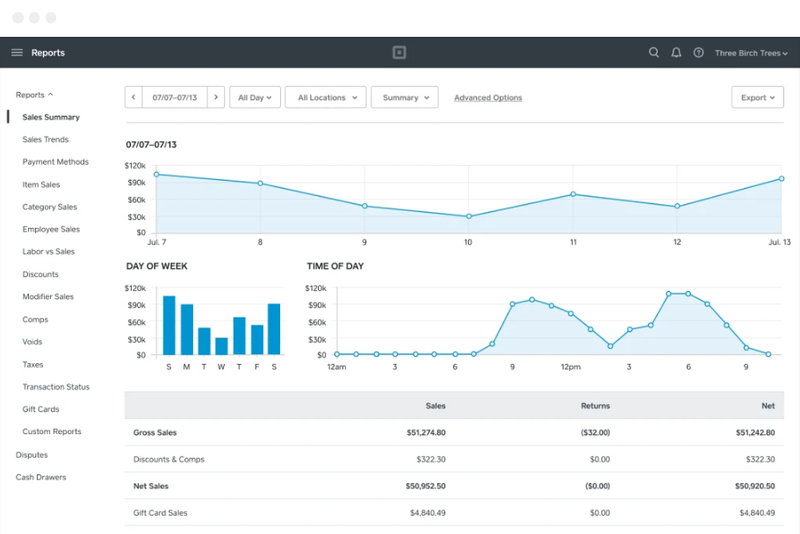 3. Accurate inventory management
POS systems don't just give you an overview of your inventory, they also give you the tools to track and optimize your stock. Users can identify sales trends, track inventory across multiple locations, and set low-stock alerts.
Lightspeed POS, for example, allows users to import inventory products via an Excel or CSV file upload, and then easily categorize products into styles, sizes, colors, and other variants. Users can also order stock from suppliers from within the POS system, and they can set automatic stock reorder points.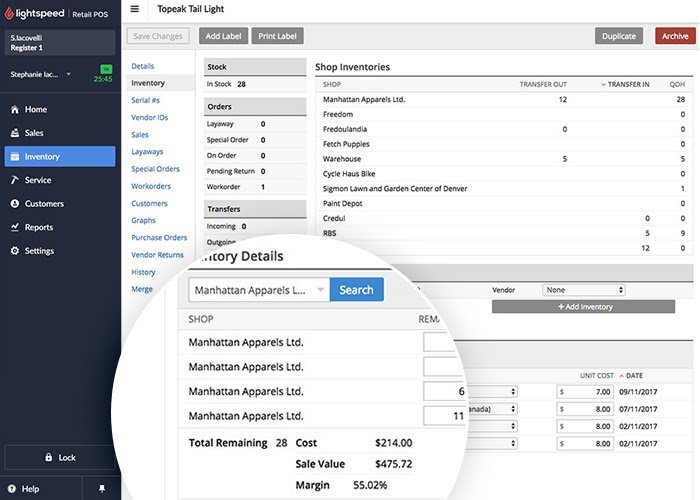 4. Multiple payment options
Most customers appreciate your offering a range of payment methods. A POS solution helps you accept a multitude of payment options such as:
EMV chip cards
Contactless card payments
Card-not-present (CNP) transactions (otherwise known as virtual terminals)
Gift cards
Redeemed customer loyalty points
This caters to all customers, satisfying all their payment method preferences, in turn boosting customer satisfaction.
---
Reap the benefits of a modern POS system
POS system costs include many components, all of which you'll need to consider when selecting a system.
Many modern cloud-based POS solutions are so robust, the price you pay for software subscriptions and user accounts can be recouped in time saved tracking inventory and generating sales reports.
If you're ready to start looking for the right POS solution for your business, we've gone through 10 of the best POS systems here to help make your search easier.