A PPC campaign is a paid effort that supports digital marketing efforts and business advertising initiatives. A PPC campaign will often promote a brand launch, product release, or help roll out a new marketing campaign.
A PPC campaign — or series of campaigns — helps businesses compete at scale with a broader reach and get a new audience's attention.
---
Overview: What is a PPC campaign?
PPC stands for pay-per-click digital advertising. This paid advertising marketing model requires advertisers to pay a fee each time a user sees the ad and the user clicks. PPC essentially "buys" visitors to your website by grabbing the attention of your audience with short, relevant, targeted ads. The ads are placed on sites or within paid search engine results that appear when a user searches for a specific keyword or phrase.
To launch a search-engine focused pay-per-click advertising campaign, advertisers bid for ad placements to appear in a search engine's sponsored links. The sponsored links show up at the top of the search results when a user searches for specific keywords.
For example, when a user types "outdoor furniture" into Google, the paid search results appear at the top. Those results are competitive PPC ads, which companies place to target users searching for outdoor furniture.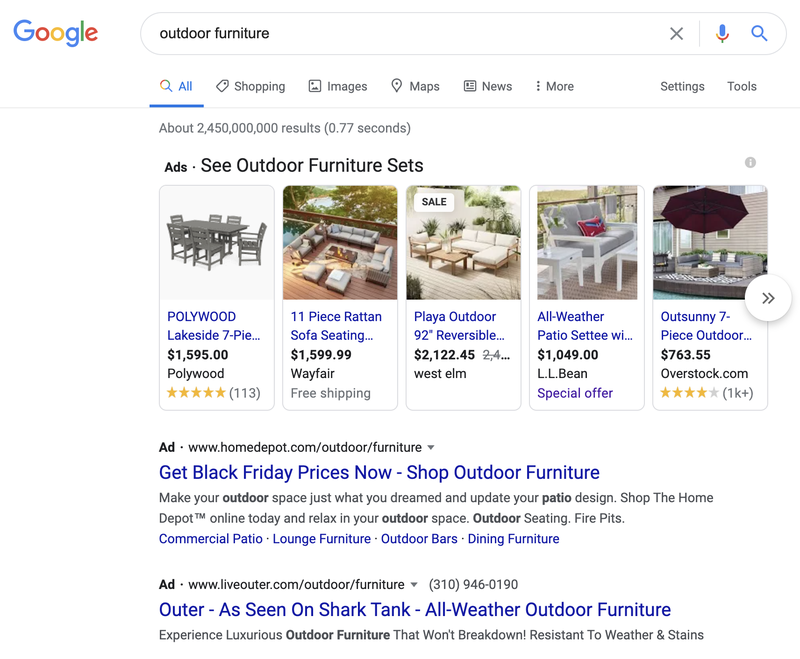 In this cost-per-click approach (also known as CPC advertising), the advertiser aims to get the most bang for the buck. The metrics focus on evaluating and driving down the cost per click for each user. Those clicks are analyzed to determine if the PPC traffic enters the marketing funnel and eventually converts into new customers or sales.
Another option is CPM advertising, which is when an advertiser pays for an impression. Whenever a user's actions serve up specific ads, the advertiser pays for that impression. The downside is that just because the ad appears does not mean the user saw it or engaged with the ad. This approach has value, but it doesn't always produce the same level of results as PPC.
And there is organic traffic. Organic traffic results from a user searching for a product or service and finding a site that meets their criteria — and they click. Organic search results appear within the "unpaid" results section (under the paid ads). Because those results are based on a site's content, structure, and how the search engine indexes the information, an advertiser cannot pay for that placement. Therefore, it is considered organic.
In general, paid advertising is a complement to free advertising for your business. PPC can support and supplement other paid approaches and a focus on organic website traffic.
---
What to consider before starting a PPC campaign
If you want to launch a PPC campaign, there are a few essential things you must consider. These considerations will help you plan, budget, and ultimately determine your campaign's success and outcomes.
1. What is your goal?
Before launching a PPC campaign, you must determine your goals. Your goal could be to generate sales leads, revenue, or awareness.
For example, your PPC marketing goals may include any or a combination of the following:
Generate X leads in the next 30 days
Drive leads that convert into X dollars in sales in the next 60 days
Generate awareness and drive as much traffic to the site as possible in 90 days
Whatever your goals are for the campaign, they must be specific, measurable, attainable, realistic, and time-based (SMART). The specific KPIs (key performance metrics) related to the goals will help determine the ad spend, copy, images, and other aspects of the campaign.
2. What is your budget?
You may not be entirely sure about what you should spend to reach your goals. However, you should have an idea of the range of your budget. In other words, how much are you willing to spend on this effort? And if you spend X, will your return on your investment (ROI) help you reach your campaign goals?
There are PPC campaign calculators you can use to help you figure out the right spend and approach. Or, if you are more comfortable, you may want to seek out a paid advertising specialist or marketing agency to assist with campaign planning, execution, and management.
And that is the perfect segue into the next consideration.
3. What resources do you have to support your PPC campaign?
From your personal comfort level to the resources or talent you have on your team — what resources do you have that will support your campaign? Who can support the campaign through PPC management?
At the most basic level, you should understand the Google ad platform that allows you to bid on key terms and set a budget. There are plenty of video tutorials and tools to help you figure out the platform and use it effectively. However, campaigns with larger spends and specific goals may require a level of knowledge that you may not find on your team.
---
How to launch a successful and effective PPC campaign
A PPC campaign's success and efficacy rely on aligning the goals with the budget, resources, and tools. When each part is carefully planned, the campaign will succeed. Here is an outline of which steps to take to launch a successful campaign.
1. Plan the goals
As mentioned above, the essential part of a PPC campaign is identifying the goals. Identifying the goals will set expectations and drive the rest of the strategy.
As a recap, your PPC campaign goals can include any combination or iteration of the following:
Drive X amount of leads within a specific time frame
Generate X amount of site visitors within a specific time frame
Create brand awareness and increase engagement
Once these goals are identified at a high level and associated with key performance metrics, the campaign's approach and details can be determined.
2. Outline audience behaviors
You must know your audience to launch a successful PPC campaign. Specifically, understand these key insights:
What are your primary and secondary audience profiles?
What behaviors (triggers and challenges) will motivate them to seek out your product or service?
Which questions is your audience asking?
How does your product or service solve your audience's problems?
Once you outline your audience and their behaviors, you can get into their shoes to extract additional insights.
3. Identify keywords and phrases
A PPC campaign relies heavily on selecting the most critical keywords and phrases and then bidding on those accordingly. Here are a few ways to figure that out:
Use a free keyword tool: Identify keywords your audience is using when searching for your products or services. This tool will provide you with data on the keywords related to your business, the search volume of those words, and the value.
Think like your customers: If you get inside your customers' minds and think about the moments they are looking for your business, you can reverse engineer that thought process. You can then identify the phrases they are typing into the search bar during a trigger or motivating moment.
Take a look at your competitors and their campaigns: There is a good chance your competitors may be running paid ads using the same keywords you may want to use. Run a competitor analysis to find out what your competitors are doing. Use that data to identify gaps or "white space" that your campaign can fill.
4. Set a budget
While you may have no clue how much you should be spending on your PPC campaign, decide how much you don't want to spend. In other words, identify your budget range to offer some guardrails for your decision-making.
For example, if your total marketing budget is 10% of your overall revenue and you plan to run four campaigns over 12 months, break those numbers down. Determine the high point of your PPC budget so you will not go over; then you can adjust the depth and breadth of your campaign accordingly.
If budgeting is a challenge, search for a PPC budget tool. The calculator will require that you enter your goals, and then it will work backward to give you a sense of what your spend might look like to reach your goals in your specified time frame based on keyword competition and conversion rates.
5. Leverage tools
Some great tools can help you manage a PPC campaign. These tools vary in capabilities and cost but can help with anything from tracking your spend, keyword performance, and applying customer behavior data.
Some helpful tools include:
Moz Pro: Helps identify primary keywords
SpyFu: Offers PPC-specific research and competitor analysis data
KWFinder: Easy-to-use and identifies long-tail keywords to support your campaigns
Improving your results by driving down the cost per click (CPC) will rely heavily on the data you collect, analyze, and apply.
6. Launch the campaign (but avoid the "set and forget" mentality)
Once you know your audience, budget, and placements, you need to create the ads, and then you can launch. But one thing to avoid is the "set it and forget it" approach. Meaning, you can't just launch your campaign and wait for the results to come rolling in.
Instead, you must stay on top of the activity and track the progress regularly. If the campaign isn't bringing you closer to your goals, you may need to make some tweaks along the way.
Those tweaks may be in the form of changing your strategy, recreating the ads, or changing the bids for keywords.
---
Tips for writing better ad copy for PPC campaigns
Ultimately, the success of the PPC campaign will be in the planning stage and understanding the goals. However, even "if you build it," they may not come. So you must build your campaign and make adjustments as needed, so the images and marketing copy entices your target audience to take action.
Here are some tips for writing effective PPC campaign copy.
1. Keep it short and concise
Often there will be minimal space for your ad copy. Create short and straightforward headlines that grab your audience's attention. Make them descriptive but short and concise.
2. Be clear and simple
When asking a user to take action, it must be obvious what action you want them to take. Therefore, the simpler the copy, the better. Not only are there constraints in copy length, but you must also consider the short attention span of your audience. If they have to "figure out" or decode your message, you've lost your chance.
3. Be fun, be trendy, and be on-brand
Fun and trendy can work well in digital advertising. However, a brand that veers from its core messages or jumps on an unrelated trend loses authenticity. When messages seem "off" or contradictory to an established brand, you risk losing your customers' trust.
---
Make your marketing mix work
Evaluating your options and creating a marketing mix tailored to your business and goals is where you will find success in your business advertising efforts. Keep in mind that your marketing mix will be unique to your company and overall goals. Of course, when it comes to marketing, there is always a chance to pivot and adjust to improve your outcomes.