Premiere Pro is a hefty video editing program that everyone from hobbyists to Hollywood video editors use. While Adobe's video editing software may seem overwhelming at first, running through some basic editing will make the robust program feel a bit simpler.
I've been professionally editing for three years, but when I first opened Premiere Pro I was unsure where to even begin. With some of the same foundational tips that I learned and now use, you'll be able to churn out gorgeous-looking videos that will attract the eyes of any audience. If you're just starting out, you'll be on your way to becoming a skilled Adobe video editor.
---
Tip No. 1: Organizing your project media
It may not be the most glamorous or exciting aspect of video editing, but setting up your project media properly will save you a handful of issues down the line. Errors like offline media and missing links are common problems with messy projects.
To avoid this, the best strategy is to organize your media in a systematic way. At the most basic level, your project folder should be laid out similar to this: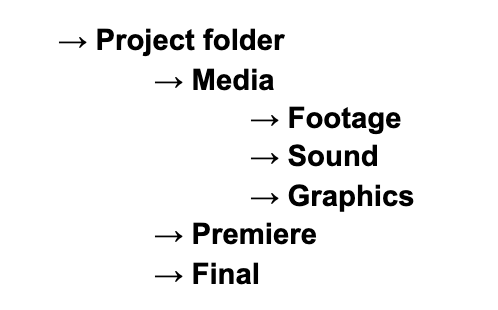 In the above layout, the Project folder will be the title of your video project. Within that, you will have Media, Premiere, and Final. The Media folder holds all your content in its appropriate subfolder. The Premiere folder holds all your edits and Premiere project files — you'll choose this location when opening a new Premiere project. Lastly, Final is where you output your finished video.
Of course, not every editor will follow this format exactly. Adjust this arrangement based on your own preference or make appropriate changes if you're working on a network with team members.
It's important to organize your media before opening Premiere Pro. Once all your folders are situated, you can drag and drop your project folder into Premiere's project panel and Premiere will populate your folders just as you laid them out.
It may feel like overkill to be this tidy before even editing, but it will sidestep the aforementioned "offline media" issue. It's not uncommon to spend an hour searching hard drives, SD cards, or your desktop looking for the clip you misplaced. All it takes is an unnoticed movement of a file, and Premiere will lose the pathway to that media and need to be relinked.
---
Tip No. 2: Three-point editing
Whether you're editing a social media promo, a short interview, or an infomercial, you'll comb through raw footage looking for your best shots — or selects — to drop into your timeline. One method of making this an efficient process is to use three-point editing.
Three-point editing refers to selecting an in-point and out-point in your source monitor, then an in-point on the timeline. To begin, follow the steps and use the image for reference:
Double-click or drag a clip from the project panel to your source monitor
In the source monitor, select the beginning, or in-point, of the portion you want to use with the "I" key
Select the end, or out-point, of the portion you want to use with the "O" key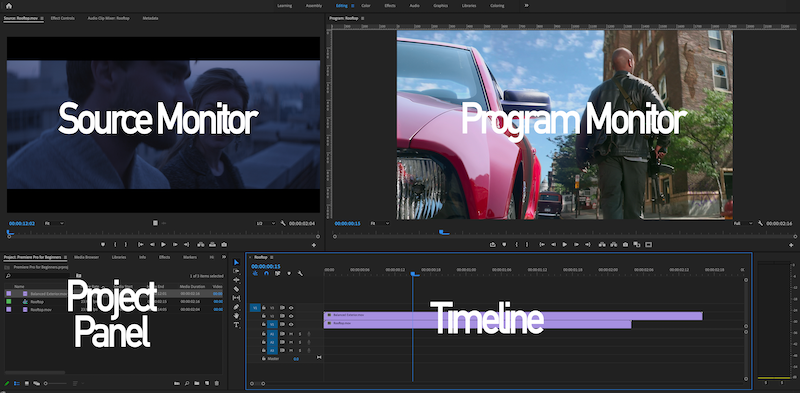 Once you like your selection, toggle the timeline and move the playhead to where you want your selection to start.
You can drop your selection into the timeline with either the comma key (,) or the period key (.). When using the comma key, your selection will insert into the timeline — meaning it will make space and push back other clips for space on the timeline. When using the period key, the selection will overwrite whatever is in that space on the timeline — deleting the other media.
There are scenarios where three-point editing isn't the best option, such as multicam editing, but it's a good habit to start.
---
Tip No. 3: Basic compositing with crop
An easy skill that can add depth to your videos is compositing with a crop in Premiere Pro. In a broader sense, compositing is the process of taking different elements like videos, photos, text, and visual effects and layering them on top of one another to create a cohesive visual. For this tip, we'll look at how you can use cropping to layer videos to achieve a split-screen look.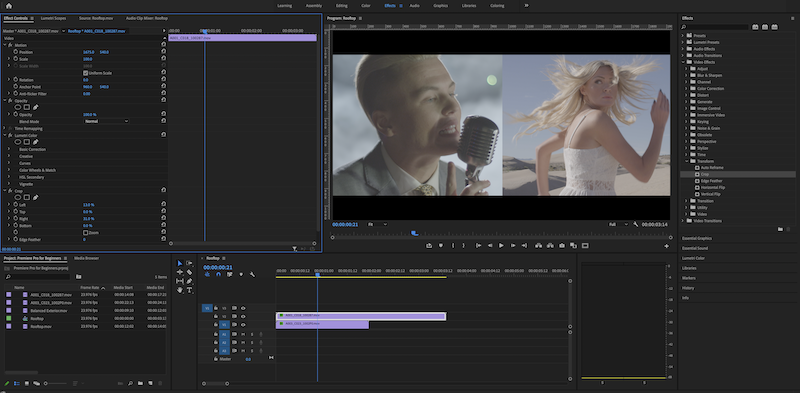 In your timeline, stack two clips on top of each other in the video one (V1) and the video two (V2) layers
Head to your Effects workspace. Under Video Effects and Transform you will find Crop Effect.
Drop the Crop Effect on your top video layer and the controls will populate in the Effects window.
Crop is adjusted from the left, right, top, and bottom in the form of percentages. Shave off the desired amount to create a clean look, then position your cropped video to fit nicely in the frame.
---
Tip No. 4: Basic transitions
Sometimes hard cuts won't do and a video needs a transition or two. There is an abundance of transitions — zoom, slide, push, whip, spin, frame block, luma fade, light leak, and more — but we'll focus on the cross dissolve and Dip to Black transitions and ideal times to use them.
The most common transition is the cross dissolve. To use the cross dissolve, highlight your selection tool (shortcut "V") in your timeline and select the end or beginning of the clip or clips to which you would like to apply the transition. The cross dissolve is the default transition in Premiere and can be applied with the shortcut "command + D" on a Mac, or "control + D" on a PC.
The cross dissolve works by overlapping clips and fading the first one out, and fading the second one in. The appearance is softer than a hard cut and creates a smooth transition between clips.
The default length is just over a second and can be adjusted in the Effects Control section of the source monitor or in the Preferences menu. You can also swiftly add the default transition to multiple clips by simply selecting them in the timeline before using the keyboard shortcut.
You can change your default transition by heading to the Effects panel, selecting the Video Transition menu, right-clicking on your preferred transition, and clicking "Set Selected As Default Transition."
Next up, Dip to Black. This transition is as it sounds, a quick fade to black. You'll see this type of transition mostly at the very beginning or very end of a video — think the beginning of commercials or the end of movies. This transition gives a sense of onset or conclusion, so it's not really advised to drop in the middle of a sequence.
To use the Dip to Black, open your Effects workspace and head to Video Transitions. It will be nestled in the Dissolve folder and just needs to be dragged and dropped to the beginning or end of a clip.
---
Tip No. 5: Adding a filter, or "creative LUT," to your footage
If you've ever dabbled with Instagram, you're probably aware of the filters available to stylize your image or video. Dropping Juno, Clarendon, or Ludwig on your content can create the mood or aesthetic you'd like to convey. Adobe video editing has a similar function, but these are in the form of creative look-up tables, or LUTs.
A look-up table (LUT) is a set of digital numbers or values that will change the color of an image. There are hundreds of LUTs available that serve different functions.
To access these Premiere "filters":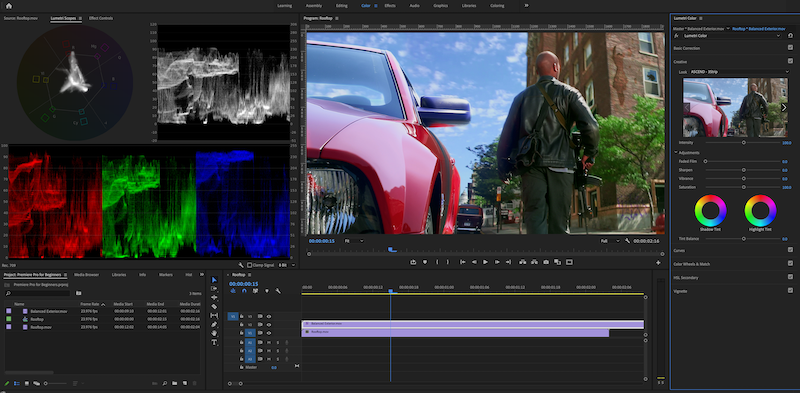 Open the Color workspace. This will bring up Lumetri Color, Premiere's color correction and color grading tool. Although not as robust as other color software, Lumetri has added more functionality over recent years and can help you achieve professional looks.
While in the color workspace, the tall panel on the right side is Lumetri Color. Within that panel, open the Creative section, and find the drop-down menu for Look.
Here you will find all default creative LUTs that you are able to add to any clip. It's best to use the small screen underneath to click through the LUTs and view a real-time preview.
Once you find your look, just click the screen to add it to your clip.
---
Continuing to create with Premiere Pro
The above tips use just a small fraction of the endless tools available in Adobe's video editing software. Learning to drop a creative LUT on well-shot footage or cropping a video to craft a stunning composition will take your content to the next level, but there's more to learn! The more you use Premiere Pro, the more techniques you'll acquire that will lead to exceptional visual material to attract customers.