You know your product or business is a one in a million idea, but how will others come to that same conclusion?
You can help show others the light by using a product positioning strategy.
---
Overview: What is product positioning?
Product positioning is a process and a positioning strategy that improves the marketing of your business by identifying and latching onto specific targeted groups.
It is what gives your small business marketing plan its much-needed clarity of direction and differentiation in the market. Product positioning is the research and planning phase where you find where your product fits in the market and then, via a strategic exercise, distill why your product is different and better.
It is the essential basis of your marketing strategy, so you will need to have this point of view figured out before you begin your marketing campaigns, as it will define your direction and actions.
What goes into creating a product positioning strategy?
Before you start strategizing over your product position, you should begin by remembering a few essential elements that go into putting together this plan.
Vision and mission
A good product positioning statement and company mission statement are quite closely tied together. Just as you have an overall vision statement and mission for your company, your specific product or offerings should uphold those same values. With that, you can create a more drilled down and well-planned direction to make that plan a reality.
Market category
One of the fundamental principles of basic marketing is clarity, which is equally true for specific product market positioning. Know your market and understand key customer segments to market to them intelligently.
Customer pain points
It helps if you have a firm understanding of the challenges your customers face and how your product addresses them. You can't sell someone a solution to a problem they don't have, so diving into their world is essential.
Product analysis
How is your product better than the rest? Keying in on this information is essential in knowing what to highlight.
Conversely, you will want to be well aware of your product's shortcomings so you can plan defensively around them. Knowing this will also help you determine a proper pricing strategy for going to market.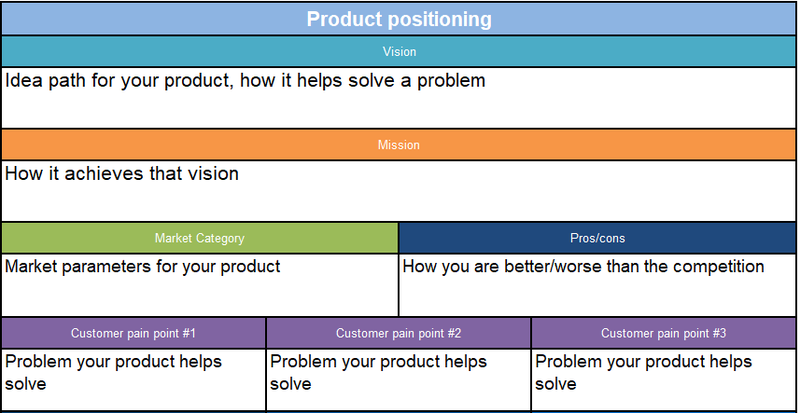 ---
How to create a product positioning strategy
Now that you have an idea of what goes into a product positioning strategy, it's time to take action.
Whether you have a business-to-consumer (B2C) or business-to-business (B2B) marketing strategy in mind, these key steps remain pretty much the same.
Step 1: Do some serious market research
You can't start seriously planning your brand's positioning without knowing the field you're going to market into and the competition you will sell against. Before you even begin crafting a plan, you should dive into the psyche and the state of your market.
Small businesses don't have the luxury of hiring an outside firm, so your local marketing strategy will be a bit more hands-on than a larger corporation.
Talking to your clients here is critical: identifying some key accounts that you have good relationships with and you trust to provide you with honest, thoughtful answers is your best bet. Schedule time to talk with them, and ask them questions that will help define your key demographics and business insights.
For example:
What is your age?
What is your education level?
What are the main duties of your role?
What are your hobbies?
What are your most significant business pain points?
What are your biggest business goals?
Where do you go for new information?
What information do you consider when making a new business purchase?
How likely are you to recommend our company?
What problem[s] do we solve for you?
What made you choose our business over competitors?
Tip: Make sure you get a fair sampling. That means not just speaking with customers that you know are star, brand advocates, but others who may have had poor experiences, so you can get a fair and accurate representation of what you need to work on.
Step 2: Break your customers into segments
Having gathered information on your customers, you should now be able to further break them down into principal, specific demographics. You likely aren't marketing a product solely to one type of person.
For example, an auto lot security system could be targeted at dealership general managers, service managers, owners, and LP (loss prevention) managers, all of whom would have different profiles.
Everything from role to location to behavior patterns and beyond can affect how they best receive marketing messages or how they research new products.
Knowing this can help you target your marketing even better and make sure the right people are getting the correct information presented in the optimum way.
Demographics also affect the marketing channels you will use. Some audiences are more likely to be swayed by old school pamphlets and deterred by social media. In contrast, others rely on networking and a robust online presence to convince them of reputability.
Tip: Make technology your friend. A good CRM system can help you view and organize multiple data points to segment your customers by varying demographic data.
Step 3: Identify your own selling points
Using the information you gathered in the first step, you are in a much better position to identify how your product can meet customers' needs.
You should be able to pull out trends and identify holes in the market from your customers' responses around problems. Use those to figure out how your own product stands out.
Be aware of not only your features and benefits but how they specifically apply to the feedback you gathered.
Tip: Keep in mind certain key elements of your selling points and differentiators:
Anything you call out must be truthful, meaning it has to be the actual, current state, not something you'd like to have in the future. You can always update messaging as your product or service evolves.
It must be relevant. Don't discuss solutions to problems they don't care about.
Provide proof. Put your money where your mouth is in the form of case studies, white papers, data, testimonials, stats gathered from pilot programs, etc.
Step 4: Build a positioning statement
Yes, this is similar to your mission statement and your brand statement, but it has more actionable and detailed planning language embedded in it.
A good statement will include a goal, a defined audience, your differentiators, and your product's mission. It sets the tone for your marketing and reinforces your marketing goals.
You will not be sharing this slogan with customers or externally in any way, but it should be the guiding mantra for your internal efforts.
Tip: Approach your statement like a fill-in-the-blank by identifying the following and then turning them into a short paragraph:
Your company name
What your company/product does
What your target demographics are
Your differentiator[s]
The proof
Step 5: Review, revise, and apply
Review your statement against your branding to make sure it matches. You want to make sure everything fits together cohesively.
You may need to change nothing, you may need only to tweak things a bit, or you may even find your branding and your positioning at odds, prompting a rebranding initiative. That will take more time, but it's not a bad thing to get everything you're doing to be on the same page for both general direction and concentrated digital marketing.
Then comes the implementation, where you must ensure you are priced appropriately, primed for launching, and have cohesive e-commerce email marketing plans.
You target the places and avenues where your target market spends its time, you inject personal and practical persuasions into your advertising, and you continually check in on your strategy and readjust where needed.
Tip: Include as many trustworthy people in the reviewing process as you can. The more eyes you have on it and actionable feedback you get, the more you can ensure your plan is clear to not just yourself, but your marketing team and anyone else in your business that will need to adhere to its sentiments. The review phase is when more cooks in the kitchen is a good thing.
---
Examples of successful product positioning strategies
These are some consistently successful product positioning examples across brands:
Walmart: They position themselves as the one-stop-shop for the masses, positioning themselves as both ubiquitous and affordable.
Doritos: Year after year, you see their ads during the Superbowl because they know that it's a prime spot to advertise to the snack food market.
Sugary cereals: A physical positioning, cereals are aimed at kids, use bright colors, and are placed in supermarkets at the eye-level of a child.
Starbucks: The chain positions itself as a premium option, creating a perception of an upgraded, superior coffee experience.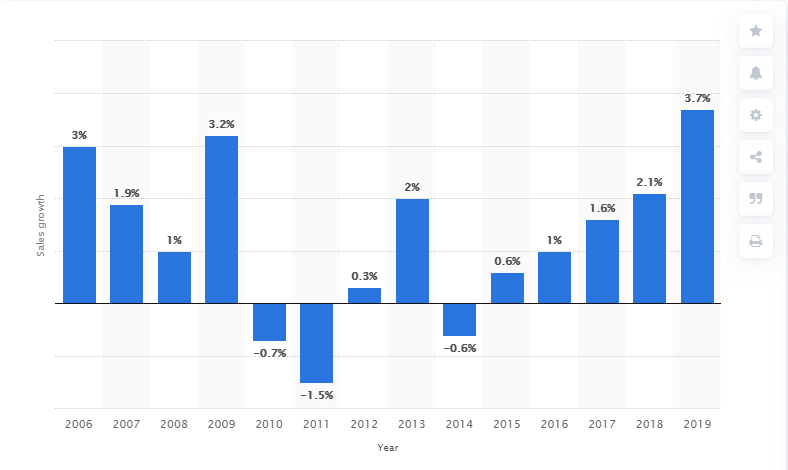 ---
Product positioning is more than the sum of its parts
A lot goes into identifying your product position strategy, and you encounter even more variables in how you can position your business itself.
But each component, demographics, problems and solutions, advertising channels, pricing, etc., works together to deliver on that perfect sweet spot in catching the consumer's eye.