Project management involves many moving parts, and project managers must apply an assortment of knowledge, project management tools, techniques, and skills to deliver projects according to specifications.
So that new project managers don't get overwhelmed by the extent of the knowledge they must have to fully understand their many responsibilities, the Project Management Institute (PMI), through the PMBOK Guide (A Guide to the Project Management Body of Knowledge) — a collection of standardized project management guidelines, best practices, and terminology — has divided project management into 10 knowledge areas, specifically:
Project integration management
Project time management
Project cost management
Project human resource management
Project communications management
In this guide, we'll talk about project integration management, which is a key project management basics component, the phases or processes involved, and some of the best project management software options to consider for your integration management plan.
---
Overview: What is project integration management?
Project integration management brings together all of the different aspects of a project into one cohesive whole. It's a necessary success factor in project management, particularly when different business areas or departments have to work together on a project.
Every department has its own way of doing things, which is a double-edged sword.
On the positive side, they don't have to learn new methods and techniques to get things done; they can stick to what they know delivers results. On the other side, different departments implementing different tools and processes can make project collaboration extremely difficult.
Then, there are large projects with numerous parts and pieces. To successfully complete a project, each piece must function like a jigsaw puzzle piece that aligns with all of the other pieces. Otherwise, the project will have trouble meeting deadlines or quality and budget requirements.
In some cases, projects will have to be shelved so organizations don't suffer further losses.
---
How project integration management works
Project integration management coordinates all of the different processes that a project has to undergo to create consistency from beginning to end. It follows six processes.
Develop a project charter
A project charter, also known as a project definition document, contains the project's preliminary objectives, goals, and scope. It establishes the authority of the project manager, identifies who the key stakeholders are, the teams involved, and their responsibilities.
The project charter is used throughout the project life cycle as a reference document.
Develop a project management plan
The project management plan outlines the different project management steps and processes necessary to efficiently bring the project to completion.
It also defines the project's budget, scope, and schedule, individual team members' roles and responsibilities, how risks will be managed, how scope change requests will be handled, and so on.
Essentially, the project plan details what needs to be done and how it should be done.
Direct and manage project work
This is the process of managing and executing the various work components, methods, and standards defined in the project plan, including implementing approved changes.
The goal of this process is to provide overall management of the project so that it ultimately meets agreed-upon requirements.
Monitor and control project work
Alongside facilitating project execution is monitoring and control. This is important because if you're not tracking actual project performance versus objectives, quality may suffer, or the project may exceed its allotted budget or time.
Requests that will affect established baselines should be carefully reviewed, and preventive actions, such as training certain members on certain tasks so they can take over in case someone gets sick or is transferred to another project, must be undertaken to prevent delays.
Perform integrated change control
This is where all changes — hence the word "integrated" — are assessed, analyzed, and decided upon. Depending on the organization, a change management board may be needed to review change requests.
Typically, once a change is requested, a preliminary impact analysis is carried out, the result of which is then relayed to the client or project sponsor.
If the client is willing to pay more, push back the deadline, or make quality compromises, whichever is applicable, a more detailed analysis is done before the change is approved or rejected.
Close project or phase
Once complete, the project must be closed. All deliverables and final documentation are submitted. The goal is to ensure that all contractual obligations are fulfilled.
The closing stage also includes reviewing or looking back at all of the processes the project undertook from start to finish, and then determining whether these have been successful.
Every change or detail must be documented for future projects to reference.
---
Benefits of project integration management
Imagine this scenario: A project is due a week from now. The person in charge of quality evaluation got sick and is on medical leave. What does the project manager do? That person must do a series of things:
Gauge the impact of the employee's absence.
If the evaluation cannot be postponed, then the project manager finds someone else who can do the job.
Inform the client of a possible delay, as well as assure them that the team is doing everything they can to still meet the deadline.
In this hypothetical scenario, the project manager is integrating several different project aspects, making the project integration management process crucial to project management success.
Manages interdependencies among the different knowledge areas
While project cost management only deals with managing the financial aspects of a project, and project human resource management only deals with the team members involved in a project, they don't operate independently. Any change in one area can affect another.
For example, adding more people affects the timeline, budget, or both. The project manager, through project integration management, communicates all changes to the concerned parties — in this case, that could be the client, department head, staff or employees, and the budget coordinator.
Improves organizational efficiency
When different teams use varying project management techniques and tools to complete tasks, consistency, which we all know is the key to productivity, can be difficult to achieve.
Project integration management coordinates and directs all activities toward the project's ultimate goal.
Ensures all project components are in order
Project management deals with multiple processes and involves various elements. Project integration management unifies and consolidates them all to successfully achieve the project's overall objectives. It's the thread that binds them all together, so to speak.
---
Project management software you can use for project integration management
Project managers are like jugglers who must keep several objects in the air, a feat that requires specialized training, skills, and mastery of different tools.
In project management, such tools include a feasibility study for gauging the viability of a project, work breakdown structure charts to visually decompose the work to be executed, and the critical path method for estimating the project's completion date.
There's also project management software to facilitate work, monitor budgets, and ensure seamless collaboration between departments and teams. The following are some software options.
1. monday.com for task scheduling and workload visibility
Projects run on schedules, and tasks are scheduled to achieve maximum productivity. monday.com allows users to create task lists. Each task can be assigned to multiple columns if you want it more detailed and to better track its progress.
Customizable task templates are available so you don't have to start from scratch.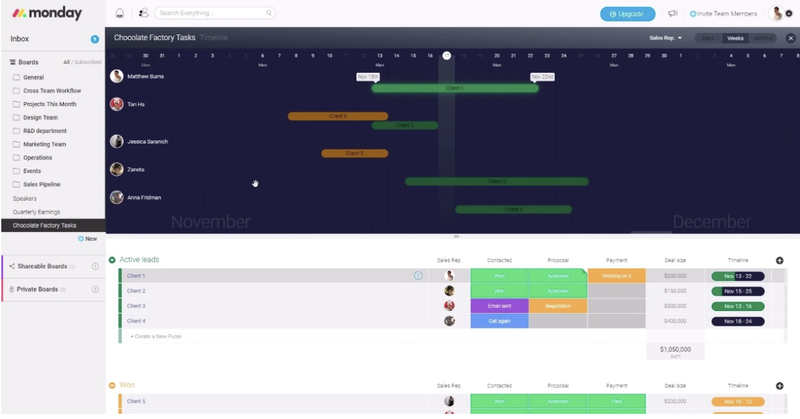 monday.com also provides visibility into the workload of each team member, a necessary feature so that work is distributed evenly and no one gets overloaded.
2. ActiveCollab for financial management
Effective financial management is essential for projects to stay within budget. Tracking expenses, generating accurate reports, and providing timely updates are just some of the tasks that the right project management software can do for you.
ActiveCollab is a feature-packed collaboration tool that has the financial features your project may need, including budgeting, invoicing, and generating work estimates.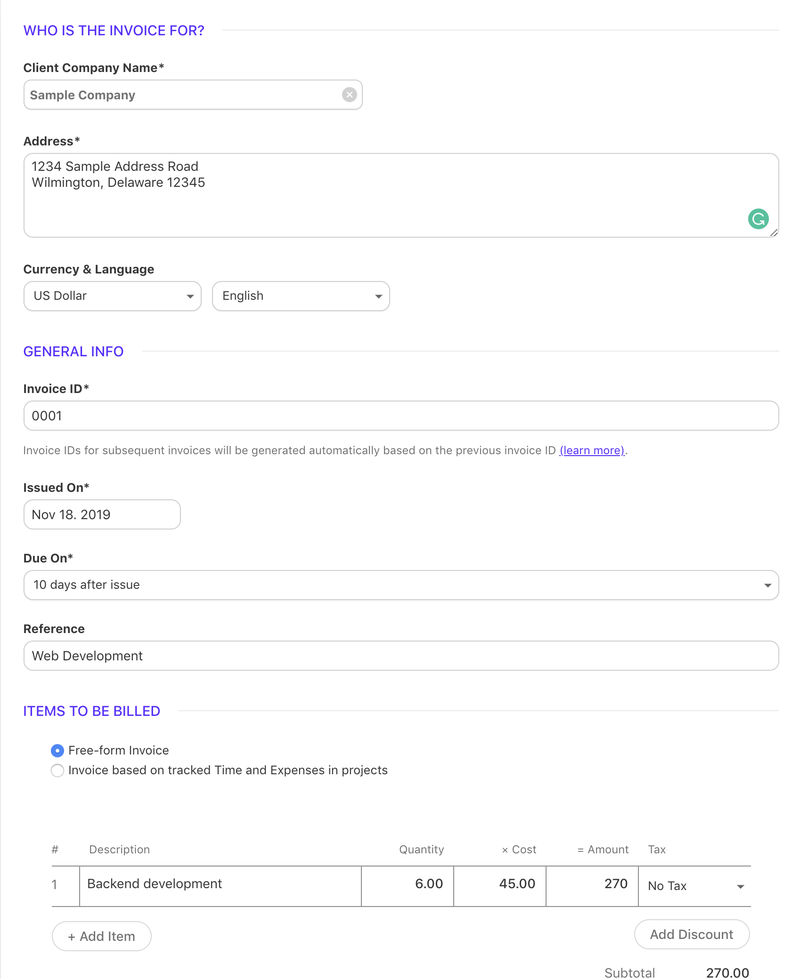 ActiveCollab is easy to use, which means teams and departments don't have to spend much time learning its functionality.
3. Podio for team communication
For midsize to large project teams with very specific needs, Podio is a great choice. It's extremely customizable and comes with all of the features inherent in project management platforms, such as time tracking, task scheduling, and project templates.
Podio's standout feature is social collaboration. Work notifications are delivered via a Facebook-like activity stream. Team members can ask questions, post updates, and share images, documents, and links.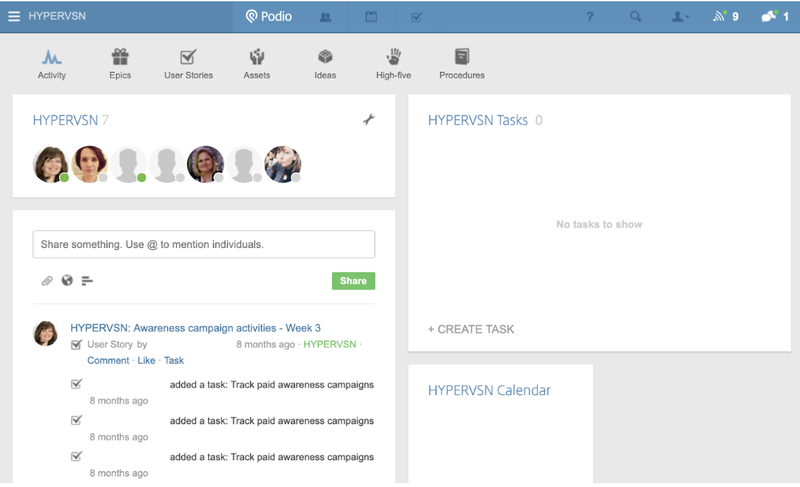 Podio Chat supports video calling and instant messaging. Plus, Podio natively integrates with GoToMeeting for when you need to schedule and organize online meetings.
---
Tying it all together with project integration management
A project involves many complex parts, numerous processes, and different stakeholders.
Project managers need to manage people, risks, schedules, timeline, quality, and so many other things. In large organizations, the different departments' techniques may have nothing in common.
Project integration management is the system and framework that provides order and direction for all of these constituent parts.