I'm old enough — barely, I swear! — to remember the telephone party line my grandparents shared with their neighbors in rural Arkansas. Every time the phone rang, the call may or may not have been for them, and when trying to make a call, they might interrupt someone else's conversation. And, of course, they were always on alert for the telltale click on the line that indicated a neighbor was listening to their call.
Most telephone party lines were phased out by 2000, but the internet is similar to one. You may think you're having a private conversation, but the opportunity for third parties — hackers, government agencies, your internet service provider (ISP), and even the websites you visit — to intercept, log, or restrict your communications and personal data is an ongoing concern.
A virtual private network (VPN) application addresses this issue, everything from accessing blocked websites to transmitting confidential information. One newer VPN service provider is ProtonVPN. We'll go over its strengths and weaknesses so you can see how it can help protect your online communications and business network.
---
Who is ProtonVPN for?
ProtonVPN is an open-source VPN application Proton Technologies released in 2017. Its features include multiple VPN protocols, desktop downloads, mobile apps, a kill switch, Domain Name System (DNS) protection, and a no-log policy.
ProtonVPN offers four plans for individuals but no standalone business plans. (Several workarounds exist to support multiple users, as we'll discuss in the pricing section below.) ProtonVPN is adding more servers around the world, so I suspect dedicated business plans are coming soon.
After the company was founded in 2014 in Switzerland, Proton Technologies's first product was ProtonMail, an encrypted email service. (An encrypted calendar application is in beta testing.) Like its competitor VyprVPN, which is also incorporated in Switzerland, Proton Technologies' priority is providing access to a secure and open internet for journalists, activists, and other social change agents.
---
ProtonVPN's features
ProtonVPN's core feature is VPN functionality, which creates a secure data "tunnel" on public networks. Separate endpoint devices connected via the internet — for example, a remote employee's digital device and a company's enterprise network — subsequently enjoy the security of a private network.

Individuals use VPNs to mask their IP addresses to sidestep content restrictions, such as watching movies on Netflix in countries where they're not licensed for viewing. Businesses use them to protect their communications and intellectual property from hackers and government surveillance.
We'll take a closer look at ProtonVPN's security protocols, desktop downloads and mobile apps, DNS protection, Secure Core, and two-factor authentication (2FA).
VPN protocols
A VPN uses encryption to protect online communications, and multiple security protocols exist for this, each with its own pros and cons regarding speed, known vulnerabilities, and stability.
Based on these considerations, ProtonVPN uses two VPN protocols:
OpenVPN

: Used for Windows and the Linux command-line tool, it's best for users whose top priority is data security.

IKEv2/IPSec

: Used for Android, iOS, and macOS apps, it offers increased stability and faster speeds than OpenVPN.
Wireguard is another VPN protocol in development, which ProtonVPN has supported. It offers unique features, such as maintaining VPN connections when changing Wi-Fi networks or VPN servers. Wireguard is available from some VPN providers but has not yet met ProtonVPN's security standards.
Desktop downloads and mobile apps
VPNs are as useful as the operating systems they work on, and ProtonVPN supports multiple platforms with desktop downloads and mobile apps:
Android
Chromebook
GNU/Linux
iOS
macOS
Windows
Once your account is set up, you can also save multiple profiles. For example, a work profile might use the Secure Core feature for extra security, while another one accesses the fastest available server for video streaming.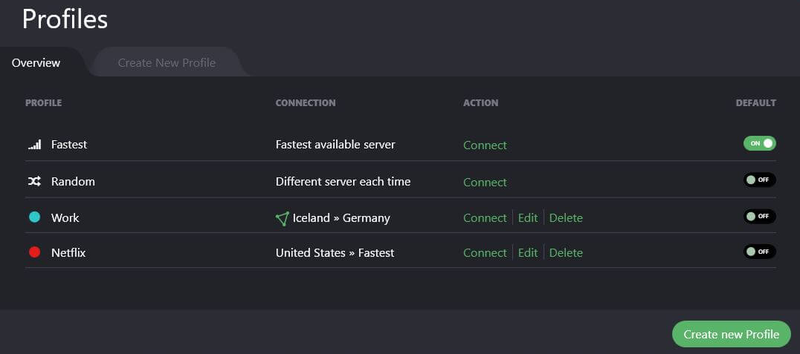 ProtonVPN is useful for smartphones and other mobile devices because they often lack any firewall protection. Still, when you're on your home or work local area network (LAN), which you have secured, using a VPN can slow data speeds. ProtonVPN allows you to bypass its VPN when connecting to other devices, such as printers on your LAN.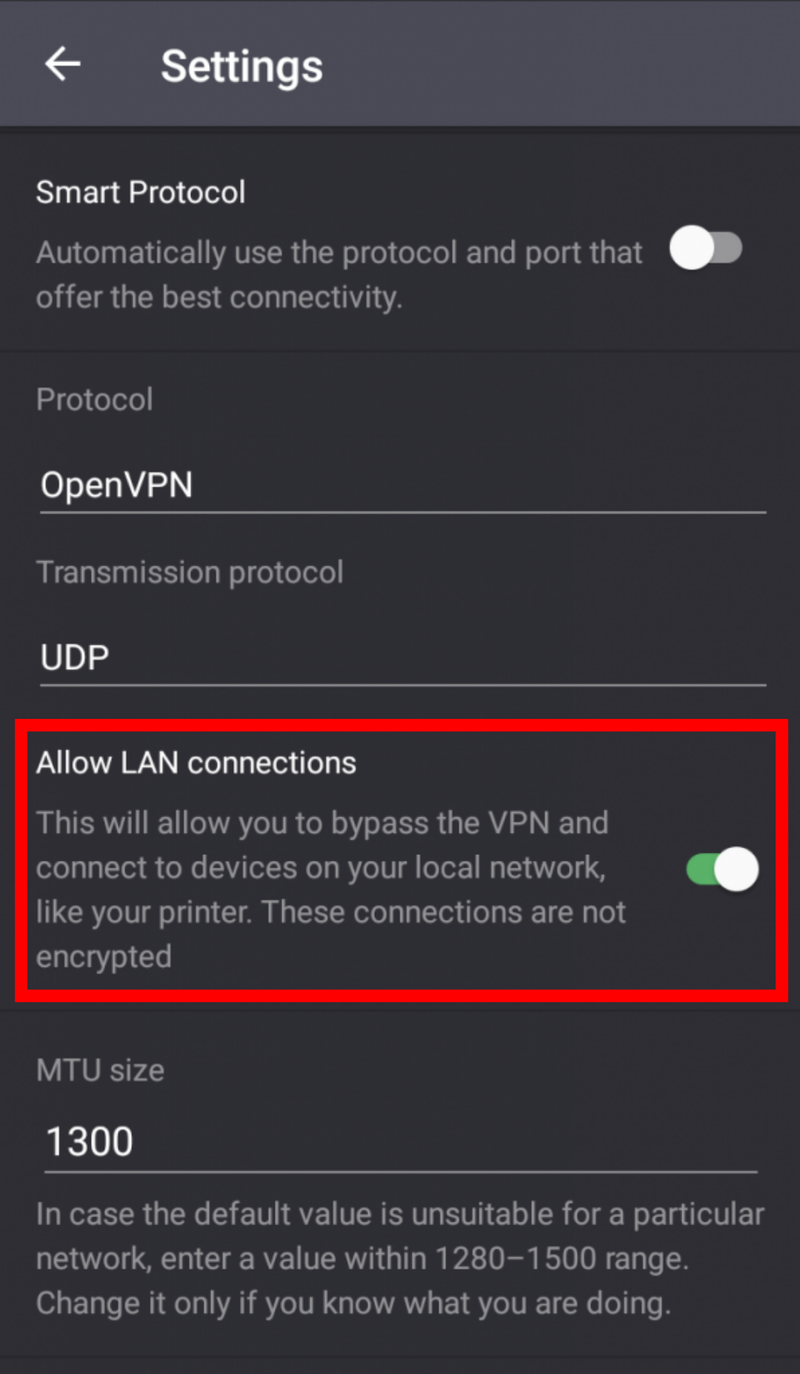 Always-On VPN further increases security. If your VPN connection drops, it automatically reconnects. This feature, like the ProtonVPN Kill Switch, which blocks internet access when your VPN is inactive, is on by default in Windows. You must manually activate it, however, on ProtonVPN iOS and Android downloads and mobile apps.
Domain Name System (DNS) leak protection
Every time you go to a new website, your web browser sends a DNS request to your ISP to translate the alphanumeric web address in your browser into numbers that are a website's actual location on the internet. DNS leaks can occur if you misconfigure your router, use the internet without VPN protection, or a hacker hijacks a public network router to redirect your DNS request outside of your VPN.
ProtonVPN uses multiple methods to prevent DNS leaks:
DNS requests are routed through your encrypted VPN tunnel.
ProtonVPN sends all DNS requests to its own servers and none owned by third parties.
Its mobile apps also force your internet connection to resolve DNS requests via ProtonVPN's DNS servers.
Without getting too far into the weeds with tech talk — after all, I'm the guy who remembers party lines! — before I turned on ProtonVPN, a DNS leak test identified Waco, Texas, as my Chromebook's location and Midland, Texas, as my ISP's server location. My DNS requests can be recorded by my ISP, depending on its privacy policy, and turned over to U.S. law enforcement pursuant to relevant laws.
After turning on ProtonVPN and choosing a server in Turkey, however, my IP address was masked, making my Chromebook appear to be in Istanbul. My DNS requests were routed through this ProtonVPN server, too, and its no-log policy means no record of my Internet browsing history is stored. Any websites I visit with this connection also treat me like I'm in Turkey.
Secure Core
Countries, such as the U.S., which have far-reaching surveillance capabilities, or those with restrictive internet regulations, such as China, can force either your VPN provider or ISP to allow network monitoring and physically pinpoint users. Even though ProtonVPN is based in Switzerland, which has expansive privacy laws, that isn't true for all other countries where its VPN servers are located.
However, ProtonVPN Secure Core routes traffic through multiple servers. If you connect to a server in a high-risk jurisdiction, such as the U.K, for example, your data first goes through an intermediary Secure Core server in Iceland, Sweden, or Switzerland. Anyone monitoring U.K. servers could only follow your traffic to the Secure Core server, which makes unmasking your IP address and location more difficult.
In the screenshot below, a user's traffic is routed through a Secure Core server in Iceland to another ProtonVPN server in Spain. If the Spanish server was hacked, the user's data trail would end in Iceland regardless of their actual physical location.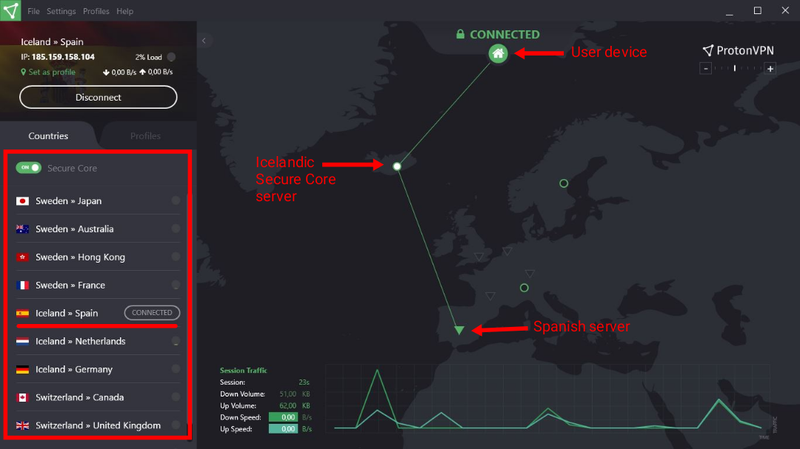 No system provides 100% protection, but ProtonVPN does everything possible with Secure Core. Servers in Sweden and Switzerland use underground data centers, and Icelandic servers are on a former military base. ProtonVPN also provisions, owns, and operates its entire technical infrastructure.
Two-factor authentication (2FA)
ProtonVPN protects your online activities, but you must secure access to your account, too. Passwords alone are so last millennium because bad actors with enough time and computing power can crack any password. Two-factor authentication (2FA) creates an extra security layer by adding another login step that uses a one-time password (OTP).
ProtonVPN 2FA configuration is easy: Scan a QR code provided in your dashboard to add your account to a third-party authenticator smartphone app. Use your ProtonVPN password and a six-digit OTP from your authenticator to complete the setup process.

ProtonVPN suggests using either the Authy, Google Authenticator, or Duo authenticator apps, but I used my Okta app, and it worked fine.
---
ProtonVPN's ease of use
ProtonVPN has a clean, easy-to-use interface that isn't cluttered with advertising and makes initial account setup hassle-free. (Unlike some of its competitors, however, it doesn't have a VPN browser extension.) But if you do have problems, there's no live chat or telephone support, only email support with a 24- to 48-hour turnaround time and an online knowledge base.
Your VPN operates in the background, so you notice it when data speeds are slow or connections drop. ProtonVPN is relatively new, and early on a lack of servers caused problems in both areas.
Now it has more than 1,000 servers worldwide, which isn't as many as its larger competitors, but its performance and stability have improved. The company is also continually adding more servers in additional countries, including Hungary, Chile, and Peru.

Most consumer VPN plans focus on streaming content blocked due to geographic licensing restrictions. While you can use ProtonVPN for that, its explicit mission is privacy and data security. This is well-suited for businesses needing secure communications across multiple countries and protection for digital intellectual property.
The biggest issue, as we'll discuss below, is that ProtonVPN doesn't have any standalone business plans. So, while it's great for individuals, freelancers, or solopreneurs, there's no enterprise system available unless you use it with a ProtonMail multi-user business plan.
---
ProtonVPN's pricing
ProtonVPN's single-user plans include:
Free: Includes one VPN connection, access to servers in three countries, medium data speed, unlimited bandwidth, no logs, and no ads.
Basic: $5/month — Adds another VPN connection, access to servers in 50 countries, high data speed, and P2P/BitTorrent file-sharing protocols.
Plus: $10/month — Provides five VPN connections and adds Secure Core, TOR over VPN, and access to geo-blocked content.
Visionary: $30/month — Provides 10 VPN connections and includes a ProtonMail Visionary account.
You can save 20% with a one-year plan or 33% with a two-year plan and pay via credit/debit card, PayPal, Bitcoin, or cash.
To use ProtonVPN for your business, you have several options — that is, workarounds — to choose from:
Install on network routers: Get a plan with multiple VPN connections and install ProtonVPN on each of your business's network routers. This gives devices on your network VPN protection, while each router counts as one plan connection.
Multiple ProtonVPN Plus accounts: Purchase multiple Plus accounts and divvy up the device connections among employees via one or more shared logins.
ProtonMail Professional: ProtonMail's Professional plan allows you to create an "organization" and manage up to 5,000 users to whom you can assign up to 1,000 VPN connections.
ProtonMail Professional pricing starts at $10/month per user, and VPN functionality is an add-on feature beginning at $10/month for five connections.
---
ProtonVPN's support
ProtonVPN support is limited to email help tickets with a 24- to 48-hour reply time, online knowledge base, and active Reddit community. The ProtonVPN blog is regularly updated with articles ranging from product news to more general cybersecurity topics.
---
Benefits of ProtonVPN
ProtonVPN has a features set comparable to its competitors: no data logging, a global server network, kill switch, and multiple desktop downloads and mobile apps. Unlimited bandwidth, no ads, and a robust free plan distinguish it from other VPN providers.
Its real strength, however, is a commitment to user privacy. Swiss incorporation gives users some of the best privacy protections in the world, which is further supported by a hardened technical infrastructure. Sure, ProtonVPN is a business, but it was founded by scientists who met at the European Organization for Nuclear Research (CERN), and much of it was crowdfunded.
Beyond the lack of standalone business plans, ProtonVPN's other limitation, in contrast to competitors such as VyprVPN, is that it's blocked in China. It's one thing to promote the idea of a free internet, but it's not helpful in practice if your VPN isn't accessible where users need it the most.
---
Not quite ready for business primetime
ProtonVPN's emphasis on ensuring user privacy and the security of its technical infrastructure is admirable. Still, unless you're currently using ProtonMail and purchase ProtonVPN as an add-on service, it doesn't have the multi-user management capabilities most businesses require. Once it adds that, ProtonVPN will be among the best VPN software solutions on the market.
---
Frequently Asked Questions for ProtonVPN
Who should use ProtonVPN?
ProtonVPN is available via four individual user plans and as an add-on feature to ProtonMail. If your business is already using ProtonMail, ProtonVPN is a no-brainer. The lack of standalone business enterprise plans, however, means that using ProtonVPN alone is best-suited for freelancers, solopreneurs, and smaller businesses.
How much does ProtonVPN cost?
ProtonVPN's pricing includes a free plan and three paid plans for individuals ranging from $5/month to $33/month. If you use it with ProtonMail, that costs an extra $10/month per user.
What kind of support can I expect?
Customer support is limited to email help tickets, a knowledge base, and an online Reddit community.

If you want VPN protection at an affordable price, ProtonVPN could be what you're looking for since it gives you unlimited bandwidth, no ads, and multiple security protocols. As a new player in the VPN arena, however, it's still building out its technical infrastructure and doesn't offer the enterprise-level management features larger businesses require.
If you want VPN protection at an affordable price, ProtonVPN could be what you're looking for since it gives you unlimited bandwidth, no ads, and multiple security protocols. As a new player in the VPN arena, however, it's still building out its technical infrastructure and doesn't offer the enterprise-level management features larger businesses require.
The Motley Fool has a Disclosure Policy. The Author and/or The Motley Fool may have an interest in companies mentioned.