QuickBooks Online is one of the most popular small business accounting software options on the market today, with more than 3 million current subscribers.
But what if QuickBooks Online isn't right for your business? The good news is that if you're in the market for an accounting software application other than QuickBooks Online, you have a lot of choices.
Here are the top alternatives to QuickBooks Online as an accounting software:
---
What to look for in a great QuickBooks Online alternative
If you're looking for an alternative to QuickBooks Online, you should start by determining what you're looking for that QuickBooks Online doesn't offer.
Does the interface bother you? Is the feature you're looking for not available? Are you looking for a more inexpensive product, or better integration with your other applications?
Whatever your reason for seeking out alternatives, here are a few things you should pay close attention to while searching for a QuickBooks Online replacement.
1. Ease of use
It's all well and good to search for a product that is loaded with awesome features. However, if you have a hard time accessing and using those features properly, it doesn't really matter if they're available or not.
One of the primary things any new user should consider is how easy a product is to use.
One way to do that is to take advantage of the free demos that many of these applications offer. There's nothing like navigating through a product yourself to really see if it's the right one for you.
2. Price point
While most small business accounting applications offer multiple plans and affordable prices, it can be costly to get all of the features you want at a price you can afford.
Before you purchase the lowest level plan, be sure it includes the features you're looking for, and if you have to go up to the next plan level, make sure that the cost is within your budget.
3. Support
One of the features frequently overlooked when shopping for accounting software is support.
It's one of those things that you don't think much about — until you need it.
If you're tech savvy, chances are you can get by with online support or a robust knowledge base, but if you're a computer novice, make sure that any product you're interested in offers support options that work for you.
---
Our top 8 picks for QuickBooks Online alternatives
QuickBooks Online is a great small business accounting application, but it's not for everyone.
Not to worry; there are a lot of great small business accounting applications for you to choose from. If you're actively searching for QuickBooks alternatives, be sure to check out some of these options.
---
1. Best for tech novices: FreshBooks
If you're a sole proprietor or freelancer tired of using a spreadsheet to track business activity, FreshBooks is for you.
FreshBooks requires little in the way of setup, so you can be up and running in minutes. It is best suited for freelancers and sole proprietors. FreshBooks offers a self-employed plan, along with a teams plan for small businesses with multiple users. As an added bonus, FreshBooks includes a highly intuitive interface that even computer novices will be comfortable with.
FreshBooks recently added double-entry accounting capability to the application, a major plus for any small business that has at least one employee.
The application offers good expense management, client invoicing, time tracking, and the ability to record customer payments. You can also create a flat rate or hourly project in FreshBooks, and create client estimates as well.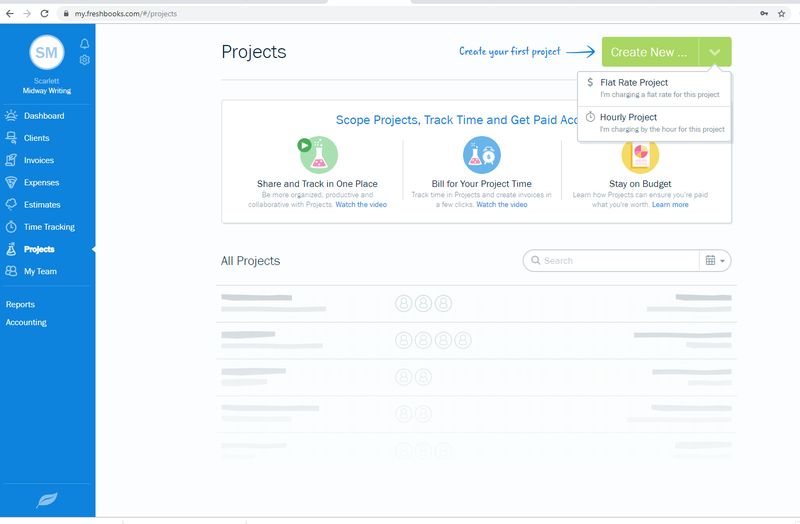 Although not the best choice for businesses that sell products, FreshBooks is an excellent solution for sole proprietors and freelancers; offering a rapid invoicing option as well as the ability to manage projects and create estimates and proposals.
Both QuickBooks and FreshBooks offer live support options; however, QuickBooks pushes customers to use self-help resources first. Along with an easily navigated interface, FreshBooks offers a variety of other benefits including free toll-free customer support, with email support available as well.
FreshBooks pricing starts at $15 a month, with the popular Plus plan running $25 a month, a small price to pay to keep your books in order.
Read The Blueprint's full Freshbooks review
---
2. Best for tight budgets: Accounting by Wave
If you're on a tight budget, but still want an online accounting application that offers double-entry accounting capability, Accounting by Wave may be right for you.
Accounting by Wave is a cloud-based application that is free. Yes, Wave is a free QuickBooks Online alternative.
Accounting by Wave is best suited for freelancers and sole proprietors, conveniently offering all of the accounting features that you need for your small business, including double-entry accounting, sales, purchases, banking, and decent reporting.
Accounting by Wave offers custom invoice creation and decent customer management capability. The application is better suited to those that offer services rather than products, since Accounting by Wave does not offer inventory tracking or management capability.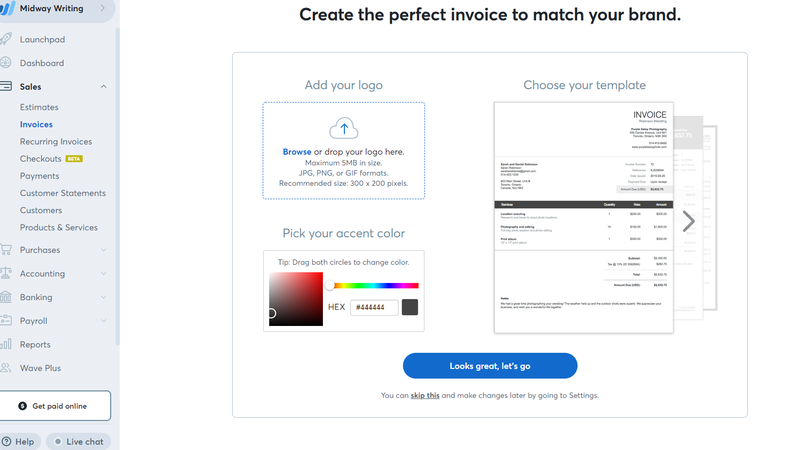 For service businesses that need good invoicing capability, Wave includes great invoice customization capability, where you can add your logo and other marketing details. The application also offers invoice templates that you can use when creating an invoice.
Both online payment acceptance and payroll options are available through Accounting by Wave, though both have a fee attached.
Accounting by Wave does not include many support options, though accounting users can access the online help center for answers to questions. If you subscribe to either Wave Payments or Wave Payroll, you will have access to chat support as well.
Perhaps the biggest benefit of using Accounting by Wave is that it's free, with costs only incurred if you subscribe to the online payment application.
There, you'll pay 2.9% plus $.30 for each transaction, or the payroll application, which has a base fee of $35 for full-service payroll, and a $20 monthly fee for the self-service payroll option.
Read The Blueprint's full Accounting by Wave review
---
3. Best for growing businesses: Sage 50cloud Accounting
Sage 50cloud Accounting is a hybrid application that offers the reliability that a desktop application offers along with remote access options.
Sage 50cloud Accounting is better suited for those that are more tech-savvy. Best suited for small and growing businesses, Sage 50cloud Accounting is scalable, with three plans available, with their Quantum plan able to support up to 40 users.
They offer a long list of features for small businesses including good customer management, sales tracking, purchase orders, and a good inventory management module.
Sage 50cloud Accounting also includes automatic bank feeds, vendor payment, and two payroll options: Essentials Payroll for up to 15 employees and Full-Service Payroll for larger businesses.
They offer good reporting capability, with fully customizable reports in a variety of categories. Tech support is good, with telephone, email, and chat support available.
One of the best benefits small businesses can derive from Sage 50cloud Accounting is its scalability.
When you find an accounting application you're comfortable with, the last thing you want to do is outgrow the application. You won't have to worry about that with Sage 50cloud Accounting, where you can scale up to the robust Quantum plan, which supports up to 40 users.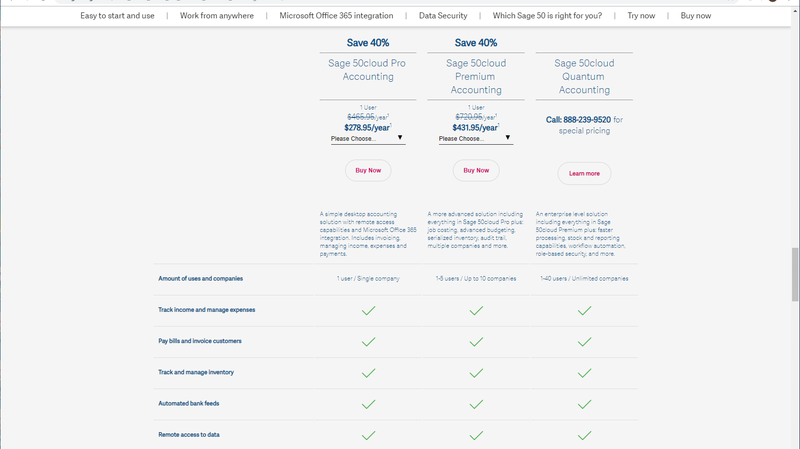 Sage 50cloud Accounting starts at $278.95 annually for the standard plan, with the Premium plan running $431.95 annually. If you're a larger business, check with Sage for current pricing for the Quantum plan.
Read The Blueprint's full Sage 50cloud Accounting review
---
4. Best for fast onboarding: Sage Business Cloud Accounting
Like FreshBooks, Sage Business Cloud Accounting is optimally designed for freelancers and sole proprietors, but is also a good option for small businesses that sell products.
The application offers an easy-to-use interface that's suitable for even the tech novice. Sage Business Cloud Accounting offers two plans, allowing you to start with the lower tier plan and move up if necessary.
However, the application is not really suitable for growing businesses, or those planning on growth in the next year or so.
Sage Business Cloud Accounting offers sales invoicing, tracking and bank connections, and you can easily create an invoice using one of the included invoice templates.
There is also a quick entry option for entering multiple invoices. The application also includes a good inventory management feature, with options to manage both regular stock and non-stock items.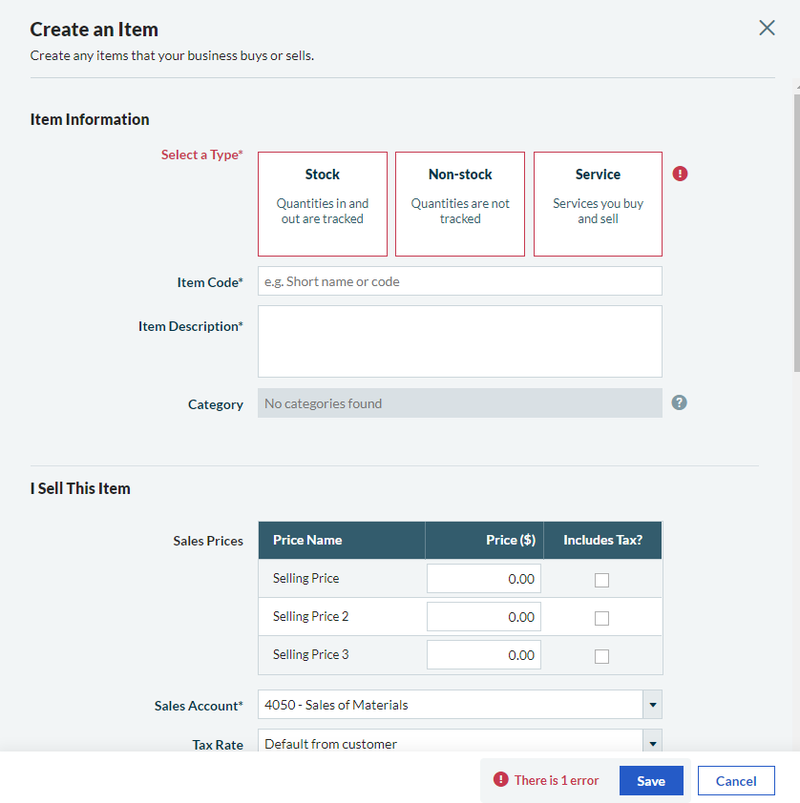 In addition, you can also maintain up to three pricing levels for each product and track your products using a barcode system.
The application does not offer payroll, and while a decent selection of reports are available, they offer little customization capability.
Support options vary in Sage Business Cloud Accounting, with online and chat support available, as well as a robust user community, where issues and answers can be shared with fellow users.
One of the biggest benefits of using Sage Business Cloud Accounting is gaining access to the Sage Marketplace, where you are able to access more than 100 apps designed to extend the core functionality of the application.
Pricing for Accounting Start, the entry level plan is $10 per month, with the Accounting plan running $25 per month; both affordable for the small business owner.
Read The Blueprint's full Sage Business Cloud Accounting review
---
5. Best for desktop systems: AccountEdge Pro
AccountEdge Pro is designed for tech-savvy business owners that are looking for a robust accounting application.
A desktop application, AccountEdge Pro offers a ton of features, making it the perfect product for small to mid-sized businesses, as well as growing businesses.
If you're interested in AccountEdge Pro, it's best that you know your way around a computer and are comfortable using an on-premise application, though you can still access the application remotely to perform several functions.
Features available in AccountEdge Pro include full account management, banking, sales, time billing, inventory, and purchasing.
The application also includes payroll, with both self-service and full-service payroll available. AccountEdge Pro also offers features found in other small business accounting applications, such as a customer portal and the ability to accept customer payments online, though the application does not currently offer an automatic bank feed.
AccountEdge Pro does include the ability to track your time and bill your customers for that time. The robust inventory module makes it a great fit for those with product inventory that needs to be tracked.

Reporting options are terrific in AccountEdge Pro, with all reports fully customizable. Free email support is included, and for $199 a year, you can subscribe to the telephone support plan.
While some may see an on-premise application as a hindrance, the true benefits of using AccountEdge Pro far outweigh this slight inconvenience.
The product offers four plans that range from Basic for very small businesses to Priority ERP, allowing you to continue using this excellent application at every stage of your business.
AccountEdge Pro has a one-time fee of $399 for a single user, with each subsequent user charged $249. This fee is only paid once, not annually. A subscription to the payroll module will cost $249 annually, and telephone support is $199 annually.
Read The Blueprint's full AccountEdge Pro review
---
6. Best for sole proprietors: Kashoo
If you're a sole proprietor, there's no reason to continue to use spreadsheets to track your business income and expenses. Instead, take a look at Kashoo, designed with freelancers and sole proprietors in mind.
Kashoo offers a single plan at a single price, making it best suited for freelancers and sole proprietors who don't expect to add employees in the near term, though it also works well for consultants and very small businesses.
Some of the useful features found in Kashoo include automatic import of all bank and financial institution transactions, as well as the ability to connect to investment accounts.
The user interface in intuitive, with four distinct navigation areas that offer access to all the features and functions you'll need to access.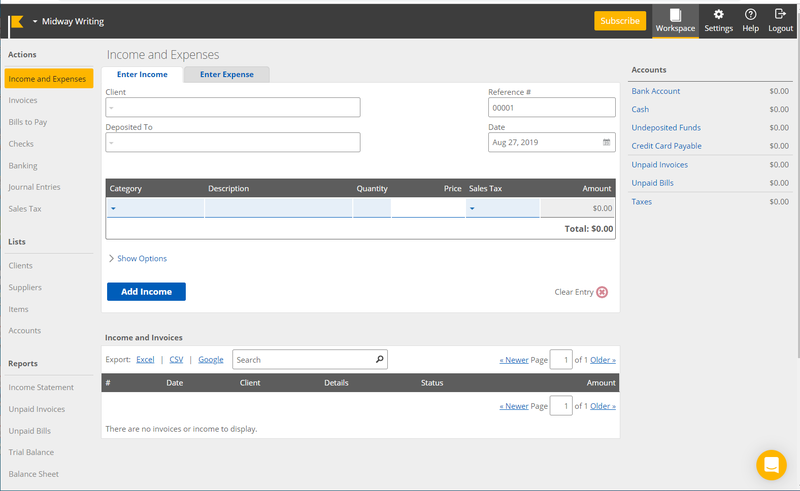 You can easily track your income and expenses in Kashoo, a nice option for those who choose not to connect their bank or other financial institutions to Kashoo. Another benefit is the ability to have your customers pay their invoices online.
One of the biggest drawbacks is the lack of a dashboard feature, though one is provided in the iOS app. The other drawback is the lack of an Android app.
Kashoo includes customer invoicing, bill payment, including the ability to pay your vendors with a check, and good client, product, and supplier tracking.
The reporting options in Kashoo are limited to fairly standard financial statements, with little in the way of customization available, though reports can be exported to Microsoft Excel if desired.
Kashoo offers one plan, which runs $19.95 per month, or $199 per year, which includes an unlimited number of users.
Read The Blueprint's full Kashoo review
---
7. Best integration options: Xero
If you're in the market for a small business accounting software application that can be used with numerous apps in a variety of categories, you won't find a better option than Xero.
While Xero offers good accounting functionality, its true strength is in its apps; or rather the apps that it can integrate with. Xero integrates with an astonishing number of applications, more than 700 in total.
Ideal for sole proprietors, freelancers, and small businesses, Xero is also a good fit for niche markets such as retail, IT, legal, and e-commerce businesses.
Xero offers a fast onboarding process and includes a user dashboard that provides easy access to all of its features, including updated invoicing capability, double-entry accounting, project management, and a decent budgeting feature.
This is a rarity in most small business accounting applications.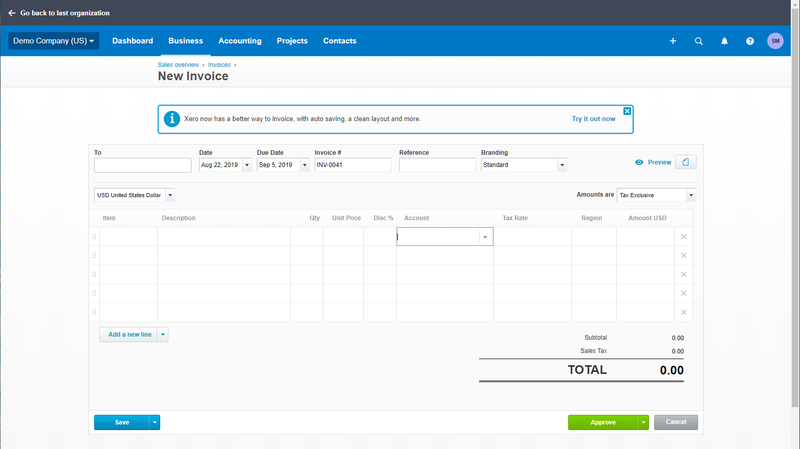 Xero also includes a Contacts module, where you can manage vendors, contractors, and customers from a central location, with the ability to create groups and smart lists, making it easy to contact specific groups, or even target late paying customers.
Xero does offer various product support options, though phone support is not one of them. Most support is done via email, with a robust user community available as well.
While both QuickBooks and Xero allow for app integration, Xero goes above and beyond with more than 700 app integrations, extending the basic functionality of the application considerably. Apps are available in numerous categories including CRM, e-commerce, time tracking, practice management, payroll, and point of sale.
Xero pricing starts at $9 per month, though the features are quite limited. Most small businesses would likely start with the Growing plan, which is $30 per month. If you need payroll, Xero integrates with Gusto Payroll, with subscriptions starting at $39.95 per month.
Read The Blueprint's full Xero review
---
8. Best for freelancers: Zoho Books
No longer do sole proprietors and freelancers have to skip on features in their accounting software application.
Zoho Books includes a long list of features normally available in much more comprehensive applications. With its easy to use interface and tons of help options, Zoho Books is great for the tech novice who is more comfortable with a spreadsheet application than a software application.
Zoho Books offers three plans; Basic, Standard, and Professional, with all plans offering invoicing, bills, vendor credits, and purchase approvals.
The Professional plan also includes purchase orders, sales orders, inventory management, and a client portal, where you can share invoices and estimates with your customers. A dashboard is available for easy access to all features, and a mobile app is available for both iOS and Android devices as well.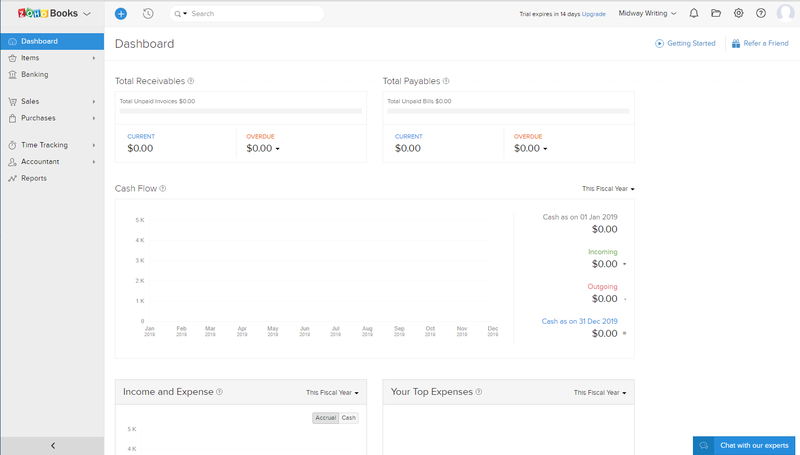 Zoho Books allows you to track your customers, and excellent integration with e-commerce apps makes the application a great fit for those selling products online. For those selling services, you can track your time on any project and bill your customers for time spent automatically. Reports are available in a variety of categories, with all reports easily customizable.
Excellent help and support is included in Zoho Books, with both telephone and email support options available, along with numerous guides ideal for new users.
Both freelancers and sole proprietors can benefit from using Zoho Books, which offers the ability to track and bill time easily. Pricing for Zoho Books starts at $9 per month for the Basic plan, with the Standard plan running $19 and the Professional plan running $29.
Read The Blueprint's full Zoho Books review
---
Which QuickBooks Online alternative is right for your business?
Are all eight of these applications better than QuickBooks Online?
No, but they are all different, and sometimes different is exactly what your business needs. While some of the alternative applications are stronger in certain areas, others may offer a feature not found in QuickBooks Online.
Whatever your reason for looking beyond QuickBooks Online, you can rest assured that there are a variety of choices available for small business owners like yourself to choose from.