A point-of-sale (POS) system is the lifeblood of any retail business. Without one, you can't process customer transactions and have no way of generating revenue, no matter how good your marketing campaign is or how much traffic you're getting to your website.
But a POS system is about so much more than just software that can record a customer's credit card info. It has to be intuitive so your whole team can figure out how to use it, you need a fee system that works with your budget, and it should be able to keep track of inventory, among other things.
You've undoubtedly heard about both QuickBooks POS and Square, and you may wonder what separates these two platforms — and which one you should choose for your business. This guide will break down the key differences between the two systems and show which performs best for small businesses.
---
QuickBooks POS vs. Square: An overview
QuickBooks and Square are two well-known players in the point-of-sale software industry. They are quite different in terms of how they operate, and this guide will break down their strengths and weaknesses in the areas of features, support, ease of use, pricing, and integration with other software.
Who is QuickBooks POS for?
QuickBooks POS is based on the company's flagship QuickBooks accounting software, so any business familiar with the platform should be able to easily integrate this solution into their business. It aims to provide all the tools a merchant would need to manage a retail business. Read The Blueprint's full QuickBooks POS review to learn more.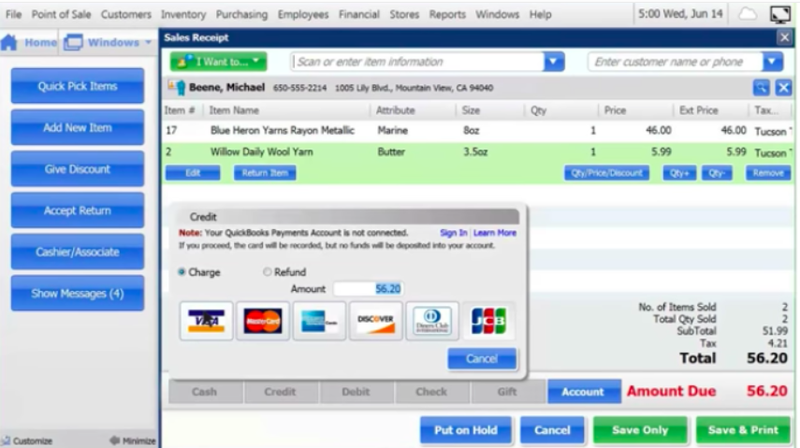 Who is Square for?
What is Square? Like QuickBooks POS, it is a POS system for businesses, but it has key differences. Square boasts lots of features and has an intuitive user interface, so it is meant for business owners who want a powerful platform with enough tools to do the job, but also place a premium on ease of use. Read The Blueprint's full Square review to learn more.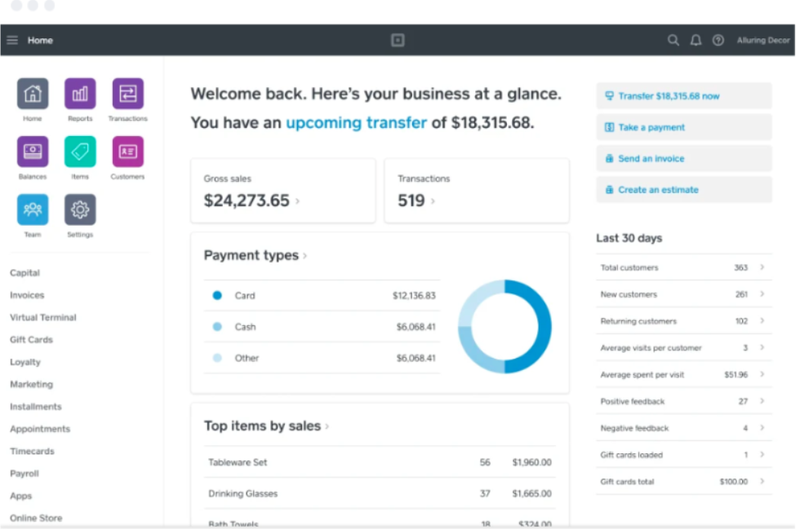 ---
QuickBooks POS vs. Square: Features
Common POS features include payment processing, accounting, inventory tracking, and sales analysis, but to score high in the category, the software has to offer even more.
What QuickBooks POS offers
QuickBooks uses QuickBooks Payments to process credit and debit card transactions. The software offers security and data protection to ensure the safety of your customers' information. The software also allows you to ring up sales with optional POS hardware, like a barcode scanner, and a QuickBooks mobile app makes it easy to process sales on-site.
As you would expect from any QuickBooks product, the software tracks customer data well and allows you to create reports to dive into how your sales are doing.
What Square offers
Square aims to please, offering a customizable dashboard that lets you mold it into exactly the solution you envisioned. This dashboard is a central hub showing you everything you need to know about your business, and it's easy to adjust by dragging and dropping widgets. Like QuickBooks (and most POS systems), Square offers sales analytics and inventory management tools.
One interesting feature with Square is an offline mode, which lets you take card payments even when you are not connected to the internet, ideal for remote or pop-up sales. For brick-and-mortar stores, you can purchase a POS terminal to process payments on-site.
Winner: Square
QuickBooks gets the basics right and has powerful number-crunching features, but Square simply offers a more well-rounded offering clearly tailored for the retail industry.
---
QuickBooks POS vs. Square: Support
Good customer support is important with POS systems. If you have trouble with the software, you won't be able to ring up sales — and that's not a situation you want to be in.
What QuickBooks POS offers
QuickBooks' website offers plenty of free resources, including an online help center and community forums. They also offer a catalog of tutorial videos and webinars. It is possible to call them, but the software pushes you to message them first.
What Square offers
Square's customer support options include a knowledge base, a community forum, email, and phone support. Unfortunately, there's no live chat option, and customer service is available only from 6 a.m. to 6 p.m. Pacific time, Monday through Friday. That's a problem if it's Saturday night and you're having problems processing orders at your business.
Winner: Square
Neither of these options scored particularly well in this category, but we give the edge to Square because it's easier to get a real person on the phone, at least during business hours.
---
QuickBooks POS vs. Square: Ease of use
Ease of use is vital for a POS system because if your employees struggle to figure it out, it impacts how your business operates.
What QuickBooks POS offers
QuickBooks products can feel a little cluttered at times — the software just loves numbers, after all. However, QuickBooks POS scores well on ease of use with a straightforward interface that you'll be able to pick up quickly. A navigator pane makes it easy to jump to the right tasks. And a guide will help you get the hang of it right off the bat.
What Square offers
A lot of thought was clearly put into how to make Square as easy to use as possible. It is a simple platform that keeps everything in front of you so you never feel lost in the software. Even POS novices will pick up Square, and it won't make you feel overwhelmed with a lot of clutter.
Winner: QuickBooks POS
This is a tough call, but we give the edge to QuickBooks. The navigator pane combined with icons keep you grounded in the chaos of a store. With one click, you can bring up a new sale, inventory data, or customer rewards.
---
QuickBooks POS vs. Square: Pricing
The pricing schemes between these two platforms could not be more different, and it draws a clear distinction between them.
What QuickBooks POS offers
The QuickBooks POS system price comes in three tiers: Basic, Pro, and Multi-store. Basic starts at $1,200 for a license, and Multi-store starts at $1,900. You can take advantage of a 30-day trial if you want to try it out first. They also charge transaction fees ranging from 2.4% to 3.4%, depending on if the transaction was swiped, invoiced, or keyed.
What Square offers
Square has a completely different pricing system compared to QuickBooks. It is free to use without any monthly fees and there's no license to buy. They make money by charging a fee on each transaction, which differs if you're using Square credit card processing or using a debit card, for example. Square transaction fees range from 2.6% to 3.5% depending on the type of transaction.
Winner: Square
QuickBooks will give a small business quite a bit of sticker shock with their licensing fees, compared to Square which charges only for transactions. If you're a large business, you may save money in the long run due to lower QuickBooks transaction fees rather than pay higher Square credit card fees on every transaction, but we think most small businesses will prefer Square's pricing model due to the lack of up-front costs.
---
QuickBooks POS vs. Square: Integration with other software
All businesses use multiple types of software, so when you bring on new software, it should be able to integrate with other platforms for a seamless transition.
What QuickBooks POS offers
QuickBooks certainly shines when it comes to integrations, simply because it comes from a large family of business products. These other software options, which you may already be using, integrate seamlessly with QuickBooks POS as you would expect. However, integrations are somewhat limited beyond that.
What Square offers
Square also offers integration with QuickBooks, although not quite as seamlessly as QuickBooks POS does. They also offer integrations with many other apps through their App Marketplace, giving you more options.
Winner: Square
QuickBooks POS does a good job of integrating with other QuickBooks software, but Square offers that as well as the App Marketplace, giving it the edge in this category.
---
How They Compare: QuickBooks POS vs. Square
| | Quickbooks POS | Square |
| --- | --- | --- |
| QuickBooks integration | | |
| Licensing fee | | |
| Accessible phone support | | |
| Sales analytics | | |
| Inventory management | | |
---
Square beats QuickBooks POS in this matchup
For us, Square is the clear winner here. While QuickBooks POS is an excellent piece of software that is relied on by countless businesses, it seems a better fit for larger companies or firms that are used to QuickBooks software platforms, whereas Square seems to cater toward small businesses and entrepreneurs.
If you're looking for a software option that boasts powerful features but is easy to pick up and doesn't cost a lot upfront, Square is the better choice.