---
Who is QuickBooks Online for?
QuickBooks Online, like all QuickBooks products, was designed with the small business owner in mind. While QuickBooks Online has been around since 2001, online subscriptions have increased substantially in the last four years, going from 1 million subscribers in 2015 to over 3.4 million by the end of 2018. The product continues to grow and evolve, with constant updates being done by Intuit.
While originally designed for very small businesses, QuickBooks Online now supports growing businesses as well, making it a good accounting software for all types of businesses.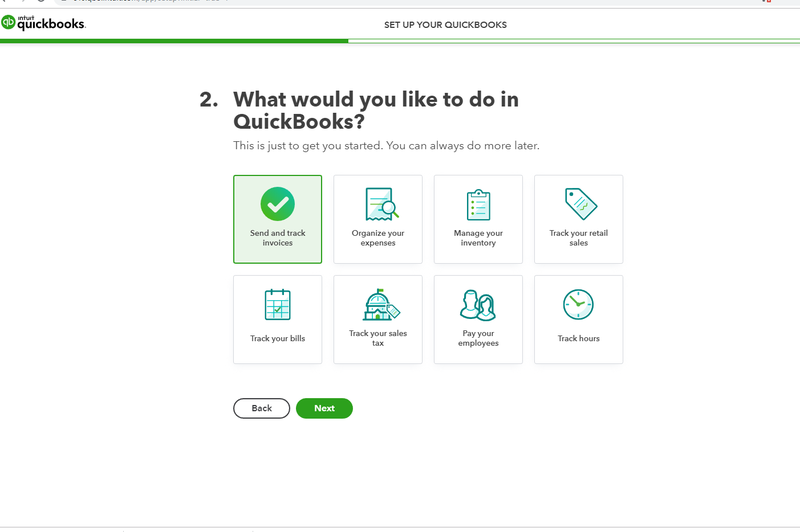 You can choose to do as much or as little as you like in QuickBooks Online by indicating exactly what your preferences are during the initial setup process. If you do not check one of the boxes such as "Pay you employees," and later find your company has grown and you need to set up a payroll system, you can always add that feature at a later time.
---
QuickBooks Online Features
QuickBooks Online features vary from plan to plan, with many of the deluxe features reserved for the higher-priced plans.
However, all versions of QuickBooks Online offer the ability to track income and expenses, manage receipts, invoice and accept payments, track sales tax, and run reports. Like its competitors, QuickBooks Online skips the accounting lingo to use everyday language in its software.
QuickBooks allows you to connect all of your bank accounts to the software, where it will import and match transactions automatically, leaving you with a list of transactions that were unable to be matched.
One of the most useful features is the My Accountant option, where you can invite your current accountant or CPA to use the program, and they will be given admin access to the program. An offer to link up with an accounting pro is also available if you want to utilize it.
QuickBooks Online recently added some new features including the addition of the Business View option in the banking tab, which is designed to make it easier to categorize incoming banking transactions properly.
A new bill payment feature has also been added that provides more bill payment flexibility including the option to pay a vendor using a debit card, credit card, or by bank transfer.
QuickBooks Online has also added a cash flow widget for the user dashboard, as well as numerous enhancements in their Advanced plan, including the addition of more custom fields, a custom chart builder enhancements, and a new batch feature for processing sales receipts.
Banking
The Banking feature is where you can manage all of the financial institutions that you connected to QuickBooks Online, with an overview of each account available. You can also connect additional accounts at any time.
Rules can be assigned to particular accounts to reduce the amount of data entry needed, so you can create a rule named Fuel and set the expense category to Automobile Expense, eliminating the need to categorize the expense.
A new Receipts category lets you register your email with QuickBooks Online, allowing you to snap a photo of a receipt while you're out and upload that receipt to QuickBooks Online for easy expense matching.
Expenses
The Expenses feature is where you manage all of your vendors and enter any bills that need to be paid. You can also print checks from this screen, and sort expenses by date, by status, or by vendor.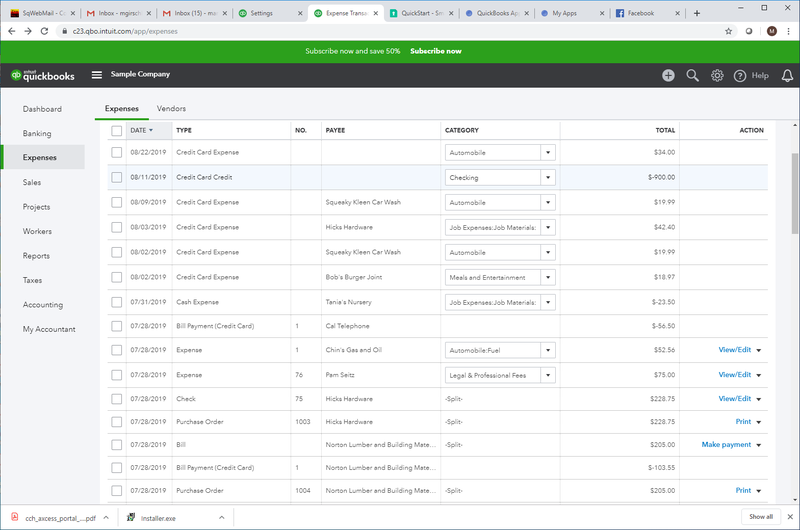 Any expenses that are imported from your financial institutions will also be listed in the expense transactions, including any bills that are entered, which makes it super easy to keep track of not only what's been paid from your bank account, but what bills still need to be paid.
You can choose to pay outstanding bills via credit card and enter the expense or print a check to be mailed. All vendor information is also managed from the Expenses screen.
Sales
The Sales feature is where you can keep track of your customers, create a new invoice, and post payments. The invoices list provides you with a nice overview of all invoices that have been posted, as well as their current status.
For any open invoice, you can send a reminder that the payment is past due, or email the customer a link to the invoice with an option to pay online. All customer information is managed from the Sales screen.
You can also manage your products and services from the Sales screen, including establishing a reorder point for your inventory items to eliminate pesky backorders. If you sell services but not inventory, you can keep track of those in this area as well.
Workers
Another thing I love in QuickBooks Online is the ability to track both employees and contractors, making it a breeze to prepare those 1099s at year's end. The Workers screen lets you track information on all of your employees, but you'll have to add either Self-Service Payroll or Full Service Payroll from Intuit to pay your employees.
Reports
QuickBooks Online offers a good selection of standard reports, which are categorized as follows:
Favorites
Business overview
Who owes you
Sales and customers
What you owe
Expenses and vendors
Sales tax
Employees
For my accountant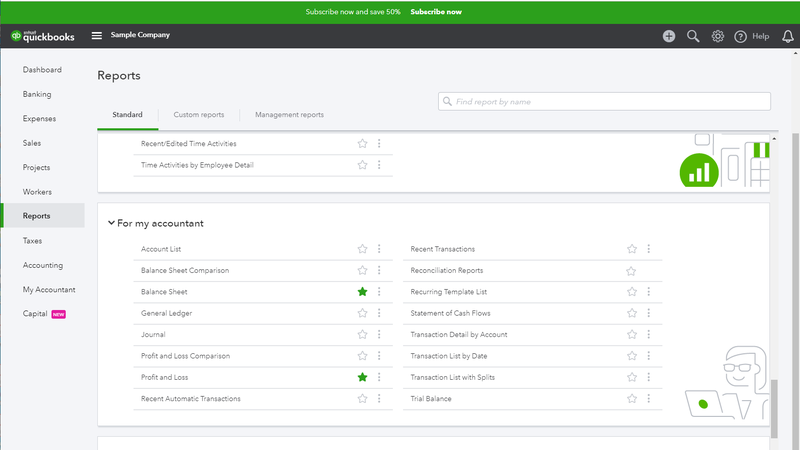 All reports can be customized and saved for future access once the report is run, and you can choose to email it directly to recipients, print it, or export it to Microsoft Excel or as a PDF.
Taxes
The Sales Tax Center in QuickBooks Online lets you track the appropriate sales tax amounts for all purchases made. The Sales Tax Owed option tracks all relevant sales along with taxable sales, and the amount of tax assessed. It also tracks any payments made and the amount due. You can add as many sales tax rates as necessary, and can also add a new tax rate when creating a new invoice.
Accounting
The Accounting screen is where you can manage your chart of accounts details as well as reconcile your bank and credit card statements. QuickBooks Online currently includes up to 250 accounts in their standard plans, but if you have more than 250 accounts, you'll have to upgrade to their Advanced plan. You can view a register for any of the accounts that are active in your chart of accounts or make an unused account inactive.
The Reconcile feature makes the bank reconciliation process quick and relatively painless by opening the current bank statement, then matching the statement to your current general ledger (G/L) entries. Anything that remains unmatched will be identified to help ensure that the books remain in balance.
Mentioned earlier, QuickBooks Online includes solid import and export capability, so you can import a variety of data or export reports as needed. Like Xero, QuickBooks Online keeps its Budget feature well hidden, but you can access it under Tools, where you can create a budget for up to five years in monthly, quarterly, or yearly intervals.
QuickBooks Online also offers multi-currency capability, and though you can only use one currency as your home currency, you can assign a foreign currency to customers, vendors, or financial institutions.
Support
QuickBooks Online offers numerous learning and support resources including a variety of articles that cover topics that range from product setup to bank feeds. Video tutorials are also available, as are webinars and various training classes.
The QuickBooks Online Community is an area where you can connect with other users, ask questions, complain, and maybe even answer a question from another user. You can also access product support directly from QuickBooks Online, where you can ask a question or connect to a support expert.
---
QuickBooks Online Benefits
QuickBooks desktop users are likely to point out that QuickBooks Online is missing some of the features found in QuickBooks Desktop Premier. While that's a fair statement, what is missing in QuickBooks Online can likely be found by accessing one of the hundreds of apps available in a variety of categories including payroll, inventory, time tracking, tax preparation, human resources, and project management.
Online access is one the largest benefits of using QuickBooks Online, making it easy to access a report, create an invoice, or reconcile your bank statement from anywhere with an Internet connection, and your accountant will love the My Accountant option; it makes his or her job so much easier.
---
QuickBooks Online Pricing
QuickBooks Online is a scalable application with four plans available for everyone from the solo freelancer to the thriving small business owner.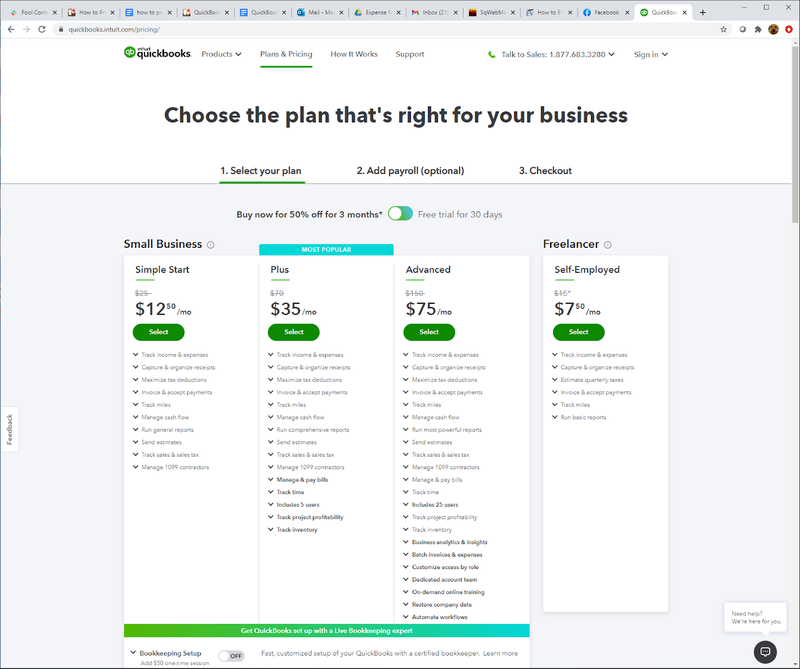 Be sure to look at the fine print when purchasing since the price displayed is typically only good for the first three months of the contract. After that, it reverts to the original price.
Startups and small businesses can begin with the Simple Start plan, which runs $12.50/month for the first three months, with regular pricing after that of $25/month. The Plus plan is $35/month for three months and then doubles to $70/month, while the Advanced plan is $75/month, rising to $150/month after three months. A Self-Employed plan is also available for $7.50 a month for the first three months, but it has limited features.
Like other similar products, such as FreshBooks and Xero, QuickBooks Online does not include payroll functionality. However, it offers an option to add payroll services to the core plan at an additional price, with payroll starting at $22.50/month for the first three months.
---
QuickBooks Online Ease of use
QuickBooks Online supports multiple browsers including Google Chrome, Mozilla Firefox, Microsoft Edge, and Safari 11 or newer for Mac. You can also use the mobile app that works with iOS and Android devices for on-the-go entry.
All system navigation takes place from the Dashboard, which also offers a good summary of your business, like paid and unpaid invoices, expenses, profit and loss for the month, and a sales graph. The upper-right corner displays current bank balances, and you can add your business logo to the screen if desired.
You can sign up for a 30-day free trial of the application and use a sample company to get a feel for how things look and feel, which is much less time consuming than entering a lot of sample data and then deciding you want to go in another direction.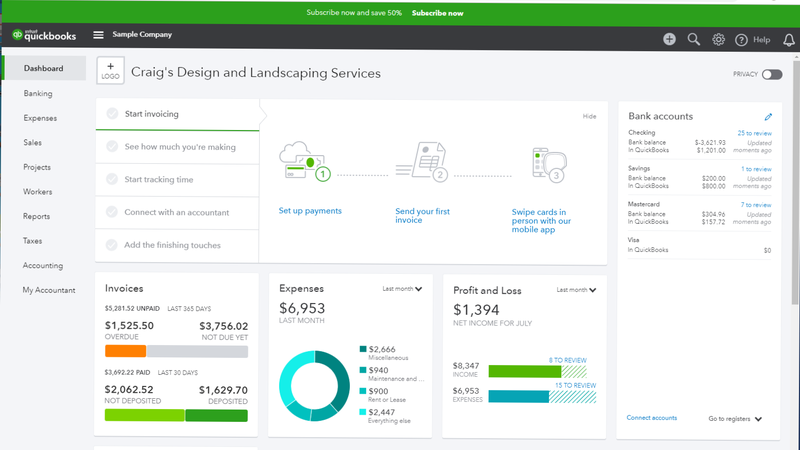 On the left side of the Dashboard, you'll find a vertical menu that offers quick access to all of the system functions you chose when creating your account. Just place your cursor on one of the options and a list of features will pop up. The Dashboard is somewhat busy, but you do have the option to choose which items you wish to display if you would like it a bit cleaner.
During the setup process, you can choose a standard chart of accounts, or import an existing chart of accounts into the application. To save time, you can also import a list of your products and services into QuickBooks Online using an Excel file.
One thing that I find a little strange is the placement of the icons at the top right of the dashboard that are used to access company information, so you'll have to navigate away from the main interface to access them. But icons aside, the product offers easy, intuitive navigation, even for those new to QuickBooks Online.
---
Frequently Asked Questions
Is QuickBooks Online the same product as QuickBooks Desktop?
No. QuickBooks Online offers much of the same functionality, but system navigation is very different from the original desktop version.
Can I create a budget in QuickBooks Online?
Yes, you can, although the budget feature is hidden under the Tools options.
I have 10 users in my office. Can I still use QuickBooks Online?
Yes, QuickBooks Advanced can support up to 25 system users.
---
Which one is right for you?

For small and growing businesses, QuickBooks Online can give you a way to manage your business today and grow along with your business tomorrow.
For small and growing businesses, QuickBooks Online can give you a way to manage your business today and grow along with your business tomorrow.
---
How QuickBooks Online Compares
| | Invoicing & Payments | Budgeting & Capacity | Customer & Vendor Management | Good Reporting Options |
| --- | --- | --- | --- | --- |
| QuickBooks Online | | | | |
| Xero | | | | |
| GnuCash | | | | |
| | | | | |
| FreshBooks | | | | |