Even small businesses have bills to pay, and they need a way to properly manage and pay them on time. If you're using the cash method of accounting, you can pay your bills and then record them once they're paid, but if you're using the recommended accrual method of accounting, you need to record bills when they're received and a way to pay them when they're due.
Unfortunately, the accounting software industry has dropped the ball on including accounts payable functionality in entry-level accounting software applications. Sure, there are ways to record your expenses, but only after you've paid them.
For example, in many of these applications, there's no way to record a bill you receive today that isn't due until next month. You'll only be able to record the bill after the payment has been made, which is not the proper way to process accounts payable.
A lack of accounts payable functionality directly affects QuickBooks Online users, specifically those using either the Self-Employed or Simple Start plans, with neither plan offering an accounts payable feature, leaving subscribers unable to properly manage vendors, record bills, and make timely payments short of upgrading to a more powerful, and expensive, plan.
Fortunately, there are alternatives, and one of the best and most affordable options is Sage 50cloud Accounting. Billed as a hybrid solution that offers the stability and security of an onsite application along with easy online access, Sage 50cloud Accounting is available in three plans, starting at $340 for the first year. And better yet, all three plans offer complete accounts payable functionality.
Aside from pricing, there are other reasons to bypass QuickBooks Online when looking for solid accounts payable functionality.
1. Vendor management
Vendor management in QuickBooks Online allows you to enter basic vendor information, including billing rates, payment terms, and their own assigned account number. You can also add a tax ID number or Social Security number to the vendor file. While this provides you with the basics, it could be a lot better. Of course, if you're one of the Self-Employed or Simple Start subscribers, you won't have access to this feature at all.
2. Affordability
Starting a new business can be expensive. You'll need a business license, equipment to run your business properly, inventory if you're selling products, and machinery if you're making products. And after all of your startup expenses, the last thing you want is to spend a lot of money on software.
Historically, QuickBooks applications have been targeted to small and new business owners, but their current price point puts their most robust plans out of reach of many new businesses.
3. Payables management
Business owners appreciate easy accessibility to their accounts payable balance. It's helpful to review this balance to see what's due, and when it should be paid.
However, in QuickBooks Online, all expenses are grouped together, and even filtering the information doesn't eliminate the addition of bills already paid. Yes, you can run an accounts payable report if you wish, but you shouldn't have to do that to view your open payables balance.
---
Sage 50cloud Accounting's alternative to QuickBooks Online's accounts payable feature
Finding an accounting software application designed for small businesses that includes accounts payable functionality is more difficult than you might think. While most of these applications are loaded with features, the one area that is overlooked is accounts payable.
There are options available, with the top choice Sage 50cloud Accounting. Like QuickBooks Online, Sage 50cloud Accounting offers several plans for small and growing businesses. But unlike QuickBooks Online, Sage 50cloud Accounting offers accounts payable functionality in all of its plans.
If a few bills need to be paid, you probably can get by with a basic accounts payable module, but if you need a way to manage your accounts payable properly, check out Sage 50cloud Accounting.
Sage 50cloud Accounting overview
A good fit for small and growing businesses, Sage 50cloud Accounting offers three plans, including a single user plan and the Quantum plan that supports up to 40 users, making it easy to scale up to a more powerful plan if necessary. The application offers a unique hybrid structure designed to provide the stability that an on-premise application offers along with online accessibility that small business owners can appreciate.
To see more features in Sage 50cloud Accounting, check out The Blueprint's complete review.
Sage 50cloud Accounting includes an impressive list of features, including:
Full accounting functionality
Customer and vendor management
Sales tracking
Invoicing and payment acceptance
Complete integration with Microsoft 365 for access anytime, anywhere
Purchase orders
Bank feeds
Bank reconciliation
Excellent reporting capabilities
Though the user interface is crowded, you'll have easy access to all system functions from a single screen, making it easy to navigate the system. But what sets Sage 50cloud Accounting apart from its competitors, including QuickBooks Online, is the availability of an awesome accounts payable module available in all three plans.
Sage 50cloud Accounting accounts payable overview
The Vendors and Purchases navigation center, which is where all accounts payable features can be found, is easily accessible from the vertical menu to the left of the screen.
From this screen, you can add new vendors, write checks, manage vendor and contractor 1099s, create a purchase order, enter new bills, and pay existing bills. You can also void checks, create a vendor credit, and run your accounts payable reports directly from this screen.
Along with the task workflow chart, the Vendors and Purchases screen provides you with easy access to a complete vendor list, which includes any current balances owed, an aged payables chart, as well as quick access to frequently run accounts payable reports.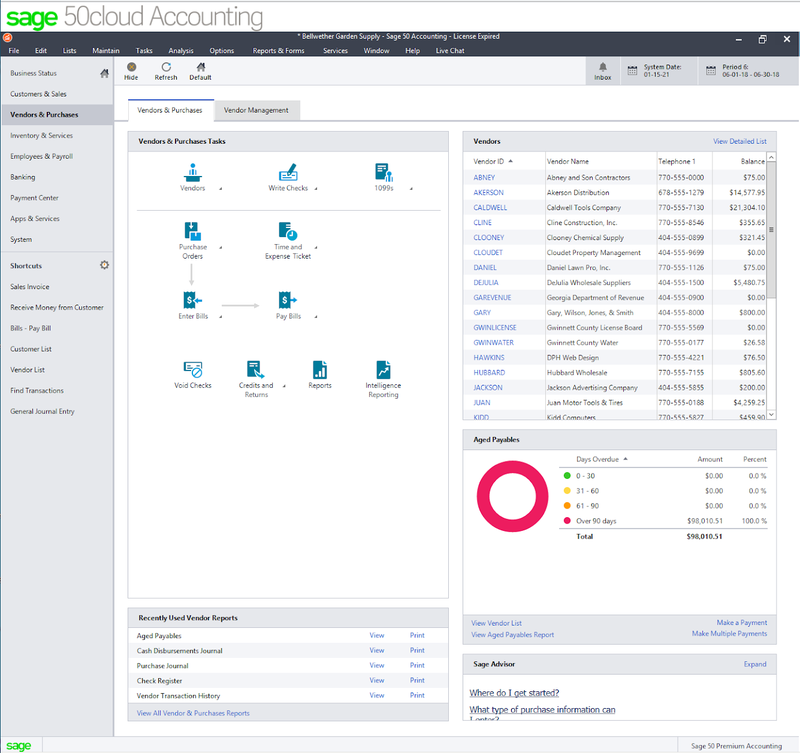 When entering a new bill, you can choose to apply the bill to an existing purchase order, a great option if you're entering a supplier bill. New vendors can be added on the fly, and you can even create an event associated with the bill.
For example, in January, your business puts on a one-day training, with your business contracting with top industry experts to provide the training. Once the seminar is over, the industry experts send you an invoice for their services. By connecting their invoices with the seminar, you're able to see just how much money was spent on the seminar and whether you made a profit. Connecting expenses with an event also provides a baseline for future events, providing you with valuable information on associated costs.
Another feature that small business owners will appreciate is the ability to add up to 20 different payment methods that your company may use to pay your vendors. These can include traditional methods such as writing a check and paying vendors via PayPal, credit card, or ACH transfer.
When paying a bill, you can also choose the cash account that you wish to use to pay the bill, with the application providing you with a running balance of that particular account.
Complete vendor management is also included in Sage 50cloud Accounting, with the Maintain Vendors screen offering up to five customizable fields in the application that allow you to track additional information on each vendor.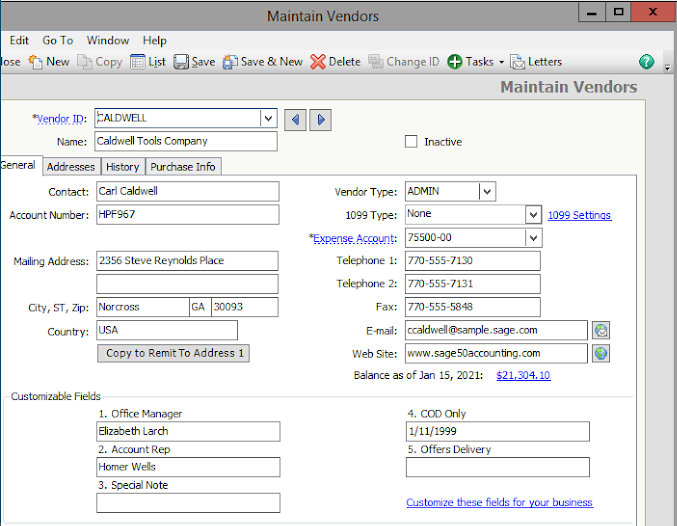 The Vendor Management feature also provides you with details on each vendor, including total purchase orders, total payments made to the vendor, and an item purchase history. When entering vendors, you can also create defaults for each vendor, including payment terms, account aging, pay methods, and 1099 settings, with each vendor account also providing details on purchases and payments made.
While so many accounting software applications place their focus on electronic payments (which is included), Sage 50accounting software also includes a more traditional way to pay bills: by writing a check. You can print both accounts payable and payroll checks in the application, with support for both continuous form and laser checks.
Accounts payable reporting options are also optimal in Sage 50cloud Accounting, with these reports available:
Aged Payables
Cash Disbursements Journal
Cash Requirements
Check Register
Purchase Journal
Purchase Order Register
Vendor Ledgers
Vendor List
Vendor Transaction History
Finally, you can create a vendor credit memo in Sage 50cloud Accounting, and process any returns, with the option to add a note to the credit memo for reference or to include it with the credit memo when it's sent to your vendor or supplier.
Find out more about Sage 50cloud Accounting in The Blueprint's full review
---
Don't underestimate the importance of accounts payable
Don't be persuaded that you don't need an accounts payable module for your business. You do.
Just because accounting software applications overlook the importance of accounts payable doesn't mean that business owners should follow.
Accounts payable is necessary to manage your business properly. It lets you enter bills, pay them when they're due, and keep track of vendor and supplier purchases and payments. Managing your accounts payable properly also ensures your financial statements accurately reflect your expenses.
Sage 50cloud Accounting offers one of the best accounts payable modules on the market today. So stop trying to make a program work for you and let Sage 50cloud Accounting do the work instead.