Search engines all want to move beyond a reliance on keywords and answer searchers' questions. They try to make their results deliver more complete and compelling answers to search queries. I remember the search engine Ask Jeeves which was based on human-curated answers to the most important questions.
Then there's the more scientific search engine Wolfram Alpha which provides excellent and complete answers to mathematical and scientific questions.
Where advanced search engines such as Google and Bing are using natural language processing to understand questions, Quora is using humans, but not in the way Ask Jeeves did, and not in real time. It is a community of curious people who will ask and answer questions on anything you like.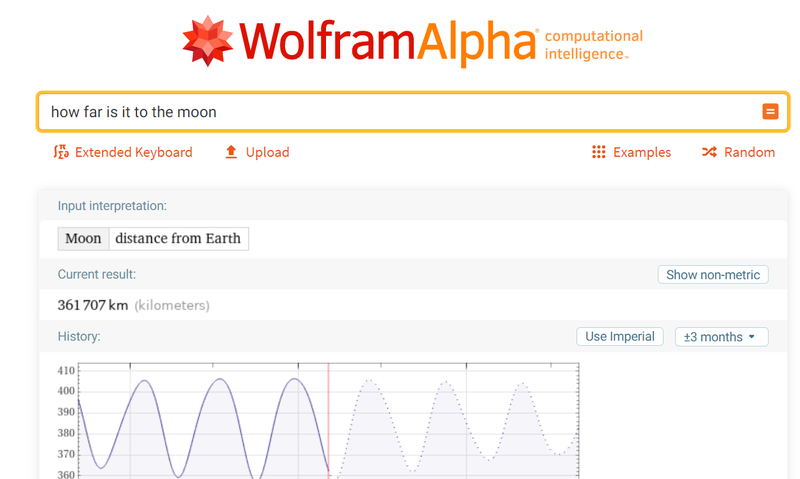 ---
Overview: What is Quora?
Anyone can ask a question or answer a question on Quora. The best answers are voted up by other users who can also comment and discuss the initial information. As a social network, Quora is a user-driven, content- and text-rich platform, where users are highly engaged and spend a longer time on each piece of content than on other platforms. It's quite addictive and a great source of information.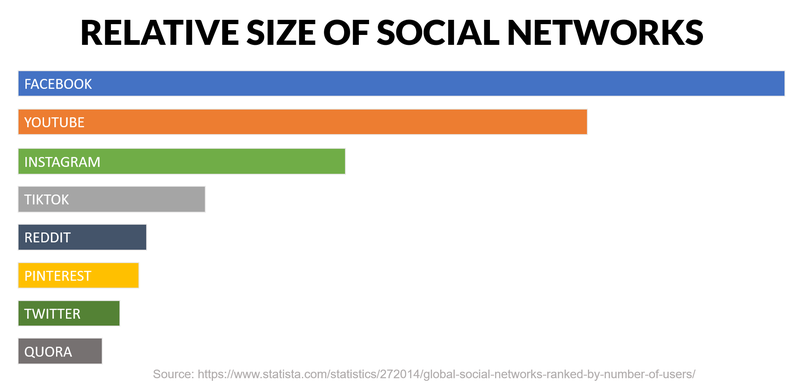 ---
4 benefits of Quora Ads
Quora is halfway between a search engine and a social network. And its advertising takes inspiration from both sides. Let's look at some of the benefits of Quora Ads.
1. Reach 300 million users
As shown in the July, 2020, Statista chart above, Quora has 300 million users, much smaller than Facebook's 2.7 billion, but not insignificant. Quora's user numbers are almost the size of the population of the United States. The same source places Twitter at 353 million and Pinterest at 416 million, only a little ahead of Quora.
2. A serious social network
Business considers some social networks too superficial, but Quora stands out as a platform you use to learn, share knowledge, research, evaluate, and ask questions, making it a serious network. Social media management tools can't post to Quora because of the unique nature of the content there.
3. User engagement
According to Quora, users spend 30 minutes per day on the network. This means users are engaged with the network and actively interact with the content they find there. If you're marketing more complex products or services with longer decision cycles, you'd be wise to make Quora a part of your social media strategy.
4. Topical fit
Just as Google became a major marketing channel because users were asking questions and finding answers there, Quora occupies a setting where users are looking for answers and are open to suggestions. If advertising fits well with the topic users are investigating, they will be more receptive to the message.
5. Less competition
Quora Ads is one of the smaller platforms within social media advertising, and it requires additional work for the advertiser. See this as an opportunity because fewer advertisers means less pressure to drive bid prices up and better rates for you.
---
What type of advertising works best for Quora Ads?
The Quora advertising platform is quite advanced, allowing advertisers to target audiences by context and behavior, to track events on their site, and to optimize for clicks, impressions, or conversions.
It has 4 major ad placements:
On question pages
On topic pages
In the user feed
In the digest email
The best advertising on Quora is topically relevant to the target audience. This is achieved either through contextual targeting of specific topics or questions or through behavioral targeting relating to the user's historic keywords or topic usage.
A great way for knowledge-intensive businesses to advertise on Quora is by boosting questions. To do this, the business must actively participate in the network and have good questions and answers with high visibility. By boosting these questions, they will appear in more user feeds. They will also be shown as suggested questions under other answers. This is a good way to expand the question's reach.
This is similar to the boosting mechanisms in other social platforms and is a highly efficient form of advertising since it's real content and not ad copy or blinking banners.
Your SEO will also benefit from your Quora questions. Users can Google Quora answers. Quora content is fully indexed by the search engine and can appear in searches for relevant keywords.
Audience targeting is also possible with Quora. You can insert a pixel on your website and retarget the audience on Quora in a relevant context. This might be what Mangools is doing in the illustration below. I have been to the site recently and when I look for social media topics on Quora, I see their ads.
Or perhaps this was a more advanced targeting of a custom audience they uploaded to Quora after I did a trial of their tool and provided my email addresses. Now, when I look for information about social media on Quora, Mangools uses the topical relevance as well as the pre-established relationship with me to show me ads for their social media management tool.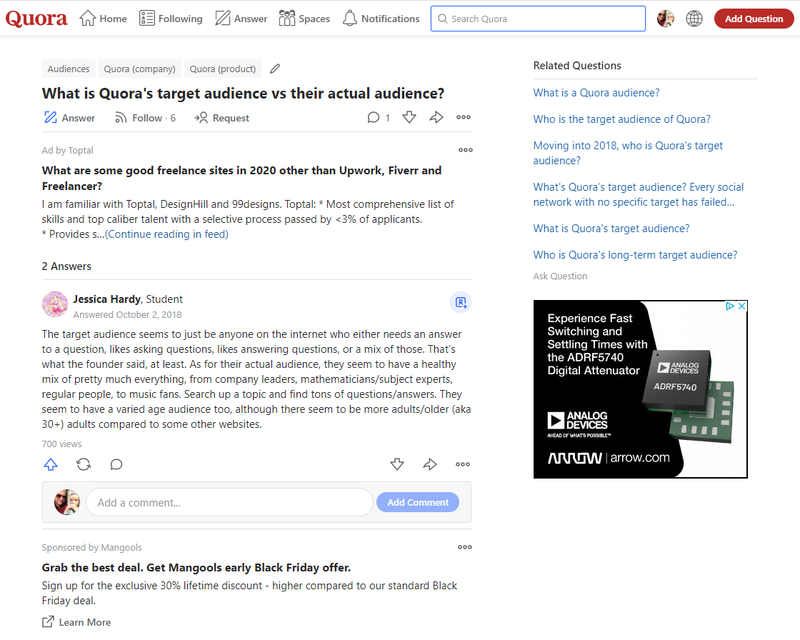 ---
How to make Quora Ads for your business
If you're already familiar with the advertising process on social media, the Quora ads platform will be straightforward for you. Follow these steps to set up ads on the platform.
1. Set up your ad account
To get started, go to Quora Ads. Once there, click Get Started and follow the instructions. It's easier if you already have a user account on Quora, and you can add several members of your social media team to the account. During setup, you will provide your company name, address, and tax number. It's worthwhile uploading your logo at this stage as it will be useful later.
2. Set up tracking pixels
Once your ad account is up and you have confirmed the Quora Ads contact email, you can start preparations for an efficient ad setup. Let's first get the biggest hurdle out of the way, namely tracking. Go to Pixels & events in the top menu and decide what tracking pixels you want to install on your website.
Quora has preconfigured a number of events you can choose from: generic, app install, purchase, Generate lead, Complete registration, Add payment info, Add to cart, Add to wishlist.
You should install the general pixel on the landing pages you plan to use on your website. If you want to build retargeting audiences, you can install them on all your website pages. If you want to optimize campaigns for conversions or app installs, you need to install those pixels in your site or your app.
You may need help from a webmaster or developer to do this. Remember to update your privacy policy and cookie consent information before adding these pixels, as they will place cookies in your users' browsers.
3. Build your audiences
Using audiences is optional, but you should prepare them so you are ready the day you need them. If you installed the generic pixel, you can use it to create a retargeting audience. This is called a Website traffic audience in Quora. Click on Audiences in the top menu, and then click Create audience. You get a choice between Website audience, Lookalike audience, and List match audience.
The List match is what Facebook calls a Custom audience and Google a Customer match. You upload a list of email addresses, typically your clients, and wait for Quora to match them with profiles on its network. We reached a 34% match when we tried this, meaning we would be able to reach about a third of our qualified clients or prospects on Quora.
Again, make sure you have consent from users before using their personal information in this way. You should also click the encryption option to make sure the data is protected when it is transferred.
Finally, you have the option to create a lookalike audience. This requires a seed audience of at least 500 matched profiles, and the more you have, the better the audience will be. If you want to make a lookalike audience based on list matches, be sure you have a seed list of at least 1500 email addresses. Learn more about lookalike audiences here.
4. Create a new campaign
Your tracking is in place and your audiences are ready, now click New campaign at the top right corner of the screen. Give your campaign a name and select the campaign objective. You can choose between the following: Conversion, App installs, Traffic, Awareness, and Lead generation.
Obviously, if you choose a conversion or app installs objective, you need your tracking pixels from step 2 to be in place. Once your objectives are in place, decide on your daily budget or fix a lifetime budget for the campaign. When you start, you should use daily budgets to get a feel for the daily spend before launching full scale. You can decide to launch a campaign straight away or indicate a later date.
5. Create an ad set
The next level in a campaign is the Ad set. Here you decide on your targeting and bidding. As for the campaign, you need to give the Ad set a name. For the targeting of your campaign, first define the location targeting. You should of course exclude regions of the world your product or services are not relevant for and include your primary markets.
Next, you choose your primary targeting from four options. You can choose broad targeting which actually means you are not targeting at all. You can also choose to target an audience you defined in step 3. And finally, you have the two main targeting options on Quora: Contextual targeting (Topics, Keywords, Questions) and Behavioral targeting (Interests, Keyword history, Question history).
You can add more targeting layers to your campaign by targeting specific devices and gender. You can also exclude both questions and audiences. It makes sense to exclude an audience of past buyers if you have already sold your product or service to many Quora users. For some targeting options, you can also opt in to appearing in the digest email Quora sends to its users daily with the top questions for the users' selected topics.
Finally, you set your bids for the ad set. Quora uses a suggested bid range, much like other advertising platforms, but the suggestions seem high. Be careful not to be too low, however, as you won't win the auctions and get very little impression share and clicks. The final setting is the type of ad delivery: optimize for clicks, impressions, or conversions.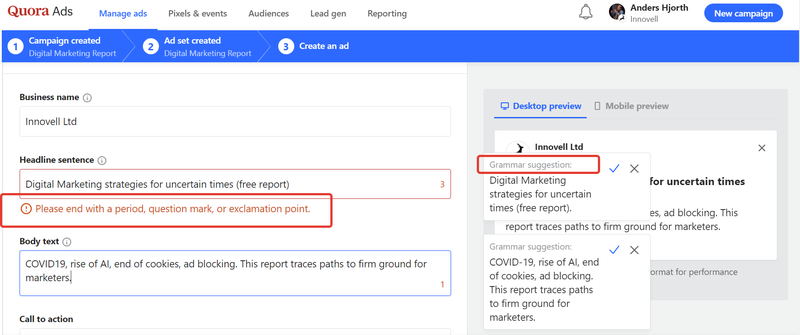 6. Create an ad
We have now arrived in the create department. You provide an ad name and decide which format you would like to use. To boost a question in your campaign, choose Promote an answer. The other two options are basically the same, except for the added image in the Image Ad. You add your business name which will appear in the ad, as well as your logo which you have already registered during setup.
The most important elements of the ad are the headline sentence which can be 65 characters long and will appear bolded, and the body text which can be 105 characters long. For image ads, upload a 16:9 format picture illustrating your product or message.
Finally, choose your CTA in the list of options: Learn More, Get the App, Apply Now, etc. In the bottom field, insert the landing page URL where you want users to land. For those obsessed with tracking, remember your UTMs (urchin tracking modules).
7. Launch your campaign
You need to install a payment method if you didn't register it during setup. Also, account for a possible delay while Quora reviews your images and ad text.
8. Monitor and optimize
After launch, be patient. The review process needs to happen, and the campaign needs to start delivering before you have anything to monitor. Check in the day after launch to check impressions and clicks. A good trick to see delivery statistics not visible in the dashboard overview is to go to Edit Ad Set. In this view, you will see an Ad set summary including Auction insights.
After a few days with very limited delivery, we discovered that we were losing 86% of impressions to competitors because our bid was too low. We doubled it to get the campaign going.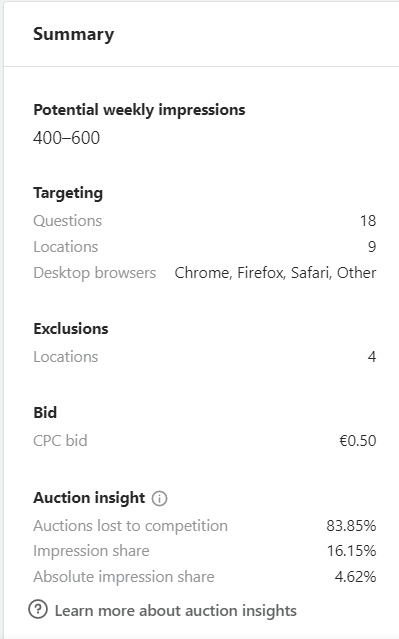 ---
The best advertising matches context
Search engine advertising was one of the first activities to take off in online advertising and still represents a large part of digital marketing budgets. It brought several new things to advertising: tracking, auction bidding, and contextual adaptation. Quora has adopted all of these characteristics in its advertising platform. A lot of the contextual targeting, however, has to be done by the marketer during campaign setup.
To succeed on Quora, you must understand how its members use it and research the right topics and questions. Once you have those elements in place, the perfect contextual match and great results are within reach.