A lot of small business owners write off the radio as a viable business advertising option because of a perceived consensus that no one listens to the radio anymore. But that just simply isn't true. Sure, most people of a certain age group rely on their music streaming service of choice, but there are plenty of others out there who still love turning on their favorite local radio station.
If you run a small business, those people are most likely your target audience, or at the very least, a big subset of your target audience.
---
What to consider before advertising your business on the radio
You shouldn't just advertise on the radio because it's there. You should do it if it will genuinely benefit your business. Take the below factors into consideration before deciding if radio advertising is right for your small business.
1. Target audience
You should already know your target audience prior to establishing your business, but if you need to do a refresher, make sure to do that prior to signing a radio advertisement contract.
You'll have to choose a time slot for your ad, and each time slot comes with its own audience. You'll want to be sure your audience lines up with the listeners for that slot. The radio station will have all the data you need to know about its listeners in its media kit.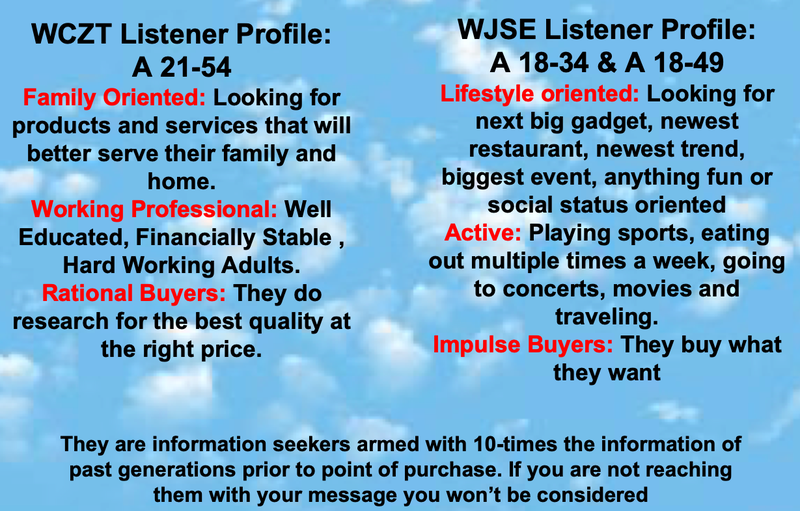 2. Marketing budget
Your marketing vs. advertising deliberation is determined by the customer needs you have discovered (marketing), and the actions you take to meet those needs (advertising). Therefore, your marketing budget should dictate the type of advertisements you go with, including radio. Local radio advertising costs are known for being affordable (or small businesses wouldn't be able to utilize them), so you should have options.
3. Advertising type
This is detailed more below, but there are three main radio advertising types. You will choose between a sponsorship, a commercial ad, or a live read. They all serve different purposes and will benefit you in different ways.
You can choose one, two, or all three depending on your budget and needs. You'll be working with a sales rep at the radio station, and they can help guide you toward the types that will work best for you, your business, and your budget.
---
The 3 types of radio advertisements you could buy
Depending on your business, you can choose from any one of the three options below, or a combination of the three. Radio stations are always running deals on advertising slots, especially around the holidays. Their radio station deals may also be coupled with digital advertising options on their website.
1. Sponsorship
Have you ever listened to a radio broadcast of a local sporting event like high school football or basketball? If so, you've probably noticed that those broadcasts have sponsors. Those sponsors are always small businesses who want to get the word out about their business not only in front of the live game crowd but also to those listening on the radio as well.
This type of advertisement is great because you are reaching a lot of different types of people at once, and your package will most likely include a certain number of shout-outs per game, for every regular-season game.
2. Commercial ad
When a radio station plays commercials between songs, take note: This is where your commercial ad will play. It is a prerecorded commercial that plays a specified number of times at certain times of day or night. Those specifics are all determined by the package you choose or the terms you work out with your sales representative.
3. Live read
This type of ad is where the radio DJ takes a different script and reads it aloud between music selections or as part of the "talk radio" segment. The same guidelines apply: It will be read a certain number of times during a time slot based on your agreement.
---
How much can a radio advertisement cost?
There are many factors that go into how much a radio advertisement can cost. While people might not realize there are costs involved, radio ads certainly aren't free advertising. The most crucial factors are the length of the ad (usually 30 or 60 seconds), number of plays, time slot, and location.
The range of cost for advertising on the radio can be between $200 and $5,000 per week. It seems like a big range, but the lower end will be the cost for local radio advertising, while the higher end is for larger markets.
No matter the market, radio stations have their prime-time time slots, which will drive up the cost, and the time slots that are less listened to, which will result in lower costs for you. Just because a slot is deemed "prime-time" by the radio station, doesn't mean that's the prime listening time for your target audience, though, so keep that in mind when choosing.
---
How to advertise your business on the radio
Advertising on the radio is one of the easiest ways to get the word out about your small business for many reasons. One, it's kind of one-and-done, meaning you can have one script or one recording of your commercial, and it runs as many times as your contract allows. Below is a step-by-step process for getting your small business advertising on the radio.
Step 1: Make contact
This probably isn't something you'll have to worry about, as radio stations have sales representatives that go from business to business. They'll bring their package materials, media kit, and business card, and if you let them, will sit down with you and talk about all your options. If for some reason no one has contacted your store, you can request information about advertising on the radio station's website.
Step 2: Choose your advertisement type
Next, you'll determine the type of advertisement that works best for your business. Your sales rep at the radio station should go over the options with you. As stated above, your options will be some combination of sponsorship, commercial ad, or live read.
Step 3: Choose your time slot
You'll be presented with a list of time slots to choose from, and usually you can pick more than one. The times will usually come in a range of two hours. For example, you could have your ad play between 6 a.m. and 8 a.m. and again between 5 p.m. and 7 p.m. Your best option is based on how your audience matches up with the radio station's listeners.
Step 4: Draft a script
Once you've chosen your time slot and advertisement type, you can now put together your script. The type of script will vary depending on the type of ad you're doing, but the main options are a skit or a purely informational ad.
A skit will have "characters" who verbally act out a scene that tells listeners about your business. When done right, this can be one of the more natural ways to advertise your business. For example, one speaker could be representing a customer while another is playing the part of a sales associate or service member, depending on your type of business.
For a live read or sponsorship, you're more likely to be recommended an informational ad, since it will be read aloud in the moment. For either type, you can draft the script yourself, have those at the radio station do it, or work with them to create one.
Step 5: Record your spot or have it recorded by someone else
If you've written a skit or script for a prerecorded ad, the final step is to actually record it. You don't personally have to be in the commercial, but most small business owners opt to have their voices heard. If you choose to not be included, any of the employees at the radio station can jump in to read your script or play the different characters in your skit.
If you've gone with a live read ad, your work will be done at step four. There's no need to worry about making a recording.
---
Final thoughts
While there are plenty of other listening options out there these days, the radio isn't as antiquated as a lot of people think. Stations are finding ways to stay in the loop, and as always, are a great way to advertise your small business.
The effectiveness of your radio advertising will depend on many things, but know your audience, know your budget, and know what type of ad will work best for your business, and you've got a recipe for radio success.