When you're a construction manager running an active project, you've got a million things going on at the job site, and you can't always be there in person. You've probably wondered if there's an easier way to keep track of what's going on than relying on phone calls, emailed PDFs, and time cards tracked in spreadsheets.
That's the problem Raken is trying to solve. While it won't handle all aspects of construction management, Raken aims to simplify monitoring the job site and put the construction manager in complete control of everything that's going on.
But is it right for you, or should you look elsewhere? This review will break down what Raken is, what features it offers, and what exactly you'll get out of it on a practical level.
---
Who is Raken for?
When it comes to daily reporting, there may not be a better construction project management software app than Raken's. Raken is meant for construction managers looking for a simple, straightforward platform that allows them to share photos from the job site and post regular updates to track the progress of the project.
While it lacks some of the features of more comprehensive construction project management software options, such as detailed financial tools or design, this is a solid platform if you're looking for a way to track the progress of a construction project. Its pricing makes it affordable for any size construction company.
---
Raken's features
Raken's features generally are focused on in-the-field construction reporting, but there are nuances. Here are some of the main features you will get with the software.
Daily reports
At its core, the daily reports are what Raken is all about. You can write notes, track time and production, upload photos, and do a host of other things with the cloud-based software. It takes no time at all to create a work log, which shows what work was completed and by whom.
You can even record voice notes while working through the job site. And the software automatically organizes your photos and videos into a gallery so you can dial them up based on project or date.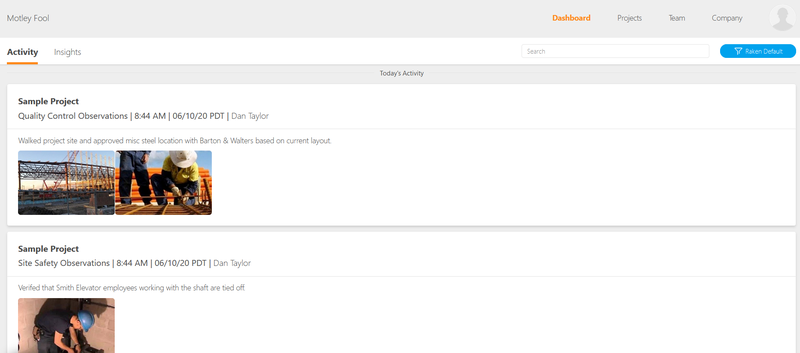 Time cards
You would expect a construction app focused on tracking the job site to have a time cards feature, and Raken delivers. You'll be able to allocate hours to teams or individuals, and you can export time reports to make payroll processing easier.
If you've recorded time cards on spreadsheets, or even pen and paper, Raken promises to make your life easier in that regard.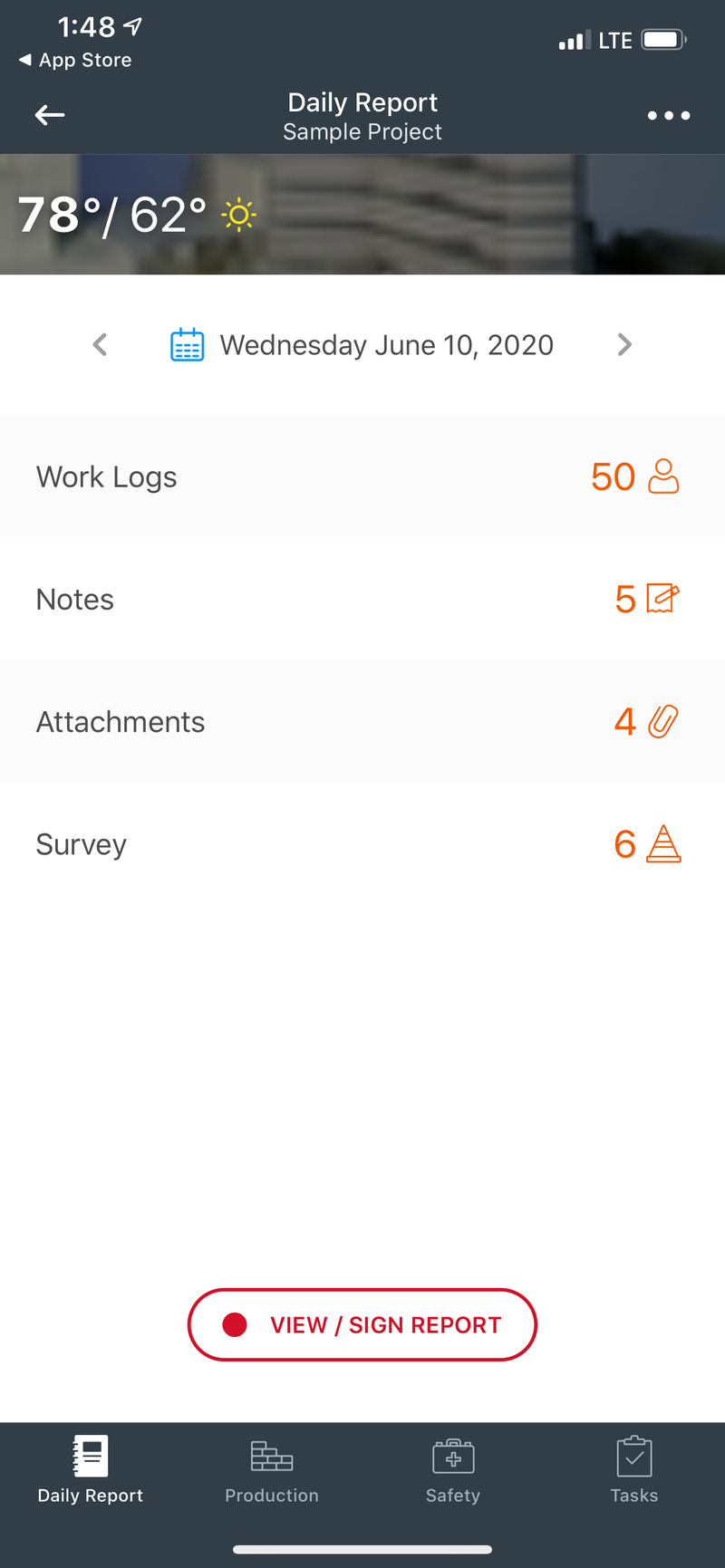 Toolbox Talks
Toolbox Talks are a set of safety-focused talks that can help prevent accidents on the job site. You can get a starter pack of 100 preloaded talks that cover topics such as chainsaw safety and fall prevention.
They can be accessed from anywhere and can be customized and company-branded. Toolbox Talks supplement other safety features, such as a way to collect signatures digitally for safety reports and surveys that can help you spot safety hazards and risks.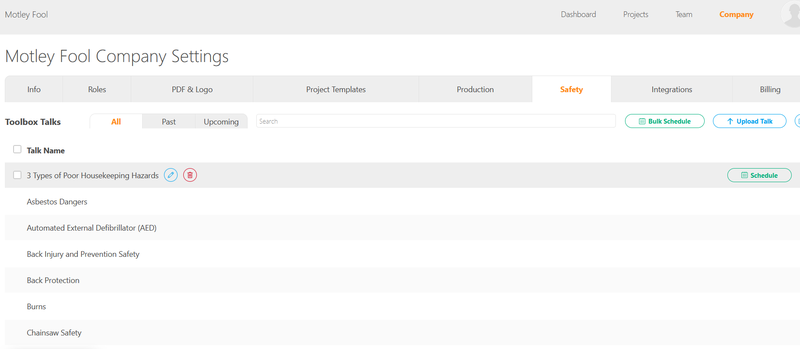 Equipment log
One of Raken's newer features, the equipment log lets you track any owned or rented equipment. The software shows the status and location of all machinery, and workers in the field can update the logs remotely. This allows you to see where the equipment is, what it's being used for, and who's using it.
Production tracking with budgets
Another relatively new feature is a tool that lets you add budgets to project cost codes so you can make sure the project is staying on budget. The software automatically records the work hours you enter and marks how much it counts toward the production total based on those cost codes.
---
Raken's ease of use
The first thing you'll notice about Raken is its simplicity. You won't be bombarded with extensive menus or features, just a clean activity feed and some simple menu options at the top. I found that I had to get used to the navigation and format of the software, but others might pick it up right away.
Raken is essentially two software options in one: Raken in the Field and Raken in the Office. The former is focused on daily reports, time cards, production tracking, and safety. The latter deals with processing data from the field, ensuring safety compliance, and making data-driven business decisions.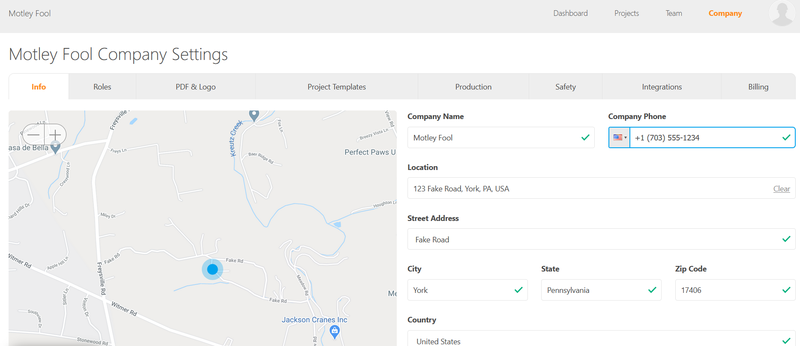 Setup is basically non-existent, so your onboarding time will be next to nothing aside from poking around in the software to get used to the format and navigation. You might run into instances where you'll wish there was more functionality, but that appears to be one of the sacrifices made for simplicity's sake.
Raken does an excellent job with documentation, making it easy to upload progress pictures and important documents without having to email PDFs or PNGs back and forth.
An underrated quality of this software is just how well it integrates with other software. You can link lots of outside programs to Raken, such as BIM 360, Procore, Google Drive, and Dropbox, to name a few.
This means if you want a holistic construction management solution, you don't have to get rid of Raken, you just attach it to some other construction management software solutions that have the features it lacks.
Sadly, it's a bit lacking in the analytics department. The reports are useful and provide a good overview, but they lack the customization offered by other platforms. However, the Insights tool does a great job of keeping you on top of the project, which is what matters most.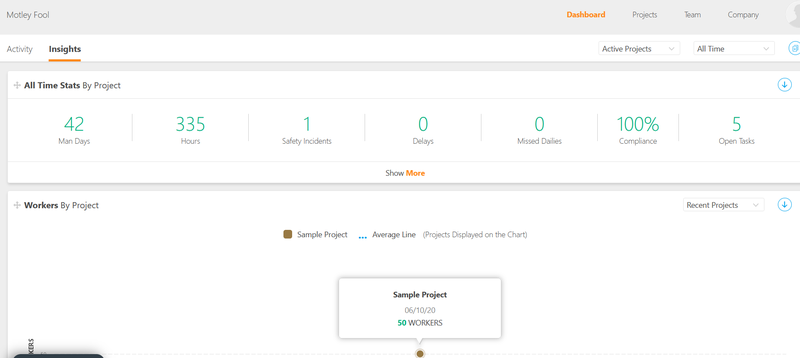 ---
Raken's pricing
While it's not a free construction management software, Raken has an affordable pricing scheme that makes it accessible to any size business — although it does charge per user, so it will get expensive quickly for companies that need to set up multiple users.
Raken pricing depends on which plan you sign up for, and the plans are priced based on what features are offered (keep in mind, all plans are based on annual pricing, which is a 20% discount compared to monthly pricing):
Basic — $12/month, per user: This edition offers unlimited projects, daily reports, custom branding, task management, an offline mode, and a photo, video, and document gallery.
Pro — $30/month, per user: Pro offers the features of Basic and adds custom survey fields, time cards, production tracking, equipment management, integrations, and Raken's "Insights Dashboard."
Performance — $37/month, per user: For construction managers looking to improve safety and increase automation, Performance offers all of the features of Pro plus automatic emails of daily reports, quality and safety management, API access, individualized training, and more.
Raken offers a free trial; all that's required to access it is some basic contact information. Helpfully, they provide sample construction data when you first log in so you can immediately understand how the software is supposed to work.
---
Raken's support
Raken's phone number is featured prominently at the top of its website. However, a phone call led to a recorded message that said all representatives were currently busy and that I should leave a message (although I did receive a call back less than half an hour later, despite not leaving a message).
According to their pricing page, live chat, email, and phone support are included no matter what version of the software you sign up for. Like most software developers, Raken also provides a self-service knowledge base with articles and other resources to help you deal with technical issues.
Raken offers support upgrades such as "priority" support, which means you're guaranteed a response within an hour during normal business hours. This is available only to Pro and Performance subscribers.
Performance subscribers also get access to individualized training programs and a designated customer success team.
---
Benefits of Raken
The main aspect of the Raken app you're likely to enjoy is its ability to track what's happening on the job site at all times and the ways it can make you feel in control of your project.
You can access the software from anywhere and immediately dial up work logs, photos, progress reports, and anything else to ensure your project is staying on budget and on schedule.
It doesn't have all of the features a construction manager needs to do all of the work that goes into a project, such as designing or creating detailed budget estimates. But it doesn't try to be all of those things — it just tries to do project tracking well, and here it succeeds.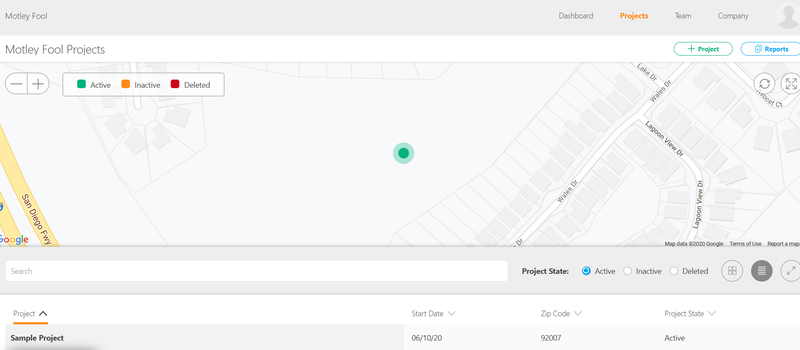 ---
Raken is worth a try for any construction manager
While Raken construction software doesn't do all of the jobs a construction manager needs to do, I've seen few other platforms that do a better job of pure project tracking and daily reporting. And because it offers a free trial and a low initial price tag, it's absolutely worth giving it a try for a few weeks.
If you're looking for a more comprehensive solution, you can still use Raken. Just sign up for Raken and use its integrations to combine it with other platforms, like Procore or Oracle's Aconex, which can do the jobs Raken can't.
---
Frequently Asked Questions
Raken is very intuitive and easy-to-use construction management software, and after a few minutes of playing with its features and trying out its navigation, you'll be able to start uploading your own daily reports in no time.
Is it a comprehensive construction management platform?
Raken is focused primarily on project tracking and daily reporting and therefore doesn't have the more detailed features of other construction management platforms, like construction marketing, budgeting, or design. However, its integrations allow you to supplement it with other platforms.
Raken offers a free trial, and the software is only $15 per month, per user at its most basic version on a month-to-month basis (or $12 on an annual contract), so it's one of the more affordable options out there.

Raken is an excellent project tracking and daily reporting software platform for construction managers. If you're looking for intuitive software that's also affordable, consider test-driving it for your business today.
Raken is an excellent project tracking and daily reporting software platform for construction managers. If you're looking for intuitive software that's also affordable, consider test-driving it for your business today.