Some of us have been working remotely for a while, while others of us have recently been thrown into the world of working at home by chance and circumstance (alternatively known as the COVID-19 pandemic).
Meetings can be difficult enough at the best of times, so getting remote meetings right takes some refining. If you're not used to holding remote meetings, or just need a gentle nudge in the right direction, then keep reading. This article goes through several tips and tricks that'll help you run successful remote meetings.
---
Overview: What is a remote meeting?
Remote meetings, or virtual meetings, enable individuals based in multiple locations to meet via video or audio conference in a virtual room. These meetings are usually held using a video or audio conferencing software platform.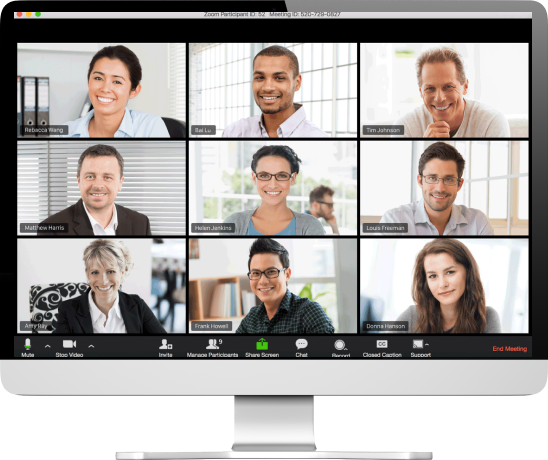 ---
How to conduct a remote meeting for your team
Virtual or remote meetings come with their own challenges. How do you prepare for a remote meeting? How do you make sure everyone's voice is heard? How do you keep employees engaged? Below, we go through the steps you should take to conduct a successful remote meeting every time.
Step 1: Choose your remote meeting tools
First things first: you need to select a remote meeting tool that suits your business and your team. Everyone's heard of Zoom and Skype, but you can choose from many other tools on the market based on three types of video conferencing systems that could better suit your needs.
We've reviewed some of the best video conferencing tools on the market, so be sure to read our full reviews.
Before landing on a video conferencing platform, consider the following factors:
What size team the tool will support: Some tools are built with enterprises in mind, and others are built for smaller businesses. Take a look at the features that a solution offers, and ask yourself, "Are there too many features? Are there too few?" Most platforms offer several pricing and feature tiers, so you'll need to identify which package can support your remote meetings.
How much the tool costs: You can find free meeting apps on the market, but be sure it can adequately support your meetings. If you need a tool that provides you with your own personal meeting room, don't settle for a tool that can't give you one. Draw up a list of non-negotiable features, keep your budget in mind, decide how much you want to pay per/month per user, and calculate any associated set-up fees and add-on prices.
What customer support options the tool offers: It's important that any tool you use comes with robust customer support options. The options should offer customer support hours that suit your business and an array of options such as phone, email, support tickets, and knowledge bases.
Step 2: Set out remote meeting etiquette
This is an important step in making sure your remote meetings run smoothly. Remotely managing a meeting is not the same as doing so in person, and you'll need to set up some remote work meeting etiquette and norms that everyone is aware of.
Here are a few ideas that can help you set out remote meeting etiquette:
Decide on a video on/off policy: Decide whether your team should enable their videos for meetings. In some meetings, it may be completely necessary, and others where it isn't. The benefit of using video is that you see when people are trying to speak, and can see whether your staff are still engaged.
Decide on a mute/unmute policy: Similar to the point above, decide when microphones should be muted and unmuted. For larger meetings, consider asking all participants to mute until they need to speak to avoid a deluge of background noise.
Assign a different "time cop" for each meeting: "Time cops" are the employees you ask to keep an eye on the time during meetings. Your agenda may already specify how long each meeting point should take, or the time cop can periodically warn the meeting facilitator how much meeting time remains. This makes sure you get through your agenda points and don't stray off focus.
Start and finish each meeting on time: Overrun meetings have a knock-on effect on the rest of each employee's day. Having a "hard stop" for meetings, and covering everything left over via email prevents meeting fatigue and extending the length of employees' work days.
Step 3: Set an agenda
As with in-person meetings, a meeting agenda helps set clear expectations for what needs to be discussed. It's even more important to set agendas, even loose ones, for remote meetings, to maintain a sense of structure.
Tips for preparing a remote meeting agenda:
Distribute the agenda ahead of the meeting: If appropriate, sending out the agenda ahead of time gives participants a chance to prepare for meeting topics or prepare deliverables for the meeting.
Allow time for flexibility: A staff meeting agenda doesn't always need to be cut and dry, especially during remote meetings where it can be difficult for everyone to get a chance to speak. Make ample time for participants to have their say. It's not as easy as it is in-person to steer meetings, so make sure agendas aren't so rigid that they stifle discussion.
Encourage collaborative agendas: These help avoid interruptions to the meeting. Allowing participants to add points to the agenda ensures everyone has input to the meeting, without stopping and starting multiple discussions. On the other hand, the meeting organizer must be the arbiter to keep the list size manageable.
Step 4: Keep employees engaged
Keeping employees engaged during remote meetings can be a challenge. Because there's an extra layer between you and employees, it can be difficult to encourage participation and collaboration, especially during longer meetings.
Some video conferencing platforms come with polling features, which can help your employees contribute and engage with the meeting despite the distance.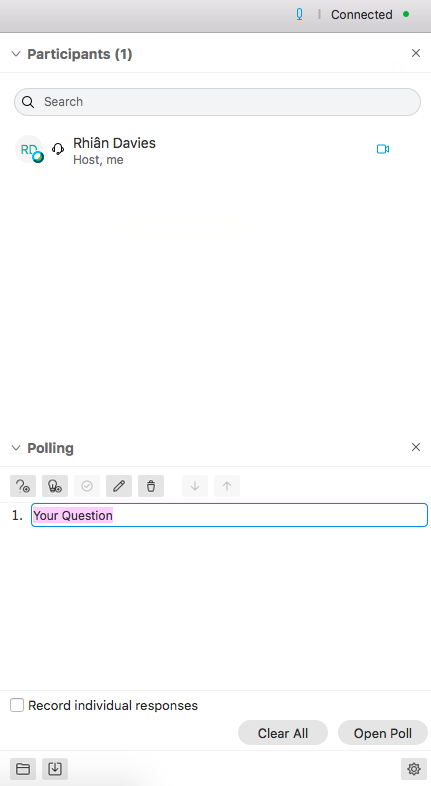 A meeting without engagement is as good as a meeting that didn't happen, so follow these tips to help you engage employees during online conference calls:
Tips for keeping employees engaged during remote meetings:
Take note of participant distribution: If there are more people live in a room together than remote attendees, make sure those people in the room don't dominate the meeting. This can be incredibly off-putting for those calling in, and leads to higher levels of disengagement. An easy way to combat this is by making sure you actively call on people to contribute to points, or make space during discussions for them to add their opinions.
Use video conferencing software features: Features such as polling, sharing your screen, and whiteboards can help even the driest meetings feel more engaging.
Step 5: Send out a recap
Not every meeting requires a recap or roundup email, but if you're running a meeting where deliverables and next steps are discussed, a recap email is handy for making sure everyone is on the same page.
It also gives folks a chance to double check the points that were made, ask further questions, and it serves as a reminder for people to check back in after the meeting.
Tips for sending out remote meeting recaps:
Keep them brief: Unless the meeting requires a full write-up email, keep recaps short and to the point. This makes it easier for staff to pinpoint important details and follow up actions. And if it's short, it'll more likely be read in its entirety.
Include all important points: This includes next steps, deliverables, action items, who's responsible for each item, and due dates.
---
Tips for having a successful remote meeting every time
Though the above tips will set you on the right path, each type of remote meeting will require a different approach. This is important to remember when preparing for each remote meeting.
Here are a few tips to help you structure and customize each type of remote work meeting:
Tip 1: Standup meetings
The idea of standup meetings is to keep them short and sweet. When working remotely, it's also good to consider the cadence of these meetings. Ask your employees how helpful they find them, and what could be changed to make them more productive.
Here are a few key things to keep in mind when conducting standup meetings:
Keep them structured: These are one of the most structured meeting types, and it's good to keep them that way. Focus on a standard set of questions: what the team did yesterday, what they're focusing on today, and any roadblocks that are blocking progress.
Record the meetings: You don't necessarily need to come up with solutions for roadblocks during the standup meeting itself. Recording the meetings helps you preserve what was said, and enables you to go back to it after the meeting to identify possible solutions.
Tip 2: Team meetings
Team meetings give you a chance to deliver updates and assign work to your team, but they also serve a social function for remote teams.
Keep in mind that these team meetings might be the only chance colleagues get to talk to one another 'face-to-face', so you'll need to dedicate some time to allow for free-flowing catch-ups and conversations.
Here are a few key tips for running remote team meetings:
Allow time for colleagues to touch base: Especially during times of crisis, colleagues will want to catch up with one another and let everyone know what's going on in their particular location and/or lives. This is good for improving remote teams' social cohesion, so make sure you factor this into meetings.
Make sure everyone participates: Your team meetings should be inclusive, so make sure everyone gets the chance to talk. Call on people who haven't input much to the meeting, and regularly ask if anyone has anything else to add to the points being discussed.
Tip 3: One-on-ones
One-on-ones are extremely important during remote work. They give you and your direct reports dedicated time to share feedback, build rapport, and identify solutions to challenges they may be encountering.
They also provide a space for your direct reports to talk candidly, giving you the opportunity to bond with them in spite of the physical distance.
Here are a few key tips for holding remote one-on-ones:
Keep a running agenda: Having a living agenda in a Google doc where you both add discussion items as and when you want helps provide structure to one-on-ones. Agendas also give you a heads-up so that you can prepare for points in advance and make the meeting more valuable.
Dedicate time for direct reports to express any concerns: Especially if the direct report isn't used to remote work, this is essential for keeping a finger on the pulse of your staff. Ask them directly if they have any concerns or anything they'd like to talk about. Not only does this help to build trust, but it gives you a chance to listen to candid feedback on processes and ways that you can support your team.
---
Remote meetings are here to stay
Remote meetings are now a key part of most organizations' communication strategy. Getting them right is essential to running a tight ship and making sure your business can cope with the realities of the remote working model.
Following the steps in this guide, combined with using the right remote tools will help ensure your remote meetings are a success every time.