---
Who is Replicon for?
Replicon is a time clock for larger distributed teams who need to track billable hours or dig deep into project cost data to better allocate employee time. If you have employees who work in different states or countries, you can especially benefit from tools like Replicon's vast compliance library. However, you'll need to upgrade to a more advanced version to access this tool.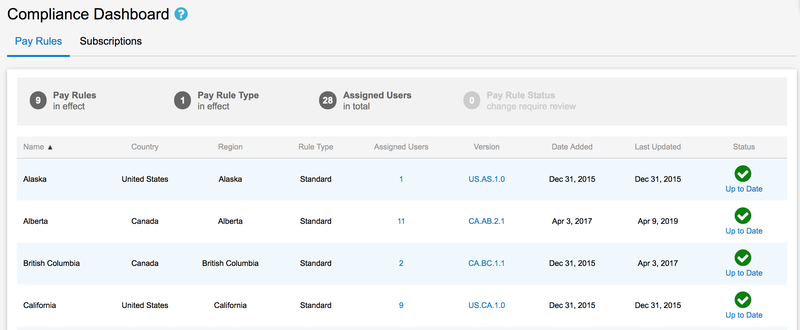 ---
Replicon's features
Replicon's feature set largely caters to bigger organizations who need to track complex, ongoing projects. However, as I mentioned previously, smaller companies that only need basic scheduling or project billing tools can start with the apps they need and add other modules as they grow.
Scheduling
With Replicon, you can create schedules for teams and departments that keep everyone in your organization on the same page.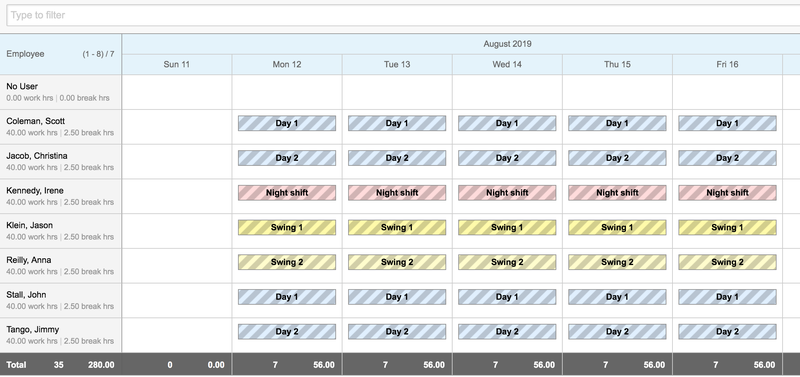 If your employees work regular shifts that rarely change, you can project their schedule into the future, so you're not stuck making updates to their hours every week.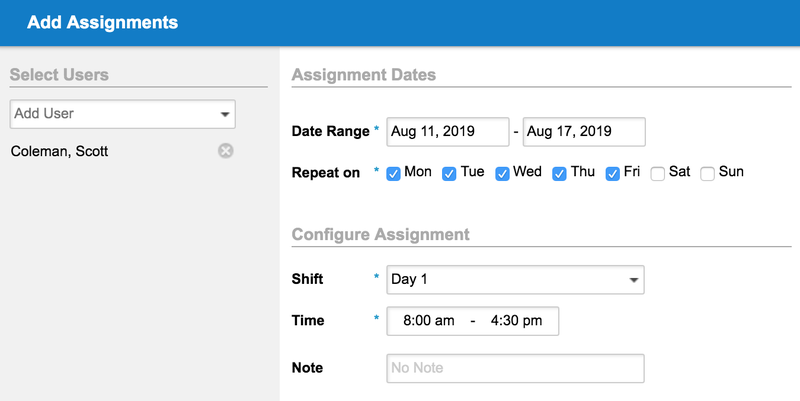 When you set up the system, you can create and edit rules related to time off and availability. Your employees can then request vacation and sick time through the online system or via Replicon's mobile app. Managers and supervisors can then approve those time off requests with the touch of a button.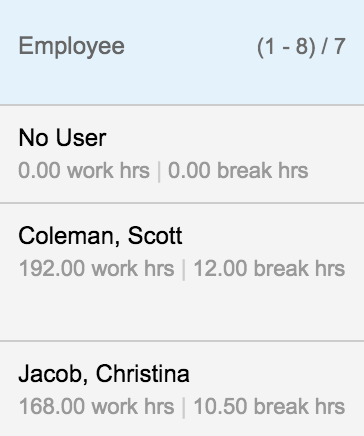 Accountability
You can offer your employees multiple ways to clock in with Replicon. Employees can log time from the system on their own devices, or you can create dedicated workstations where they can punch in and out. Using an iOS device, you can also benefit from different tools like facial recognition, which allows employees to start their shifts by facing the camera and saying, "Cheese."
Managers and supervisors can easily access timesheet data to see who's showed up on time and how many hours everyone has worked.

Budgeting
Replicon's reporting features, which include labor cost budgeting, forecasting, and client profitability, stand out from other time clock tools. Managers and supervisors can access essential payroll data, such as hours worked and overtime costs, all from the appropriate dashboard.

You can also see which clients are the most profitable, based on the number of hours your employees spend on their projects and the associated costs.

When it comes time to compensate employees for reported hours, Replicon integrates with most of the popular payroll and accounting solutions. And you can use Replicon's compliance library to configure wage and payroll rules for any country, which is especially useful for enterprise clients who might have employees all over the world. However, again, this tool does come at an additional cost.
Teamwork and collaboration
Frankly, Replicon's focus is not collaboration. Employees can communicate essential updates, such as time off requests and availability, to managers, and that's about it. Instead, Replicon focuses on managers' abilities to report out about employee scheduling and hours worked and for supervisors to understand that data at a glance. Both employees and managers can access important information from mobile apps.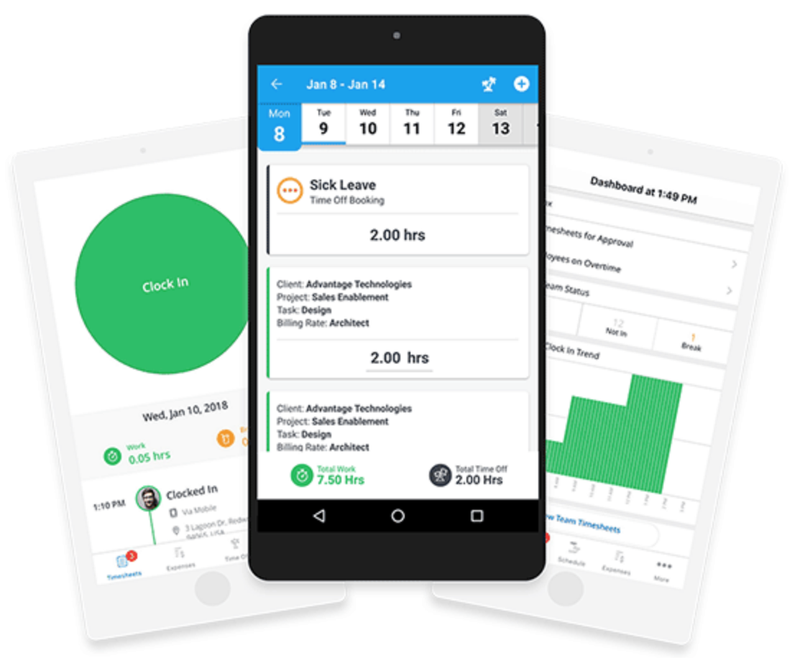 ---
Benefits of using Replicon
If your main concern is for your managers to extensively track employee hours and schedules and be able to easily share labor cost reports, then you should look at Replicon. The amount of time they'll save by not having to produce these reports themselves might be worth the higher cost.
In addition, if you're already managing a larger number of employees — or know that you'll need a solution that will easily scale as your business grows — Replicon is worth checking out. Since Replicon works for enterprise-level businesses, you won't have to worry about migrating all your employee data to a new system.
Finally, if you're worried about getting started with such a heavy-duty solution, Replicon provides many support options, including a help desk, assistance by phone or live chat, remote access fixes, training via webinar, and a self-help library. 24/7 support is available to premium subscribers, while those with basic access can expect service during normal business hours.
---
Replicon pricing
Replicon's pricing scheme is very complicated. Their website offers a long chart that maps out nine different offerings with different prices and what you get with each of them. Therefore, you will need to know exactly which features you want and then go through the chart to identify the product that best matches your needs.

Replicon's most basic offering appears to be TimeBill Quick Start, which is $60/month for up to five users and then $10 per user after that. All of the other products are priced strictly per user per month, with prices ranging from $3 to $22, depending on your selection.
So, making a decision will require a good bit of legwork on your part to figure out which product to choose. As a result, I recommend trying a few of them out first. Unfortunately, it only appears that four — TimeBill Plus, ProjectTime Plus, TimeOff Plus, and Expense Plus — offer free trials. Hopefully, those trials should at least give you an idea of what the offered features do and, therefore, which one to choose.
---
Replicon's ease of use
Here's the thing: I didn't think Replicon was the easiest time clock system to use, but I did think it was well-organized. If I was a manager sitting down to access timesheet data or a supervisor looking to pull a project cost report, I'd be delighted by how much data was easily available to me.
However, because Replicon offers such a wide array of functionality, it was easy to get lost or overwhelmed by the system. I think anyone who uses it would benefit from a system walk-through from a professional on Replicon's support team.
However, the fact that Replicon is such a heavy-duty system did make it feel a little harder to navigate than other time clock solutions I evaluated.
Getting started
When you log into a free trial of Replicon, you're first prompted to tour a sandbox system that includes dummy data for employees, managers, and supervisors. I highly recommend playing around in the sandbox to familiarize yourself with the way different people would access and use the system.
I found it very helpful to walk through the main functions of each role and — unlike the erasable dummy data — this is not available once you jump into the actual trial.
If you decide to continue after your free trial, you can use the pre-built (enterprise-focused) solution or build your own customized system by combining different apps and modules to meet the specific needs of your business.
Replicon suggests different combinations geared toward professional services, project-based teams, and businesses who just need simple time tracking. The time-off management and expense tracking modules are add-ons that come at an additional cost.
If you have any trouble getting set up, Replicon offers both recorded and on-demand webinars that explain all aspects of the system. There are also many self-help articles that can walk you through setup.
---
Frequently Asked Questions
Should I use Replicon if I only need basic time clock software functionality?
If you're only looking for a tool that will allow you to create simple schedules and offer your employees the ability to clock in and out, Replicon might be a bit too complex for your needs. However, the slightly advanced functionality allows you to track project labor costs and manage employees in different locations.
So, if you know you're going to grow your team or that you'll need to track compliance and wage rules in different states — or even countries, Replicon is worth checking out.
Which industries does Replicon cater to?
Because its platform is so customizable, Replicon can help any business that needs more clarity around employee time and labor costs. However, if your business is trying to cut down on overhead costs, Replicon's higher price point might be prohibitive.
How much does Replicon cost?
Replicon has a complicated pricing breakdown, so you should try out the software first and determine exactly which features you want. Doing that will, in turn, help you determine the price tag. Generally, the different versions of Replicon cost between $3 and $22/month per user.

Check out Replicon if your large distributed team needs to track billable hours and project costs.
Check out Replicon if your large distributed team needs to track billable hours and project costs.
The Motley Fool has a Disclosure Policy. The Author and/or The Motley Fool may have an interest in companies mentioned.