Which restaurant concepts can you use to rise above the competition? Your restaurant's theme affects your service style, menu choices, and branding. While you may already know what model you want, whether that's fast-casual or family-style, what makes your eatery different?
Discover nine restaurant theme ideas that will help you create a memorable and beloved brand.
9 types of restaurant concepts to inspire you:
Virtual restaurant
Drive-in dining
Pet-friendly space
Mystery experience
Activity and food
Single-product restaurant
Automat
Location-based theme
Specialty restaurant ideas
---
1. Virtual restaurant or ghost kitchen concept
Fast-casual ghost kitchens existed before the pandemic, yet their numbers increased as carryout, delivery, and online ordering swept the nation. This model relies on a strong internet presence and a compelling restaurant website.
Some business owners open a virtual kitchen as a second location that works as a distribution center. It's cheaper than opening a restaurant with indoor dining, and a business can reduce its delivery times in larger cities.
Other restaurateurs add a new virtual restaurant brand but use their existing staff and building to fulfill orders. Or, you can come up with a great concept, then partner with a restaurant that prepares your orders or leases kitchen space.
For example, Chipotle is rolling out a digital-only concept in Highland Falls, New York. The new building won't have indoor dining, nor can you order by phone. And Hotbox by Wiz is opening virtually in Houston, Texas. Artist Wiz Khalifa's delivery-only model relies on partnerships with existing restaurants that prepare the food before a third-party delivery service takes it the final mile.
---
2. Drive-in dining concept
Carhops may make a comeback with drive-in dining. Thanks to restaurant software innovations, customers can pull up to a restaurant parking lot, place an order using their mobile phone, and have the food delivered to their car.
Some restaurant owners combine dining with an experience like an outdoor movie. This concept works well for places with substantial parking areas or outdoor spaces relatively close to your kitchen. Diners may eat in their cars or get their food to go.
Resy, a restaurant tech platform, recently promoted this restaurant concept with its Resy Drive-Thru event. As people search for ways to connect while social distancing, the drive-in dining concept may be just the answer.

---
3. Pet-friendly restaurant theme
There's no doubt people love their pets, yet putting together animals and food isn't easy. Use a feasibility study to identify restaurant business challenges, such as health department regulations or extra staff for animal care.
Successful pet-friendly models can boost profits by feeding both people and pets. For example, in Texas, MUTTS Canine Catina sells burgers and drinks for humans, while offering beef franks and "pupsicles" for canines. It's attached to a dog park, where animals can roam off-leash.
Or, join one of the many cat-friendly spaces that feature free-roaming cats in an indoor or outdoor setting. The Cafe Meow in Minneapolis, Minnesota, is a coffee shop with a separate cat lounge full of adoptable shelter cats. At Koneko Cat Cafe in Manhattan, New York, you can grab a pastry and interact with adoptable felines in three different spaces.
---
4. Mystery restaurant theme ideas
Everyone loves a good mystery and a feeling of exclusivity. This restaurant concept includes fine dining models fit for classic mobsters' expensive tastes and full-service experiences with theater or murder-mystery games.
For instance, the family-friendly SafeHouse in Milwaukee, Wisconsin, features spy decor and encourages kids and adults to investigate the restaurant. Or stop by Tommy Gun's Garage in Chicago, Illinois, for an interactive speakeasy experience with a dinner show.
To make this concept work, restaurateurs tailor decor, menu, and entertainment around one theme. Use restaurant marketing tactics, such as opening a "secret" Facebook group of spy or Roaring Twenties fans and sharing an exclusive special weekly.
---
5. Activity and food eateries
Pick an activity and add food; what could go wrong? People love experiences and look for new ways to do things with friends or family. Make this idea work by catering to a targeted market in your area and using restaurant management software that supports your food and experience offerings.
Harvey Washbangers in College Station, Texas, offers a space for students to do their laundry and grab a burger. Or, they can let the professionals handle 20 pounds of laundry in return for a 20% discount on food. It's also possible to head over to Dallas, Texas, for bowling and a meal at Bowl & Barrel.
---
6. Single food product business
Streamline your restaurant point of sale (POS) system by offering fresh takes on one food item. For this concept to work, you need to develop one food everyone craves and then make it the best dish anywhere around.
Pick a food item, such as macaroni and cheese, then create menu items that serve up hot takes. You can offer 14 styles of mac and cheese, including vegan or seafood, or use one type of mac and cheese but provide a vast selection of toppings, just like you see at a pizzeria.
Flex Mussels in New York City serves 22 versions of mussels, while PBJ.LA in Los Angeles, California, specializes in nine styles of peanut butter and jelly sandwiches.
---
7. Automat food concept
The once-popular automat concept reached the height of its popularity in the mid-20th century. However, many restaurateurs are redefining the vending machine idea, thanks to interest in contactless dining and ghost kitchens.
Today's automat food concepts rely on a ghost kitchen, where cooks put the food orders into locked cubbies. Guests pick up orders from the locker using a unique code. Your restaurant's customer service consists of an online presence since guests don't come in contact with your staff.
In Manhattan, Brooklyn Dumpling Shop highlights its unusual concept by saying, "We're the first to enable a zero human interaction (ZHI). We're revolutionizing QSR (quick service restaurants) with our proprietary technology and will be one of the first to launch hands-free self-ordering kiosks."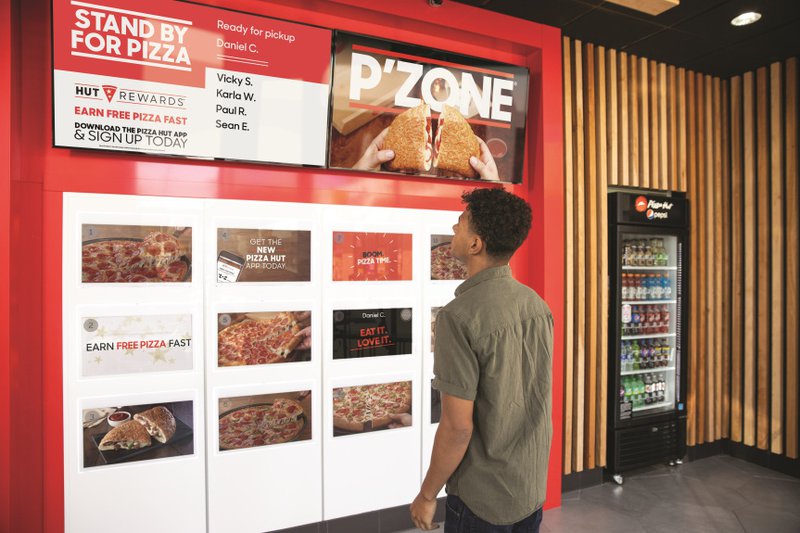 ---
8. Location-based restaurant styling
If you live in an area well-known for its beautiful lakes, rooftop gardens, or underground caves, then you may build your restaurant concept around those features. Such eateries range from fine dining to family-style models serving local favorites.
For instance, the Terry Bison Ranch in Wyoming serves bison while passengers enjoy a train ride. In comparison, the Napa Valley Wine Train features four-course dining and wine tours.
Typically, great locations take a bite out of your restaurant budget because it's expensive to operate a train or purchase property along a body of water.
---
9. Specialty restaurant ideas
Many restaurant owners opt for a specialty theme they're passionate about. Nearly any restaurant can turn into a theme restaurant with some adaptations to the interior decor and styling.
However, it's vital to think about how your concept will fare long-term since pop culture fads may be generation-specific. Examples of specialty themes include The Lockhart in Canada, built on a Harry Potter theme complete with magical drinks, and the American Girl Cafes, which cater to children and their dolls.
---
Turn your concept into a money-maker
Working for yourself is thrilling, especially when you develop successful restaurant concepts that you're passionate about. To turn your idea into a plan, clearly define your approach. Then map out your service style, food type, dining decor, and price point. Each element should relate to your central concept and be flexible enough for long-lasting success.