If you have only been accepting cash or checks at your small retail business, you may be holding yourself back, both in revenue and your ability to analyze sales data. To increase your cash flow and have access to actionable business analytics for your sales management efforts, you need a robust point of sale (POS) system.
Here are our top picks for the best retail POS systems:
---
What to consider when choosing a retail POS system
Given the number of point of sale systems on the market, carefully research your options to find the best fit for your business. Focus on POS systems for retail operations as opposed to software with a one-size-fits-all approach or that is tailored for the restaurant or service industries.
1. Evaluate your existing operations
First, assess your current retail setup:
What are your total sales?
What is the average amount of each sale?
How many sales do you average per day and week?
How many physical and/or online points of sale do you have?
What percentage of your sales come from returning customers?
How many products do you have for sale?
How much inventory do you carry?
How many employees do you have who conduct transactions?
2. Research your options
The answers to these questions are key because a good POS system offers capabilities far beyond processing sales and can support and contribute to a wide range of business operations:
Multiple types of transactions: Besides processing credit card, cash, and check transactions, some POS vendors offer the option for recurring purchases via accumulated clearing house (ACH) payments. Accepting an ACH payment will allow you to directly bill a customer's bank account as you might set up a utility or mortgage payment to be automatically paid each month.
Inventory management: Track your inventory, set alerts for when stock is too low, and automatically order additional products at predetermined trigger points.
Employee management: Set up employee PINs to log in and out of your POS system, track hours worked, and sales by employee.
Marketing: Automatically share sales and coupons on social media, and create customer records/accounts to track purchasing history to create targeted offers.
Analytics: Sales, inventory, employee, and marketing reports will provide actionable insights for your business.
Integrations: Some options above will come built in, depending on your POS plan, but others will be add-on features via third-party plug-ins and applications, so check out all the available possibilities.
Data security: Financial data security and fraud protection is key. Be sure your vendor is Payment Card Industry Data Security Standard (PCI DSS) compliant. Besides PCI compliance, look into check guarantee, fraud, and chargeback protection services.
Remember that POS system capabilities shouldn't just apply to your current retail operations. In addition, look toward the future in terms of the options you'll likely need six months or a year later.
3. Know the costs
You need to understand all the one-time and recurring costs associated with your POS system, which can range from just a few cents to hundreds of dollars. Typical expense categories include:
Monthly subscription fees
Individual transaction fees
Required hardware
Software plug-ins, apps, and integrations
Data security
Penalties for chargeback and non-sufficient funds (NSF) transactions
---
5 best retail POS systems for small businesses
There is no "best" POS system for retail stores because everything depends on your needs. However, the five popular POS systems below are well worth looking closely at as part of your decision-making process.
---
1. Lightspeed Retail
Lightspeed Retail is well suited for established businesses looking to increase their inventory management, analytics, and sales and marketing abilities. You can also set up multiple sales locations/shops and take advantage of integrations with popular business software.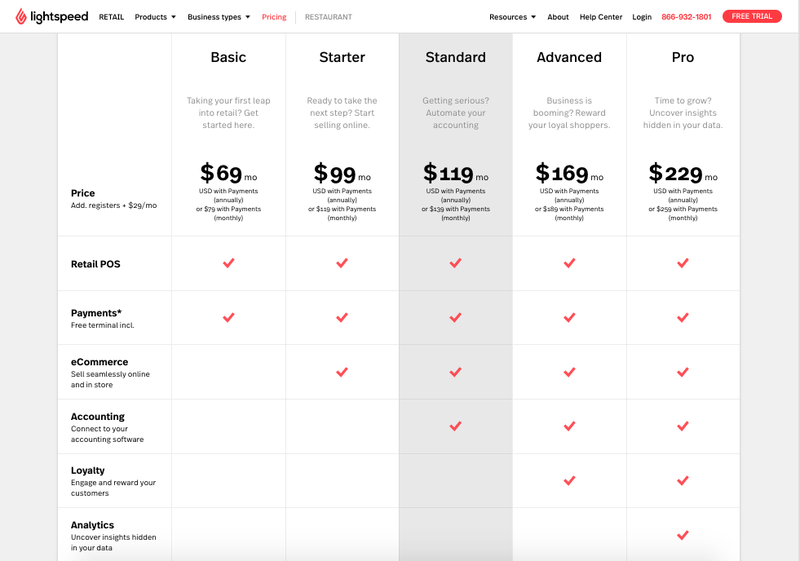 Key features: With inventory management, Lightspeed's purchase order system lets you restock inventory using information uploaded from vendor catalogs. In addition, you can integrate Lightspeed with email marketing providers like MailChimp and QuickBooks accounting software.
Still needs improvement: The lower level plans omit the features included with some comparably priced POS systems, and prices for plans with all the necessary capabilities may be out of reach for small businesses just getting started. Plus, you'll have to commit to a one-year contract.
Pricing: Five different pricing tiers with increasing levels of functionality.
Basic ($69/month) — Includes Retail POS and Lightspeed Payments.
Starter ($99/month) — All previous features, plus e-commerce capabilities.
Standard ($119/month) — All previous features, plus accounting integration.
Advanced ($169/month) — All previous features, plus a customer loyalty program.
Pro ($229/month) — All previous features, plus detailed analytics.
There is also a quote-based enterprise option for high volume merchants.
Fees for credit card sales are 2.6% plus $0.10 per transaction when the card is swiped, tapped, or inserted and 2.6% plus $0.30 per transaction for manual entry.
---
2. Shopify POS
Shopify POS offers onboarding for new users and is a good option for sole proprietorships. Plus, its multiple pricing plans allow you to start small but scale up as your business grows and sales increase. Inventory management is also integrated into the basic sales interface.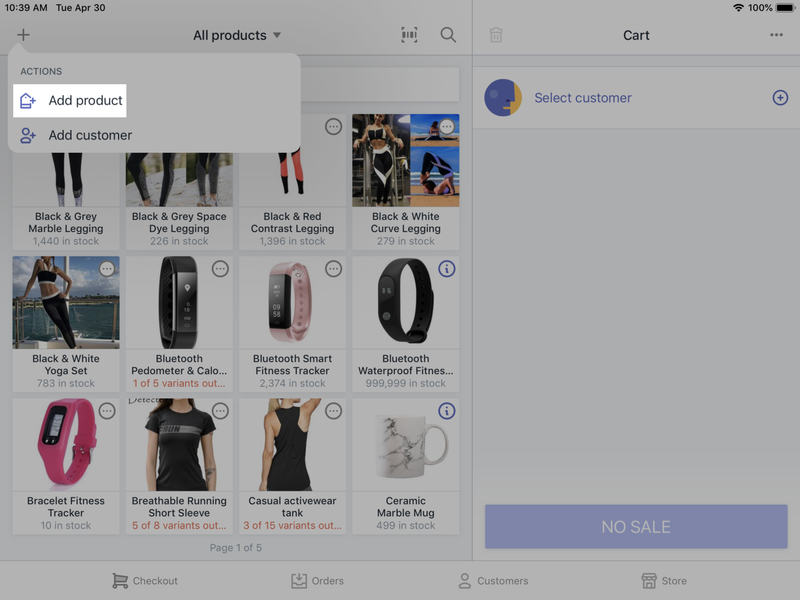 Key features: New users will love Shopify's 24/7 customer support and related information. If you currently have sales exclusively in person or online, you can easily integrate the two when needed. Plus, analytics for overall sales as well as by shift and employee will provide key information for sales forecasting and pricing strategies.
Still needs improvement: While there is an Android app available, its functionality is relatively limited. In addition, much like Lightspeed Retail, the lower level plans lack features you'll likely need. The $79/month Shopify plan is realistically your best choice, but the next level jumps up $200/month.
Pricing: Shopify offers four pricing tiers and a quote-based enterprise plan.
Shopify Lite ($9/month) — You can process sales on your website or through Facebook, and you will also receive a free chip and swipe reader to process orders in person using your smartphone. Shopify takes 2.7% of card reader transactions and 2.9% of online transactions. There is no additional fee for card reader purchases, but each online purchase will cost another $0.30.
Basic Shopify ($29/month) — You'll have a Shopify website besides Shopify POS. Transaction fees are the same as Shopify Lite: 2.7% of card reader transactions and 2.9% of online transactions plus an additional $0.30 for each online purchase. You can have unlimited products and use discount codes.
Shopify ($79/month) — Transaction fees drop to 2.6% plus $0.30 per online transaction and 2.5% alone for card reader sales. You'll get all the Basic Shopify features along with five employee accounts, the ability to use gift cards, and up to five separate locations.
Advanced Shopify ($299/month) — Transaction fees are reduced to 2.4% for both online and card reader sales plus $0.30 per online transaction. You can also have up to 15 employee accounts, advanced reporting capabilities, and up to eight locations.
Merchants with high volume sales, up to thousands of transactions per minute, qualify for the quote-based Shopify Plus plan.
---
3. ShopKeep
ShopKeep is another option. Besides a generalized retail POS, you can also get packages specifically tailored to vape shops, grocery and convenience stores, and clothing and other specialty stores.
In addition, the intuitive interface is good for novices, and the sales analytics dashboard will provide actionable insights to help refine your sales techniques and product positioning.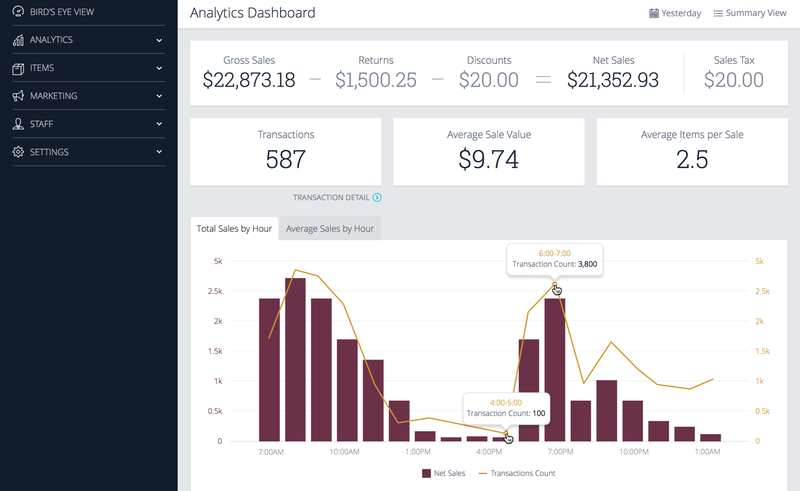 Key features: ShopKeep gives you ultimate flexibility with its month-to-month plan, unlike Lightspeed, which requires a minimum one-year contract. They even offer a "forever free" option with real-time reporting, simple inventory management, and streamlined staff management.
Still needs improvement: The lack of transparency about pricing and fees — more about this below — is problematic. Integrations are limited compared to other vendors such as Shopify. Plus, you must pay extra for add-ons required for the basic functionality you'll need.
Pricing: ShopKeep doesn't make it easy to find its pricing options. Instead, you're encouraged to call for a custom quote. If you keep digging, however, you can eventually find information about the three plans offered.
Free — You get software to support one register and employee, unlimited transactions and products, and basic reporting.
Essential ($99/month) — This option still only supports one register but also comes with unlimited employees, advanced reporting, age-based sales restrictions, email marketing, and integration with QuickBooks.
Advanced ($199/month) — This plan supports unlimited registers and has a customer loyalty program and online listings management.
Credit card transaction fees do not appear to be available on the ShopKeep website, but you'll need to talk to a sales rep to get that information.
---
4. Square for Retail
Square was one of the first vendors to offer credit card processing with a plug-in magstripe reader for smartphones. That was over ten years ago, and they've continued to develop more services and features since then.
Square for Retail has all the features of the popular Square Register, including robust inventory and sales reporting, and also bundles together multiple retail-specific services.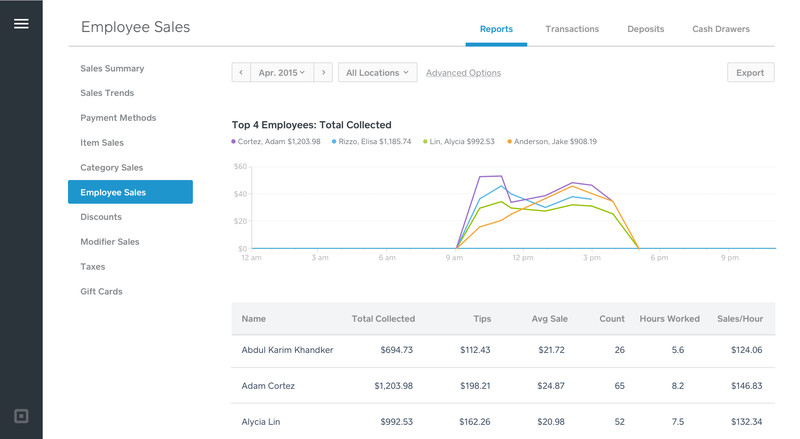 Key features: The simple pricing structure detailed below is a big plus compared to vendors like ShopKeep who want you to talk to a sales rep to get even the most basic information. Besides standard sales reports, you can also generate reports for cost of goods sold and projected profit.
Still needs improvement: Square for Retail runs only on iPads. Plus, there is limited customer support, and you might encounter issues with unexpected account holds on purchases Square deems suspicious.
Pricing: Square for Retail is $60/month per register plus 2.5% and $0.10 per credit card tapped, inserted, or swiped. Keyed-in transaction fees are 3.5% plus $0.15 per transaction.
---
5. Vend
Vend is suitable for both small and large businesses with an innovative interface that easily manages in-store and online transactions. Beyond supporting sales functions, Vend is well known for its comprehensive inventory and customer management features.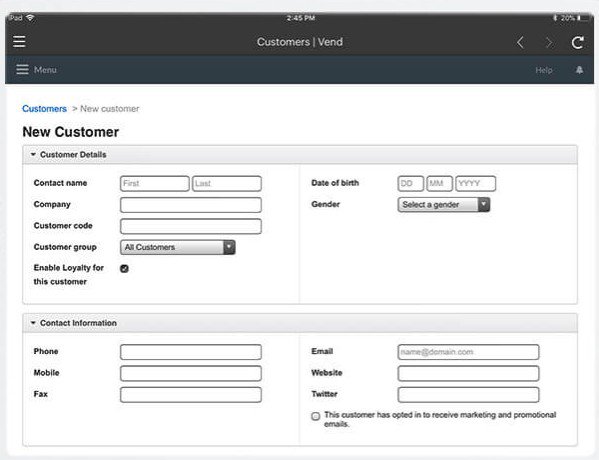 Key features: Vend is cloud-based, which means it runs on all operating systems. Plus, its offline mode allows you to continue making transactions even if the internet goes down, automatically resyncing when the system is online again.
Still needs improvement: While Vend syncs with the online version of QuickBooks, the same is not true for QuickBooks' enterprise editions. Further limitations: no built-in function for email promotions, and mobile sales can be made only on an iPad.
Pricing: Vend has two monthly plans along with a quote-based enterprise option that comes with custom onboarding and a dedicated account manager.
Lite ($99/month): With this plan, you can have one location, one register, Vend's POS app, a $20,000 monthly processing limit, sales reporting, inventory management in real time, 24/7 customer support, and a Xero accounting add-on.
Pro ($129/month): The Pro plan gives you up to five locations with retail management and unlimited transactions as well as advanced promotions including gift cards. Plus, you'll have all add-ons, e-commerce channels, and application programming interface (API) access.
Vend doesn't process credit cards itself. Instead, it partners with multiple third-party providers such as Square.
---
Choose your best retail POS system
To choose the best POS system for your situation, you must be aware of all the capabilities available, everything from features promoting customer acquisition to enhancing your sales process, and its expandability in the future.
Once you settle on a vendor, you'll be well on your way to increasing sales, expanding your customer base, and maximizing your business intelligence.