With customers like L'Oreal, Under Armour, and Adidas under its belt, Retail Pro is no small fish in the retail management pond.
In fact, the vendor has over 30 years of experience in the retail management sphere, serving over 54,000 stores in 130 countries. Retail Pro's niche is that it's localized for regional requirements, something it does very well.
Is Retail Pro the best retail software for your business? Let's find out.
---
Who is Retail Pro for?
Retail Pro is designed for specialty retail, including apparel, beauty, electronics, luxury and jewelry, sporting goods, franchises, and venues.
It acts as a "base platform" with an API that helps support regional requirements, including localized taxation and reporting capabilities and system translation to local languages. This makes the software ideal for those who are looking for a solution that isn't locked into the English language, and that can support regional requirements without extra legwork.
Big-name retailers use it for their retail management needs, — evidence that the solution is more appropriate for larger businesses and enterprises. The solution is also locally installed (though its modular Prism platform is web-based), and this type of software system tends to cost thousands of dollars just to install, which pushes the platform somewhat out of reach for smaller businesses.
---
Retail Pro's features
Retail Pro encompasses many well-thought-out retail management features. Let's take a look at some of its most notable features.
Point of sale
As retailer POS software goes, Retail Pro offers users a great option built into its retail management solution.
Retail Pro's retail POS system is customizable to suit each user's unique business needs. For example, POS workflows can be customized, the POS can be branded to suit your business, and the user interface can be tailored to meet your own retail needs. The POS screen can also be customized to separate different cash register functions (returns/exchanges, etc).
Other notable POS features include automatic sales tax calculation and application, accepting payments in multiple tenders, great functionality for promotions (you can set requirements, schedule promotions, and specify which pricing levels are impacted), access to customer history, and voids and returns.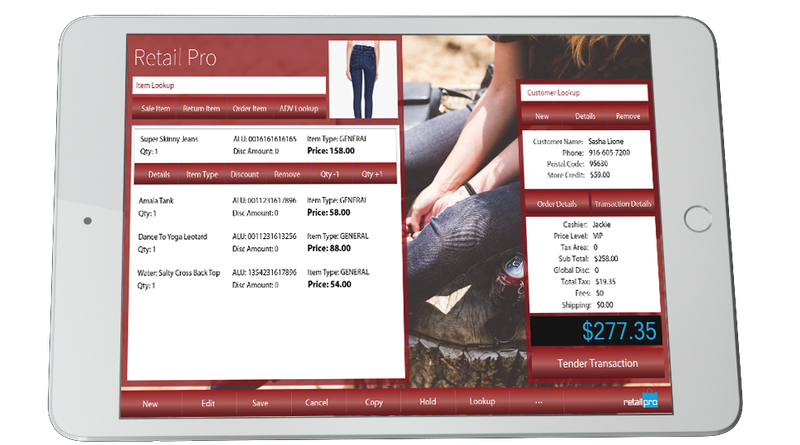 Inventory management
Retail Pro's POS inventory management feature gives users sales floor access via the POS to inventory records and purchasing and receiving documents. The system also automatically updates inventory levels with all purchases and returns.
Users can also access granular inventory information (such as sizes, colors, and locations), transfer stock between store locations, and set alerts for slow and fast-moving merchandise.
Purchase order management
Users can set their own minimum and maximum stock levels to trigger automatic inventory reordering or automatic purchase order creation. Overstock or low-selling products can also be transferred when needed.
Purchase order management is optimized by creating "master" purchase orders that automatically distribute inventory to all locations.
Reporting
Retail Pro comes with over 160 built-in reports, accessible via the Report Viewer, which is a separate application from Retail Pro.
Reports are categorized into audit reports, list reports, journal reports, summary reports, and merchandise reports. More granular reports include best and worst-selling items, profit margin reports, employee performance, top employees, sales tax liability, and item summaries.
Users also have the ability to create custom reports, with complex queries and simple commands. Reports can be scheduled regularly and distributed to key people and they can be viewed while working offline, too.
Customer management
Integrated and customizable loyalty programs can be built out with Retail Pro, where rewards can be given based on customer spending, number of visits, or other metrics.
Sales tracking helps users personalize their customer service by segmenting and targeting different customer groups and individuals and assigning special offers, discounts, or promotions based on previous sales behavior.
Employee management
Users can set limits on the amount of discount individual employees can apply, and data on employee productivity and performance can also be accessed. This feature helps managers award the right commission and rewards to their employees.
---
Retail Pro's ease of use
Retail Pro isn't the easiest system to use, but it's not the most difficult either. Its dated user interface could stand a lot of modernizing, but considering the vast feature set of the product, users are generally happy with how easy the system is to navigate.
It will take some time for new users to get comfortable with the software due to the aforementioned amount of features, but not longer than you'd expect from a system of this size.
The main draw is the solution's customizability — something that users rave about time and time again. Systems of this size, especially on-premise solutions, can often house cluttered interfaces because of the number of available features. However, because Retail Pro offers a high degree of personalization, users can right-click and delete or add fields within the interface according to their needs.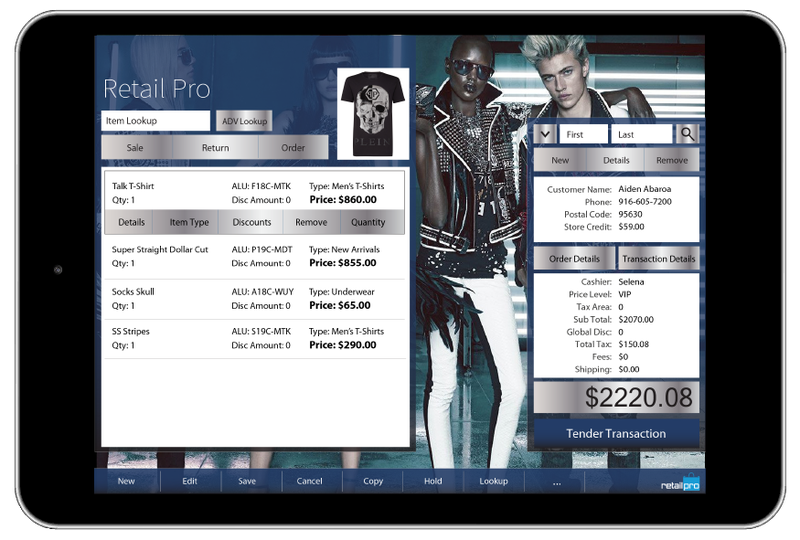 ---
Retail Pro's pricing
Retail Pro does not reveal much about its pricing plans. The only information available on Retail Pro's website is that the solution costs $119/month for the first user at each location, and $99/month for each additional user per location. The initial subscription term minimum is 24 months, and the price does not include installation, training, and other service fees.
There's no other qualifying information available on what features users can access. This indicates that Retail Pro's sales team creates custom pricing packages for each user depending on their needs.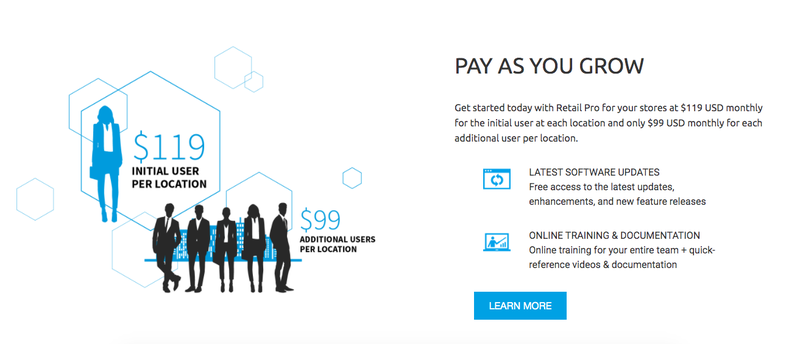 ---
Retail Pro's support
Retail Pro support is a little different from most other retail management solutions, though that's not exactly clear on the website.
According to user reviews, the level of customer support can vary, likely because users are sold Retail Pro packages by business partners.
The website states that Retail Pro business partners are "local technology experts with an intimate knowledge and understanding of local business needs, practices and regulations who advise on product implementation and retail strategy."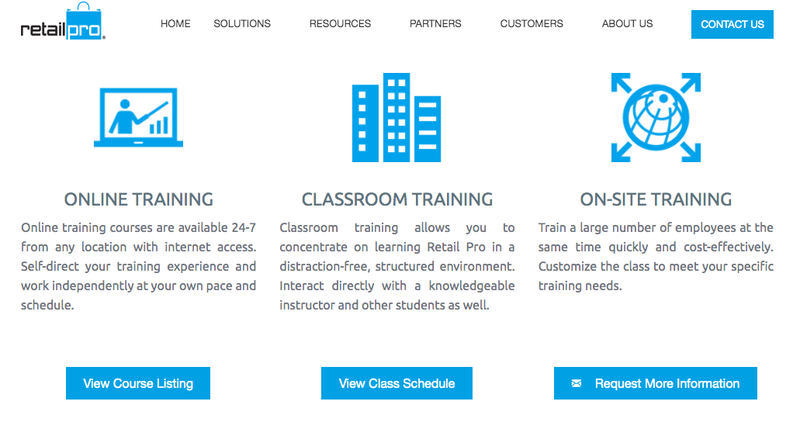 Retail Pro also offers a software assurance program at an extra cost, which claims to prevent solution depreciation. The website is not clear, but the software assurance program appears to provide the latest system updates and test new workflows or integrations, among other nebulous statements.
There's also a web portal that provides access to support articles, a documentation portal that contains user guides and release notes, a user support forum, and Retail Pro University, which provides 24/7 self-directed online training, classroom training, and customized on-site training.
---
Benefits of Retail Pro
Retail Pro's main benefits are its specialization in regional retail requirements, and its level of system customizability.
The business partners are local technology experts who have extensive knowledge of both the product and local business needs and regulations, which is great for users who might want a knowledgeable implementation specialist on board from day one.
Though it's locally installed, the system is also modern enough to support mobile POS functionality and mobile payments, but there's no sign of a virtual terminal.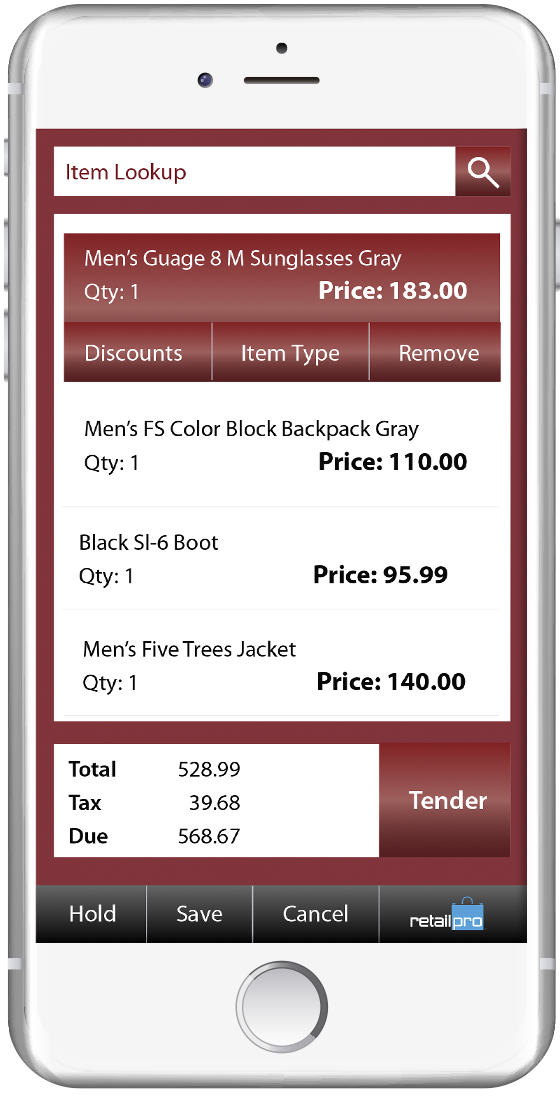 ---
Retail Pro is a comprehensive retail system, but be prepared to dig deep into your pockets
Retail Pro is almost definitely robust enough to be considered a retail ERP system. Its features are solid, and the sales model via business partners seems to work well for existing users.
Though Retail Pro doesn't advertise the price of installing its on-premise technology, we know these systems tend to hover around the five-figure mark. This puts the system out of reach for small and midsize businesses. The cost might be justified for businesses that need the level of multinational expertise the system brings, but for those looking for a decent retail management solution on a budget, Retail Pro is out of bounds.
---
Frequently Asked Questions for Retail Pro
Is Retail Pro suitable for small businesses?
Retail Pro is more suitable for larger businesses, but the vendor also offers a small business POS solution with retail features.
Does Retail Pro offer a free trial?
Retail Pro does not reveal much information about its pricing. From what we can glean, Retail Pro does not offer a free trial.
Is Retail Pro cloud-based?
Retail Pro is locally installed, but does have some cloud features offered through its Retail Pro Prism platform.

Retail Pro excels in providing retail solutions that are built for their specific locations. Find out more about its capabilities here.
Retail Pro excels in providing retail solutions that are built for their specific locations. Find out more about its capabilities here.
The Motley Fool has a Disclosure Policy. The Author and/or The Motley Fool may have an interest in companies mentioned.