Maybe you're ready to make the move beyond cash and check payments and need point-of-sale (POS) software to process credit cards. I have two words of advice: Think bigger! The best POS systems do much more than that and can manage sales, inventory, employees, and customers.
If you're in the restaurant industry, Revel POS is one popular option. We'll take a close look at its features, strengths, weaknesses, and pricing, so you can decide if it's a good fit for your operations.
---
Who is Revel POS for?
The Revel POS system uses a scalable, iOS-based platform and includes menu, customer, employee, and inventory management features. Although a general retail version is available, Revel POS is designed for independent restaurants and small to large restaurant chains and has systems specifically for coffee and pizza shops.
Revel POS customers include Cinnabon, with over 800 franchise locations worldwide, Pizza Patron, and San Francisco's City Beer Store.
---
Revel POS's features
The Revel iPad POS system performs restaurant front-of-house operations — order management and payments via Revel POS credit card processing — but also includes built-in and add-on features that increase its basic functionality:
Customer experience: Use self-service kiosks, online ordering, mobile order taking, loyalty programs, gift cards, and customer relationship management (CRM) tools.
Financial tools: Has Europay, Mastercard, and Visa (EMV) payment compliance, QuickBooks integration, and payment tools for split tickets and bar tabs.
Management solutions: Manage your employees, kitchen, deliveries, tables, and products.
Cloud features: Provides backup storage, Payment Card Industry (PCI) compliant technology, Point-to-Point Encrypted (P2PE) payments, and an open application programming interface (API).
We'll start with a close look at its POS features for customer orders, inventory management, and reporting.
POS interface
Revel POS's interface is intuitive, simple to use, and even your newest employees will learn it quickly. This last point is critical considering the restaurant employee turnover rate was 75% in 2019.
Revel POS's main dashboard is the hub for all your business activities:
Use the left-hand menu to access customer management, your time clock, reports, inventory and product setup, and settings.
See top-selling products, number of employees clocked in, or perform operations such as settling the till or closing out at the end of the day.
Access interfaces for all orders, a new order, returns, catering, and other processes.
Whether you're running the show every day or relying on managers, Revel POS's features are at your fingertips.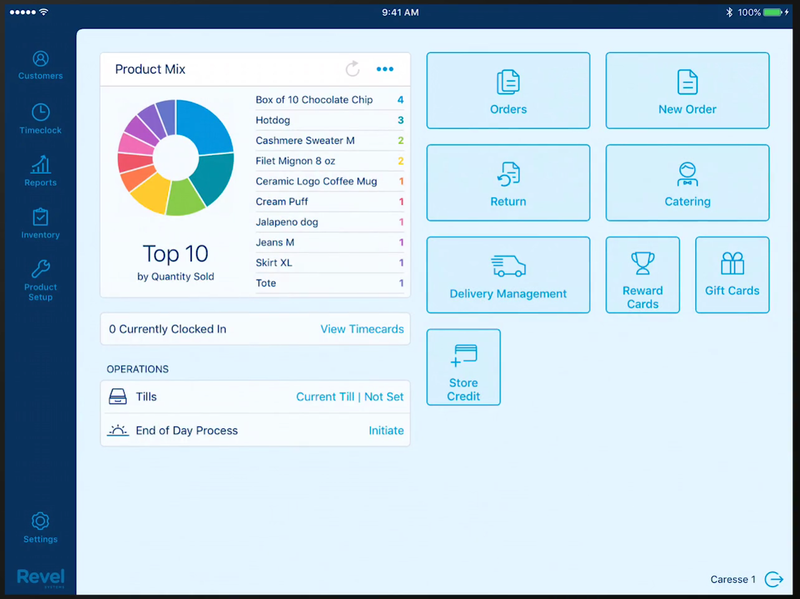 The new order interface has an industry-standard design:
Build orders in the left-hand pane.
Add extra items, discount orders, print guest receipts, and accept payments.
Select picture-coded food items or submenus from the right pane.
You can also hold, cancel, or send orders electronically to the kitchen to reduce time to table.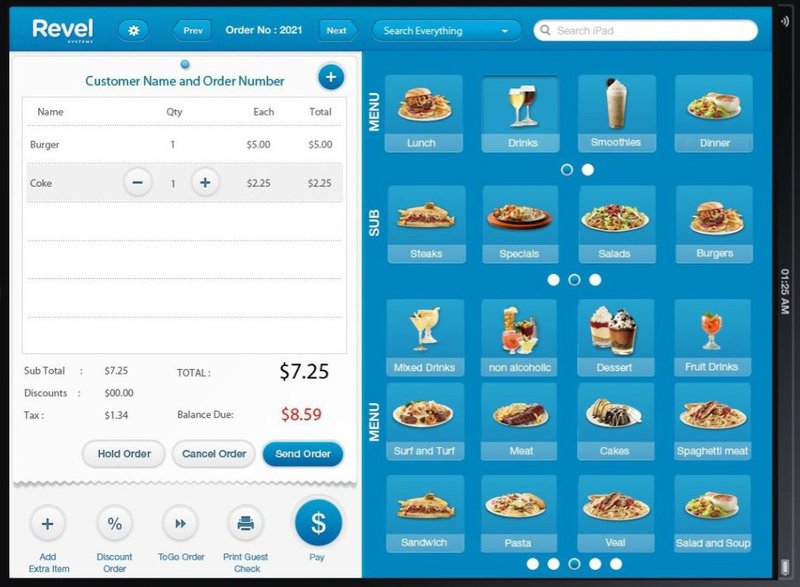 Revel POS hardware options include customer self-service kiosks to streamline the ordering process.
Inventory management
Knowing what you have on hand is important, but this information also provides data for key performance indicators (KPIs). Revel POS inventory management reports include:
Inventory turnover rates
Average days to sell inventory
Holding costs
Gross profit calculations
Forecasting
Inventory management is especially important for restaurants because you're assembling multiple food items in-house that use overlapping ingredients. Revel POS lets you "build" menu items from inventory ingredients and set alerts when levels get low.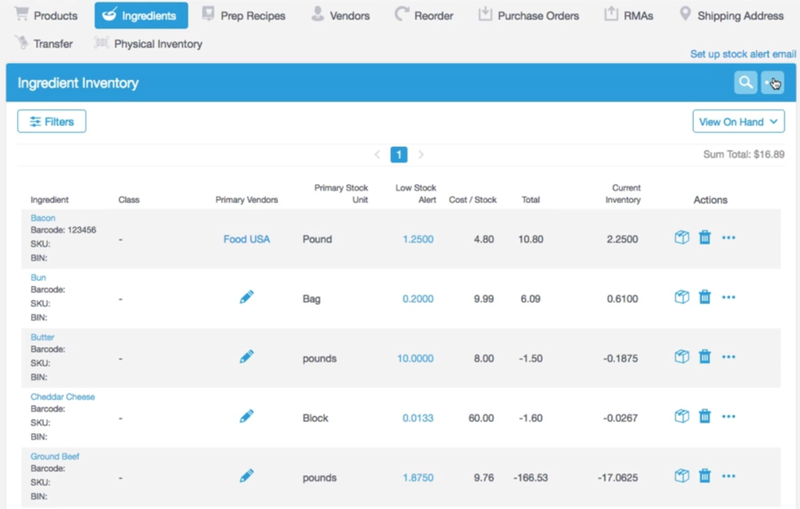 You never want stockouts at your business, and their negative effects are often amplified in restaurants when a single out-of-stock ingredient impacts multiple menu items.
Analytics and reporting
Analyzing performance metrics is the lifeblood of every business, and it's critical for restaurants given their slim profit margins under even the best of circumstances. We've discussed inventory management reports, but Revel POS produces more reports across multiple areas:
Sales: Overall, hourly, and individual products
Order history: Time of order creation, time to close, and employee processing the transaction
Employee management: Payroll summary, employee time cards, and revenue generated per employee
This top-level sales report shows total customer payments for one month, categorized by credit, cash, discounts, sales tax, and net sales.
You can also break down sales to compare new versus returning customers by total number, total payments, and average payment amounts for each group.
---
Revel POS's ease of use
Revel POS's order interface is easy to use, which is essential given the number of employees who will use it at your restaurant. Its cloud-based setup means you can track operations — sales, employees, inventory — even when you're off-site. This functionality has a steeper learning curve than the basic sales interface.
You're out of luck if you're an Android fan because Revel POS is iOS-based. Customers using the retail version have also said its design is so restaurant-centric some features aren't relevant. For restaurants, however, the POS interface layout facilitates high-speed ordering, which is key in a fast-paced environment.
Customer support is a mixed bag for many users. Some customers reported good luck with Revel's telephone customer service, but others noted slow response times with email help requests.
While you can access multiple online resources — guides, videos, and frequently asked questions (FAQs) — as we'll discuss below, you must dig a little to find its knowledge base of technical articles and documents.
---
Revel POS's pricing
Revel POS pricing has three components:
Software: $1,188/year, per terminal — Includes POS, unlimited users, CRM, inventory and employee management, and reporting and analytics.
Payment processing: Quote-based — Includes an in-house dedicated support team, online statements and reporting, and support for all card types, and is EMV chip and Apple Pay ready.
Onboarding: Starts at $649 — Services include system onboarding, management console training, menu consultation, hardware installation, and payments setup.
Revel POS doesn't have a free version or offer a trial period. Software billing occurs annually, but you must sign a three-year contract. Add-ons include concierge services, dedicated account management, online ordering, and multi-location management.
You can use your own iOS POS hardware, but Revel suggests using their pre-configured hardware packages — which include iPads, barcode scanners, caller ID and mobile payment devices, kiosks, scales, and printers — ready to go out of the box.
---
Revel POS's support
Revel customer service includes 24/7 telephone and email support. Its help center includes the caveat, however, that "our phones are ringing off the hook," and submitting email help requests or using its video library are your best options.
Other self-service Revel POS resources include:
Product guides: Topics include getting started, Revel apps, and hardware and networking.
FAQs: Find answers about hardware, reports, payments, add-ons, and more.
Revel University: Watch curated tutorial video playlists about setting up Revel POS for different business types, inventory management, POS processes, payment processing, and menu building.
More business-related Revel POS support resources include its newsletter, general guides ("How to Run a Successful Coffee Shop"), white papers ("Total Cost of Ownership"), and a blog with frequent posts about business best practices.
---
Benefits of Revel POS
Revel POS has the standard bells and whistles — POS ordering system, inventory management, and multiple performance reports — but it has more features to maximize revenue.
Whether you're running a cafe, craft beer brewery taproom, or fine dining restaurant, you'll like its customer relationship management (CRM) tools, mobile app, and third-party software integrations.
CRM tools
When cash was king and you ended each day with a pile of money to deposit, you learned little about your customers, especially your regulars. The beauty of the modern POS system, beyond processing credit cards, is the data it captures about each transaction and customer.
Revel POS lets you create customer accounts with multiple information types:
Contact information
Birthday
Associated company
Photo
Rewards and gift card information
Individual notes
Set up house accounts — running lines of credit billed monthly — and group customers into categories.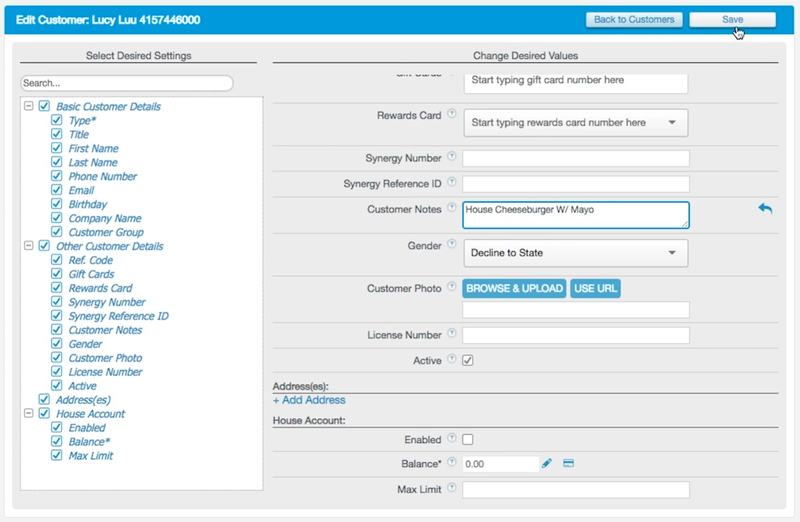 Leverage customer data to increase sales: offer targeted specials or deals based on buying behavior, birthdays, or other demographic data. Revel POS also integrates with multiple marketing platforms, including Mailchimp, to create segmented distribution lists with targeted offers.
Mobile app
You can't be at your restaurant(s) 24/7, but you must know what's going on, everything from staffing levels to inventory. The Revel POS app has the up-to-date information you need:
Net sales
Product sales
Payment types
Labor costs
Inventory levels
You also can't afford to be short-staffed, so check the status of each employee in real time. Someone running late? Call them directly from the app to discover what's going on.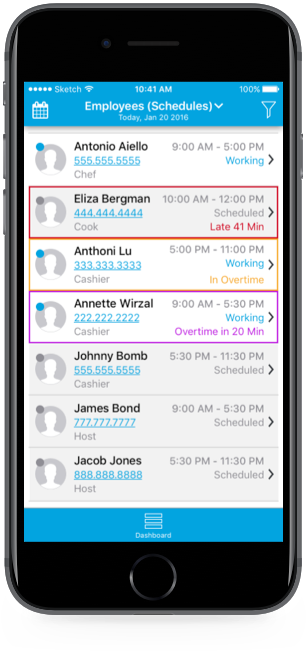 Access to performance analytics allows you to make and execute decisions on the fly to address bottlenecks or sudden surges in demand.
Integrations
No piece of software does it all, so integration with your current applications such as QuickBooks, which Revel POS offers, is essential. You also need options to add specialized functionality via third-party plug-ins and apps to meet your specific needs.
Revel POS has a wide range of integrations across multiple categories including:
Accounting
Data security services
Delivery management
Employee management and payroll
Gift cards and loyalty programs
Marketing
Online/mobile ordering
Payment gateways, processors, and virtual terminals
Add-on reporting features, for example, include everything from tracking beer poured to business intelligence insights.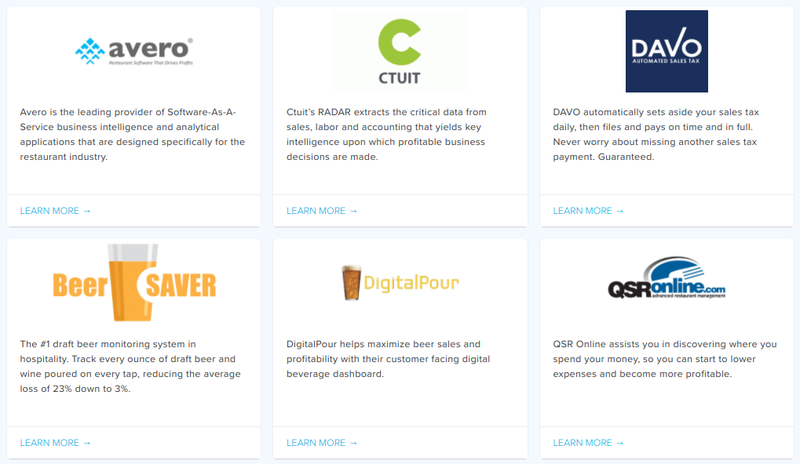 You'll pay for these third-party applications — even though you may get a free trial — so factor those costs into your total monthly POS expenses.
---
Take your restaurant sales to the next level with Revel POS
Whether you have a single restaurant or multiple locations, Revel POS is worth checking out. Take a long look at it before deciding, however, because it requires a three-year contract and offers no free trial period. Its entry cost, despite annual billing, makes it an attractive option compared to similar restaurant POS systems.
---
Frequently Asked Questions for Revel POS
Who should use Revel POS?
Revel POS has a general retail sales version but is designed for smaller, independent restaurants and small to large restaurant chains. It also has specific editions for quick service, coffee, and pizza shops.
Revel POS software costs $1,188/year, per POS terminal, requires a three-year contract, and doesn't have a free or trial version to test drive it. Payment processing costs through Revel POS are quote-based, but you can use your own third-party processor.
While you can provide your own iOS hardware, Revel POS suggests using their pre-configured hardware packages ready to go out of the box.
What kind of support can I expect?
Onboarding services start at $649, and Revel POS has 24/7 telephone and email support. Its support page says, however, "phones are ringing off the hook" and encourages customers to use email or online self-service options.
Those self-service resources include product guides, FAQs, and Revel University, a curated list of training videos on different topics.

Whether you have a coffee shop, pizza parlor, or full-service restaurant, Revel POS has the features to streamline your operations. Its POS hardware choices also include self-service kiosks and mobile POS (mPOS) devices to maximize revenue. The result? You can focus on larger management issues, which are informed by Revel POS's in-depth reports.
Whether you have a coffee shop, pizza parlor, or full-service restaurant, Revel POS has the features to streamline your operations. Its POS hardware choices also include self-service kiosks and mobile POS (mPOS) devices to maximize revenue. The result? You can focus on larger management issues, which are informed by Revel POS's in-depth reports.
The Motley Fool has a Disclosure Policy. The Author and/or The Motley Fool may have an interest in companies mentioned.