If you're one of those people who has to Google "what is VoIP" before you invest in a new business phone system, RingCentral might stand out as an effective choice. Why? It takes the guesswork out of setting up a large, elaborate VoIP communications system and turns it into intuitive software you can access from any computer at your business.
Here's everything you need to know about how it works.
---
Who is RingCentral for?
Do you make a lot of calls? If not, a simpler solution for solopreneurs and freelancers, such as Grasshopper, might better suit your business phone needs. But if you do, RingCentral is an ideal choice for building a business that relies on its phone and communication systems to get work done.
There's an old saying that you get what you pay for, and that's the case here. RingCentral might cost you a higher annual rate per user than other VoIP providers that simply offer you the bare bones. But that's because RingCentral is designed for teams of people who need to bring organization to the chaos of extensions, call screening, and customer service analytics.
RingCentral's robust features deliver comprehensive call and communication management to a business at scale. It's ideal for anyone transitioning from a solo operation to a larger enterprise. If that's not what you need, you may find the prices prohibitive. But if you need to grow, RingCentral will grow right along with you.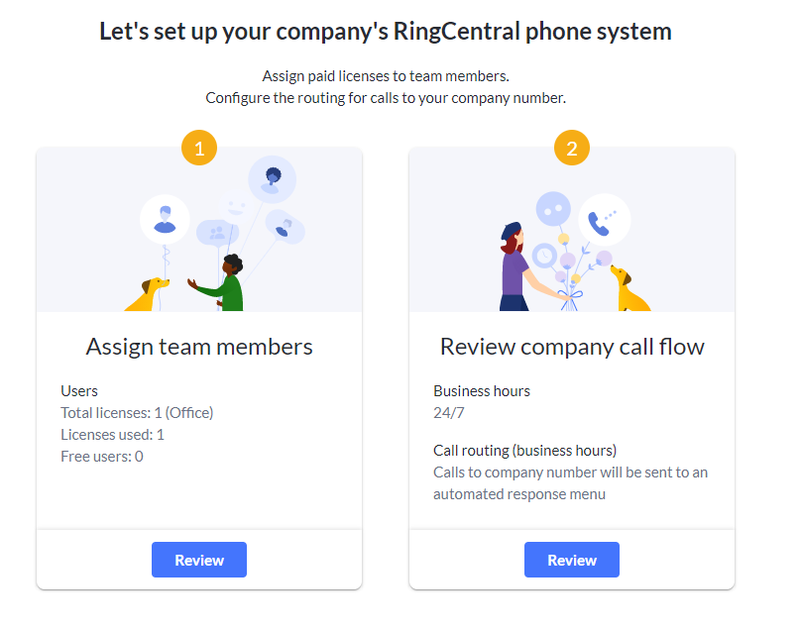 ---
RingCentral's features
Ever go to Starbucks and order "a cup of coffee?" You'll quickly discover a world of options, add-ons, upgrades, and flavors. RingCentral works the same way.
You might have first researched RingCentral with the simple idea of obtaining a dedicated business phone number. But you'll learn about a whirlwind of comprehensive features that makes you wonder why you haven't been running your business with RingCentral before.
Sure, you'll get that cup of coffee. But if you're willing to foot the bill, you'll end up with a lot more.
Call navigation
This requires a bit of explanation. RingCentral doesn't have a feature explicitly called "Call Navigation." The communication strategies available go well beyond that.
In fact, there are so many options for routing, screening, gathering, and organizing a large volume of business calls that it really only makes sense to lump them all together. Consider everything the RingCentral phone system puts at your fingertips:
Call forwarding: Anyone even tangentially familiar with VoIP will know the importance of call forwarding and uniting your personal or office phone with your business number.
Call flipping: Need to seamlessly move from the office phone to a mobile phone? Flip it over. This feature is ideal for those at your company who require flexibility between the office and traveling.
Call parking: If you have someone on hold, call parking diverts the call to your centralized RingCentral system, allowing you to pick up the call from any connected phone or computer.
RingCentral phone app: We would be remiss if we didn't mention the RingCentral phone app, which makes it easy to flip a call between desktop and mobile use.
Otherwise, all the usual suspects of VoIP call management are here. That includes toll-free numbers, vanity numbers, extensions, screening, setting business hours for away messages, and delegation. There are enough features in call navigation and management that it will only make sense to use RingCentral if your business already has a growing volume of customers and clients dialing in.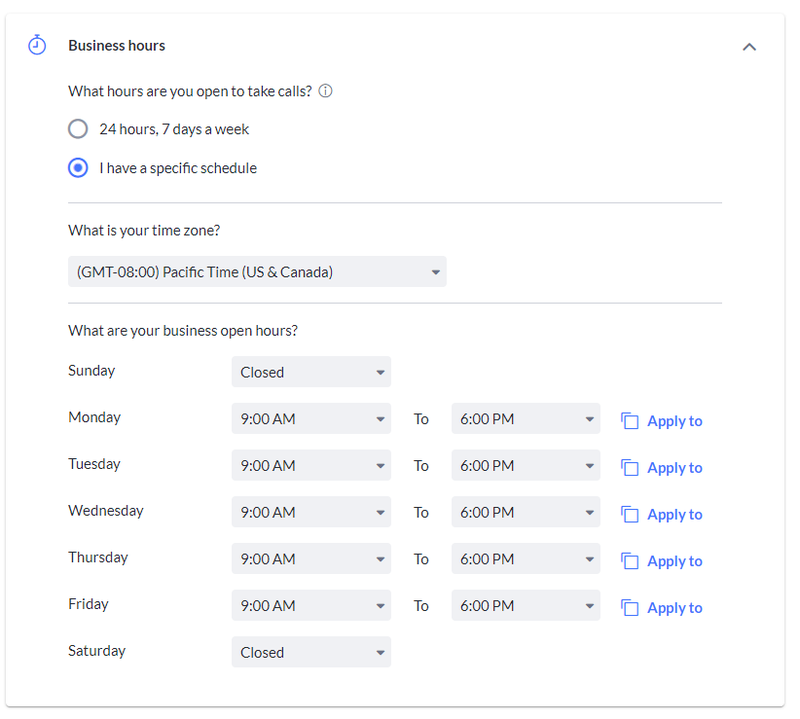 Meetings
Given all of its external-facing features, it's easy to forget RingCentral also provides high-quality internal communication platforms. These include:
Video conferencing: You can host up to 500 people in a company-wide meeting or up to 1,000 people when audio conferencing.
Webinars: You can include up to 10,000 guests for a live webinar, and RingCentral offers features such as customizable registration forms to help generate buzz.
Team messaging: RingCentral offers SMS, MMS, and online team collaboration tools so you can keep track of every project within the same system you use to track phone call analytics.
In the age of Slack and affordable solo VoIP solutions, it's possible you won't need features this robust. But if you're a company in dire need of communications at scale, RingCentral's cloud-based phone system could be exactly what you need.
Call recordings
Call recordings are becoming more popular with businesses, especially for sales and content teams that need to take conversations and turn them into tangible business.
RingCentral makes a priority of its call recordings, making them accessible on the dashboard right under your missed calls. The quality of these calls may vary, depending on the quality of your hardware. But the key is RingCentral's navigation, which makes it easy to dig up old conversations, monitor customer support, and run analytics.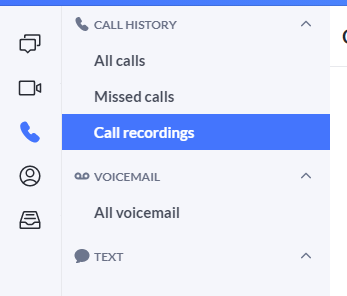 Call analytics
Why bother with call recordings? When you have enough sales volume, every insight into your call analytics could make a difference.
RingCentral facilitates your data collection with an analytics portal. You'll find all sorts of data to drive insights into your business, including:
Overview: A top-level dashboard of variables, such as Total Enabled Users, Percentage of Active Users on Messages/Video/Phone, Usage Frequency (broken down by medium), Device Types, and even categorized users by different office branches and business sites.
Messages: Track direct 1:1 messages, names, departments, and the average messages sent per user.
Video: Monitor active user trends, the average minutes spent on video per user, and even the average minutes per video meeting.
Phone: Track the total number of inbound calls, average minutes spent per user, outbound call minutes, number of external calls placed, and more.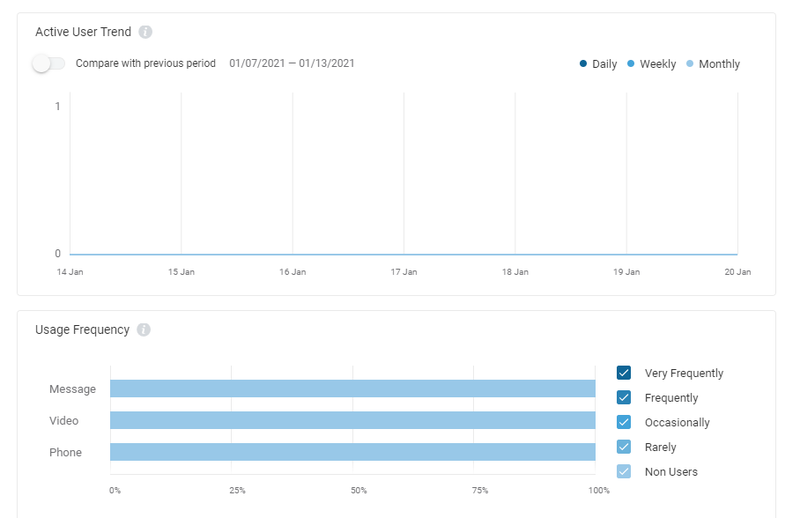 ---
RingCentral's ease of use
Given that RingCentral is scalable enough to use across multiple branches in a large company, you'd think onboarding might be tricky. The good news is it's just as easy to set up one user as it is a large company.
VoIP for enterprise-level customers can often be a labyrinthine endeavor for single users. That's why we recommend that freelancers and single-person companies use VoIP software designed for people who only need to forward a business number to their cell phone. There's simply no need to pay for more than you require. But the larger systems aren't worth the headaches of a poor customer experience.
That's not the case here. RingCentral lets you onboard one user with the simplicity of a much smaller system. For example, setting up call routing is a breeze, as though the service were set up for one user at a time:
All in all, RingCentral's features might be designed for high call volumes. But where it succeeds is in creating an intuitive user experience that would work just as well for a company of one.
---
RingCentral's pricing
Given everything it brings to the table, RingCentral is reasonably priced per user. But if you need something less robust, you may find there are more affordable solutions out there.
However, pricing isn't a black mark on RingCentral's record. For $19.99 per month annually, you'll have your own dedicated business number, unlimited minutes in the U.S., and other key features such as voicemail to text.
We examined the pricing tiers of RingCentral Office, which looks to unite all of its features under one banner.
Essentials: $19.99/user/month annually. This includes up to 20 users and unlimited calls within the U.S.
Standard: $24.99/user/month annually. No user limit and business phone numbers in more than 100 countries. Also unlocks 24/7 support.
Premium: $34.99/user/month annually. Automatic call recording, real-time analytics, and video meetings of up to 200 participants.
Ultimate: $49.99/user/month annually. All the Premium offerings, as well as unlimited storage and device alerts.
Like other effective VoIP pricing tiers, RingCentral can grow with your company. The Essentials tier is reasonably priced and only carries additional charges as you add users. However, if you have an international presence, you will likely have to start on the higher pricing tiers to be sure you have the phone numbers and unlimited minutes your sales team needs.
---
RingCentral's support
You don't unlock RingCentral's 24/7 customer support unless you opt for the Standard pricing tier. This might cause some slight headaches if you're simply trying to set up your first business phone number for one user.
But what if you need something besides a chatbot to get you onboarded? Like other VoIP providers, RingCentral's entry-level customer support is designed to point you in the direction of troubleshooting issues yourself via a help desk.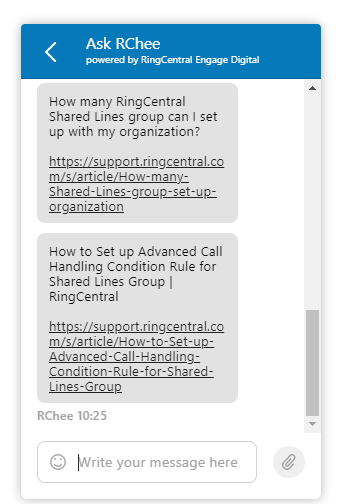 Sure, this is common with VoIP providers, which are usually loath to grant you full customer support until you unlock the proper pricing tier. The good news is that RingCentral is simple enough to set up that you shouldn't require active support as you onboard. If you have any issues, cross your fingers that you'll eventually find a human to help you out.
---
Benefits of RingCentral
There are plenty of benefits to using RingCentral VoIP phones, but the ones that most stand out to us are these three keys:
Scalability: Do you want to sign up for your business phone number exactly once in the lifetime of your business? If so, RingCentral is a logical choice. It can grow with you from a reasonably priced option for simple business forwarding into an enterprise-level solution for managing a global network of team members.
Flexibility: RingCentral's name makes sense. With this central communications hub, you can take a call from your smartphone to your desktop with ease. You can place calls at your desktop, put someone on hold with music you choose, and otherwise create the impression that you're a huge, multinational company even before you actually are one.
Control: If you're in charge of the business, you'll find RingCentral's analytics and dashboards make it easy to manage the whole team's communications from a centralized location.
---
Is RingCentral your best VoIP option?
The quick answer is it depends. RingCentral is certainly effective, robust, and flexible enough to handle VoIP needs for just about any business.
But if your needs are minimal at the moment — say you only want to set up basic call forwarding — it's possible you can find simpler options that are just as intuitive. It depends on your goals. If you know that your business requires lots of active phone time and that you'll be adding teams of users in the future, RingCentral is a wise investment.
---
Frequently Asked Questions for RingCentral
Should I just use RingCentral and forget about it?
If you're researching different VoIP solutions, there's certainly an argument for it. The features are many, the dashboard is easy to use, and RingCentral can grow with your company. If you want a VoIP provider you can be confident in, RingCentral is an easy "just get me started" choice.
How is RingCentral for small businesses?
Small business VoIP can look very different from VoIP for large enterprises. If you plan on having up to 20 users, you won't fully unlock everything you might need with RingCentral. In that case, it may be worth researching alternative options aimed at a smaller company. However, that's not a knock on RingCentral; it's just as easy to use if you have five people who need a VoIP solution.
What if I want to use other communications platforms?
You might prefer a provider like Slack to RingCentral's internal communications platform, but RingCentral offers enough in other areas that it's well worth your time to check out. It aims to be your all-in-one communication platform, but there's no requirement that you use it that way. It comes down to whether the price makes sense for your VoIP budget.

Ready to get started with a comprehensive VoIP software? Explore RingCentral today.
Ready to get started with a comprehensive VoIP software? Explore RingCentral today.