In the business world, it's impossible to get away from Software as a Service (SaaS). Just about every available platform uses this business model.
One recent study found that 6,823 SaaS companies served the marketing industry as of 2018, and that 73% of organizations will be using SaaS for all their applications by 2021.
But does SaaS make sense for a small business, or should you look for software you can download for a one-time fee like they did in the old days? Here's what you should understand about SaaS, as well as some answers to key questions about how it impacts your business.
---
Overview: What is SaaS?
Software as a Service, or SaaS, refers to computer programs that are sold on a monthly or annual subscription basis rather than the traditional method of buying a software program and downloading it once.
With a SaaS platform, you subscribe to a service that hosts the software via the cloud and cloud computing. This allows you to easily update or upgrade the platform with the latest features as well as access it no matter where you are. SaaS companies also preserve your data and provide cybersecurity to protect you from hackers or data loss.
This makes the SaaS business model ideal for businesses that want a platform that will grow with them and generally make their professional lives easier. The downside is that you are constantly paying for the platform, which makes it much more expensive over the long run.
The history of SaaS
SaaS's history can be traced back to the 1960s when IBM began providing a service to banks by renting computer time on its networks. In the 1970s, personal computing grew in popularity, and companies started moving away from renting computing time from data centers.
In the 1990s, SaaS started to look like a more attractive option as businesses became saddled with heavy administrative costs to maintain large software platforms and internal networks. That's when one of the first modern SaaS companies, Salesforce, emerged onto the scene.
Oracle executive Marc Benioff founded the company in 1999, which had its initial public offering (IPO) on the New York Stock Exchange just five years later.
After that, the SaaS industry exploded in the business world. By 2010, a large number of new SaaS businesses had cropped up, and today the business software market is dominated by SaaS platforms. In just a short period of time, SaaS has proven itself as a viable business model, and it's now the norm for enterprise software.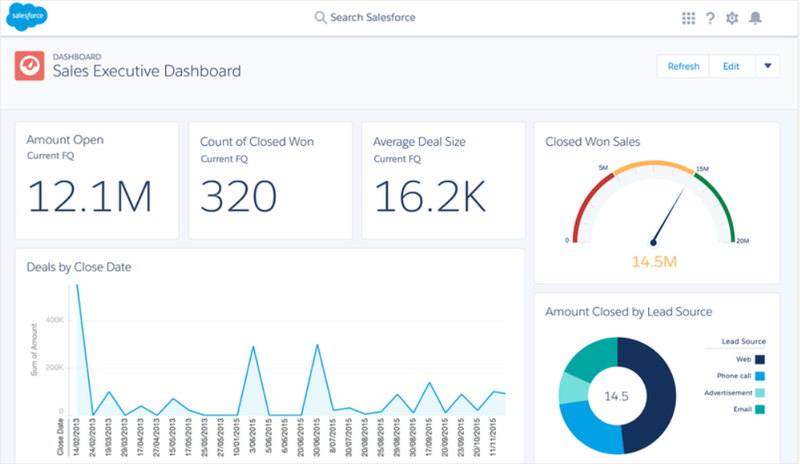 ---
Frequently asked questions about SaaS
How do SaaS products work?
SaaS products function thanks to large data centers that can handle the large data needs of modern corporations, big and small. The service provider is responsible for server administration, load balancing, security, backups, and updates. The end user pays a monthly fee for the service and is able to access their account through a web browser as long as they have Internet connectivity.
In most cases, they can access platform features via the cloud without downloading anything. However, some platforms still require downloads, particularly for more powerful features that would be difficult to execute online.
Will SaaS providers keep my data safe?
Cybersecurity is a top concern for all SaaS providers. More than ever, data is essential to a company, and having that information compromised or leaked could be devastating. SaaS providers devote more time, money, and expertise to data security than most in-house technology teams.
However, users still bear some responsibility by creating secure passwords and making sure to connect via secure networks or VPNs (virtual private networks).
What happens to my data if the SaaS company goes out of business?
It's understandable to be concerned about losing your data if the company hosting the platform where all your data is stored goes out of business. You should examine the terms of service of any SaaS company you do business with to see that it specifically lays out what happens to that data in such a situation.
The terms and conditions should state that you own and can export your data if this happens, and SaaS companies should provide data export tools to make it easy to quickly migrate to another platform.
Can I customize SaaS software?
Customization options vary widely depending on the platform; however, SaaS applications are much more customizable than the typical standalone downloadable programs of the past. If you consider customization important, you should investigate whether customization options exist because not all platforms offer that ability.
Many software platforms have a marketplace of widgets developed by the community that you can download, sometimes for a fee, while others will let you create your very own version of the software based on your needs. Sometimes this requires your own dedicated team of developers, so it may not be best for you if you're a small firm.
Most services offer a free trial or demo so you can test the software out to see if customization is necessary to begin with, so take advantage of that when you're shopping for software. Try out multiple SaaS platforms first before you come to a decision since it's tough to change after you've migrated to one platform. Then you can work up a software implementation plan to ensure a smooth transition.
Will I be locked into a contract with an SaaS provider?
Once again, this depends on the SaaS provider, so carefully review the software license terms first. Some providers will let you pay month to month and quit anytime, while others offer steep discounts if you pay annually. In the latter case, you may be able to back out early, but some may offer only a partial discount or none at all.
---
An example of SaaS in action
A good example of how an SaaS platform works in practice is Evernote, an app that helps people organize their notes. The service provides tools so users can take notes, organize them, and store multiple types of content.
The end user is given web access, a mobile app, and even browser extensions so no matter where they are, they can integrate the software into their everyday activities. Evernote also allows you to integrate with other SaaS providers so multiple productivity tools can be used at once.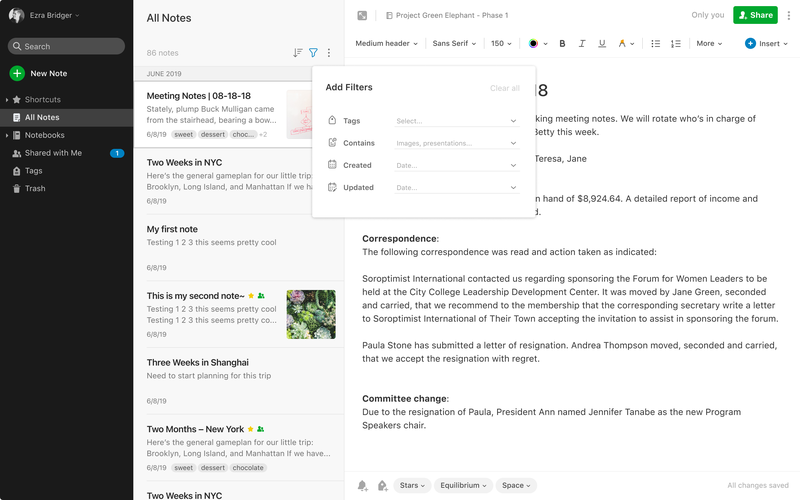 ---
Research SaaS platforms extensively before buying
When you're figuring out which SaaS software to buy, it's helpful to understand all of the platforms available to you. The Blueprint has reviewed the top SaaS options in a variety of different industries.
Use these reviews to identify platforms that look best suited for your business and then choose two or three for free trials. This will give you the information to help make an informed decision about which platform is best for your business.