Construction software comes in all types, and shopping for a solution isn't easy if you're a construction manager. They all seem to do something different or specialize in one aspect of construction.
And when you have to deal with all aspects of the business, from doing a better job of marketing your construction company and bidding, or simply getting your financial house in order, it's a relief to have one software platform that can handle all of that instead of juggling a bunch of different solutions.
That's where Sage 300 Construction comes in.
But Sage 300 has some definite limitations in terms of who's going to get the most out of it, and you should be aware of exactly what this software can do and what it will cost you. Our review will break down everything you need to know about this platform.
---
Who is Sage 300 Construction for?
Sage 300 Construction is meant for construction professionals who want an all-encompassing solution that will help them manage every aspect of a construction project, from bidding to financials to HR to actually running the project.
Its extensive list of features means you will have all the tools you need at your disposal, although it also means there's a learning curve. For those who run a small contractor shop and just want a simple, affordable solution, Sage 300 may not be for you due to its sky-high price tag.
However, if you've got the budget and are looking for a total construction project management package, this is a solid choice.
Sage's many different products can get confusing, so you'll be forgiven if you're not sure which one you're dealing with here when you've heard names like Sage 300 Timberline, Sage Timberline Project Management, or Sage Timberline Estimating.
Sage has changed the names of some of these platforms, but Sage 300 Construction is the current name of the software that specifically deals with construction.
---
Sage 300 Construction's features
Sage Construction software has a broad range of features that run the gamut from directing the project on the ground to dealing with the financials or HR functions. Here are a few features we believe are most critical to the software and illustrate what kind of capabilities it offers.
Financial
Sage 300's financial tools are meant for a construction company owner, chief financial officer, or account manager.
The software gives you an overview of your financial performance, and it alerts you automatically if you run into certain financial issues — such as if a project drops below a certain profitability threshold.
Job overview
The Job Overview page shows all of the important details of a project in one place, such as who the architect and project manager are, what the profit estimates are, what your cash flow looks like, and more.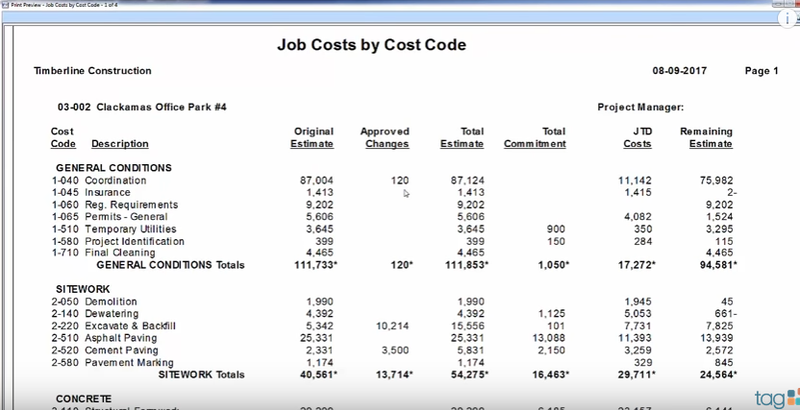 Project performance monitoring
On the projects and operations side, the software helps you monitor the performance of a project. Once a job is underway, you have quick access to the latest project info, both in the office and in the field. A tool called MyAssistant alerts you by email of critical issues needing attention.
Change orders
You'll be able to track change orders from the initial request for information to the change order itself, which will help you spot unprofitable changes and ensure you have all the information you need to make sound decisions. All of the documentation gets put into a repository so it can be accessed when needed.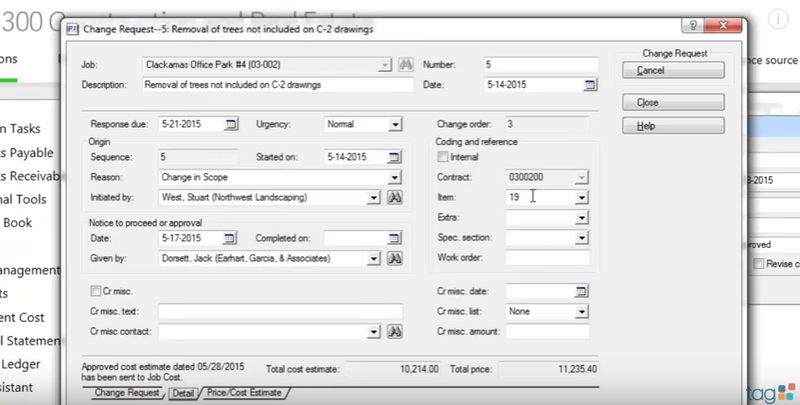 Compliance and HR
Sage 300 centrally tracks compliance information, such as insurance certifications or lien waivers. You can even block payment for subcontractors who are not in compliance.
Additionally, this software manages people and payroll, including unionized labor and variable pay rates. It automates a number of common HR processes, such as ensuring everyone is paid on time.
The software includes customizable HR forms to handle a wide range of tasks. There are more than 250 state and federal forms available through payroll, and Sage 300 uses the Aatrix e-filing service to further simplify things.
Customer service and inventory
The software aims to help you with customer service by storing schedules, work orders, contracts, and everything else so your team has that info at the ready when they need it.
And you'll be able to manage your inventory through the software so you can see what parts have been used as well as notify purchasing that you need to order more parts when they drop below a certain level.
Dispatch
The Sage 300 dispatch board acts as the nerve center where you can monitor workloads and track hours worked. You can see job tickets as much as five weeks into the future, giving you time to adjust so you can avoid a problem developing down the road.
---
Sage 300 Construction's ease of use
The Sage 300 interface has a fairly simple design with a menu of options on the left-hand side, while the main part of the dashboard is taken up by Sage's own internal browser, where you can find resources.
The menu lets you navigate to areas such as Common Tasks, Billing, Contracts, Equipment Cost, Accounts Receivable, and many others, to give you some idea of the modules available in the software. These modules are sold separately.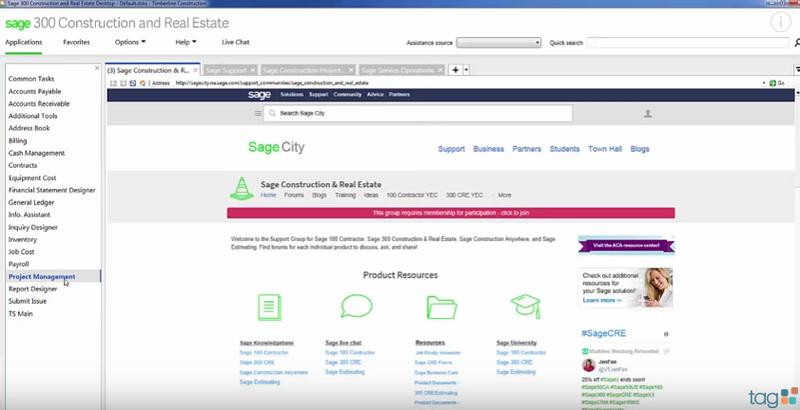 It's not one of the most visually beautiful interfaces out there, but it gets the job done. Much of the information is displayed in a spreadsheet-type format, so if you're used to dealing with Excel or Google Sheets, this will be a smooth transition for you.
It's easy to get lost in the software, simply because there are so many tools. The long list of menu items to the left have their own sub-menu items, which are extensive as well. As a result, you may find yourself dipping into the "Help" section to figure out how to find certain tools. However, this stops being a problem once you get used to the software.
There's a learning curve with this software, but it becomes simple to use once you learn how to navigate it.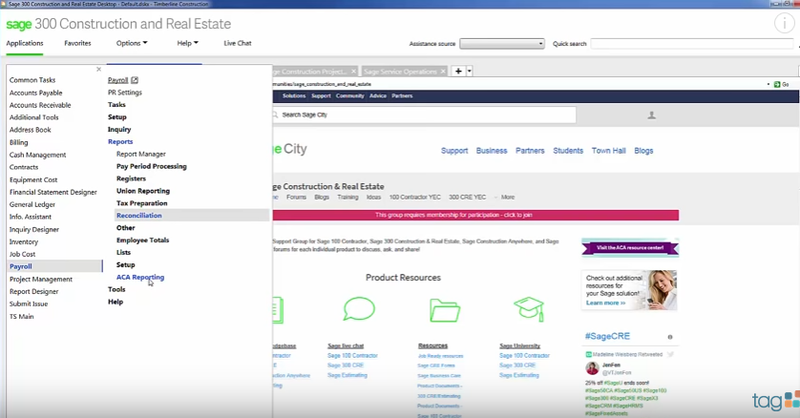 ---
Sage 300 Construction's pricing
This software is not cheap. The company does not publicize Sage 300 pricing on its website, and a member of the team told us that it's hard to price the software since it's sold based on how many modules and other services you want to use.
However, the most inexpensive version of the software you can get — which would include the three core modules of job cost, general ledger, and accounts payable — is $14,000 (a one-time fee, meaning you would own the software).
If you want to get other modules to take advantage of all of the software's capabilities, you'll have to pay more than that.
Also, customer support, training, and implementation are charged separately, so that will be an additional fee if you want help with onboarding and support.
If you're a smaller company, the price tag likely makes this software cost-prohibitive for you even if you could take advantage of all of its features.
But if you're a larger enterprise that can afford the software and needs the extensive capabilities Sage 300 offers, you may be perfectly satisfied with the price you're asked to pay.
---
Sage 300 Construction's support
As previously mentioned, customer support costs extra with this platform, but for that price, you get access to Sage 300 Construction training and onboarding help in addition to assistance with technical issues.
For larger companies, the cost may be worth it compared to getting software with free, but not necessarily personalized nor attentive, support.
In addition, Sage has a knowledge base with support articles and product documentation, and there are forums where other users can help you with any issues.
Then there's Sage University, where you can take courses on any of the software's capabilities. However, this will cost you as well. A 90-minute course on compliance management costs $190, for example.
---
Benefits of Sage 300 Construction
The chief benefit of Sage 300 is that you can be confident you have a platform that will help you manage all aspects of your construction business.
Many construction management software solutions specialize in specific aspects of construction, such as document management for your construction projects, or job monitoring. Sage 300 allows you to monitor the entire life cycle of a project, from bidding to completion.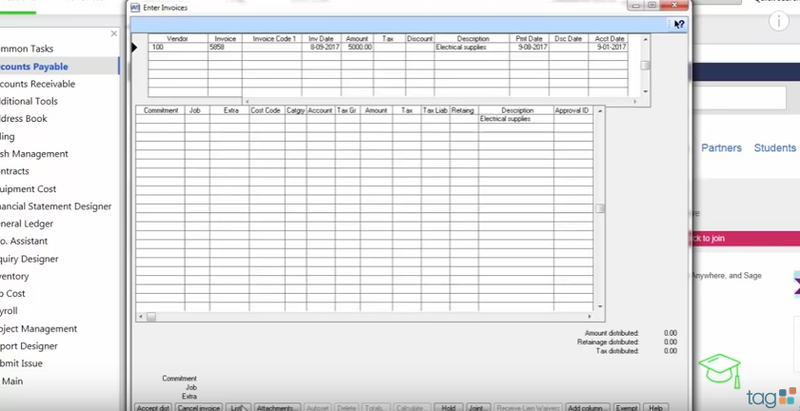 ---
Sage 300 Construction covers it all — for a price
Sage 300 Construction does a great job of handling all aspects of construction with a straightforward interface for large enterprise firms. If your company can afford this pricey software, I think you'll be satisfied with its performance. It certainly has all of the features and tools a construction manager needs.
Unfortunately, the platform is Windows-based, meaning it's not available for Macs or cloud-hosted like many other construction platforms.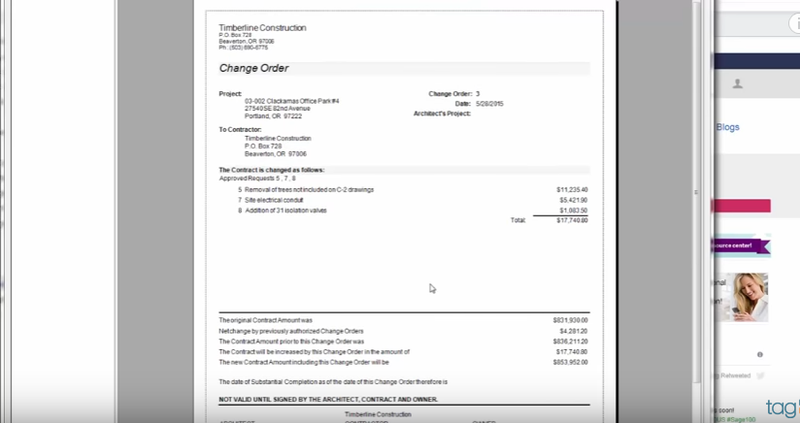 In early 2019, Sage unveiled a cloud-hosted version of the software called Sage Intacct, which focused on the accounting side of the business, but it's apparently mostly being used by larger general contractors and developers as it matures, so smaller companies might be better off waiting until at least next year before giving it a try.
If you're a smaller business, or one that likes to work off the cloud, Sage 300 Construction probably isn't for you. This software is best suited for larger firms that need powerful software and are willing to pay for it.
---
Frequently Asked Questions
Is Sage 300 Construction easy to use?
There's a learning curve thanks to the sheer number of features this software package offers, but the interface itself is straightforward, so you should get the hang of it before long. Sage also offers articles that can help you learn to use the software.
Is Sage 300 Construction affordable?
Sage is expensive, starting at $14,000 to purchase the software with the three core modules, and adding on any modules beyond that will cost you extra.
Does Sage 300 Construction offer good customer support?
The support is good, but it's also expensive — you'll have to pay extra for it, just as you will for onboarding and training if you opt for that. Sage University also charges for online classes. However, there is a knowledge base and a forum that can help.

Sage 300 Construction is powerful software that can handle all aspects of construction management, so if you're looking for an end-to-end solution, test it out today.
Sage 300 Construction is powerful software that can handle all aspects of construction management, so if you're looking for an end-to-end solution, test it out today.
---
How Sage 300 Construction Compares