---
An overview: Salesforce CRM
If you're looking to completely customize a CRM to meet the unique needs of your business, you'll never have to look beyond Salesforce. However, one drawback you should consider is the software's steep learning curve. It will take a long time for you to learn and train your team members, which also has associated costs.
Praising Salesforce, legendary stock analyst Jim Cramer tweeted: "When the best clothier in the world and the best auto company in the world both use Salesforce you have to wonder why everyone doesn't use Salesforce, which is a big reason why I have been recommending the CRM for a decade."
What is Salesforce?
Salesforce is a customer relationship management (CRM) software that provides a vast assortment of sales and marketing solutions. They have many different services that all come under the Salesforce umbrella.
Within the first few seconds of landing on the website, you'll find yourself inundated with a grocery list of services including but not limited to:
Sales
Service
Marketing
Commerce
Engagement
Analytics
Communities
The most significant components of the Salesforce portfolio are lead management, marketing automation, and sales data management. The goal of their software is to help improve your sales team's productivity and organize your data.
If you're anything like me, this all sounds fine and dandy, but you want to know how it will help you generate more revenue and close more sales, right? Let's take their long list of benefits and see how they might impact the bottom line.
---
Who should use Salesforce and why?
One exciting feature of the Salesforce website is that they allow you to filter solutions based on your industry, business type, role, or need. This factor makes navigating their services much more manageable.
For example, we went onto the website and under "business type" chose "small business." Under this section, you get a completely customized CRM to meet to the needs of a small business.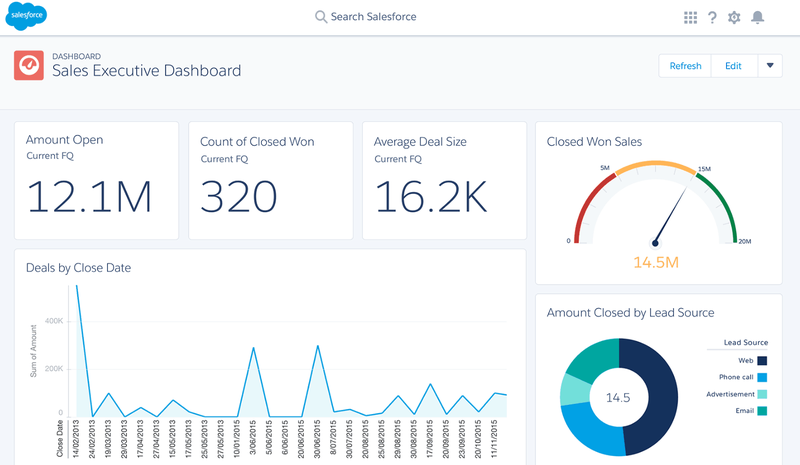 It provides you with two options: You can either learn the basics you need to sell better and help more customers, or you could customize sales and deliver a more personalized service.
As you scroll down the page, you'll see that it breaks down the service a little more by explaining that small businesses need Salesforce Essentials CRM. There's even a nice little video called "CRM 101" to help explain how CRMs work and why you might want to use this one.
The page goes on to say that Salesforce CRM users experience:
32% more leads
26% more deals
26% happier customers
36% faster app integration
Sounds great right? Who doesn't like more leads and more closed leads?
Overall, Salesforce separates itself from the competition by allowing you to customize your CRM experience to fit the exact needs of your business. You can choose the service you need to help with productivity, sales, marketing, customer service, and much more.
If that's not enough for you, Salesforce was named the number one CRM for the sixth consecutive year by the International Data Corporation.
---
Noteworthy features of Salesforce
Since Salesforce focuses primarily on the sales, marketing, and customer service aspects of your business, we'll focus on those. Let's break each one down to help you understand what Salesforce will do for you.
Features for the sales team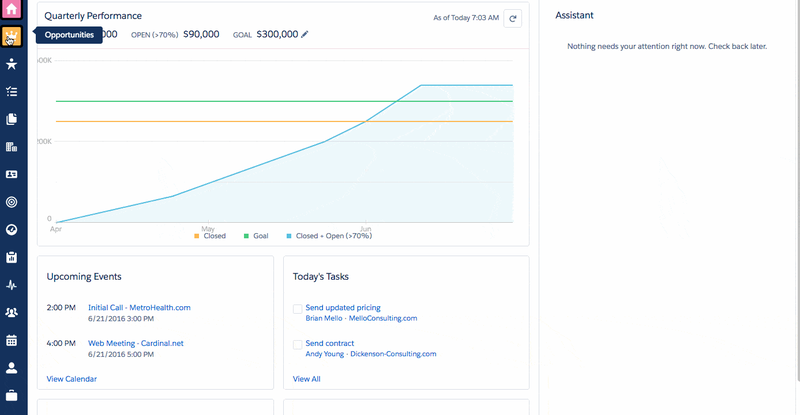 Here are some of the features that will benefit your salespeople:
Opportunity management: You'll have the ability to take your leads and start funneling them through the pipeline right from the second they become a lead. You can even use advanced data and analytics to determine the probability of closing each lead.
Task management: Within the CRM, you can track and manage tasks that you've outsourced or assigned to yourself. You can attach dates, integrate lists from calendars, and manage the entire teams schedule directly from Salesforce.
Account management: One of the most powerful things a business has is their contact list, and without a properly managing your list of accounts, you're toast. You can maintain open communication with your list and track every step of a customer's journey to ensure that everyone is on the same page.
Contract management: Once you've funneled the lead through to a contract, you can manage each step of that process including negotiations, conditions, and compliances. Do all of this in one place to ensure that everything stays congruent, and all expectations are understood.
Product management: If you have lists of products and services, you can include all of them here as well. Include prices, discounts, sales, and more for customers to see.
Quote management: Directly from the CRM, you can create custom quotes using all the previous information. Sales reps can then quickly process orders and prevent bottlenecks due to miscommunication.
Features for the marketing team
Now let's take a look at the best features for your marketing buffs:
Email marketing: The lifeblood of most businesses today is their email marketing strategy. The best email marketing is organized, personal, and strategic. Salesforce allows you to send bulk email to your lists and customize the content to increase conversion rates and improve the quality of each interaction.
Campaign management: As you try to move each lead through the funnel, you can manage them every step of the way. With each move they make, you can assign statuses based on where they are in your funnel. This improves communication and ensures that each lead gets what they need when they need it.
Lead management: Managing your leads goes hand-in-hand with campaign management, making the transition through your sales funnel into a smoother process.
Analytics: All of this would be completely useless if you didn't have data to back it up, right? Set your ROI goals and track everything to ensure that the campaign remains profitable, and you keep your cost-per-acquisition low.
Features for the customer service team
Where would we be without customer service professionals? Out of business, that's where. Here are the features to help your customer support team:
Call management: As with most customer service applications, you want to track and manage every conversation. With Salesforce, you can record calls, manage scripts, and ensure that everyone stays within your quality control guidelines.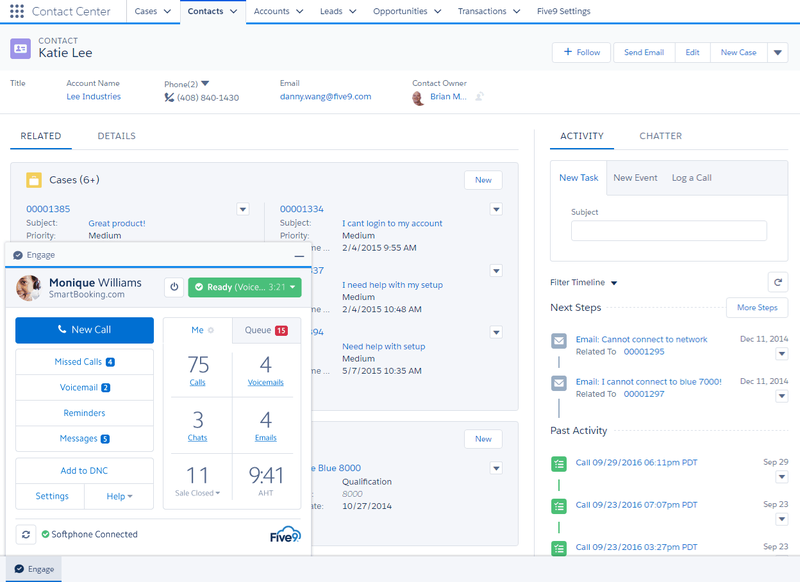 Case/ticket management: In the event that a customer has an issue, you can track requests as they move through the steps towards a resolution.
Customer portals: Salesforce allows you to provide your customers with somewhere to go so they can report issues, place orders, and view the status of tickets.
Regardless of what solution you need for your business, you'll get all of this on convenient dashboards with detailed information about performance for each component of your business.
---
Is Salesforce right for your business?
Let's make one thing clear: Salesforce provides more than you'll ever need. That is their major downfall. The one thing I did not like about Salesforce is the confusion when it comes to understanding what they provide with each package. Many users cite the same issues, and that is what generally turns them off from the service.
That said, if you're looking for any of the following, you'll likely feel right at home with Salesforce.
A complete business CRM
A "drag-and-drop" features style
Seamless imports from other software
Complex data and analytics
Advanced training
---
How much does Salesforce cost per month?
If you thought things were complicated before, we're about to take it up a notch. At face value, Salesforce looks incredibly cheap; cheaper than you ever thought possible. Each Salesforce edition appears to have straightforward base packages that go something like this:
Salesforce Essentials
Professional
Enterprise
Unlimited
With each of these packages, you get plenty of benefits which includes most of what we've already talked about.
We did say most.
There are many exceptions to the rules. Just navigating through the website and pricing information makes it is clear that these prices will be for the "bare-bones" service, with many paid add-ons.
For example, if you want marketing automation to pair with your sales plans, you'll have to pay $1,250 per month for 10,000 contacts unless you choose the Professional plan or above.
If you want to use AI and automation to determine the quality of leads and the probability of closing, you'll have to pay an additional $50 per month unless you choose the Enterprise plan or above.
The entire pricing system is absolutely exhausting to follow, and unless you hire a lawyer to spend 40 hours reading through it, you may well end up with something you don't need or missing something you do need.
But while this might be confusing, it is also something I like about the product — because it allows you to cater the service to exactly what you need and nothing more.
---
How easy is it to use?
Salesforce is a classic case of "easy to learn, difficult to master". There are just so many options you can add to the tool, you'll have to be careful not to over-complicating things for your team. Adding too much, too soon can demotivate the people, which will result in them not using it as much.
Here's our tip: look at how Salesforce Essentials is setup and use that as a starting point, even if you're using Enterprise or a higher level. Master the basics first, then customize one step at a time.
---
Frequently Asked Questions
What companies use Salesforce?
Salesforce is most popular among computer software companies in the United States. These companies generally have between 10-50 employees and pull in between one and 10 million in revenue. On their website, they state that companies like T-Mobile, TransAmerica, and Unilever use the CRM.
What is the programming language of Salesforce?
The majority of it uses Java.
Does Salesforce work on Mac?
As of right now, it doesn't appear that Salesforce has tools for Mac or Apple operating systems.

Salesforce is a complete CRM that allows you to pick the features you need. Get organized with this customizable CRM that will help you close deals and generate revenue.
Salesforce is a complete CRM that allows you to pick the features you need. Get organized with this customizable CRM that will help you close deals and generate revenue.
---
How Salesforce CRM Compares
The Motley Fool has a Disclosure Policy. The Author and/or The Motley Fool may have an interest in companies mentioned.