Customer relationship management (CRM) is big business today. CRM software accounted for nearly 25% of all enterprise software sales in 2018. And one of the most well-known brands in the CRM space is Salesforce CRM.
The company commanded a 19.5% market share in 2018, double the size of its next closest rival, according to Forbes. So it's understandable that businesses want to investigate Salesforce's CRM solutions to help with managing customer relationships.
However, Salesforce provides a mind-bogglingly large assortment of products. From marketing automation to e-commerce solutions, Salesforce offers technology beyond typical CRM software for businesses of all sizes in industries ranging from finance to healthcare.
Consequently, even the company's core CRM product for managing B2B sales has different Salesforce editions. That's why The Blueprint is here to help you navigate the myriad CRM options. These versions are all SaaS (software as a service) enabled, which means the functionality is accessed via the cloud (i.e., online) through your desktop or mobile device.
Let's compare Salesforce editions to assist in determining the right choice for your company.
Here are the 4 Salesforce CRM editions to choose from:
Essentials
Professional
Enterprise
Unlimited
---
1. Salesforce Essentials edition
This Salesforce version is the starter edition designed to assist sales teams in completing basic job tasks. It's priced at $25/month per user, which is a third of the price of the next version. This makes it suitable for companies with a small sales team or if a business wants to test drive Salesforce before upgrading.
The types of tasks covered in this edition include the following:
Maintain contact info for customers
Manage all leads, including routing leads to the appropriate sales reps
Track all sales opportunities, such as which stage of the sales cycle the customer is in
Manage and track advertising campaigns
Create email templates and bulk lists to send emails out to multiple clients at once
Case management capabilities, which allow the routing of customer inquiries to the right group
Create up to five automated processes and five automated workflows
Share and collaborate on files
Basic reporting capabilities
---
2. Salesforce Professional edition
Salesforce's CRM capabilities start to get interesting at this level. Features that support sales management are offered in the Professional edition. If your company possesses a large enough sales team to warrant sales managers, this is the edition to get.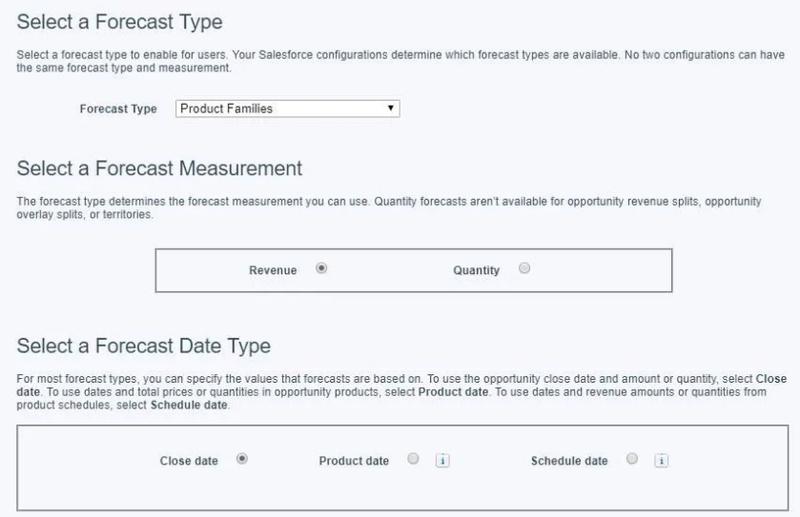 With this version, priced at $75/month per user, sales teams can do everything provided in the Essentials edition as well as access features such as the following:
Find leads and score them automatically to prioritize the ones with the greatest probability of closing the sale
Attribute revenue to the appropriate advertising campaigns to zero in on the business-to-business (B2B) marketing strategies that work best
Build forecasts to plan sales goals
Administer contracts, such as those used for enterprise sales, including the ability to perform and track approvals and renewals
Manage a product catalog and set pricing
Track and manage sales orders
Create and track customer quotes
Limited ability to control who has access to information within the CRM
---
3. Salesforce Enterprise edition
The aptly named Enterprise edition is intended for large companies with multiple teams. Its features are designed to improve collaboration and coordination across groups, such as between sales and account management teams.
In addition, this version opens up the Salesforce platform for customization and integration with other software your company may be using. If your organization has unique processes or requirements that are not available in Salesforce, this edition also allows you to add the missing functionality through custom software development.
As one of the most complete CRM versions available through Salesforce, the price moves up to $150/month per user. All capabilities from lower-tier editions are included, as well as:
Ability to assign teams to a deal, which supports large deals involving multiple teams across the organization to collaborate
Ability to split a sales opportunity so that everyone connected to closing a deal can be attributed their appropriate share of commissions
Customization to the forecasting features to support the special needs of your business
Creation of sales territories to help with tasks like assigning the right sales reps to customers
Unlimited ability to control access to all CRM information
Ability to create an unlimited number of automated processes and workflows
Access to a partial developer sandbox used in the coding of new capabilities for the CRM
Access to Salesforce's APIs (application programming interfaces) to facilitate your company building custom software enhancements on top of Salesforce
Advanced reporting features such as the ability to track historical trends
---
4. Salesforce Unlimited edition
This is the version for a company that wants ultimate flexibility and the option to customize Salesforce to fit the organization's unique needs.
As a result, this edition is best suited for companies with an in-house engineering group capable of making software changes to support customization.
The Unlimited edition is identical to the Enterprise version with the exception of additional customer support and access to Salesforce's technical teams for consultation. It also offers a full sandbox environment, which is essential to building and testing your company's custom software before these features are made live.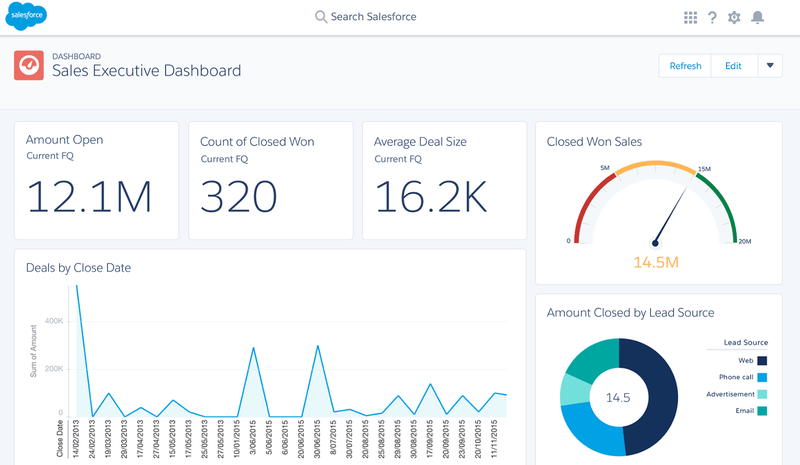 Calling this edition unlimited is appropriate since your company can build unlimited enhancements on top of Salesforce. Because of this and the software complexities introduced by customization, this edition is priced at $300/month per user.
---
5. Salesforce Developer edition
Along with the other versions of Salesforce that we've just discussed, you might hear about a Developer edition. Salesforce allows developers with coding experience to employ software platforms provided by Salesforce to build apps and customizations for its products. Salesforce refers to this part of its business as the Developer edition.
The name can be confusing. To be clear, the Developer edition is not intended as a stand-alone CRM for your company. You have to purchase one of the other editions to access Salesforce's CRM. That said, any developer can sign up for the Developer edition and begin contributing software apps to Salesforce for free.
So if you are a software engineer, this is the version for you. Because it's free, no technical support exists; you've got to ask the Salesforce developer community for help when you run into challenges. However, you can earn income by selling your apps to Salesforce's customers via its AppExchange platform.
---
How to decide on the best Salesforce edition for you
Finding the right fit between your company's needs and the various editions of Salesforce requires that you factor in the following:
Company need
The first step in determining the right software is to outline the needs of your organization.
Do you require sales forecasting tools or a better method for managing your sales territories? Do you need unique workflows and have an engineering team that can build custom apps to complement Salesforce's abilities?
Think about your company's requirements regarding streamlining operations, improving team performance, and most importantly, enhancing customer relationships.
Size of your team
If multiple teams or teams with managers exist in your company, look at the Professional, Enterprise, or Unlimited editions. If your organization is small with just a handful of sales reps, the Essentials edition might be enough until your company grows to the point where an upgrade makes sense.
Budget
Cost is usually a key consideration, especially for small- and mid-size businesses. This may limit your choices, so determine the minimum set of CRM features your company can live with. You may also need to look at other CRM examples to find software that can better match your needs and budget.
---
A final word on Salesforce
By taking an honest look at business needs and what's affordable at your current stage of growth (keeping in mind you can always upgrade later), you can find the Salesforce version that makes the most sense for you.
With a solid CRM in hand, you can steer your company toward stronger relationships with your customers.