In the world of human resources (HR) software, SAP HR is like one of those fancy stretch limos that take up half a city block: big, vaguely intimidating, and a bit over the top.
But SAP SE, the company that engineered this recruit-to-retire HR powerhouse, is courting small- and mid-size businesses with a suite of solutions that can provide all the power and luxury of that city-dwelling mystery beast scaled down into a budget-friendly, compact model.
---
Overview: What is SAP HR?
SAP HR is part of a family of enterprise software solutions encompassing systems, applications, and processes (SAP). It is a cousin to SAP enterprise resource planning (ERP), which tracks customer and business interactions.
SAP HR, true to its heritage, is capable of optimizing the entire employee lifecycle. It turns the paperwork and guesswork of so many traditional HR processes into a unified, cloud-based experience that enables data-driven decision-making tied to measurable business results.
---
What is SAP HR used for?
SAP HR, branded as SAP SuccessFactors, is used for all aspects of human capital management, from HR administration to managing the employee experience.
There are SAP HR modules for payroll, time and attendance, onboarding, training, performance management, workforce analytics, recruiting, and much more. Read on to learn more about how SAP HR can transform the way you manage your most valuable resource.
---
Using SAP HR for core HR
SAP is a master of core HR functions, with advanced time and attendance management, benefits administration, organizational management, employee data, onboarding and offboarding, and HR service delivery modules.
It includes functionalities for everything from ticketing HR service requests to managing visas. SAP HR includes a vast HR knowledge base where employees can access policies and documents anytime, from any device.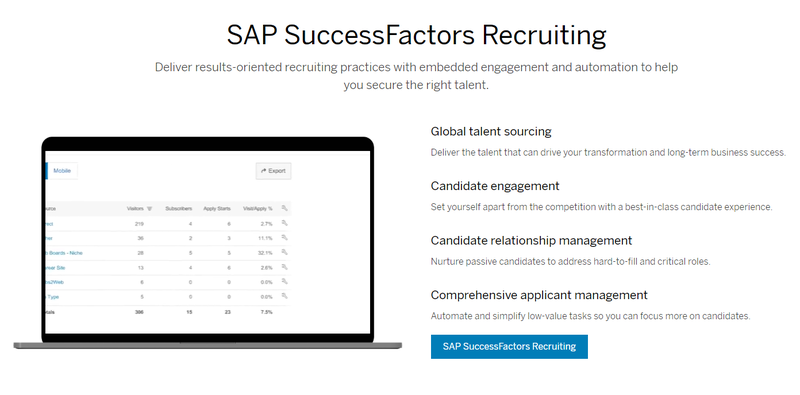 The system comes loaded with templates and generates HR documents for you automatically. All of this means less work for your HR administration team and easier HR planning.
---
Using SAP HR for payroll
SAP HR provides accurate payroll monitoring, standardized processing, and connected human resource management. The software is embedded with local regulatory information to promote compliance and can automatically alert you to changes in the laws.
SAP HR ensures auditability and integrates payroll with enterprise processes. It delivers all this with the efficiency, security, and convenience of cloud-based payroll administration
---
Using SAP HR for talent management
SAP HR provides a unified talent solution encompassing onboarding, recruiting, performance management, training, compensation, career planning, and development.
It features nearly 20,000 content items, including everything from job descriptions to personal goal catalogs for performance management. As an example of its sophistication, the performance management module includes a coaching function that suggests wording for employee reviews in case you get stuck.
---
Using SAP HR for HR analytics and workforce planning
SAP HR takes every data point in the employee life cycle and crunches it for you into standardized, interactive HR analytics. Its visualization tools let you quickly identify trends in key HR metrics and create compelling reports to illustrate the stories behind your numbers.
SAP HR helps you plan for future growth with operational headcount planning, financial modeling, and impact analysis. It includes a digital boardroom for data sharing and analysis, including simulations that let you explore alternative scenarios and compare outcomes.
With all of this at your fingertips, you enjoy full visibility into your people, their performance, and their impact on your company's goals.
---
Using SAP HR for employee engagement
The SAP HR experience management platform provides a window into that most powerful performance metric: employee engagement.
It automatically monitors key HR metrics such as job applications and acceptance rates, job satisfaction, and attrition, and it provides real-time alerts for at-risk staff.
Its powerful survey module can administer ad-hoc and event-triggered employee surveys, while its employee benefits optimizer suggests the best mix of offerings for your employees. The software analyzes all of this data and provides built-in, customizable reports to inform decision making.
---
Top features for all SAP HR users
Across all of these functional areas, SAP human resources unifies your HR data and processes in a single, cloud-based environment. This takes HR to new levels of capability and efficiency. Its strengths include the following:
1. Efficiency and accuracy
Single entry: SAP HR replaces isolated HR programs with a single, cloud-based system. Data only needs to be entered or updated once.
One source of truth: Since HR data is automatically updated across the enterprise, everyone has access to the most current, accurate data.
Automated tasks: SAP HR automates many administrative tasks, reducing paperwork for everyday HR operations.
2. Real-time insights
Advanced data analysis: SAP HR applies advanced analysis to your employee data and makes it easy to share with rich visualization and reporting tools.
Embedded best practices: The system is informed by best practices and expert insights to help you make better talent management decisions and evaluate their outcomes.
Data integration: With SAP HR, you can link HR metrics to operations and financial data to ensure that your HR strategy is driving business goals.
Data trending: SAP HR's built-in data trending makes it easy to track changes in key HR metrics in time to influence them.
3. Built-in intelligence
Advanced tools: SAP HR has helpful tools for just about every human resources process. For example, in addition to choosing from countless embedded employee surveys, you can create your own. When you're done, you can run a survey review, similar to a spell check, that suggests improvements to drive better results.
Automated reporting: The system has extensive automated reporting built in, which does half the work of data analysis for you. All you have to do is choose the insights you're interested in, and SAP HR does the rest.
4. Embedded content
Documents and more: SAP HR comes fully stocked with documents, templates, a library of resources, and other content to lessen your workload and reinforce HR best practices.
Embedded data: The software is loaded with data to inform reporting. For example, it includes a catalogue of more than 2,000 HR and talent metrics along with standard definitions to help you analyze your data.
5. Security and compliance
Data security: With SAP HR, you don't have to worry about protecting sensitive HR data. It's all secured and protected for you in the cloud.
Automated compliance: SAP HR's content and functionalities are designed for full regulatory compliance, even at the local level.
6. Infinitely scalable
Grows with you: With its subscription model, you can pay for the power you need and scale up easily as your business grows.
Future-proof: Because it's a truly comprehensive human capital management solution, you won't have to worry about integrating with other HR software or processes as they change. It's all integrated for you at every step.
---
Lease some HR luxury
In some ways, SAP SuccessFactors is a fit for small businesses precisely because of its luxury features and capabilities, which can empower a small HR team to drive big results.
Pricing depends on your particular situation, but when you consider the price of an additional HR staffer, a subscription might well be cost-effective, even for very small businesses. It's certainly worth a test drive.