"The As are afraid they'll be considered Bs, the Bs are scared they'll be seen as Cs, and all the Cs are convinced that they're A players." That's how a senior executive describes his firm's performance management experience in a Harvard Business Review article.
The article, by management consultant Dick Grote, says study after study has shown people are notoriously inaccurate in assessing their own performance. Nevertheless, there are ways to avoid some of the drawbacks of self-assessments and to make the most of this common management tool. Here we provide some tips on how to do this.
---
Overview: What is an employee self-assessment?
An employee self-assessment (also known as a self-appraisal or self-evaluation), is when an employee reviews their own work performance, including how they've progressed and how they can improve. It is usually done yearly and in writing.
---
3 benefits of having your employees write self-assessments
Employee self-assessment is generally part of a company's performance evaluation process. Done well, it can help make that process more inclusive, meaningful, and useful, and less one-sided, imprecise, and perfunctory.
This diagram shows how self-evaluation often fits into an overall annual employee performance appraisal.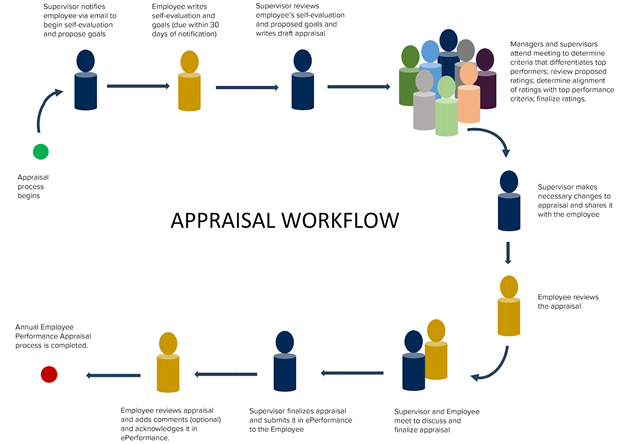 But asking an employee to reflect on their strengths and shortcomings since the last formal appraisal, on what went right and what went wrong — and what they've learned as a result — can be of value in and of itself.
Even if an employee sees it as one more tedious (or intimidating) task, this self-reflection can boost self-awareness and inspire self-improvement. After all, as Socrates might say, the unexamined work life is not worth living.
1. Gain an employee's-eye view of the workplace
Employee self-assessments can:
Provide insights into company dynamics and staff morale
Gauge how well the company's vision and mission have been understood and are influencing behavior
Reveal misunderstandings, miscommunications, and even disagreements so remedies may be found
Help uncover employee motivation, including a lack thereof, and what works as an incentive
Aid in assessing individual performance
Pinpoint the cause of productivity issues
Encourage employee self-responsibility and awareness
Facilitate earlier distinction between good and poor performers
Indicate if a person has the hallmarks of a future highflier
2. Bolster staff motivation, satisfaction, competence, and retention (a win-win)
When well-designed and executed, employee self-assessments can provide employees with:
Constructive, actionable feedback
Pride in their successes and progress
A feeling they matter to the company
A better understanding of the behaviors and results required of them
Ideas for harnessing their strengths and offsetting their weaknesses
A more positive attitude about their job
More self-esteem and satisfaction
Motivation to improve and advance in their career
Concrete steps toward their professional development
Reasons to be more engaged at work
3. They can be a good source of information
Self-assessments aren't always the best way to evaluate performance, but they are an important source of information about what happened in the past year.
Furthermore, they can help counteract the "single point of failure" hazard that exists in a manager-centric system. By providing a manager with valuable new insights into company dynamics, they have the potential to spark improvements and curtail problems sooner.
Overall, as Indeed.com says: "If the employee and the supervisor are both willing to learn from past mistakes and set goals for improvement, self-evaluations can lead to increased productivity throughout the workplace."
---
6 best practices for writing employee self-assessments
Below we'll share some advice for companies on how they can write employee self-assessment forms that get the best results.
1. Self-appraisal requires benchmarks
The first step in this employee evaluation process should involve giving the employee clear guidelines on the key performance areas, targets, and any other pre-identified behavior expected of them. You set the targets for them and then set the time for their next self-review.
At the end of the appraisal period, employees are prompted to appraise their own performance against those key performance areas and their manager is to review it according to the same criteria.
It's only when workers understand their objectives and the criteria used for evaluation that they are in a good position to appraise their own performance.
2. Be transparent
Grote, who you will remember is no fan of self-appraisals, recommends that when company policy requires them, managers can offset shortfalls by "explaining exactly what the purpose of the self-appraisal is (a way to gain information from the employee's point of view) and how it will be used (as one of many data sources the supervisor will use to prepare the actual performance appraisal)."
He says it's wise to ask the employee to submit the self-appraisal well in advance of the performance appraisal discussion and to refer to it as a "self-assessment" while the document produced by the supervisor is the "official performance appraisal."
In a similar vein, we recommend you be very explicit with the employee about how confidential, or not, the document will be. Tell them who will see it, what will happen to it, and what follow-up they can expect. (And make sure you deliver on the latter.)
3. Make the process straightforward
Many companies provide a self-assessment form or at least some clear guidelines, and the benefits of this include making clear to the worker what they should cover, particularly if you want them to tie their reflections to their performance targets.
Alternatively, your firm's HR software may provide not just self-evaluation examples but a system that streamlines the whole process.
There are also plenty of self-assessment examples available online, such as:
Either way, as a general guideline, Uptick says a sound evaluation structure would cover the following:
Goals (personal or assigned)
Areas of accomplishment since the last review
Insights on productivity
Areas of improvement since the last review
Growth plan or professional development plan
Company values/personal values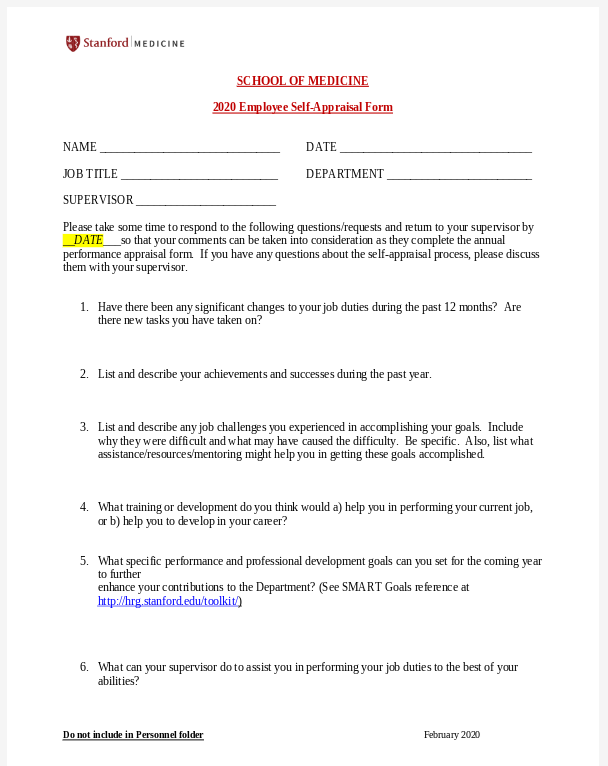 4. Consider an alternate tack
An effective approach is for the supervisor, at the start of performance appraisal season, to ask each direct report to send them an informal list of their most important accomplishments and achievements during the appraisal period.
The list will provide the same value as a formal self-appraisal, and may remove some of the stress and negativity felt about the performance appraisal process itself, Grote says.
5. Proactively tackle the common reasons employees dislike appraisals
Try to neutralize such issues beforehand. Here are some helpful examples of things employees loathe about appraisal and solutions to them:
Issue: It creates an atmosphere of high anxiety and stress.
Solution: Share balanced feedback with employees regularly and clearly so they know what to anticipate.
Issue: It's extra work.
Solution: Run them on a more frequent basis but over a shorter time frame, and with immediate feedback. Also, automating the process can make appraisals more efficient and effective.
6. Prepare the ground year-round
Double down on everyday management and real-time feedback. Establish yourself as a straight shooter who avoids jargon, platitudes, and ambiguity in favor of constructive and specific feedback.
Throughout the year, teach your employees that it is not only safe for them to be frank, but you also value and expect it. It will be much easier to disagree over a worker's self-rating or otherwise have difficult conversations if you have established such confidence, as well as the previously mentioned clear and objective grounds upon which to assess employee performance.
Most staff members are tougher on themselves than you will need to be, but there will be some situations calling for a "courageous conversation," such as when someone overstates their triumphs.
---
Self-assessments are as worthwhile as you make them
If you treat self-appraisals as just another task to tick off, they'll have little value for anyone involved. But when an employee is given clear expectations of how to approach them, and both they and their employer invest in genuine reflection on both the past and the future, they can be well worth the effort.