You can create the most beautiful email in the world, but if it ends up in your customers' spam folders, then you're not going to get the results you want.
That's where SendGrid comes in.
SendGrid is an email marketing software that has a strong focus on email deliverability, which means ensuring that emails end up in recipients' inboxes rather than getting caught up in their spam folders.
Communications platform Twilio acquired SendGrid at the end of 2018. Their plan is to create a complete customer engagement and marketing automation platform, but keep an eye on this space in the future as we watch how the two products coexist and/or merge.
SendGrid also has an email API service, which is specifically focused on making it as easy as possible to integrate other solutions. This review will look at SendGrid's email marketing capabilities, as the company sells its API service as a separate product.
---
Who is SendGrid for?
There's no doubt that SendGrid goes above and beyond when it comes to email deliverability, which makes it perfect for marketers who want to focus on this aspect, or who have a problem with landing in spam folders. SendGrid is also hot on integrations, offering a separate API service that uses webhooks to ensure seamless data flow between different solutions.
However, if you're looking for an overall email marketing solution, SendGrid may not fit the bill, as it is lacking in areas such as segmentation and automation. It's not the right option for marketers looking to create highly tailored and complex campaigns.
---
SendGrid's features
SendGrid's features are a mixed bag. The email deliverability capabilities, its analytics and reporting functionality, and the email editor are excellent, but the contact management, segmentation, and autoresponder features are limited.
Email deliverability
This is SendGrid's major selling point and they nail their email deliverability functionality.
To ensure that your emails end up in your customers' inboxes rather than their spam folders, SendGrid helps you understand and improve the factors behind your sender reputation so that you don't end up on any email blacklists. This includes factors such as bounce rate, number of people who report your email as spam, IP health, spam trap email addresses, and unsubscribers.
Its email validation functionality detects email addresses that are misspelled, inactive, nonexistent or disposable to help improve your email delivery rates and your opens and clicks.
Email editor
SendGrid's email editor allows you to customize existing templates, build a new email newsletter with the drag-and-drop functionality, or code an email from scratch. You can customize the design of the email by changing attributes such as background color, text, and font, as well as add new content blocks, including buttons, images, texts, and snippets of code.
One of the most useful aspects of the email editor is the ability to add tags in the message, which allow you to add custom fields. This includes adding the recipient's name and location, date of last open, or any other information you collect on your subscribers, which enables a high level of personalization.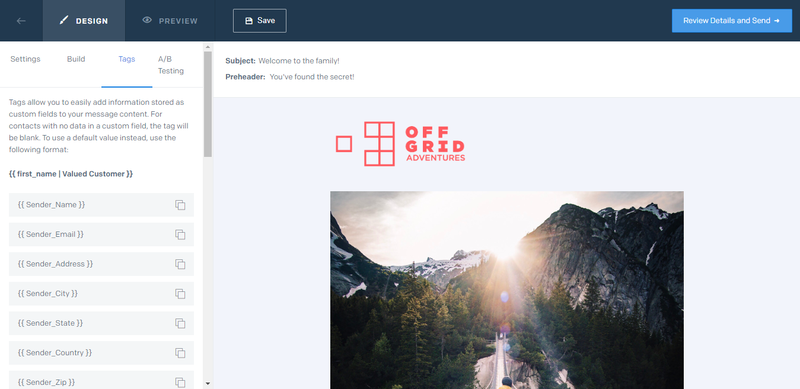 The email editor lets you check how likely your message is to end up in the recipient's spam folder, checks the validity of your links, and lets you test the message by sending it to multiple people.
Automations
SendGrid includes one prebuilt autoresponder — a Welcome series — and you can also custom build your own automated series of emails. The triggers you can use include signing up for your email newsletter or making a purchase, or you can use a contact list to create automations.
In general, SendGrid has excellent analytics functionality, and this extends to tracking the success of your autoresponder campaigns. Not only can you measure the success of your autoresponder campaign as a whole, you can also track the performance of each individual email. The email marketing metrics you can track include:
Emails delivered
Unique opens
Unique clicks
Unsubscribes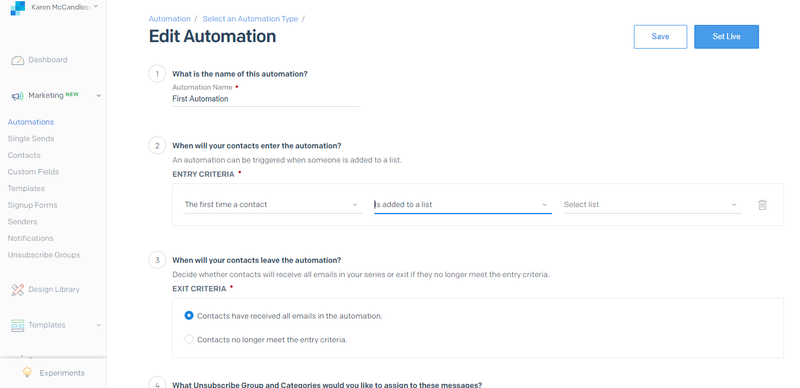 Analytics
SendGrid excels when it comes to analytics and getting super granular insight into customer behavior. You can track the basic metrics, such as:
Opens
Clicks
Bounces
Spam reports
Unsubscribes
But SendGrid also allows you to delve deeper and track message opens by location, email provider, and device. It also lets you categorize emails — for example, flash sale emails or newsletters — and track performance per category.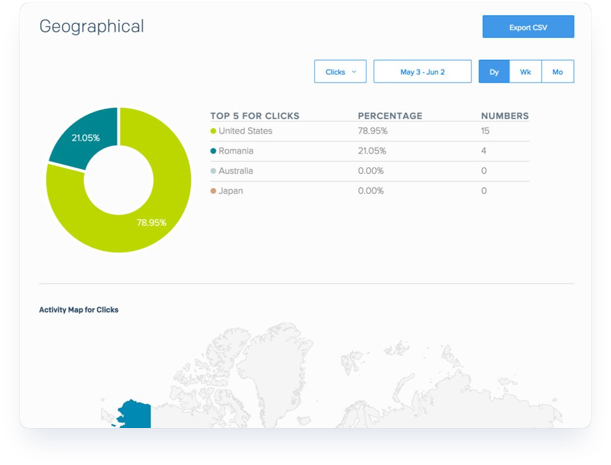 Contact management
SendGrid's contact management and segmentation capabilities are limited. In terms of managing subscribers, all you can do is search for email addresses and create custom fields to collect more data on your customers.
You can only segment subscribers according to demographic data, such as city and country, and the last time people clicked and opened an email. You can't segment according to purchase or browsing behavior.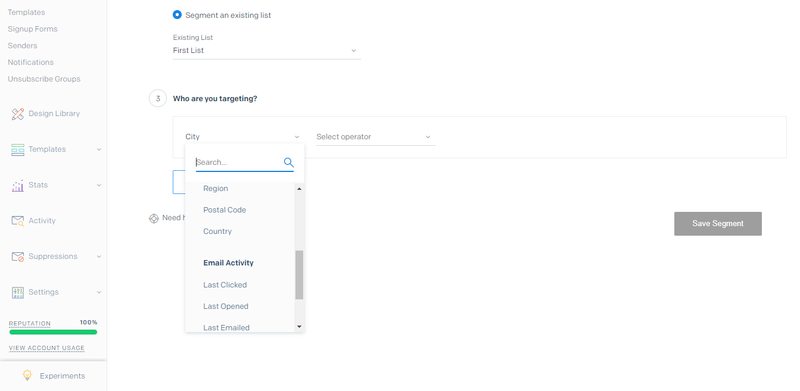 ---
SendGrid's ease of use
SendGrid provides a checklist to help you get started, but some of the first steps will only make sense to people who are already using an email marketing solution and are migrating or who already have their integrations planned out.
The important next steps SendGrid displays after the initial checklist also aren't the obvious first actions when creating email marketing campaigns.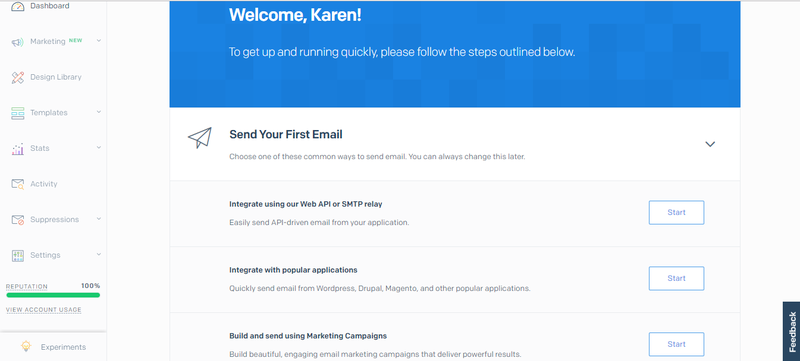 These include setting up different groups that users can unsubscribe from at the same time and ensuring all the relevant people are receiving email notifications.
The main dashboard displays the relevant analytics for your most recent email campaigns, including metrics like opens, clicks, and bounces. This makes sense given SendGrid's focus on analytics.
The rest of the navigation needs to be reorganized. Most of the functionality is stuffed in submenus under a main menu that is just called "marketing." There are then several menus for analytics and a couple for designing templates.
Splitting some of this functionality out into several different menus and putting all the analytics functionality in one place would make it much easier to get up and running and find all the relevant options.
When you do find the feature you need, everything is easy to use. Although, this isn't much of a surprise, as SendGrid's functionality is more limited than other email marketing solutions.
---
SendGrid's pricing
SendGrid's free plan allows you to send up to 6,000 emails each month to up to 2,000 contacts. The free plan only allows you to create one signup form and doesn't provide live chat or phone support, but it does include automations and segmentation.
SendGrid has two paid plans. The Basic plan starts at $15 per month and allows you to send up to 15,000 emails per month to up to 5,000 contacts. It doesn't include automations. The Advanced plan starts at $60 per month and allows you to send up to 50,000 emails per month to up to 10,000 contacts.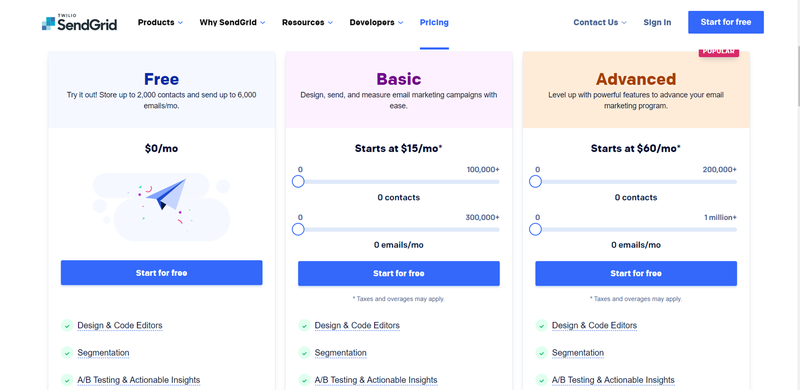 ---
Working with SendGrid support
If you are on SendGrid's free plan, you only get access to ticket support.
All paid price plans include live chat and phone support. This is similar to Mailchimp's approach of only providing useful support options to customers on paid plans, but SendGrid places a button to contact support on its main dashboard rather than hiding contact options away like Mailchimp does.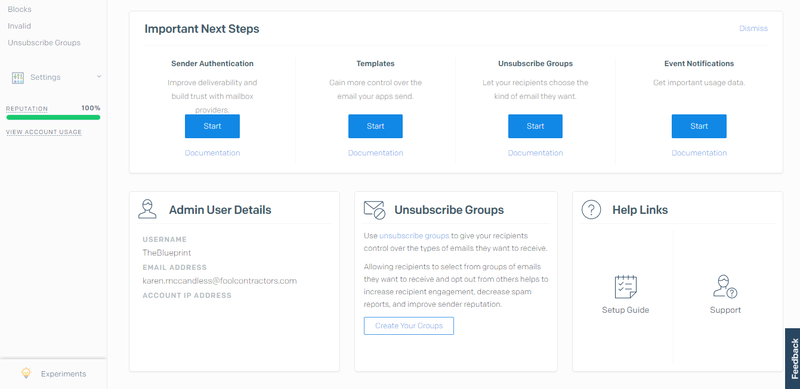 SendGrid's help center is quite basic, with short answers to common questions and no videos or screenshots.
---
Benefits of SendGrid
If you want to very detailed reporting functionality that lets you track emails by category as well as campaign, then SendGrid is a great option. SendGrid also gives you insight into how likely your email is to reach your recipient's inbox or whether it will land in their spam folder, and what you can do to improve your chances of getting your emails read.
SendGrid has a great email editor that lets you add tags to your emails with common customer information, such as name and location, to personalize your campaigns on an individual basis.
---
Prioritizing email deliverability — but at a cost
If email deliverability is at the top of your list when it comes to email marketing software features, then SendGrid is a great option. It does this better than almost any of its competitors. It also comes with an excellent email editor and detailed analytics so you can track your campaigns and optimize performance.
But — and this is a big one — its segmentation and automation capabilities are below par, and this is a major drawback for many email marketers. It doesn't have the functionality to help you create highly tailored campaigns to specific groups. Whether this will change now that the company has been acquired by Twilio remains to be seen.
That's why it's so important to work out your must-have features before you start your search for email marketing software.
---
Frequently Asked Questions for SendGrid
SendGrid has a free plan that lets you send up to 6,000 emails per month to up to 2,000 contacts. There are limitations to the free plan, though, since it only allows you to create one signup form and doesn't provide live chat or phone support.
SendGrid offers two products: SendGrid Email Marketing and SendGrid Email API. With SendGrid's Email API solution, you can integrate with other solutions to help manage marketing emails, lists, identities, and schedule delivery events.
What are SendGrid's main uses?
SendGrid is an email marketing solution that focuses on helping customers send personalized marketing and transactional messages to customers while providing ways to improve email deliverability. It also has a strong set of reporting and analytics capabilities.
The Motley Fool has a Disclosure Policy. The Author and/or The Motley Fool may have an interest in companies mentioned.