Mailchimp wants to rule the world and dominate the email marketing space by offering more and more features.
Currently it is moving from being "just" an email marketing platform, to being an all-in-one marketing automation solution, adding features such as lead scoring, social media management, and display ads. Knowing Mailchimp's ambitions, the company is probably also working on a way to do your laundry for you.
SendGrid's approach differs. Its USP is focused on developing a few standout features that it is specifically known for, and its email deliverability functionality is its major selling point.
But which approach is better — do a lot of things well, or be the absolute best at a couple of things? There is no right or wrong answer; it depends on what best fits the needs of your business — as you'll see from our email marketing software reviews.
Find out more about who came out top in this case in our SendGrid vs. Mailchimp comparison.
---
SendGrid vs. Mailchimp: An overview
Mailchimp is an all-in-one marketing solution with strong features across the board, while SendGrid is more focused and niche. As a result, these email marketing tools may appeal to different audiences with different goals.
Who is SendGrid for?
Because of its focus on email deliverability, SendGrid is a great option for companies who are having issues with open rates.
That also makes it a useful tool for businesses who are just starting their email marketing journey and want to make sure they follow the right steps to gain prime position in their recipient's inbox.
Who is Mailchimp for?
Due to Mailchimp's ease of use, it's a great option for businesses and freelancers who are casually dipping their toes into the world of email marketing for the first time.
On the flip side, with its variety of pricing points and roster of advanced features, it's also a good option for larger businesses who take their email marketing seriously and need the complex functionality to match.
---
SendGrid vs. Mailchimp: Features
Mailchimp takes a broad approach, trying to make each aspect of its functionality stand out. SendGrid, on the other hand, focuses on certain areas such as email deliverability and analytics, at the detriment of other features.
What SendGrid offers
SendGrid really helps you get your head around email deliverability and understand what you need to do to end up in your customers' inboxes rather than in their spam folders.
To do this, SendGrid helps you improve the factors that may lead to poor deliverability rates, such as:
Bounce rate
Spam complaints
Unsubscribes
Spam trap emails
It also validates email addresses and removes any that are misspelled, inactive, nonexistent, or disposable.
SendGrid's analytics functionality is also top-notch.
It lets you categorize emails, for example, flash sale emails or newsletters, and track performance per category. It also includes templates for transactional emails to help you optimize your campaigns both before and after purchase.
However, it offers limited autoresponder functionality, since you can only trigger automatic sequences of emails when someone is added to a list.
Other email marketing platforms — such as Mailchimp and SendPulse — let you create autoresponders when someone browses your website or makes a purchase.
What Mailchimp offers
Mailchimp provides CRM-style contact management capabilities that let you get insight into each customer's interactions with your company.
All the data you collect on customers is stored in one place, and you can use this data to create new campaigns.
These campaigns could be based on demographic information such as location, or likes and clicks on social media campaigns, or more specific factors that customers have in common. As an example, you could identify people who live in Atlanta and normally buy shoes on a Sunday.
Not only can you create your own campaigns based on this data, but Mailchimp automatically creates segments using its own algorithm that predicts how likely a customer is to shop with you again, and how much they are likely to spend.
And these segments are dynamic, meaning that Mailchimp automatically removes and adds customers to segments based on when they start or stop meeting the relevant criteria. This saves you from having to maintain them manually.
Results: Mailchimp wins
SendGrid's focus on email deliverability means its other feature sets, such as autoresponders, suffer. Mailchimp, on the other hand, has a robust set of features across the board.
---
SendGrid vs. Mailchimp: Support
While many of us prefer to look for a solution ourselves instead of contacting a company's customer service team, there are times when you do need that extra help. So you need to be sure an email marketing platform offers the level of support you need.
What SendGrid offers
SendGrid's free plan only gives you access to email support.
You don't get to speak to someone on the phone, which is useful if you have a more urgent problem. All paid pricing plans do, however, provide access to live chat as well as phone support.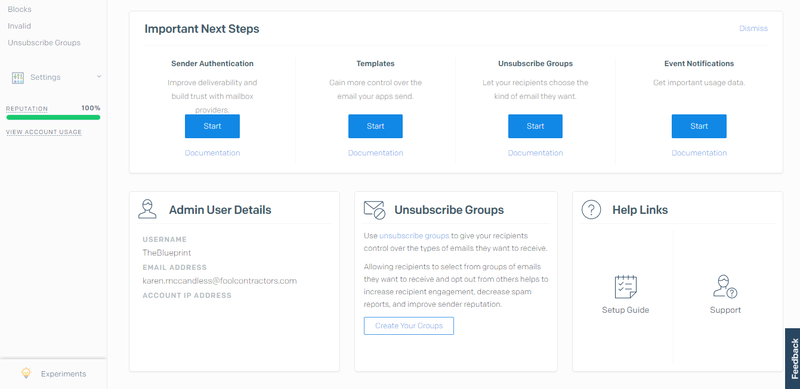 SendGrid makes it easy to contact their support team by putting a button on its main dashboard, which takes you directly to the contact page. It doesn't hide this information away like Mailchimp does.
What Mailchimp offers
One area that I'm not particularly impressed with is Mailchimp support. If you are on the free plan, it is very difficult to get any help at all.
While many problems can be solved with a good article with screenshots and videos, sometimes you need more, whether you've found a bug in the system, or you're just starting out and don't know what to do.
Mailchimp's "Help" button takes you to their Knowledge Base where you can search for relevant articles. The contact information is at the bottom of an article. When you're on the free plan, you can only submit a ticket. Phone support is limited to people who are on the most expensive pricing plan.
Results: SendGrid wins
While both SendGrid and Mailchimp only offer the most basic level of support to with their free plans, SendGrid more readily provides contact details, which means it takes this round.
---
SendGrid vs. Mailchimp: Ease of use
If you want your email marketing software to really have an impact on your email campaign's return on investment, it's important to be able to use the solution to its fullest capabilities.
One of the main barriers of user adoption is ease of use. If the software is difficult to use, people aren't going to want to use it.
What SendGrid offers
SendGrid provides a checklist to help you get up and running quickly, but the actions listed aren't the obvious first steps you need to take to create an email campaign.
These actions include setting up different groups that users can unsubscribe from at the same time and making sure that everyone is receiving notifications.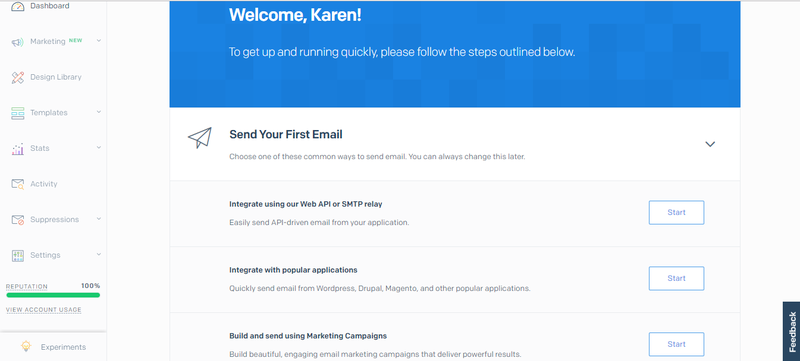 Finding the feature you want also takes awhile as a lot of functionality is grouped under one menu, which is simply called "Marketing." This menu covers a variety of features, such as contact management, email creation, autoresponders, and segmentation.
SendGrid would be much easier to use if it reorganized its navigation and split out these features into separate menus.
What Mailchimp offers
There's a reason that Mailchimp is probably the most well-known email marketing solution out there and is so widely used by freelancers and small businesses. It's very easy to use with loads of hints and tips peppered throughout the app in different formats.
These not only help you get the most out of the solution, they also improve your email marketing skills.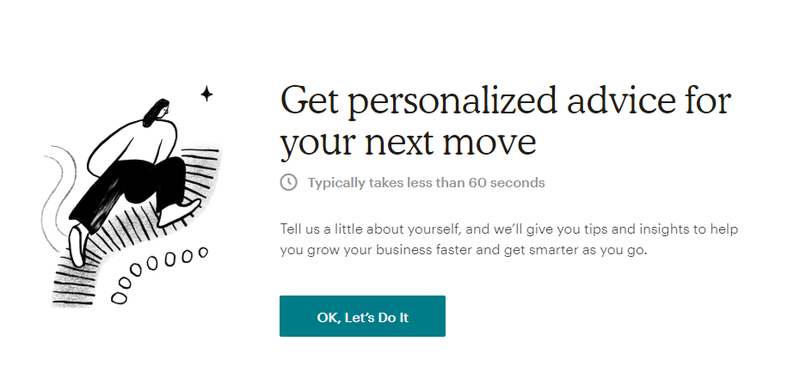 Mailchimp also personalizes these tips based on information you provide, such as the goal of your campaigns, your business type, and your familiarity with email marketing software.
Results: Mailchimp wins
Mailchimp takes this round easily. Its personalized advice beats SendGrid's poorly organized navigation.
---
SendGrid vs. Mailchimp: Pricing
When you consider the cost of an email marketing solution, you need to look beyond the starting price, and whether it has a free plan or not.
You need to investigate exactly what the free plan offers, and whether the paid pricing plans vary by available features, number of contacts you can manage, or number of emails you can send a month.
What SendGrid offers
With SendGrid's free email marketing plan, you can store up to 2,000 contacts and send up to 6,000 emails per month.
The free plan has limited features: it only allows you to create one signup form, doesn't provide live chat or phone support, and doesn't include autoresponders.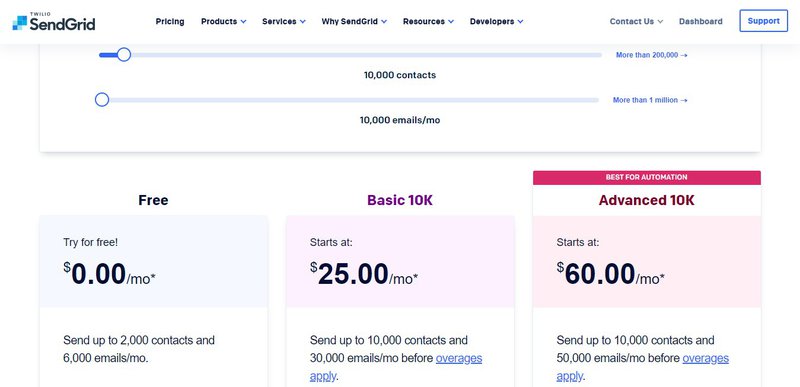 SendGrid offers complete flexibility with its paid plans — Basic and Advanced — as the price varies both per the number of emails sent and contacts stored. Pricing for the Basic plan starts at $15 per month for up to 5,000 contacts and 15,000 emails per month.
The price then goes up to $25 per month for up to 10,000 emails and 30,000 emails per month.
What Mailchimp offers
Mailchimp's free plan is a great option. It includes most of the main features, such as CRM-style contact management, automated segment creation, autoresponders, and basic email templates.
However, it does lack more targeted email templates (such as for welcome emails), A/B testing, and phone support. In addition, you can only send up to 10,000 emails per month, and you can only manage an email list of up to 2,000 contacts.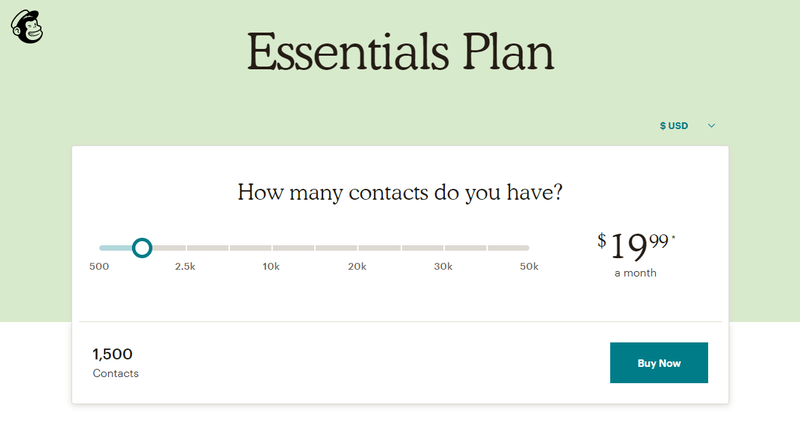 Mailchimp pricing increases according to the number of contacts you store. Its least expensive pricing plan — the Essentials Plan — starts at $9.99 for 500 contacts, but it goes up to:
$19.99 per month for up to 1,500 contacts
$29.99 per month for up to 2,500 contacts
$49.99 per month for up to 5,000 contacts
$74.99 for up to 10,000 contacts
Results: SendGrid takes it
SendGrid wins this round due to the extra flexibility it offers, with the ability to tailor the pricing according to both the size of your email list and the number of emails you want to send in a month.
---
SendGrid vs. Mailchimp: Integration with other software
To be able to send the full range of email marketing campaigns, you need to make sure your email marketing software integrates with the other solutions you are currently using. For example, if you want to send out an email asking for payment, the software might need to integrate with your payments solution.
What SendGrid offers
SendGrid partners with a wide range of companies to work together to offer seamless integrations. These include:
However, it lacks a lot of the big-name integrations, such as WooCommerce, Shopify, Eventbrite, PayPal, Google Analytics, and Slack.
What Mailchimp offers
Mailchimp provides more than 200 integrations across a wide range of software categories.
These native integrations allow you to connect with social media, ecommerce, point of sale, payments, customer service, loyalty, productivity, design, subscription management, and event and ticketing apps. These integrations include:
Facebook
Square
WooCommerce
Canva
Eventbrite
ShopSync
Slack
Mailchimp also has an API to let you build an integration if the software you use isn't on the list, but it doesn't provide any support to get that connection up and running.
Results: Mailchimp wins
SendGrid's lack of integrations with some very commonly used software means that Mailchimp triumphs in the battle of the integrations.
---
How They Compare: SendGrid vs. Mailchimp
| | SendGrid | Mailchimp |
| --- | --- | --- |
| Free plan | | |
| API | | |
| Personalized in-app tips | | |
| Advanced autoresponders | | |
| Automatic segment builder | | |
| Email deliverability optimization | | |
---
Mailchimp sees off another competitor
SendGrid is very good at specific things: its email deliverability functionality is excellent, and it has a robust set of analytics, plus flexible pricing options. However, it's not so good when it comes to all-round email marketing features. Its autoresponders are basic, and its email editor has some good features, but it's not a market-leading campaign builder.
Mailchimp puts so much effort into all of its functionality, although its support options could still be improved, that this wasn't that much of a competition in the end. Unless you need to specifically focus on email deliverability above all else, Mailchimp is the better option.