Every termination is painful whether it's for cause, through a mass layoff, or because of a mismatch in expectations.
Severance agreements can help take the sting out of the ordeal, providing you with certain assurances and helping the employee make a smooth transition.
Find out what goes into a typical severage package and how to create one to make the best of a challenging situation.
---
Overview: What is a severance agreement?
Severance agreements are contracts defining the terms of an employee's termination. Usually they provide pay or benefits to the terminated employee in exchange for a release of legal claims against the company.
Some companies routinely offer severance under a written company policy provided during onboarding. Alternatively, a severance letter may be drafted for an individual when the company wants to ensure a peaceful parting of ways.
Like any contract, a severance agreement must provide "consideration," or something of value given in exchange for the rights being signed away. Consideration can't be something the employee already earned such as unpaid vacation owed under company policy.
Severance pay has to go beyond anything you already owe the employee.
Severance agreements are commonly used in three situations.
Executive recruitment: Sometimes severance packages are negotiated and signed when hiring high-level executives in order to preserve reputations on both sides if things just don't work out.
Voluntary layoffs: Severance is often used to entice employees to take a voluntary layoff when a company has to reduce its workforce or make other staffing adjustments.
High-risk terminations: Severance packages may be used when terminating an employee who seems like a lawsuit risk. Say you need to fire a worker who is in a class of workers protected by federal anti-discrimination laws. You know the worker is being fired for performance issues, but you want to head off a discrimination claim down the road. A severance agreement can give you that extra security and confidence.
---
What should be included in a severance agreement?
When contemplating a severance agreement, It's important to understand the fundamental components, the options available to you, and the potential pitfalls.
---
How to write a severance agreement
A termination agreement generally includes the following information.
Step 1: Definition of the parties
It's important to carefully define the parties in the agreement. The definitions must be comprehensive and yet specific enough to fully protect you. While you can find boilerplate language for this, your definitions should be customized to your business.
For example, if your company relies on staffing agencies for hiring and recruiting, you may need to include recruiters among the parties being released from liability by the agreement.
Step 2: Dates and terms
The agreement needs to spell out basic terms including:
Effective date: This is critical because it sets the clock on the agreement. It should be set on or after the employee's termination date.
Termination date: This should be the employee's last day on the job.
Consideration period: Workers older than 40 are protected by the

Older Workers Benefit Protection Act

(OBPWA), which requires you to give employees 21 days to consider the offer and 7 days to revoke it. You can offer other employees less time, but it's easier and probably wiser just to apply the higher standard across the board.
Terms of separation: The agreement should also spell out basic terms such as the nature of the employment relationship and reasons for separation.
Tip: Make sure the agreement is signed and effective upon the employee's departure since it generally waives claims for acts occurring up to the effective date. If the agreement is signed before the employee leaves, those remaining days are not covered by the agreement.
Step 3: Final compensation
If you're paying for any unused leave or cashing out other benefits, detail those payments here. The agreement should clearly state what benefits are owed upon separation and what is being provided as additional compensation for the agreement.
For example, say your company policy, spelled out in new employee forms, requires payment for earned and unused vacation and personal time. You terminate an employee who has six unused days in the leave bank.
Your severance agreement should state how much the employee is owed under the policy and how it will be paid.
Your agreement should also explain when and how benefits such as health insurance will be discontinued.
Tip: HR software can handle many of these offboarding details for you.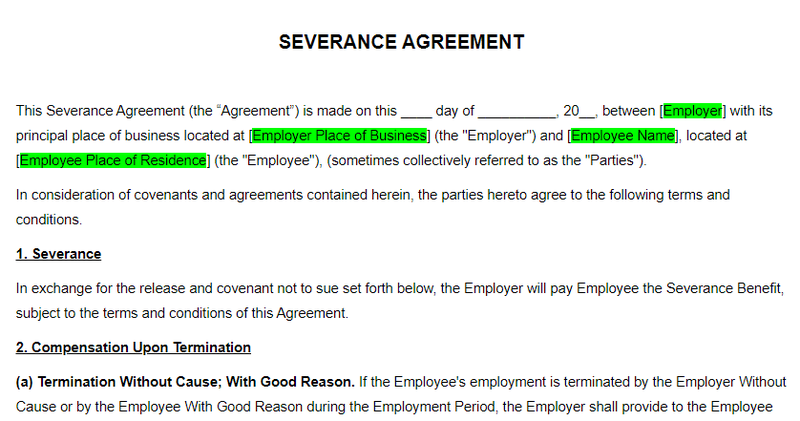 Step 4: Severance pay and benefits
Your agreement should detail all compensation and benefits being provided beyond what the employee is owed. It should state that the company is providing these benefits as consideration for the employee's execution of the agreement.
Severance benefits may include:
Severance pay: Severance pay is often provided in weeks of pay based on years of service. For example, an agreement might provide one week of severance for every year of service.
Terms of payment: Severance payments are usually made in a lump sum, but other arrangements are possible.
Health insurance: Sometimes employees request continued paid healthcare benefits to tide them over. Optional benefits should be spelled out here.
Relocation benefits: This is another common benefit negotiated as part of severance packages.
Outplacement assistance: Some companies provide coaching and job hunting services to help separating employees find new positions.
Taxes: Be sure to explain who will pay any taxes owed on compensation and benefits.
Other benefits: Include all compensation and benefits of value that you're extending as part of the offer. This can include perks such as a car lease or gym membership.
Tip: Severance is negotiable. If your employee is highly motivated by one benefit over another, tailoring your package might help create the peaceful parting you're looking for.
Step 5: Return of property
Be sure to specify any property the employee must return upon separation such as:
Laptops, cell phones, and other devices
Company cars
Identification badges, key cards, and keys
Credit cards
Electronic or physical documents, files, and data
Access codes or passwords to company systems and devices
Tip: It's best to collect all of these items before the employee leaves the premises. Even with an agreement in hand, it can be difficult to reclaim them later.
Step 6: Provide restrictive covenants
Now we've reached the "take" side of the severance give and take.
Depending on the circumstances of the termination, you may benefit from one or more of these covenants:
Nondisclosure: One or more parties agree to keep confidential information such as the terms of the termination or severance agreement, trade secrets, and other proprietary information.
Nondisparagement: One or more parties agree not to make negative statements about one another.
Nonsolicitation: The employee agrees not to use the company's client lists or contacts for personal gain for a specific time following the termination.
Intellectual property: The employee agrees to relinquish ownership of any ideas or innovations created while working for the company.
Noncompete: The employee agrees for a specific time not to go to work for a competitor or start a business that would compete with the company.
Nonpiracy: The employee agrees not to lure away the company's clients or employees.
Tip: To be enforceable, the scope and duration of covenants need to be reasonable. For example, noncompete agreements commonly extend for six months. An agreement running for years is likely unenforceable.
Step 7: Close with a release of legal liability
This is the heart of the severance agreement where the employee waives the right to sue your company for legal claims. This is usually an exhaustive but specific list of potential legal actions carefully constructed by your attorney.
This section should also spell out any rights the employee is not waiving.
If you're concerned about a specific legal liability, spell it out in this section. Don't just rely on a general release of claims. For example, if you're terminating someone who is older than 50, you may want to specifically bar age discrimination claims.
On the other hand, a severance agreement is not a means for circumventing the law. If an employee has a legitimate complaint, it should be addressed in other ways. Severance isn't a solution for a bad termination.
For a deeper dive, check out the Equal Employment Opportunity Commission's Q&A on waivers of discrimination claims.
Tip: Releases must comply with federal and state laws. For example, claims under the Fair Labor Standards Act (FLSA) and Family and Medical Leave Act (FMLA) generally cannot be waived.
---
Don't go it alone
A severance agreement is rocky legal terrain. You want a legal expert to create or review any contract you're signing with an employee, especially regarding something as fraught as termination.
When properly prepared, though, severance agreements can indeed buy you peace of mind and provide a chance at a clean break from a difficult situation.