SharpSpring marketing automation software provides robust capabilities to support a wide range of needs across the sales and marketing universe.
It's a cloud-based offering that includes tools such as CRM, sales integrations, and programmable and automated marketing campaigns across email, social, mobile, and content.
SharpSpring has the power and ease of use to capitalize on any digital marketing tips you want to employ.
---
Who is SharpSpring for?
SharpSpring is a fit for medium and large businesses as well as marketing agencies and enterprises. Its ease of use and robust feature set also make it a great fit for smaller businesses as long as they have a robust marketing plan and the budget to afford the system.
Smaller businesses could use SharpSpring as a one-stop shop for CRM, lead management, and essential marketing needs as well as critical marketing automations.
---
SharpSpring's features
SharpSpring empowers marketers to create, test, launch, deliver, and analyze campaigns across various marketing channels and devices. SharpSpring enables personalized outreach by using IP addresses to identify site visitors and track the pages they consume.
This personalization matched with omni-channel campaign management provides marketers with everything they need for successful, modern engagement marketing that boosts conversions and generates business results.
Let's take a closer look at some essential SharpSpring features.
Analytics and attribution
Gain insight into your marketing with end-to-end attribution across campaign efforts. Keep track of website visitors from their first time on your site all the way through to conversion or purchase. Understand the impact each campaign has for driving desired actions across different customer segments.
SharpSpring also offers channel-specific analytics, such as in-depth email marketing analysis. Email marketing measures include deliverability, bounces, open rates, and click-throughs.
Seamless integrations with Google Ads funnel digital advertising performance into the fold, giving you one analytics platform for all of your outreach.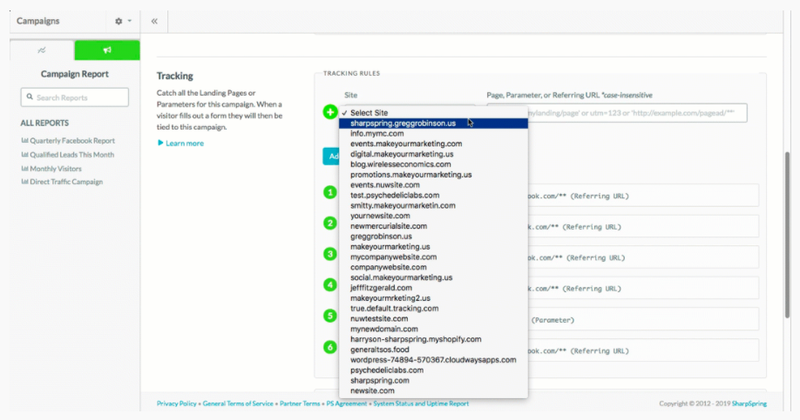 Experience builder
SharpSpring enables marketers to customize and program buyer experiences that feature automated messaging triggers based on customer behaviors and actions.
The experience builder visually articulates these customer journeys, allowing you to drag and drop different triggers and even splinter paths into different branches depending on customer actions. This allows you to efficiently and effectively provide personalized experiences for your customers.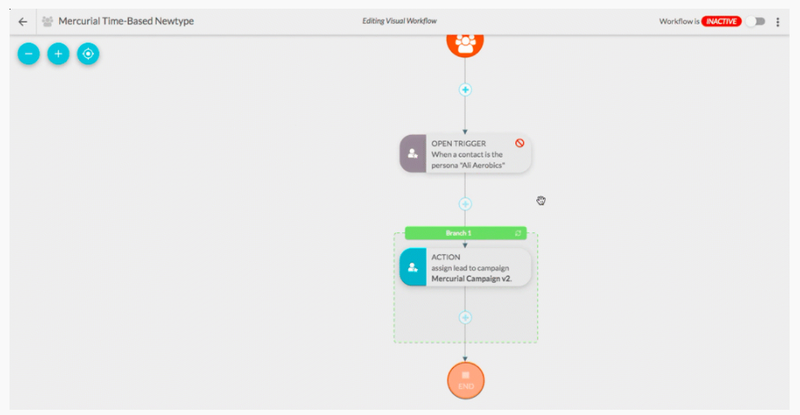 Lead management
SharpSpring provides essential CRM capabilities in the form of in-depth lead management tools for tracking, scoring, qualifying, and converting leads into valuable sales.
SharpSpring's lead scoring tool takes into consideration critical information such as past engagements, pages visited, content downloaded, and known information.
All of this helps your sales and marketing team identify the best moments and the right messaging to use to engage with individual leads.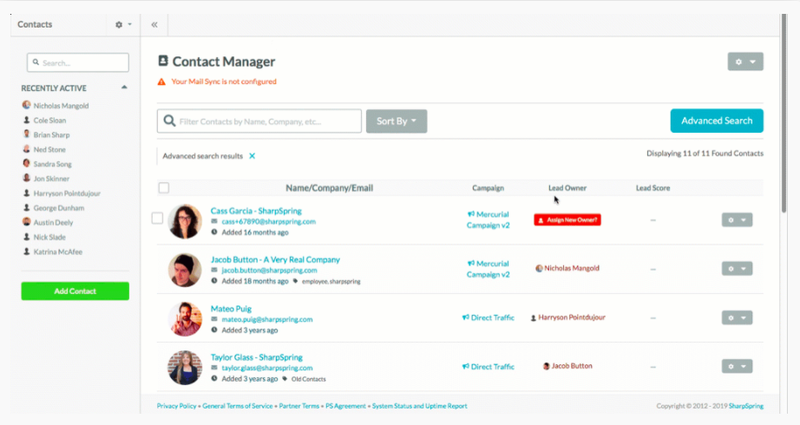 Personalization
Like many leading marketing automation solutions, SharpSpring de-anonymizes site visitors so you can track and personalize experiences for potential customers from their very first visit. SharpSpring refers to this feature as its VisitorID, and it's incredibly powerful for lead nurturing.
For example, you can see when a known lead in your pipeline comes to the site to download a spec sheet or review pricing. You'd want to immediately alert sales to this action, as it's indicative of someone making a final selection.
Sales can reach out with a personalized, one-to-one engagement and offer specialized pricing to seal the deal.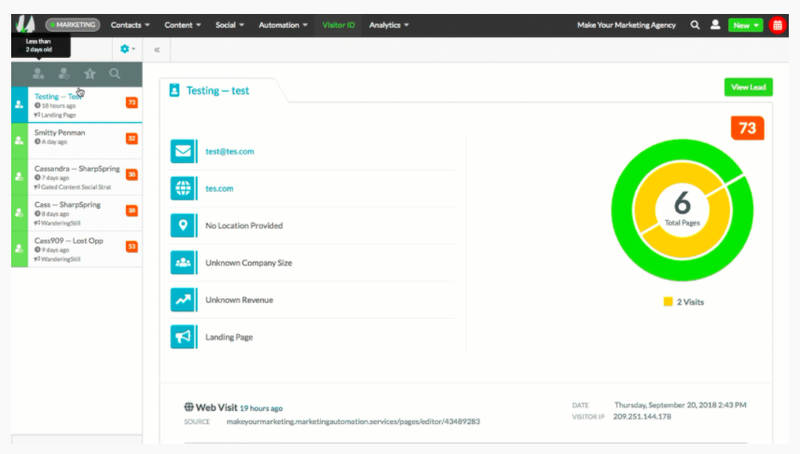 Email management
Easily build custom emails without needing any programming or graphic design experience. You can click and drag elements to build one-off emails, and even save templates to easily replicate for future emails.
Use insights from your lead management components to build personalized outreach that drives better engagement and click-through rates.
Email automation features like dynamic content optimization take personalization a step further by automatically swapping out certain phrases, paragraphs, images, and other content to optimize the individualized outreach.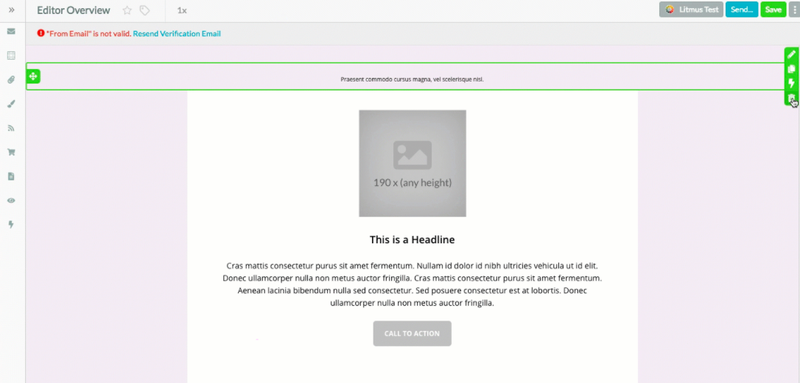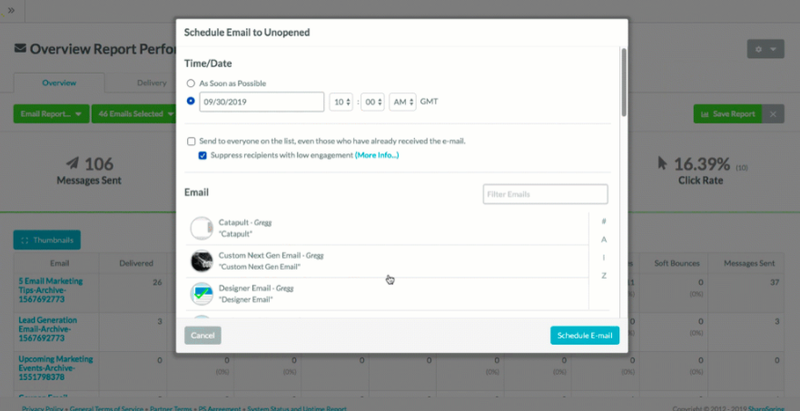 Custom forms and landing pages
SharpSpring offers an easy-to-use form builder with dynamic capabilities to capture valuable information while providing seamless user experiences. Rely on plenty of templated, pre-built forms, or customize your own forms using CSS.
SharpSpring provides over a dozen automated fields you can put in your form, such as contact information or job title. You can also customize the type of data you capture and how it's organized on the back end.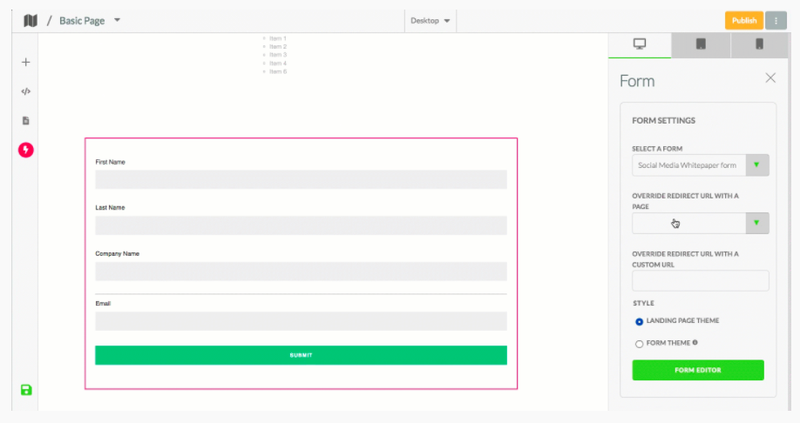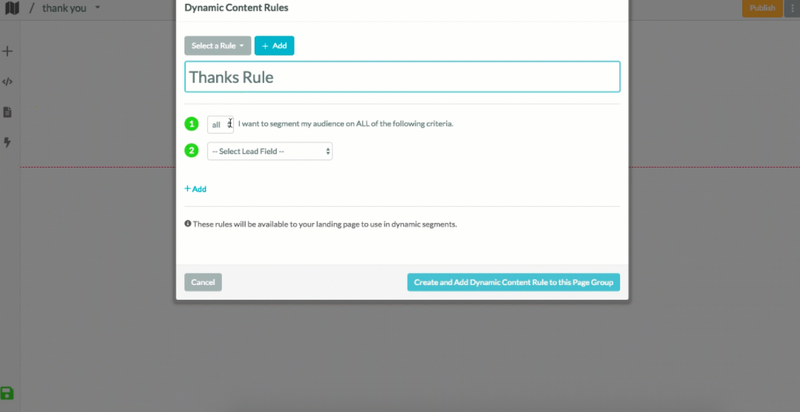 Blog builder
SharpSpring provides everything you need to create, publish, and manage quality blog content that features thought leadership to boost your brand positioning.
You can use SharpSpring's drag-and-drop builder to easily customize your blog page and individual pieces. And, best of all, SharpSpring empowers you to set automations that dynamically alter your content depending on what's known about each visitor.
This means the more information you obtain about a lead through conversions, form fills, and general site visits, the more personalized an experience you can provide.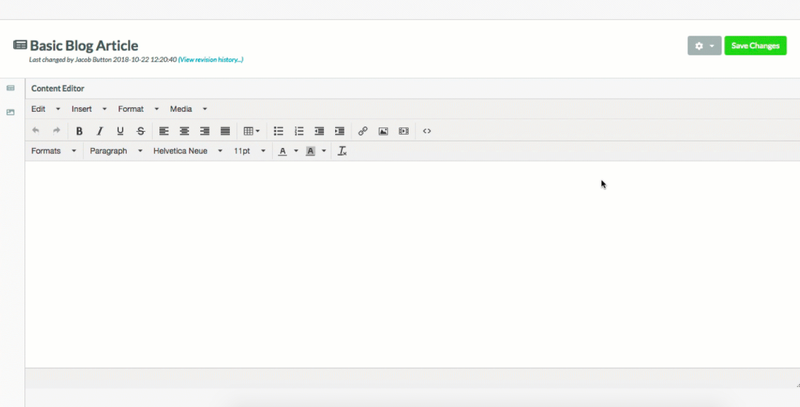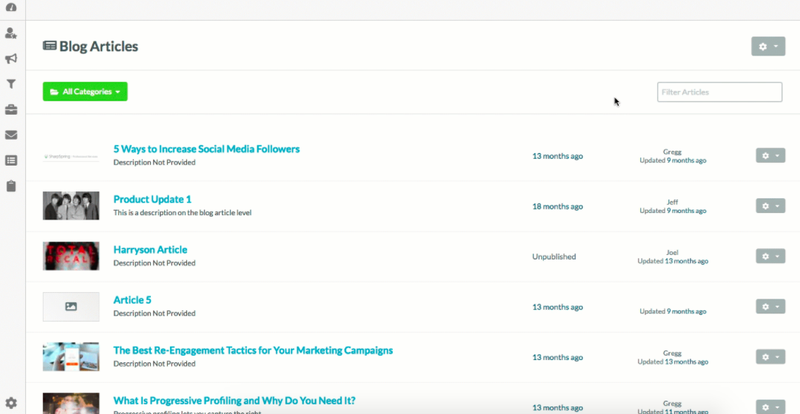 Social campaign management
Use the SharpSpring content calendar to manage and plan out content across blogs, emails, and social channels.
Social tools allow you to create and publish posts across Facebook, LinkedIn, and Twitter without having to input the content multiple times. With the tool, you can create and post once — directly to all of your accounts.
You can also use SharpSpring's social media content calendar to program content in advance so that it publishes throughout the week, month, or even quarter.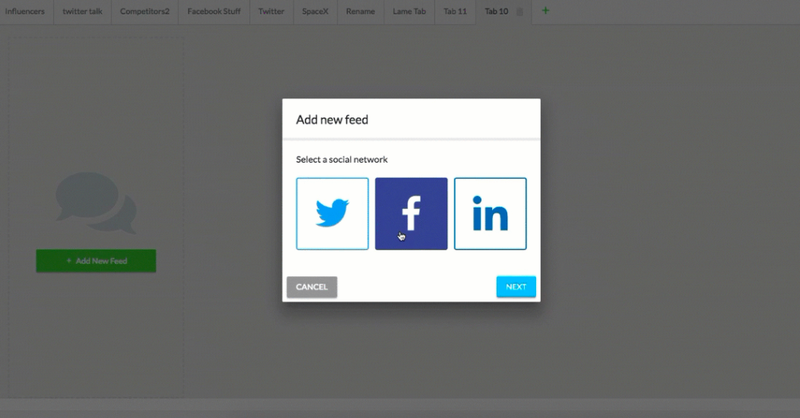 ---
SharpSpring's ease of use
SharpSpring offers a powerful yet easy-to-use platform for executing marketing automation needs across the marketing and sales landscape.
The platform has built-in visualizations that make it easy to analyze lead scoring, build experiences with branching logic, and create dynamic forms and landing pages.
Most importantly in today's fast-paced marketing landscape, SharpSpring provides various set-it-and-forget-it automations across its feature list.
Automations such as dynamically altering form fields or triggering lead outreach based on designed experiences are critical to delivering personalized, profitable experiences.
---
SharpSpring's pricing
SharpSpring has three tiers of preset pricing as well as custom, negotiable options for agencies and enterprises.
The three tiers are priced according to the number of contacts your account can manage. All three tiers provide a full feature set, unlimited support, and unlimited users.
The lowest tier is $550 per month and supports up to 1,500 contacts. The middle tier is $850 per month and supports 10,000 contacts. And the largest pre-set tier is $1,250 per month and supports 20,000 contacts.

---
SharpSpring's support
SharpSpring support comes in multiple forms. Users can get one-to-one help by submitting tickets through a support portal. There's also a phone number users can call Monday through Friday from 8 a.m. to 8:30 p.m. for direct help.
Users can also get contextual help within the software. There are tons of helpful guides that are always just a few clicks away in the app. And there's also a vast knowledge base and peer community to round out all the ways you can troubleshoot and learn more about SharpSpring.
---
Benefits of SharpSpring
SharpSpring offers an array of features that reach well beyond marketing automation. While it boasts integrations with some of the best CRM software, the system itself can operate as the central platform supporting both sales and marketing functions.
SharpSpring can be your main platform for content creation and publishing across your blog, social media, and email campaigns. You can use the lead scoring tools to track engagements and assign outreach responsibilities to marketing or sales depending on funnel stages.
The opportunities to de-anonymizing your leads, visitors, and customers is huge and can really benefit smaller companies looking to scale up business through personalized outreach.
The dynamic form fields and blog also support hyper-personalized experiences by automatically customizing your site to match the unique needs of each of your site visitors.
---
SharpSpring is worth a look
SharpSpring may not have the brand recognition of Salesforce's Pardot or Adobe's Marketo, but it deserves consideration as your new marketing automation platform. The range of CRM and marketing capabilities and ease of use put it in close competition with other major players.
If used along with a proper strategy, SharpSpring offers everything you need to generate more leads and drive more conversions through personalized, impactful marketing and sales tactics.
---
Frequently Asked Questions
Does SharpSpring integrate with e-commerce tools?
Yes, SharpSpring offers a wide range of integrations. The e-commerce integrations it lists includes Shopify, Ecwid, CloudCart, Salz, and Skubana.
Is there a 30-day free trial with SharpSpring?
No, SharpSpring does not offer a free trial, but you can run through a demo of the system to see if it's a fit for your needs.
Does SharpSpring have CMS capabilities?
SharpSpring has blog creator and blog management features that could satisfy your need for a basic content management system.

SharpSpring offers everything your business needs to manage leads, set and execute personalized marketing strategies, and more. You can track leads from the first time they visit your site and (gently) shower them with hyper-personalized, dynamically optimized content to drive conversions and purchases.
SharpSpring offers everything your business needs to manage leads, set and execute personalized marketing strategies, and more. You can track leads from the first time they visit your site and (gently) shower them with hyper-personalized, dynamically optimized content to drive conversions and purchases.
The Motley Fool has a Disclosure Policy. The Author and/or The Motley Fool may have an interest in companies mentioned. Click here for more information.
Suzanne Frey, an executive at Alphabet, is a member of The Motley Fool's board of directors. Randi Zuckerberg, a former director of market development and spokeswoman for Facebook and sister to its CEO, Mark Zuckerberg, is a member of The Motley Fool's board of directors. The Motley Fool owns shares of and recommends Adobe Systems, Alphabet (A shares), Facebook, Salesforce.com, Shopify, and Twitter. The Motley Fool has a disclosure policy.