HubSpot is synonymous with marketing, and it's probably the first solution that comes to mind when you think of marketing automation. The company coined the term "inbound marketing," and has an oft-cited and highly regarded marketing blog. But does it live up to its hype?
In this side-by-side comparison of SharpSpring vs HubSpot, we take a deep dive into what each solution has to offer and give our view on which is better.
---
SharpSpring vs. HubSpot Marketing Automation: An overview
It's important to know a software's target market when you're putting together your selection shortlist. HubSpot is a good option for businesses of all sizes, while SharpSpring is aimed at larger businesses.
Who is SharpSpring for?
SharpSpring is aimed at larger businesses, as its price puts it out of range for smaller companies. As each price plan comes with unlimited users, it only makes sense to opt for this solution if you have a larger marketing team; otherwise, you're wasting your budget.
Who is HubSpot Marketing Automation for?
HubSpot is suitable for businesses of all sizes and in all industries, especially companies that are looking to grow, or for marketers who are taking over the reins of a stagnant company.
It's also an ideal solution for companies that are focused on implementing and prioritizing inbound strategies across marketing channels.
---
SharpSpring vs. HubSpot Marketing Automation: Features
Both of these solutions are not light on features. They pack a ton of useful functionality into one marketing tool, but which has more to offer marketers?
What SharpSpring offers
With SharpSpring, marketers can create, test, launch, deliver, and analyze campaigns across various marketing channels and devices. SharpSpring enables personalized outreach by using IP addresses to identify site visitors and track the pages they view.
This personalization matched with omnichannel campaign management enables marketers to boost conversions and generate revenue.
SharpSpring offers channel-specific analytics, such as in-depth email marketing analysis. This includes insight into deliverability, bounces, open rates, and click-throughs.
SharpSpring provides lead management tools for tracking, scoring, qualifying, and converting leads into valuable sales. Its lead scoring tool takes into consideration critical information such as past engagements, pages visited, content downloaded, and known information.
All of this helps your sales and marketing team identify the best moments and the right messaging to use to engage with individual leads.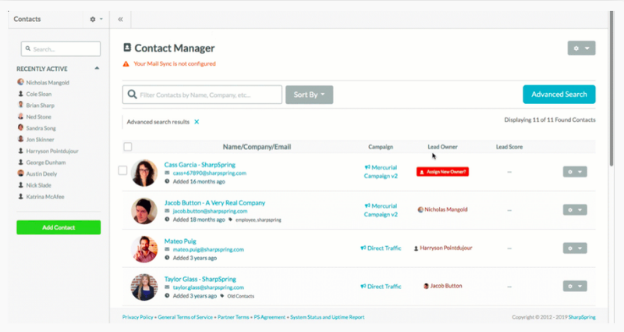 What HubSpot Marketing Automation offers
HubSpot provides a lot of features that help marketers to automate different elements of their campaigns. Its workflow builder allows you to put together automated email sequences for different purposes, such as when a user signs up to a list, or when they have abandoned their cart.
HubSpot's customer relationship management (CRM) functionality provides all the sales automations and lead management for the marketing hub, giving you full visibility and real-time status on funnel health, pipeline volume, and individual lead status.
With Hubspot, you can centralize your digital advertising efforts and increase the precision and efficiency of your advertisements across Google, Facebook, and LinkedIn Ads by building targeted audiences.
Its attribution and analytics tools enable you to tie your marketing campaigns to revenue, so you can understand return on investment and where to allocate your marketing spend.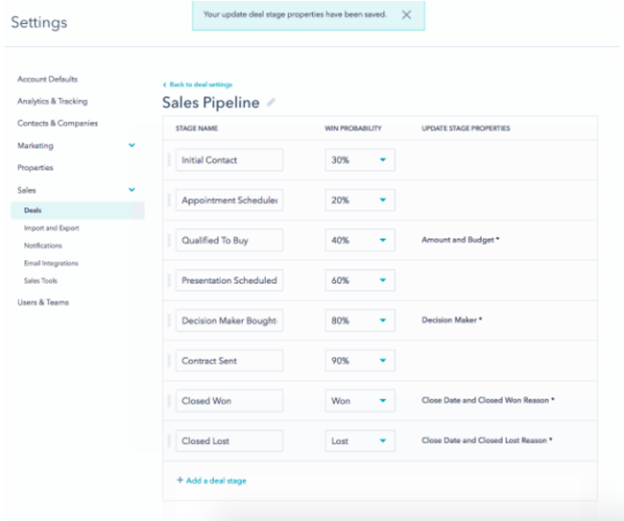 Results: HubSpot wins
While both SharpSpring and HubSpot Marketing Automation provide a huge array of tools to create and personalize campaigns that deliver tangible results, HubSpot's CRM and personalization options give it the edge.
---
SharpSpring vs. HubSpot Marketing Automation: Support
When you're just getting up and running, having the right support options at the right time is key to making implementation as smooth as possible.
What SharpSpring offers
SharpSpring provides three main ways to get help:
Browse articles and software update notes in its Help Files
Submit a support ticket either via app or online form
Phone the support line, available Monday through Friday from 8 a.m. to 8:30 p.m.
There is also an online community where you can ask questions and get peer-to-peer support.
All pricing plans come with the same support options.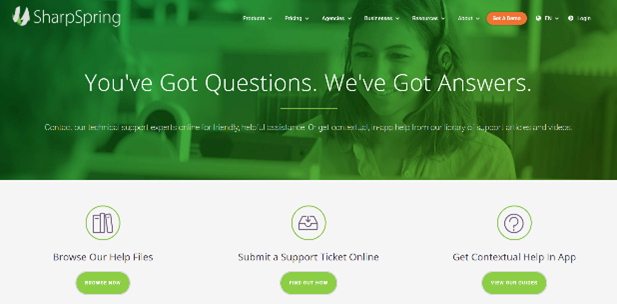 What HubSpot Marketing Automation offers
The level of support you get varies based on your pricing plan. If you're on the free plan, you can use HubSpot's knowledge base full of articles and videos, as well as get peer-to-peer support by asking questions in the community forum.
If you subscribe to the Starter plan, you also get email and chat support, while Professional and Enterprise users get access to phone support.
If you want to get a certification to understand how to use the solution at a deeper level, you can enroll in HubSpot Academy.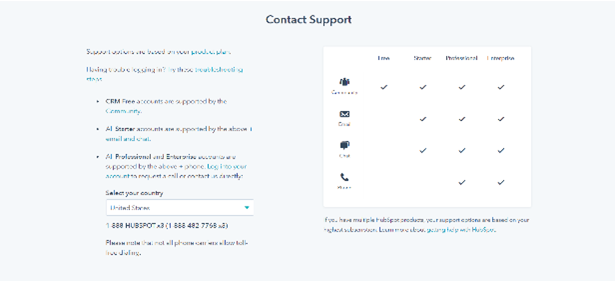 Results: HubSpot wins
HubSpot takes this round due to its live chat support and more comprehensive knowledge base.
---
SharpSpring vs. HubSpot Marketing Automation: Ease of use
Even if you implement a marketing automation solution with the best features on the market, it's not going to have the desired effect if users don't understand it or like how it works. That's why assessing ease of use is an important part of choosing software for your business.
What SharpSpring offers
As with any tool that brings the entire marketing suite together, SharpSpring has a steep learning curve. However, it does have both horizontal and vertical menus that mean you can quickly move from one feature to the next.
Its well-organized and well-labeled menus speed up learning and enhance user experience.
SharpSpring's built-in visualizations make it easy to analyze lead scoring, build experiences with branching logic, and create dynamic forms and landing pages. It also provides various set-it-and-forget-it automations across its feature list, which helps keep your marketing processes running smoothly with minimum effort.
What HubSpot Marketing Automation offers
HubSpot can feel overwhelming at times. It has a lot of different options arranged in different menus. Each feature is separated out, which can make the menus feel cluttered and confusing. Sometimes you feel like you're not getting the most out of the software as you don't know how to do everything. It lacks the intuitive feeling of other solutions.
While it is expansive, HubSpot offers plenty of training and onboarding support to bring you up to speed.
Even when you've been using the software for a while, you can still access user guides with checklists to make sure you've completed all the necessary steps. This helps ensure that you understand how to use its functionality and have set up the software to meet your needs.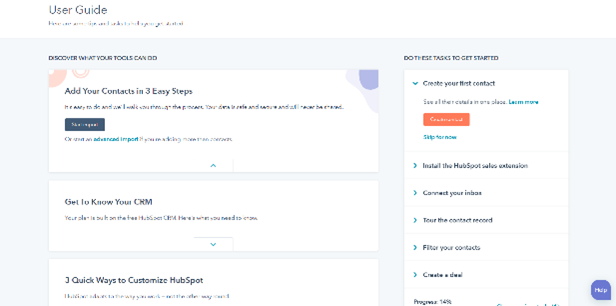 Results: HubSpot wins
While both solutions have a steep learning curve, HubSpot provides better setup and user guides to help you understand how to use the software.
---
SharpSpring vs. HubSpot Marketing Automation: Pricing
It's important to look beyond price and focus on value for money, as well as working out which solution will provide the most return on investment for your business. Here we pit SharpSpring's pricing against HubSpot's to see which comes out on top.
What SharpSpring offers
SharpSpring has three main pricing plans, all of which provide the entire feature set, along with unlimited support, and unlimited users. It also has custom, negotiable options for agencies and enterprises.
The three tiers are priced according to the number of contacts your account can manage.
The lowest tier is $550/month and supports up to 1,500 contacts; the middle tier is $850/month and supports 10,000 contacts; and the largest preset tier is $1,250/month and supports 20,000 contacts.
These pricing plans, while good value for larger organizations due to the unlimited users and providing the entire feature set for each plan, are likely to be too expensive for many small businesses.

What HubSpot Marketing Automation offers
HubSpot Marketing Automation offers a free plan, which includes the following marketing tools:
Forms
Email marketing
Ad management
Landing pages
List segmentation
Conversational bots
Mobile optimization
Reporting dashboard
Messenger integration
There are also three paid pricing plans suitable for different business sizes. The Starter plan comes in at $45/month for 1,000 marketing contacts, while the Professional is $800/month for 2,000 marketing contacts, and the Enterprise plan is $3,200 for 10,000 marketing contacts.
There is a 10% discount if you pay for a year upfront.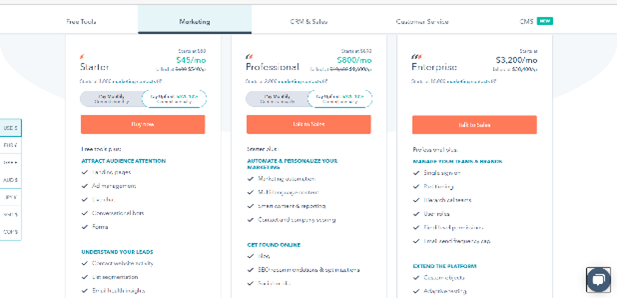 Results: HubSpot wins
This was a difficult one as SharpSpring's least expensive pricing plan offers better value than HubSpot's mid-tier pricing plans, but HubSpot wins this round as it has a free plan and more options for different business sizes. SharpSpring caters only to businesses with a sizable marketing budget.
---
SharpSpring vs. HubSpot Marketing Automation: Integration with other software
How well does your marketing automation software work with your existing technology landscape? Let's see whether HubSpot Marketing Automation or SharpSpring fares better.
What SharpSpring offers
SharpSpring provides a lot of integrations, but there are some notable absences, and a lot of the software mentioned is less well known. A quick search for Twitter, Mailchimp, Slack, and Zoom reveals that they are not on SharpSpring's list of integrations.
On the plus side, SharpSpring has an API that you can use to build your own integration with these popular apps.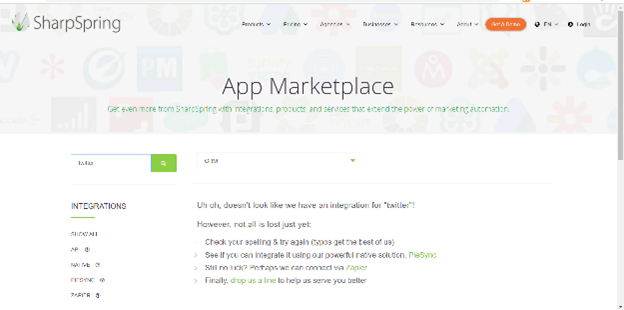 What HubSpot Marketing Automation offers
HubSpot Marketing Automation offers an impressive array of integrations, covering almost every category you can think of. It integrates with all leading business software and often adds new apps.
Some popular integrations include:
Gmail
WordPress
Facebook Ads
Mailchimp
Slack
Zoom
Typeform
Shopify
SurveyMonkey
You can quickly search HubSpot's App Marketplace to find out if your existing solutions are on the list. HubSpot has an API that you can use to build integrations with any software not on that list.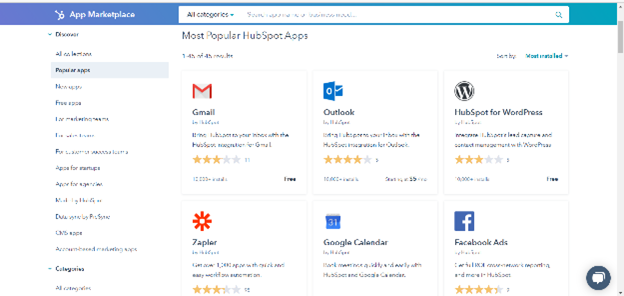 Results: HubSpot wins
As HubSpot is such a well-known and popular software, it's no surprise that it surpasses SharpSpring when it comes to integration.
---
How They Compare: SharpSpring vs. HubSpot Marketing Automation
| | HubSpot Marketing Automation | SharpSpring |
| --- | --- | --- |
| Free trial | | |
| Google Analytics Integration | | |
| De-anonymize site visitors | | |
| Content management system | | |
---
Hard to beat the front-runner
HubSpot is possibly the most well-known and popular marketing automation solution out there at the moment. While it uses savvy marketing tactics and practices what it preaches to increase brand awareness and win customers, it also has a huge array of features, along with reasonable pricing, and great usability.