Shopify has exploded over the past few years as the e-commerce force to be reckoned with. The company's stock continues to climb as more and more online stores launch with or migrate to Shopify's range of services.
The ability to run straight out of the box empowers business owners and employees with no web coding or design experience to craft a functional site that's built to monetize. Simply complete your product launch, and then go sell.
But there are a ton of e-commerce platforms for you to choose from these days. While Shopify is certainly an industry stalwart, plenty of Shopify competitors may be a better fit for your unique needs. Continue reading to get a deep dive on seven of these Shopify alternatives and learn essential features to look for in your new e-commerce platform.
Here the top Shopify alternatives for your small business:
---
What to look for in a great Shopify alternative
Shopify is built for site monetization. Some of the best Shopify stores are bringing in millions of dollars annually.
The platform offers essential website building tools to effectively sell products and maximize customer lifetime values, but everything is rooted in the e-commerce functions.
These critical tools include product management, marketing integrations, and in-depth analytics. Ensure that your Shopify alternative offers these capabilities in its feature set, or at least provides a similar integration.
Here's a rundown on these features and why they're critical for your website to sustain lasting success.
1. Product management
Product management is an essential component of any e-commerce builder. You need both front-end and back-end product management support to ensure a healthy product lifecycle.
Front-end management ensures product profiles are accurate, stable, and included in your content plan. Back-end product management works like inventory management to track stock levels and ensure product availability.
2. Marketing integrations
Marketing capabilities are critical for launching your go to market strategy, showcasing your online store to the masses, and driving traffic to your site.
Some website builders may offer basic marketing tools, but more advanced and mature businesses will require additional marketing support to execute customer acquisition and retention strategies. That's why it's critical that your site builder offer integrations for additional sales and marketing capabilities.
3. In-depth analytics
Online storefronts require a slew of analytics to monitor the health of the business and to make more informed decisions for generating growth. Your platform needs to track sales by day, week, month, and time and monitor your conversion funnel.
You need to ensure purchase orders are the right amount for your inventory needs. An integration with Google Analytics is equally important to monitor critical web page analytics such as average pages per visit, time on page, bounce rate, and more.
---
Our top 7 picks for the best Shopify alternatives
Here are our top seven tools for building e-commerce sites like Shopify that will empower you to create a stellar and monetizable website.
1. Squarespace Commerce
Squarespace Commerce is an increasingly popular website builder with full e-commerce support. The platform offers a tailored approach meant to help you optimize your online storefront for your particular industry. It also has the power to grow and scale with your business.
The ability to centralize selling across multiple channels is a key feature of Squarespace Commerce. The platform supports online sales tactics across your online and physical stores and through social media channels via "click to buy" buttons and integrations.
This allows you to target leads in your sales pipeline anywhere they are on the web.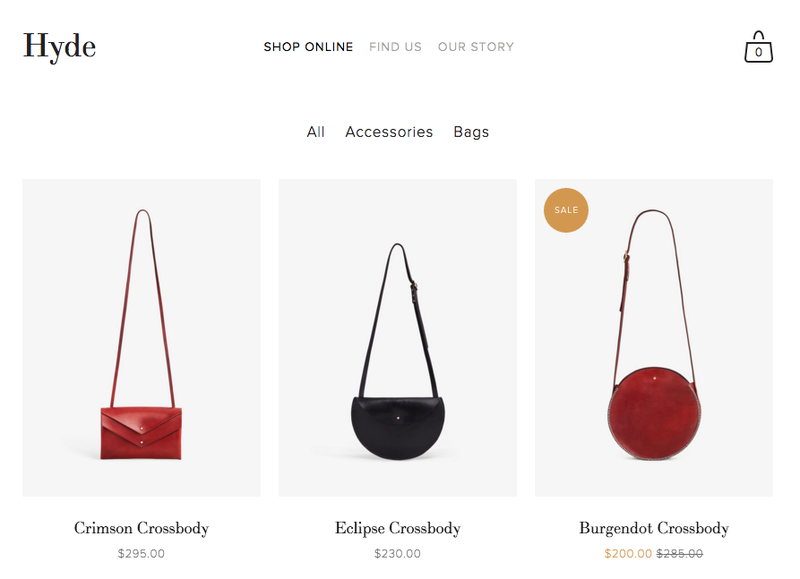 Another helpful feature accompanying multi-channel sales is a dynamic online product management system. They've designed the feature to update in real time so you and your customers know how much of any product you have left in stock.
Squarespace Commerce offers a basic and an advanced plan, which cost $26 or $40/month, respectively. The basic plan offers all the essential features you need to create and operate your store.
The advanced plan provides email automation capabilities, customized discounting, and subscription-based pricing plans.
Read The Blueprint's full Squarespace Commerce review
2. BigCommerce
BigCommerce is a reliable, easy-to-use e-commerce site builder. Its features equip start-up businesses as well as larger enterprises with the tools necessary to optimize their e-commerce performance.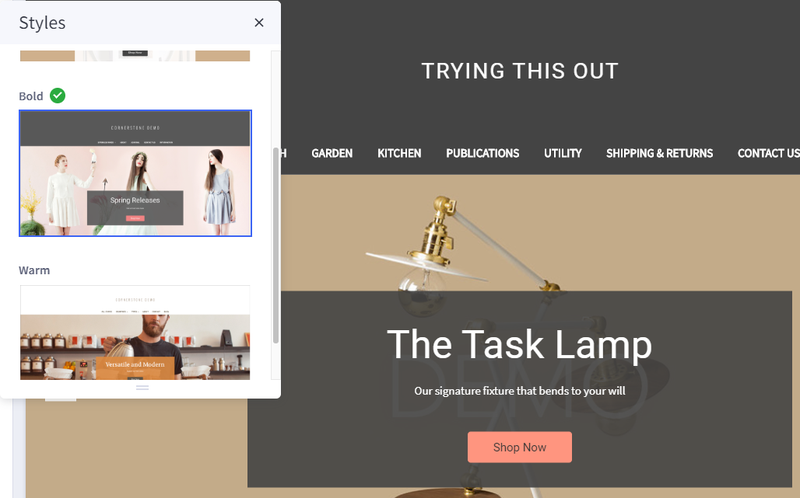 Key features include in-depth reporting and analytics capabilities, multi-channel sales, professionally designed site templates, and optimizations across devices and browsers.
Along with these key features and other essential tools, BigCommerce provides critical site and payment security, attuned customer support, and tons of online guides and resources.
BigCommerce offers a 15-day free trial to test out the solution. After that, choose from three pricing tiers. Prices range from $30/month to $300/month depending on feature sets and expected sales volume. There is also a negotiable enterprise rate.
Read The Blueprint's full BigCommerce review
3. WooCommerce
WooCommerce is a WordPress plug-in that turns your website into an online store. It's great for small businesses starting from scratch and for established websites looking to graduate into an online store.
WooCommerce is a great tool for testing the waters to see if you and your products can gain traction with an online storefront.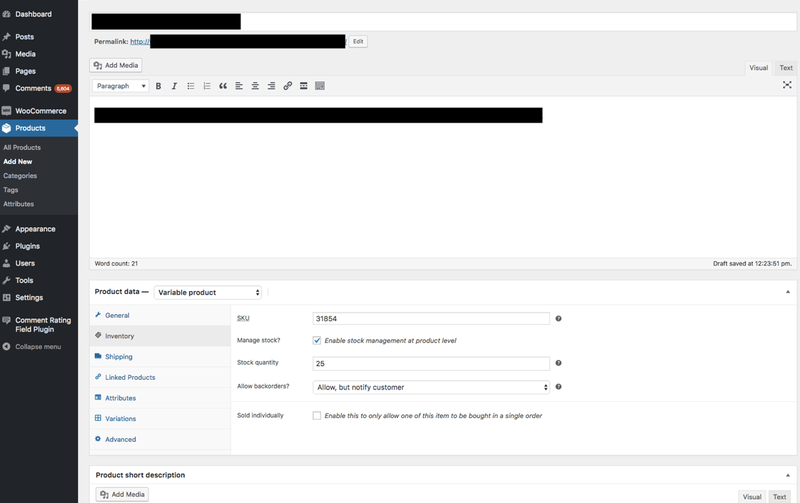 The platform is open source, offering extensive creative capabilities. If you can create a WordPress site, you can create a WooCommerce online store, with its abundant feature set.
Adding and updating product profiles is a simple process. It integrates with key payment gateways such as PayPal and Amazon Pay and features dynamic pricing strategy and subscription-based pricing models.
Access to the huge WordPress plug-in catalog means you'll likely find an extension to fill any WooCommerce feature gaps.
It's difficult to list WooCommerce's pricing options. The platform is technically free to download and install into WordPress, but it comes with a nuanced set of fees that can add up quickly. Common costs include developer and maintenance fees, paid themes, and additional site and store extensions.
Read The Blueprint's full WooCommerce review
4. Wix eCommerce
Wix eCommerce is an e-commerce platform that best serves startups and small businesses looking to dabble in online sales. The platform is easy to use, making it a great fit for first-time e-commerce businesses.
You can build beautiful, highly effective pages and online storefronts with simple drag-and-drop capabilities.
Standout features for Wix eCommerce include built-in SEO implementation tools, intuitive cart abandonment capabilities, social media advertising, and custom coupons.
The platform offers a highly customizable coupon creator that enables you to entice consumers and reward them with coupons for single items, categories of products, and even entire orders.
Wix offers an interesting feature that links you to a product supplier platform for sourcing inventory to sell. You can connect with a marketplace of product suppliers who ship directly to your customers so you're not holding any physical inventory.
Wix eCommerce is priced affordably to accommodate the startup and small business audience.
It offers three tiers: basic at $23/month, unlimited at $27/month, and VIP at $49/month. Each offers the essential features, with increasing features and server storage as prices increase.
Read The Blueprint's full Wix eCommerce review
5. Volusion
Volusion is a longstanding player in this space, providing online storefront tools for well over 20 years. Their time in the space is a testament to the evolving, dynamic nature of their platform. It works for start-ups and small businesses and can scale with you up to a medium-size organization.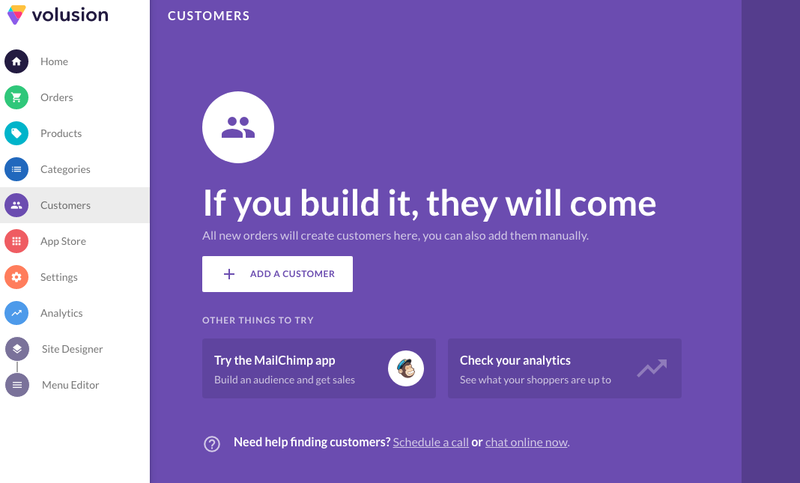 Its full feature set includes tons of professionally designed themes and page templates, built-in email marketing, and helpful customer and inventory management tools.
Volusion also offers valuable technical enhancements designed to improve visitor experiences and boost organic traffic. They boost loading speed, monitor SEO best practices, and optimize pages across devices.
It features a wide-ranging pricing structure, with the lowest plan costing $26/month and the most expensive option at $269/month. The feature set expands as prices go up to include cart abandonment, third-party payment gateways, and more.
Read The Blueprint's full Volusion review
6. Magento
Adobe's Magento site builder is an e-commerce platform for enterprises, high-growth businesses, and other online sellers that need extreme customization to match their high goals and volumes. It fits B2B and B2C companies with its range of unique features for both customer and client management.
Unlike other platforms on this list, Magento is completely customizable. This means outside of some drag-and-drop tools, you'll need web development support to put your site together. This bucks the trend of professionally designed templates and replaces it with coded digital creations.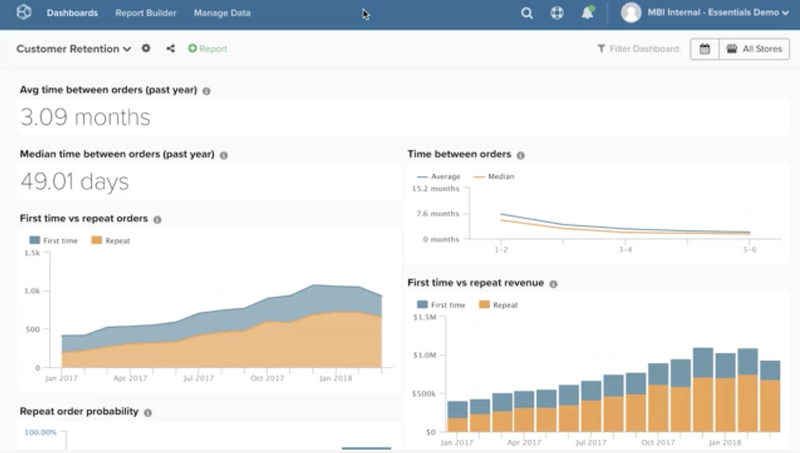 From a feature standpoint, Magento supports huge quantities of orders and inventory. You can also adjust sales conversions from basic purchases to requesting quotes and negotiating prices for bulk order.
The enterprise-level platform also offers expansive reporting and analytics tools that monitor trends and performance across inventory, sales, and customers.
Pricing is on another level compared to Shopify and the other alternatives we've covered, but it matches the unlimited customization capabilities of Magento. Besides a free, open-source option, paid plans start in the thousands of dollars per month. And that doesn't include the web development work needed to maintain and update the site.
Read The Blueprint's full Magento review
7. Ecwid
Ecwid is a great fit for first-time online sellers that want to launch for free. Similar to WooCommerce, Ecwid is a plug-in designed to integrate with an existing website. The platform does offer the ability to launch a quick online storefront, but it's limited to a single-page website.
You can use Ecwid to add an online storefront to any website, including WordPress and Wix, Weebly, and Squarespace, which have their own e-commerce platforms.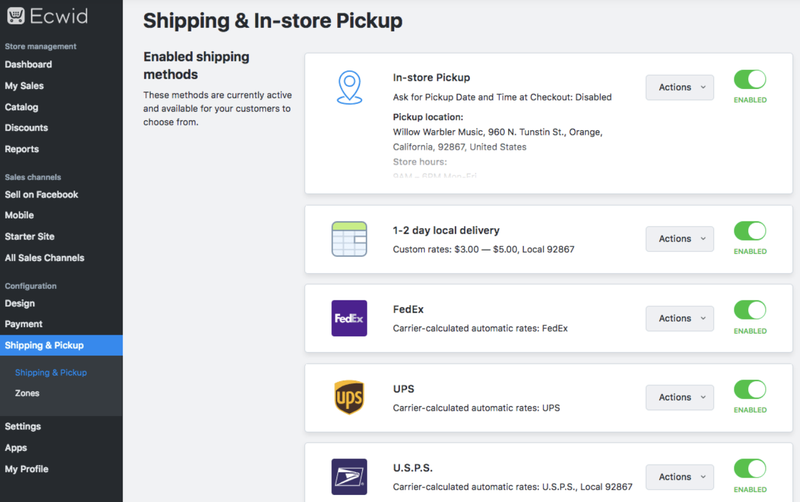 Even though Ecwid is a plug-in, it packs a punch with critical features such as multi-channel sales, advanced inventory management control, SEO monitoring, shipping management, and the ability to sell digital files like videos, images, and music.
Ecwid provides a robust suite of marketing capabilities to help your store gain exposure.
It also has very favorable pricing. Its basic option is forever free. It has a limited feature set and only supports selling 10 products at a time. From there, costs are $15/month, $35/month, or $99/month. The paid options come with additional features and the ability to have a larger product catalog.
Read The Blueprint's full Ecwid review
---
Shopify offers a ton, but so do its many competitors
Shopify is a leader in the e-commerce platform space for a reason. It's well-priced, easy to use, and can scale with your business as you grow. Its positioning strategy is to offer an extensive feature set and plenty of integrations.
But these qualities are shared in some form by the seven Shopify alternatives we've covered here. Take your time, exercise due diligence, and you'll find the system that's best for you.