Face it: Coins and paper currency are so last millennium. It's a trend that is only accelerating with each passing day. So, if you're looking to move beyond cash-only sales at your brick-and-mortar operation, you'll need a point-of-sale (POS) system to process credit and debit cards.
One option suitable for small-to-midsize businesses is the Shopify POS system. We'll go over its capabilities below, so you can determine if it's the right choice for your current needs.
---
Who is Shopify POS for?
Shopify began as an e-commerce provider in 2004 and added POS capabilities in 2013. This gives it a leg up on competitors like Square, which is primarily a payment processor. The Shopify POS system by default uses the Shopify platform, so you'll immediately have inventory and order management capabilities.
If you're already using Shopify for online sales, it will be easy and seamless to add its POS system. If you currently have only a brick-and-mortar setup, adding Shopify POS will also allow you to begin online sales in short order.
Either way, it's imperative to offer both online and in-person sales because shoppers are still almost evenly split between the two options.
In addition to retail sales, Shopify POS is widely used in the restaurant industry. That's because it's no problem to split tickets between multiple credit cards and cash, as well as track revenue by employee. Once again, thanks to its integration with Shopify, you can easily accept online orders for takeout or delivery.
---
Shopify POS' features
Sure, Shopify POS does the basics in collecting payments for purchases made online or in person, but it's much more than a glorified cash register. It also offers powerful management tools for inventory, customers, and employees as well as robust sales and financial analytics.
Inventory management
Effective inventory management is critical to the success of your business. Just as you don't want to be inadvertently overstocked, you can't afford to lose any sales because you're out of popular items.
Shopify POS offers the ability to set up automatic reminders or even orders when you're running low on items as well as update inventory when new products are delivered.
You can also easily add new inventory items that, in addition to price, include bar codes and locations of extra inventory. Even better, you can break out your products into different categories that are as granular as you require, ranging from clothing to t-shirts to men's tank tops and more.
Have multiple versions of the same item? Organize them by size, color, and other designations.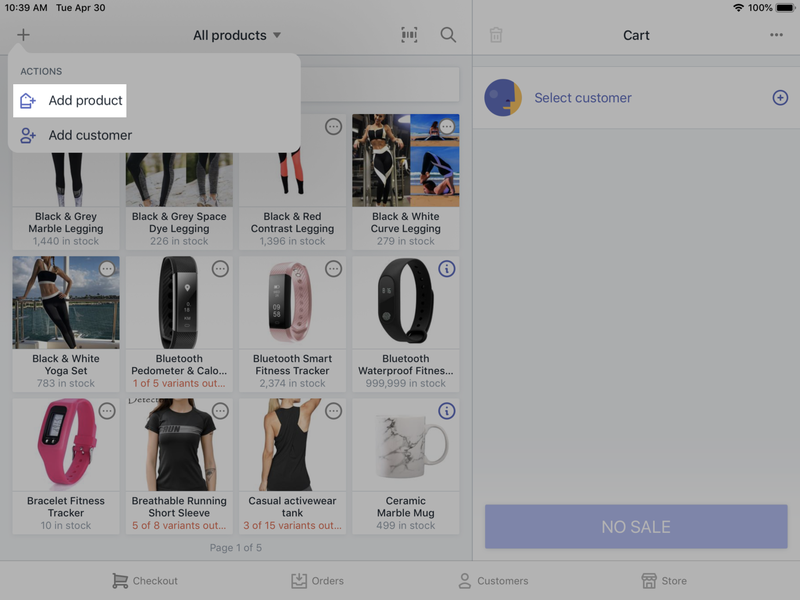 If you require even more features or specialization, the Shopify app store has over 100 third-party inventory management apps that range from Ebay integration to upselling and cross-selling to barcode generators and dropshipping.
Customer management
Shopify POS also has robust customer management features. After all, with every purchase a customer makes, the odds increase they'll buy from you again in the future. While customer acquisition is important, research shows that it costs five times as much to attract a new customer as it does to retain a current one.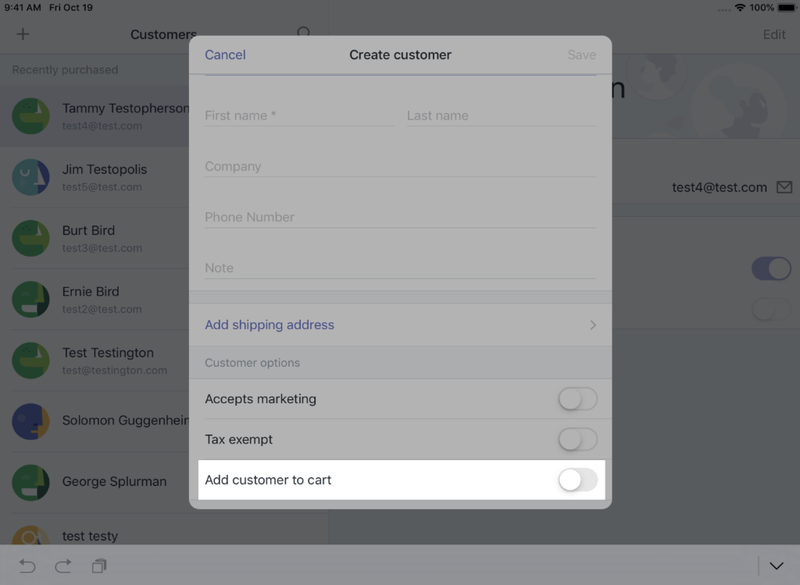 The customer profiles you can create will significantly aid your marketing efforts to those who have opted in. Look at order histories to offer custom sales and discounts as part of your sales techniques. With the upper-tier plans, you can use loyalty programs to reward your best customers.
When needed, you can also text, email, or call directly from within Shopify POS.
Employee management
As your business grows, you'll also need to manage your staff. With Shopify and Advanced Shopify you can create a personal identification number (PIN) for each employee to more closely track their sales and register activities, as well as their hours, worked for payroll purposes.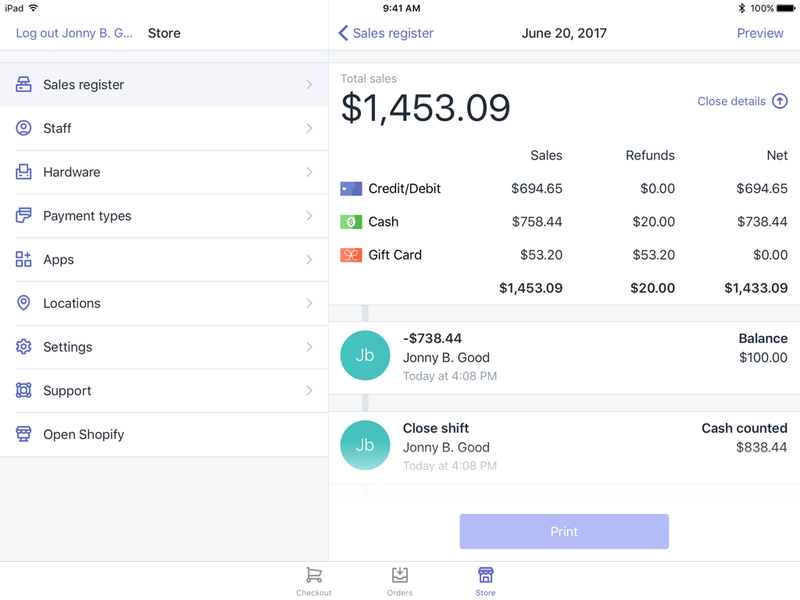 Sure, one function of these reports is to make sure you're not having any shrinkage or cash drawer reconciliation problems, but you need to identify your high-performing employees who demonstrate they know how to close a sale.
At the same time, you can also help a less productive employee learn how to be a good salesman.
Sales analytics
Performance metrics will determine how well your sales and marketing efforts are working and what you need to do to optimize your results. With the sales analytics offered by the Shopify and Advanced Shopify plans, you'll be able to drill down into granular data by day, month, quarter, and year.

Review your store's sales process and finances from one dashboard: sales, returns, discounts, taxes, and more. Manage multiple registers as well as reconcile each location's finances for the day in a single view.
The data will also contribute to the formulation of your optimal pricing strategy for each product and sales location.
---
Shopify POS' ease of use
You'll find the Shopify POS interface intuitive and easy to use. Plus, the advantage of multiple plans is that you can choose one that fits your needs, so you don't have to do a lot of setup for options you may not use. You'll also use the same interface for register sales as well as inventory, customer, and employee management.
---
Shopify POS' pricing
One of the strengths of Shopify POS is its multiple pricing tiers. Granted, you won't have all the bells and whistles with the low-end plans, but you can start with the bare bones options and then scale up as needed.
Shopify Lite — At $9/month, you can process sales on your website or through Facebook, and you will receive a free chip and swipe reader to process orders in person using your smartphone. Shopify takes 2.7% of card reader transactions and 2.9% of online transactions. There is no additional fee for card reader purchases, but each online purchase will cost you $0.30 apiece.
Basic Shopify — With this $29/month plan, you'll have a Shopify website as well as Shopify POS. Transaction fees are the same as Shopify Lite: 2.7% of card reader transactions and 2.9% of online transactions plus an additional $0.30 for each online purchase. You can have two employee accounts, unlimited products, unlimited 24/7 support, and the ability to use discount codes.
Shopify — For this plan, the price jumps to $79/month and transaction fees drop to 2.6% plus $0.30 per online transaction and 2.5% alone for card reader sales. You'll get all the Basic Shopify features along with five employee accounts, the ability to use gift cards, and up to five separate locations.
Advanced Shopify — The $299/month plan reduces transaction fees to 2.4% for both online and card reader sales plus $0.30 per online transaction. You'll be able to dramatically scale up your sales abilities with 15 employee accounts, advanced reporting capabilities, and up to eight locations.
Shopify Plus — Designed for high-volume sales, up to thousands of transactions per minute, this plan is quote-based, and pricing depends on the specific needs of each individual merchant.
---
Shopify POS' support
All plans come with 24/7 support via email, chat, and phone, which will be especially helpful for those using a POS system for the first time or anyone unfamiliar with the Shopify e-commerce platform. In addition, Shopify provides in-depth documentation to help with the onboarding process.
If you've already been using another system, there are bulk migration tools for transferring both products and customers.

Shopify's help is not limited to installation and troubleshooting as you can speak with their in-house experts about both sales tactics and sales management to grow your business. There's also an extensive knowledge base and Shopify community to help out.
You can also take online courses from certified Shopify Education Partners on topics including how to find customers, source your products, and dropshipping products. In addition to English, some courses are available in Spanish, German, Italian, and Dutch.
---
Benefits of Shopify POS
If you're getting started with your first POS system, Shopify POS is a good place to begin. The pricing structure doesn't demand a significant investment, and you can easily scale up as your needs grow.
The amount of customer support and additional resources available will allow even a novice to feel confident from the very first swipe of a credit card.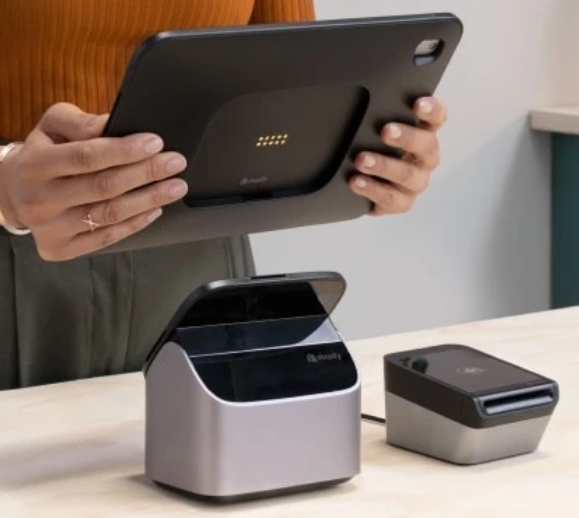 Every plan comes with a free card reader, but you may want to invest $229 for the retail kit, which comes with the Shopify tap and chip card reader with dock, retail stand for a 9.7" iPad, mounting kit, and mini dock cable.
---
Your hybrid online and in-person POS
The degree to which you can manage inventory, customers, and employees for both POS and online transactions in Shopify POS will help you expand your sales channels with minimal setup. If you do need help, Shopify's 24/7 support and additional resources are easy to access.
Plus, the analytics you'll have access to will provide key information for your business intelligence and planning.
---
Frequently Asked Questions
How much does Shopify POS cost?
The most inexpensive of the five Shopify POS plans is $9/month, which allows you to process payments using a credit card reader on your phone, at your existing website, or on Facebook. Unlike the four more expensive options, this one does not come with Shopify's online e-commerce features.
The three plans above Shopify Lite range from $29-$299/month. The price for Shopify Plus, the top tier option, is quote based because it depends on the specific needs of individual merchants. Unless you're just starting out with retail sales, you'll probably need the $79/month plan to access all the features you'll require.
In addition to the monthly fees, Shopify charges $.30 per online transaction plus a percentage of all sales, which ranges from 2.4% to 2.9%, depending on which plan you have.
What are the major benefits of Shopify POS?
Shopify POS is particularly well suited for businesses that have online and in-person sales due to its integration with the Shopify e-commerce platform. If you have a restaurant or food truck, it's easy to split tickets between multiple credit cards, as well as cash.
Plus, the sales analytics features make it easy to compare online and face-to-face sales. You can also use it to manage inventory, customers, and employees.
What software and hardware does Shopify POS require?
Shopify POS is designed primarily for Apple's iOS. While there is an Android app, it has very limited functionality. If you want to use all the features and options available, and why wouldn't you, you'll definitely need to use an iPad and/or an iPhone.
If you need extra functionality, the Shopify app store has almost 300 options to choose from.
As for hardware, all plans come with a free card reader you can use with the Shopify POS smartphone app. There's also a retail hardware kit for $229 that includes the Shopify tap and chip card reader with dock, retail stand for a 9.7" iPad, mounting kit, and mini dock cable.
Unlike POS systems from Clover and Toast, however, you will not have to buy proprietary terminals to begin processing payments.

If you're currently just selling online or only accepting cash payments for retail sales, increasing your payment methods will help generate more revenue. Shopify POS definitely deserves a long look to determine if it is the best POS system for your needs.
If you're currently just selling online or only accepting cash payments for retail sales, increasing your payment methods will help generate more revenue. Shopify POS definitely deserves a long look to determine if it is the best POS system for your needs.