Launching a new business or adding online sales to in-person shopping?
Once you decide to jump into the booming world of e-commerce, you need to choose an e-commerce platform. That includes considering selling with either Shopify or Amazon.
Both platforms have earned reputations as leaders in the e-commerce space. Shopify claims to have 1,000,000 stores using its software and Amazon attracts about 2.5 billion visitors monthly.
Deciding which one is right for you depends on your business model, goals, and areas of expertise.
---
Shopify vs. Amazon: An overview
Deciding between Amazon and Shopify can feel overwhelming. But there is a key difference between the way the two types of e-commerce support businesses.
Think of Shopify as an individual storefront — a specially designed platform that provides you access to needed tools for building your own online store. Selling with Amazon is like having a shop inside a plaza or mall. The e-commerce platform is an online marketplace where multiple sellers can list their products.
And businesses don't have to exclusively choose one over the other: Many sell products on both platforms.
Who is Shopify for?
Shopify sellers are business owners of all sizes and include those who sell in-person, online, or both. The cloud-based system can be used in any country around the world. Shopify's simple, easy-to-use system means you don't need coding skills to build a website or e-commerce platform for your business.
Who is Amazon for?
The Amazon online store builder is also for business owners with little in the way of website design skills. It is also relatively easy to use, though image uploads can be time-consuming.
---
Shopify vs. Amazon: Features
Knowing what your business needs to succeed helps in terms of comparing the features of Shopify and Amazon. Both offer a long list of features designed to help you establish and grow your business.
What Shopify offers
There are plenty of tools that make it easy to build a successful shop. One of the biggest advantages is that Shopify is fully hosted, so you don't have to worry about paying for hosting or handling domain details.
The platform even helps with business basics by offering a logo maker, an inventory system, automatic tax calculations, options for accepting tips, and a pay stub generator, among other features. Through a partnership with Oberlo, sellers can also access drop-shipping features.
Shopify's Exchange Marketplace allows entrepreneurs an opportunity to buy a ready-made business. On average, more than 3,000 sites are up for grabs at any one time, at a wide range of price points for those with cash to invest.
What Amazon offers
Millions of customers visit Amazon monthly, translating into high visibility with no additional marketing efforts on your part. It's like buying an established customer base and launching into sales from day one.
Depending on your business model, Amazon's ability to store, package, and ship your products through its Fulfillment by Amazon (FBA) option can also save you time and precious resources when it comes to inventory management. There are additional fees for using FBA services, but having someone else handle inventory logistics can free you up to focus on other areas of business development.
Results
It's a toss-up. Both platforms offer multiple features that support online sellers from startup to long-term growth.
---
Shopify vs. Amazon: Support
No one wants to wait to have an important question answered. Especially when it impacts your ability to sell products and generate revenue.
What Shopify offers
It's hard to beat Shopify's support. Users have access to 24/7 phone support and live chat. Those services, combined with a robust help center, make it simple to find the answers to all your questions.
What Amazon offers
Amazon's beginner's guide distills the information you needed to get started. Additional support is tiered based on the plan purchased, making it more cumbersome than Shopify's.
Results
Shopify wins. Round-the-clock support service means you'll have easy access to the answers you need.
---
Shopify vs. Amazon: Ease of use
No coding experience is necessary to establish an eye-appealing online place to reach customers. Templates make it easy for anyone to use these e-commerce platforms. How easy either is to use can be subjective, but both recognize that sellers who have never built a website before are looking for near-turnkey solutions.
What Shopify offers
Signing up for Shopify is like being handed the keys to a built-out storefront. From the moment your subscription begins, you have a working online store. Pre-designed templates are responsive for use on multiple devices and offer options for personalization. The dashboards and toolbars are straightforward, meaning you can learn how to use Shopify as you go.
Shopify also offers access to a Shopify Experts Marketplace, where you can hire an expert to assist with setup, SEO, and more.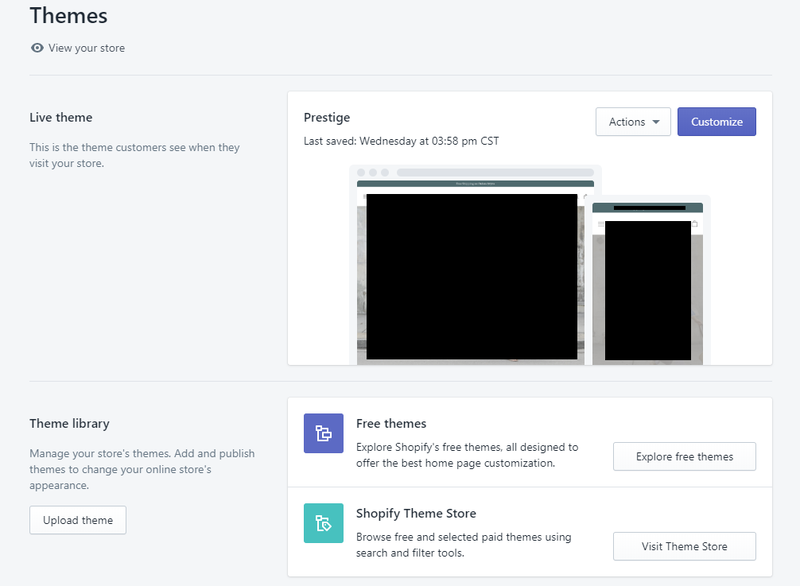 What Amazon offers
Most of the heavy lifting is already done for you. It's as simple as creating an account and completing each setup page, then you can begin selling. Uploading images to product listings can be a bit cumbersome, but once you learn how to use the function it gets easier each time.
With Fulfillment by Amazon, you even have the option of letting them handle shipping logistics.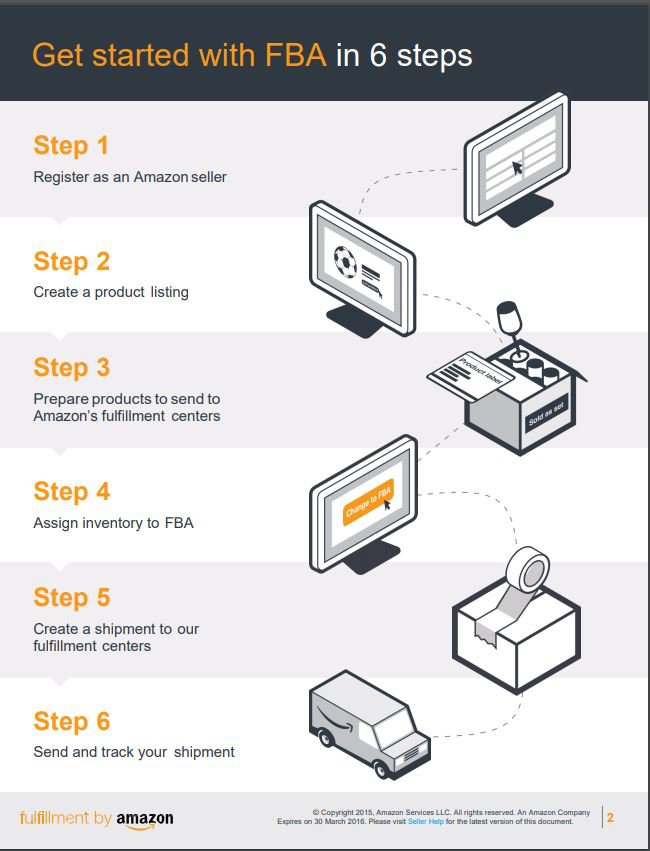 Results
It's a tie. Both are designed to make e-commerce fulfillment painless and as simple as possible.
---
Shopify vs. Amazon: Pricing
Price is often the first thing business owners ask about before investing in software or services. It's important to consider what the pricing for each includes.
What Shopify offers
Shopify offers a reasonably priced, easy-to-use e-commerce platform that requires zero coding experience to establish an online store. Plans start at $29/month for the Basic plan, $79/month for Shopify, and $299/month for Advanced Shopify. Discounts are available with prepaid annual or biennial subscriptions.
There are no additional fees for subscribers using the Shopify Payments feature, but otherwise, a transaction fee is charged for every order placed. Add-on apps carry an additional cost.
What Amazon offers
Individuals and small businesses are attracted to Amazon's low price of $0.99 per unit sold. However, Amazon still charges transaction fees that can range from 8% to 45% based on the product category. Arguably, access to billions of motivated customers means getting your products in front of more people.
Results
It is hard to declare a clear winner based on pricing alone. While Shopify costs less annually and has fewer fees, the built-in customer base Amazon offers means it really comes down to what works best for your business model. If you're willing to put in the effort on the marketing side, Shopify is likely a better choice. Amazon's network means less time marketing because of the ready-made customer base.
---
Shopify vs. Amazon: Integration with Shopify
The beauty of weighing Shopify against Amazon is that you don't have to decide exclusively on one platform or the other. Cross-selling your products by integrating the two platforms allows you to sell Amazon products on Shopify.
What Shopify offers
Not only can you leverage the power of both platforms, but Shopify also lets you integrate any app with a simple drag-and-drop. The platform also has a built-in email feature that enables you to interact with customers based on their shopping behaviors.
What Amazon offers
Amazon makes it simple to integrate a Shopify store into its marketplace. It's important to know that an Amazon/Shopify integration isn't free. You must pay for an Amazon Professional Seller account to use this function, which is in addition to your Shopify subscription. Amazon also offers a suite of Selling Partner API services.
Results
Combining the flexibility and control of Shopify with access to the largest online marketplace through Amazon means you can have the best of both worlds. Integration and apps carry additional expenses but can be worth the investment.
---
Shopify vs. Amazon: Analytics
Getting inside the minds of customers and understanding their buying habits is crucial to growing a successful business. E-commerce software that provides powerful data to guide strategic decisions, inventory, and marketing efforts is a must.
What Shopify offers
Shopify understands the importance of analytics. It allows you to view sales by month, day, or week. It even provides details about periods of time within a day. Quick highlights of conversion rates, add-to-cart data, abandoned carts, and completed checkouts are available. You also have the ability to connect Google Analytics to the built-in platform on Shopify for greater reporting.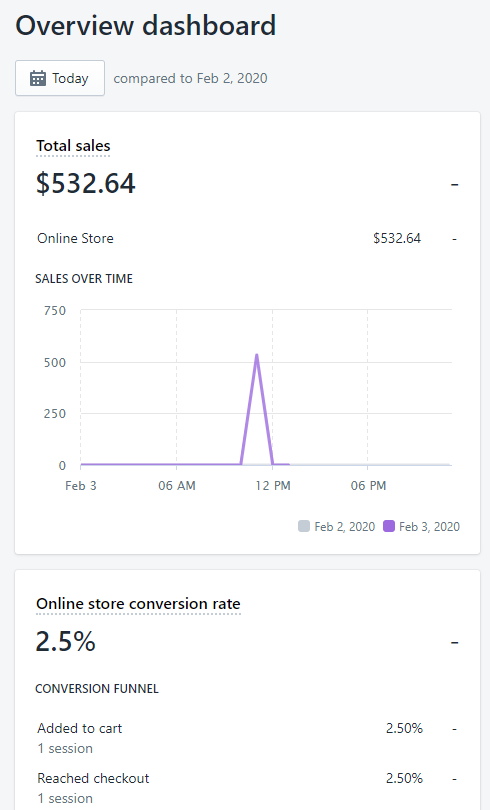 What Amazon offers
Amazon Brand Analytics offers powerful insights into customer buying habits that can inform strategic decisions. It is currently available only to participating sellers who own a brand.
Brand Analytics includes the following reports: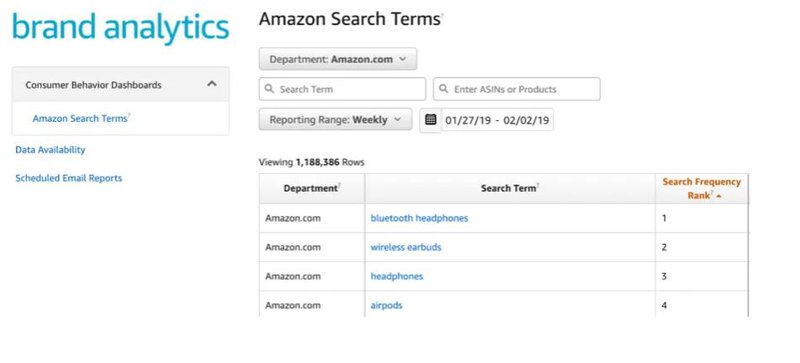 Results
Shopify edges out Amazon on analytics. Shopify users have access to greater data options included in their subscription package.
---
How They Compare: Shopify vs. Amazon
| | Shopify | Amazon |
| --- | --- | --- |
| Reporting and analytics | | |
| Pricing | | |
| Integration | | |
| Control over site | | |
| Design options | | |
---
The big picture
Shopify and Amazon are the top two choices for e-commerce marketing. Each brings strengths for the fees charged. To determine whether you should be selling on Shopify vs. Amazon, consider your business goals and how much flexibility and control you want.
If you're motivated to do your own marketing, Shopify is the clear winner for you. No coding experience is necessary and reasonable fees make it the ideal choice for business owners looking to maintain control of how they promote their products.
Conversely, if you're looking for instant access to an established customer base, Amazon could be the better choice for you.
Thinking about the amount of time you can devote to promoting your business, how much control you want, and how fast you want to scale up can ultimately help you decide which platform to use.