Shopify is well-known for its e-commerce prowess, but it also offers a POS, or point-of-sale, solution for brick-and-mortar stores. Conversely, Square is known for its solid retail and restaurant POS solutions and less so for its e-commerce abilities.
Both solutions offer online and offline sales capabilities, but which one really shines when it comes to their POS tools for small brick-and-mortar businesses?
This article takes a side-by-side look at both Shopify and Square's POS offerings to help you determine which is the best POS system for your small business.
---
Shopify vs. Square: An overview
Just because both solutions offer POS features doesn't mean that they've been created on an equal footing.
So, how do the systems stack up against one another? Let's begin by looking at what kind of business each solution is designed for.
Who is Shopify for?
Shopify is a leader in the e-commerce space and was specifically designed for use by retail merchants. The solution added POS capabilities in 2013. Shopify is completely decked out to help sellers set up their online stores and process payments, and it can be used by any size of business.
Shopify POS is built around Apple's iOS. There is an Android app, but it's very limited in functionality.
As for Shopify hardware, you don't need to purchase proprietary equipment to process payments. All plans offer a free Shopify card reader to be used with the Shopify POS app, and users can buy retail hardware kits that include card reader docks, stands, and mounting kits.
Who is Square for?
Square is a free mobile POS app that processes payments and offers a huge array of strong features, such as sales reporting and multi-location management. The system is designed for small and mid-sized businesses, and merchants can sell from anywhere with a centralized POS system.
In terms of equipment, Square's POS hardware selection includes POS terminals, receipt printers, barcode scanners and more at a cost, but users get their first Square card reader for free.
Users have flexibility when it comes to what devices they want to operate the system on since Square permits "bring-your-own-device" plans.
While the Square POS system supports many types of businesses — from restaurants to coffee shops, and boutiques to farmer's market vendors — it also offers both a dedicated retail POS system and a POS system exclusively for restaurants.
---
Shopify vs. Square: Features
Shopify and Square each have their core strengths, but how do they compare in terms of POS features? Let's take a look at what each solution has to offer.
What Shopify offers
Shopify's POS solution is built to seamlessly sync with its e-commerce platform and can also be used as a standalone tool.
The solution offers an array of solid features, including:
Inventory management
Sales analytics
Employee management
Customer management
Multi-location management
Offline mode (does not support credit card payments)
Users can also access new "social-distancing" features for brick-and-mortar retail stores, such as curbside delivery.

What Square offers
Square's free POS app offers an extensive list of robust features:
Inventory management
Customizable dashboard
Sales analytics
Offline payments mode (including credit card processing)
Advanced reporting
Multi-location management
Virtual terminal
Customer management
Though Square's inventory management feature might not prove powerful enough for those working with high-volume inventory operations, the solution does offer a substantial array of features for a free app.
Merchants who want to amplify their store can also upgrade to more advanced POS features, such as customer loyalty, gift cards, email marketing, team management, and payroll.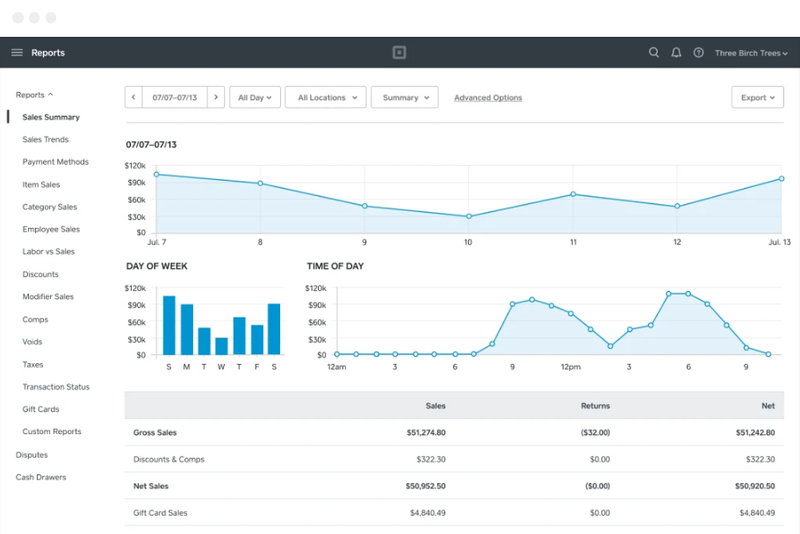 Results
This was a close call, but for features such as its offline credit card payments mode and customizable dashboard, Square takes the features round.
---
Shopify vs. Square: Support
The quality of customer support a vendor offers is extremely important when it comes to running a business and choosing a POS system. How do Shopify and Square stack up in the support category?
What Shopify offers
Shopify's customer support options receive top marks.
Not only do all plans come with 24/7 support via email, chat, and phone, but you can also talk with their experts about sales management techniques to help grow your business and take online courses in multiple languages on topics like how to find customers and source your products.
Users can also access an extensive knowledge base and Shopify community for troubleshooting and queries and use migration tools for transferring products and customers from a previous POS system.

What Square offers
Square's customer support options are just OK. There's an online knowledge base full of troubleshooting articles, a community forum, email support, and, of course, phone support.
However, Square's phone support is only offered from 6 a.m. to 6 p.m. Pacific Time, Monday through Friday. Also, Square does not offer a live chat feature.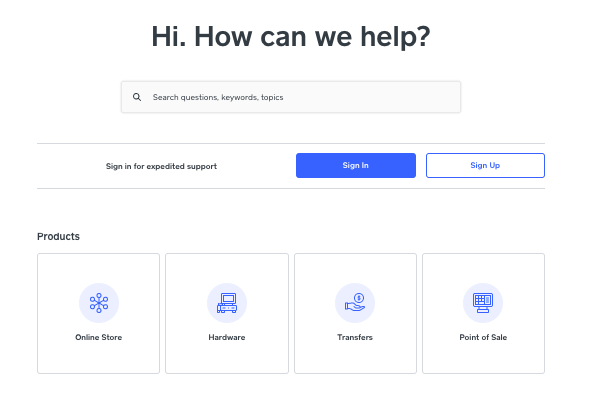 Results
There's very little competition in this category. Square doesn't offer live chat, and it only operates a phone hotline from 6 a.m. to 6 p.m. Pacific Time from Monday through Friday.
Shopify wins this round with its 24/7 support via email, chat, and phone offered to all pricing plans.
---
Shopify vs. Square: Ease of use
A sophisticated yet simple POS system is likely on the mind of almost every small business owner. Let's see which system excels in the ease-of-use category.
What Shopify offers
Shopify's "smart grid" view gives users access to their most-used apps, discounts, and products, which is a game changer for busy merchants. Plus, if you're operating an e-commerce store as well as a physical one, all inventory is synced within the system.
Once you open the app, both the front-end and back-end features are very simple to walk through and become acquainted with. Users can access any feature they need within a few clicks from the main dashboard.
The Shopify POS app is available on both Android and iOS for smartphones and tablets.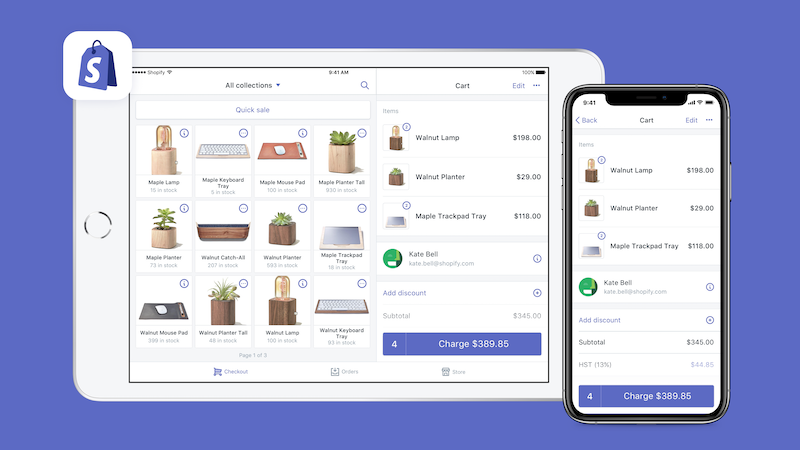 What Square offers
Some of Square's best assets are its simplicity and customizability.
Right from the get-go, Square's main dashboard offers users everything they need to manage their business. Feature widgets can be added and removed using a drag-and-drop action and displayed in any order the user prefers.
The dashboard is uncluttered and user-friendly, and everything users need to manage payments, sales, and other business operations is accessible in an intuitive and centralized system.
Square's POS system is available on both iOS and Android devices and is easy to use even without prior POS experience.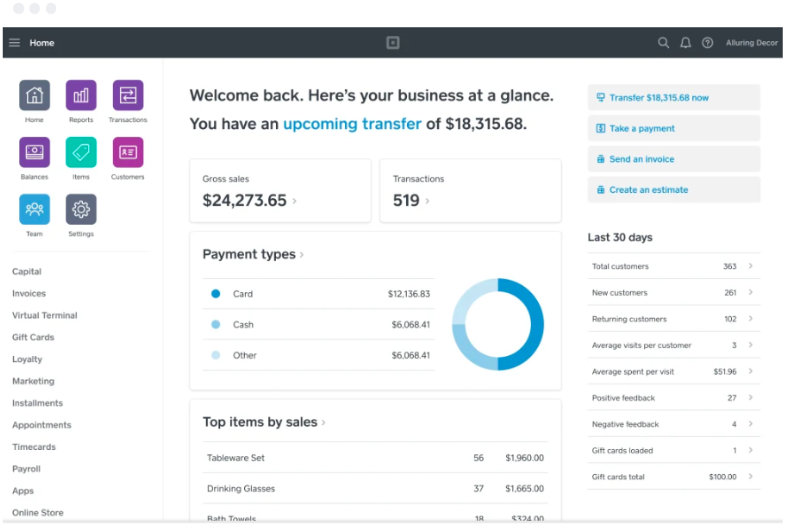 Results
This round is a draw. Both systems are easy to use, with clean interfaces and good compatibility with multiple devices.
---
Shopify vs. Square: Pricing
Both solutions are transparent with their pricing information, which earns a big thumbs-up from The Blueprint. But which one tips the scale to win the pricing round?
What Shopify offers
Shopify offers multiple pricing tiers, which is a great option for businesses that want to scale up when necessary. Here's a breakdown of Shopify fees and pricing bands:
Shopify Lite: This package is $9/month for processing sales on a website or through Facebook only, although users do receive a free chip and swipe reader to process orders in person using a smartphone. There's a 2.7% card reader transaction fee and a 2.9% fee for online transactions.
Basic Shopify: This plan is priced at $29/month, which gives users a Shopify website as well as Shopify POS. Transaction fees cost 2.7% for card transactions and 2.9% for online transactions, plus an additional $0.30 for each online purchase.
Shopify: This plan costs $79/month, and transaction fees drop to 2.6%, plus $0.30 per online transaction and 2.5% alone for card reader sales. Users receive all of the Basic Shopify features, plus five employee accounts, the ability to use gift cards, and up to five separate locations.
Advanced Shopify: This package comes in at $299/month, and the transaction fee is reduced to 2.4% for both online and card reader sales, plus $0.30 per online transaction. The plan offers 15 employee accounts, advanced reporting capabilities, and up to eight locations.
Shopify Plus: This package is built for high-volume sales. Those interested will need to directly contact Shopify for a personalized quote.
What Square offers
In lieu of monthly subscription charges, Square charges flat-rate fees for processing each payment transaction.
Here's a quick breakdown of Square's processing fees:
Square credit card processing costs 2.6% of the total transaction value + $0.10. This includes all swiped, dipped, and tapped payments (including mobile payments).
Keyed transactions cost 3.5% of the total transaction value + $0.15.
Online payments cost 2.9% of the total transaction value + $0.30.
Square also provides the first card reader free of charge.
Results
Shopify and Square offer pretty similar rates for online and offline payment processing, but Shopify becomes a lot more expensive when you factor in their monthly fees. For this reason, given its reasonable and flat-rate pricing structure, Square wins this round.
---
Shopify vs. Square: Integration with other software
Integrations help merchants customize their business operations. Here we look at which solution has the best integrations.
What Shopify offers
Shopify's app store hosts thousands of available integrations for users to take advantage of. Some examples include:
Order and shipping apps
Inventory management software, such as TradeGecko
Customer support tools
Email marketing tools
Product bundling tools
Dropshipping solutions
Staff management tools
Users can also create an app using Shopify's own API, or application programming interface.
What Square offers
Square offers a large number of integrations with a range of business software, including but not limited to:
Accounting software, such as QuickBooks and Xero
E-commerce software, such as Magento
Email marketing software, such as MailChimp
Scheduling software
Form-builder software
Delivery and order software
Marketing and analytics software
The solution offers a large catalog of integration choices, which are great for centralizing business operations, and users can also establish their own Square integration through its API.
Results
This last round comes down to numbers. While both solutions offer a vast array of integrations, Shopify has more apps to choose from than Square.
---
How They Compare: Shopify vs. Square
| | Shopify | Square |
| --- | --- | --- |
| Inventory management | | |
| Advanced reporting | | |
| 24/7 phone support | | |
| Multilocation management | | |
| Customizable dashboard | | |
| Customer management | | |
| E-commerce | | |
| Free virtual terminal | | |
| Free mobile card reader | | |
---
In the battle of Shopify vs. Square, it's more or less a draw
Shopify does receive a slightly higher score for its great customer support options and number of available integrations, but on all other fronts, Shopify and Square level out.
The great thing about both solutions is that they play to their own strengths.
They're both capable of serving both online and offline stores, yet Shopify is a stronger option for businesses which predominantly sell online with a smaller offline presence, while Square is a quality option for merchants whose primary focus is their brick-and-mortar store and who have a smaller online presence.
To learn more about each solution's strengths and weaknesses, check out The Blueprint's full Shopify POS review and our Square review.