In online marketing, users go through several stages before they're ready to buy a product. The classical AIDA model charts such a progression: awareness, interest, determination, action. The process occurs over a period of time and series of interactions. We call it the user journey.
In an impulse buy, the user buys the product the first time they see it. Large impulse buys are rare. Users research, analyze and need information to consider the product before they act.
The longer the user journey, the more elaborate a web setup you need. Your e-commerce business setup will depend on the functionality you need to assist the users along their journey.
Usually, you need an elaborate and smooth e-commerce setup allowing you to inform, educate and illustrate your products before the user is ready to buy. WordPress and Shopify are flexible solutions that can provide you with varying degrees of information, but much less e-commerce functionality.
---
Website builder vs. blogging platform: What's the difference?
WordPress is a content management system (CMS). It exists in two wrappings; a hosted version on WordPress.com and the WordPress CMS version on wordpress.org.
WordPress had its origins as a blogging platform, but many buyers choose it today to build websites in which blogging is not the primary function. Its core system of templates, pages, and posts allows users to focus on adding content once the initial set up is made.
WordPress has created an open platform, where a developer community provides plug-ins and themes, both for free and paid. They add functionality to WordPress sites for tracking, automation, marketing, or in our case, e-commerce.
Shopify is one of the best e-commerce platforms in the market. It is similar to WordPress in that it's an open platform where developers provide apps and themes. Shopify's core functionality is e-commerce.
It gives users the ability to add products, prices, and sell via a store. Its store builder can produce a good-looking, easy to build e-commerce store. Its themes are the layout of the store, and the apps are used to add more functionality for e-commerce management or marketing your products.
A Shopify online store also has built-in blog functionality.
---
What it looks like to use Shopify for your online store
Building an online store with Shopify is straightforward. You focus on your products and create the surrounding contents later. Let's take you through the steps.
Step 1: Prepare your product information
Your first step is to add products. Before loading your products into Shopify, prepare all your product information: titles, descriptions, images, prices, and shipping information.
Step 2: Set up your Shopify account
Setting up an account on Shopify is fast and easy. It's also free for the first 14 days which should be sufficient to set up your store if your products are ready. The Shopify interface is straightforward and easy to use.
The dashboard contextually adapts to whatever stage you're at, and you'll find plenty of training material to assist you.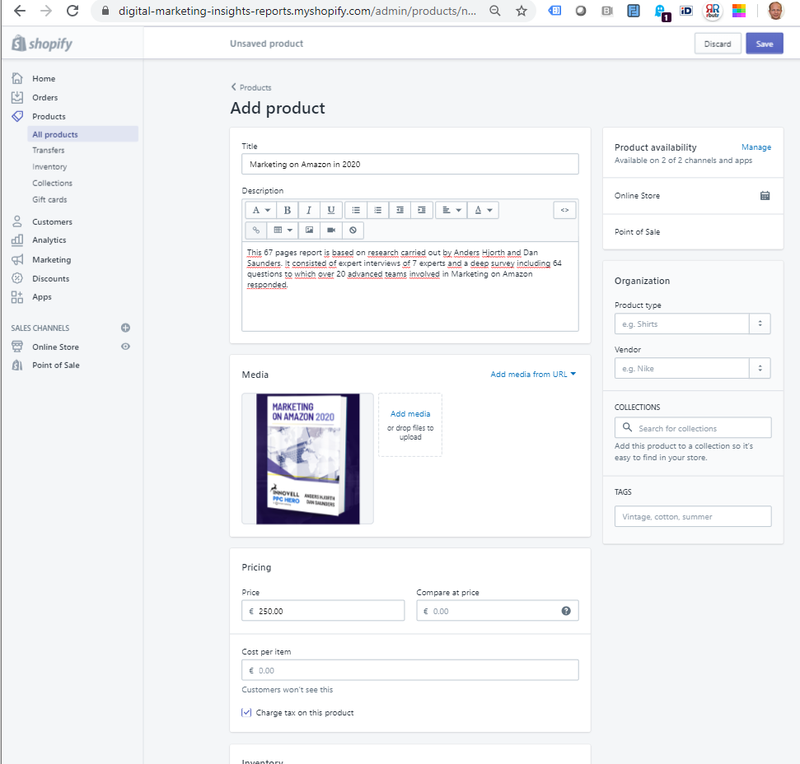 Step 3: Build your online store
With a few products entered into the system, you're ready to use the Shopify website builder to design your online store. You build Shopify websites by picking a theme which is a preconfigured store template.
You can choose from a selection of free Shopify themes, or a vast library of paid commercial themes from Shopify partners providing additional functionality and more elaborate design.
Step 4: Finalize settings
When you're happy with your store design, finalize your e-commerce settings. This includes things such as the payment gateway, tax information, shipping and delivery details, and selecting your domain name and security options.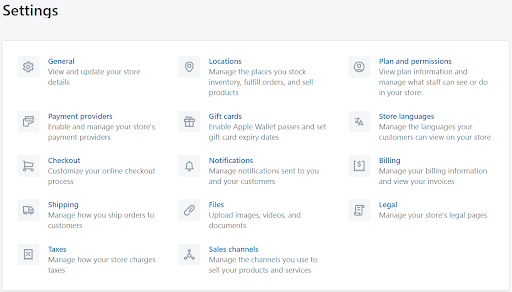 Step 5: Launch
Everything is set, and you're ready to launch. Shopify provides several extensions and integrations which can help your marketing. One important one, blog functionality, allows you to publish content. The blog is integrated with the online store.
---
What it looks like to use WordPress CMS for your online store
WordPress is first and foremost a content management system (CMS). However, it's a very flexible one, allowing you to build your site from scratch. WordPress is beyond a doubt the most popular website builder technology in the market.
It powers over a third of websites according to W3Techs, based on a crawl of 10 million websites. Let's look at building an online store using WordPress.
Step 1: Prepare your design and contents
When setting up WordPress, you need to decide on the design and content. One of the main steps is theme selection. You can choose between free and commercial themes. Choices range from a framework for a site which you customize, or a fully-fledged website where you only adjust images and text.
The CMS approach to website development is based on templates (themes), pages, and posts. The navigation menus are separate from the page structures, which enables you to manage each element separately, and of course, no coding required.
Step 2: Set up your website
You'll use the hosted version of WordPress or the free version for which you provide your own website hosting. WordPress costs come out about the same in both cases, as the free version will incur hosting costs, and possibly some technical assistance.
Besides the theme choice, you probably need some plug-ins to provide the functionality you require. Plug-ins are similar to themes in that they can be free or require a paid license.
Step 3: Choose your e-commerce plug-in
The most important plug-in for an online store site is the e-commerce plug-in. The WooCommerce plug-in is the most popular e-commerce solution for WordPress. The basic functionality comes for free.
It provides basic features you'll need for your store: product management, order management, client management and coupons. BigCommerce and Ecwid also provide options. You can even use Shopify to provide e-commerce functionality to your WordPress site.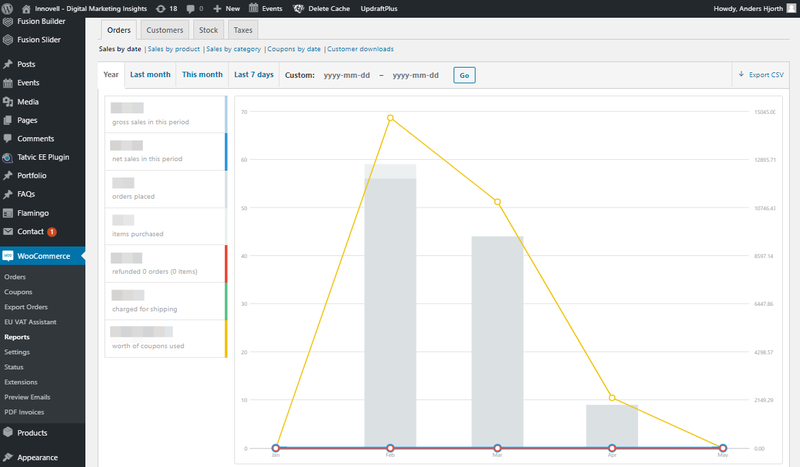 Step 4: Enter your product information and sales settings
In WooCommerce, you'll enter all your product information and sales settings: titles, descriptions, images, prices and shipping information. You will also need to integrate the plug-in with a payment gateway.
Step 5: Launch
Once your website is ready and your e-commerce plug-in functional with your products, your site is ready to launch. You can use the native blog functionality of WordPress, and you manage products in the same way as you manage pages inside the tool.
---
Should you be using Shopify or WordPress to create your online store?
Do you already have a website and want to add ecommerce functionality? Or are you starting your online venture from scratch?
Perhaps you have a powerful presence on Facebook and simply need a site where the user can finalize their purchase? Or will the user need to go through research on your website before finally buying?
Your website's main function in the user journey can have an important impact on what platform you should choose for your e-commerce store.
In essence, choosing between WordPress and Shopify comes down to whether you need an e-commerce platform with a blog extension, or a blogging platform with an e-commerce extension.
You should use an e-commerce platform like Shopify if:
If you have a well-structured product catalog with many references difficult to manage manually, then Shopify is ideal for you. It's also a great choice If you are starting out and want to launch a shop quickly.
At the other end of the spectrum, if you have advanced e-commerce requirements, Shopify can also be a solid solution thanks to the large developer community and the many available apps and integrations. You'll have plenty of growing room with Shopify too as your requirements become more complex.
You should use a CMS like WordPress CMS if:
To add e-commerce functionality to your existing WordPress website, enhance your site with a plug-in like WooCommerce. And if the customer journey for selecting your product is long and information-intensive, it may make sense to build an e-commerce CMS on the WordPress platform.
WordPress e-commerce also has a strong developer community, and you will find the technical support you need to conduct e-commerce via the WordPress platform.
---
How They Compare: WordPress vs. Shopify
WordPress is the CMS leader, and Shopify is the leading e-commerce platform. Each has website builder functionalities. They're different but equally good, and both provide access to a broad range of themes, apps, plug-ins, integrations and a user community who can help and support you, either for free or as a paid service.
| | WordPress | Shopify |
| --- | --- | --- |
| E-commerce functionality | | |
| CMS functionality | | |
| Website builder | | |
| Themes | | |
| Extensions and integrations | | |
---
A solid platform for your e-commerce adapted to your needs.
Selling online is the delicate process of making users aware of your products, informing and persuading them of their value, and finally, getting them to buy. WordPress and Shopify have their strengths in different areas of that process, although they can both do it all.
Remember, the more layers of themes, plug-ins or apps you add to your platform, the more complex it becomes. If you want strong e-commerce functionality and a little blogging around it, go for Shopify.
If your plan is to publish a lot of content and you also want users to buy from your website, start with WordPress.