Small businesses often shy away from investing in software because they fear their profit margins aren't large enough to warrant the cost of the technology. These days, however, some of the best POS system vendors offer free versions of their software, making software accessible to even the smallest merchants.
If you're looking for a POS solution that's both free and offers a range of solid features, chances are you've already come across both ShopKeep and Square. In this review, we'll go through each solution's pricing, features, and more to help you determine which POS system is right for your business.
---
ShopKeep vs. Square: An overview
ShopKeep is a POS system that was created in 2008 by a small retail business owner who was fed up with the high cost and unreliability of legacy software. As a result, it's a retail-focused tool for small and mid-size stores, both brick-and-mortar and online.
Square's main function is as a free mobile POS app to help merchants process card payments. However, Square is a well-rounded solution with many additional features you'd expect to see in a POS solution. Square offers two separate solutions: Square for Retail, and Square for Restaurants, and both offer specialized industry features.
Who is ShopKeep for?
ShopKeep is geared towards small to mid-size retail and food and beverage based businesses, particularly in the speciality vendor and quick-service categories. The software can be customized to fit a range of business types, such as pet stores, bakeries, gift shops, ice cream shops, and more.
There's a limit of 3,000 item buttons on its iPad register, which means the solution is not ideal for larger businesses with a lot of inventory. For POS hardware, the vendor offers card readers, receipt printers, cash drawers, and barcode scanners.
Who is Square for?
Let's look at what Square is and where it fits.
Square is an excellent choice for small and mid-size businesses, and new businesses who are looking for a low-cost POS solution. The Square retail app is free to use, and you don't need to invest in any hardware. In fact, Square customers are able to take advantage of Square's "bring-your-own-device" philosophy and choose which device to use.
The solution supports a variety of business types, from coffee shops and boutiques, to restaurants and farmer's market vendors.
In terms of hardware, Square offers proprietary POS terminals, receipt printers, barcode scanners, card readers, cash drawers, and more.
---
ShopKeep vs. Square: Features
ShopKeep and Square each offer very similar POS features, but how do they compare? Let's take a look at what each solution has to offer.
What ShopKeep offers
ShopKeep offers an out-of-the-box system with strong features that make it ideal for running a retail or food-based business. Let's examine some of its notable features.
Back office
The Back Office acts as ShopKeep's user portal where businesses manage all operations such as POS inventory management, managing customers and staff, tax settings, and invoicing. It can access a range of POS reports and POS data and provide real-time reporting.
ShopKeep's reports give insights into real-time sales figures, customers, inventory levels, peak sales time, and logged employee hours.
Inventory management
Besides the common inventory management features, ShopKeep offers a matrix inventory feature which allows users to create a parent item and add variants. For example, if you sell a sweater that's available in several colors, users can view one item with multiple variants, instead of many separate items.
If you run a food-based business, ShopKeep tracks inventory items from raw goods and creates assemblies of the items. For example, if you sell a hamburger, the system deducts all of the individual ingredients included in the order from inventory levels.

ShopKeep also includes other robust features:
Customer marketing
Employee management
Offline payments
Loyalty program
E-commerce support
What Square offers
Square's free POS app offers a comprehensive package of features. We'll go through some of its best features below.
Dashboard
Similar to ShopKeep's back office, Square's dashboard is the life force of the POS solution. It's a central hub where users manage all business operations related to sales, customers, and employees. The dashboard is highly customizable, and allows users to drag and drop feature widgets to the main page, so they can personalize the software to their business needs.
Inventory management
Square's inventory management feature lets users import existing stock using a CSV spreadsheet, adjust stock levels, and sync online and in-store inventory. Users can also set up low stock alerts. Square's inventory tracking isn't as advanced as its competitors, but is very powerful for a free app.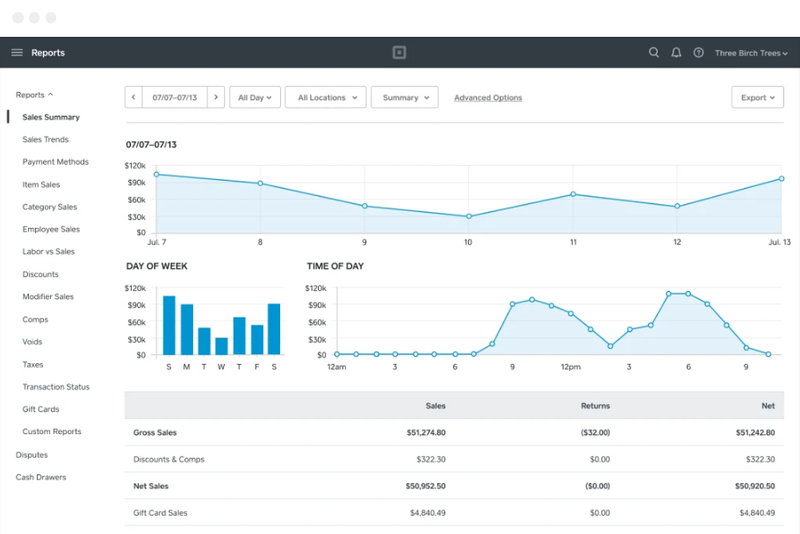 Square also includes other strong features:
Sales analytics
Offline payments mode (including credit card processing)
Advanced reporting
Multilocation management
Customer management
Results
This one's a draw. Both systems offer a range of almost identical POS features.
---
ShopKeep vs. Square: Support
When considering POS software, you need to know the level of customer support a vendor offers. If a system issue stops you from doing business, how quickly can you expect them to help you get back up and running?
What ShopKeep offers
ShopKeep offers a stellar level of support. Most importantly, the solution offers 24/7 live chat, which is an excellent benefit for users. The solution also offers email and text support, and an online knowledge base brimming with useful documentation.
There's also a ShopKeep Small Business Hub blog, which delivers great advice for small business owners on topics such as small business tax reductions and sales and marketing.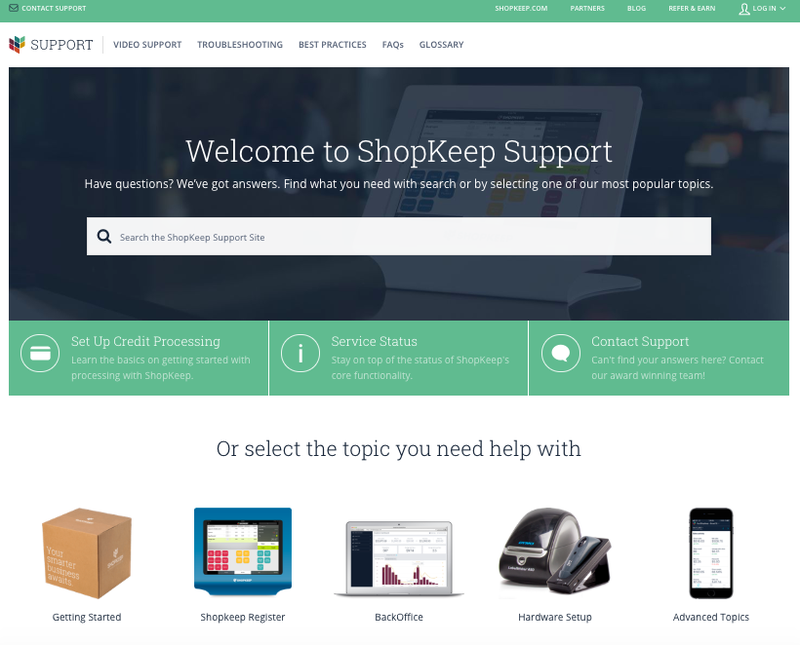 What Square offers
There's not much to say about Square's customer support options. They offer a knowledge base full of troubleshooting articles, a community forum, and email and phone support. Unfortunately, phone support is only available from 6 a.m. to 6 p.m. Pacific Time, Monday through Friday, and no live chat.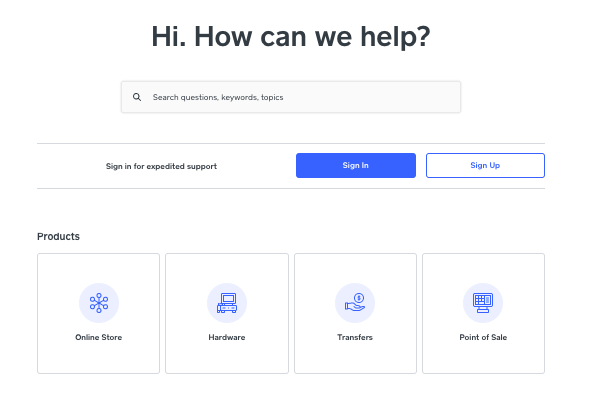 Results
ShopKeep beats out Square in this round. In fact, Square languishes behind ShopKeep's 24/7 live chat option.
---
ShopKeep vs. Square: Ease of use
Most merchants want a system that's efficient and simple enough they can set up themselves with minimum fuss, one which allows them to onboard staff quickly.
What ShopKeep offers
ShopKeep offers an intuitive, clean, modern POS system that's easy to get to grips with and onboard staff. New users are guided through the system's setup, with detailed explanations on how to use the system's features.
ShopKeep also offers training and onboarding sessions to customers, which are included in the paid packages, and offered for a small fee for more basic plans.
ShopKeep is available on both iOS and Android devices.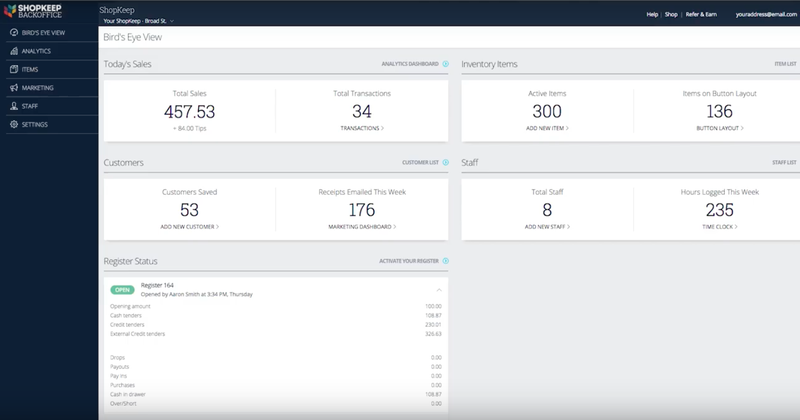 What Square offers
The Square retail app's level of customizability, coupled with a modern and uncluttered user interface, makes the system not just easy, but pleasant to use.
Its central hub, the dashboard, gives users complete control over all business operations and how they want to use the software. Users can add or remove as many widgets from the main screen as they like, and the Square register is also intuitive.
Square's POS system is available on both iOS and Android devices, and is easy for users to learn, even without prior POS experience. Its large list of integrations makes it easy for users to connect all of their business software.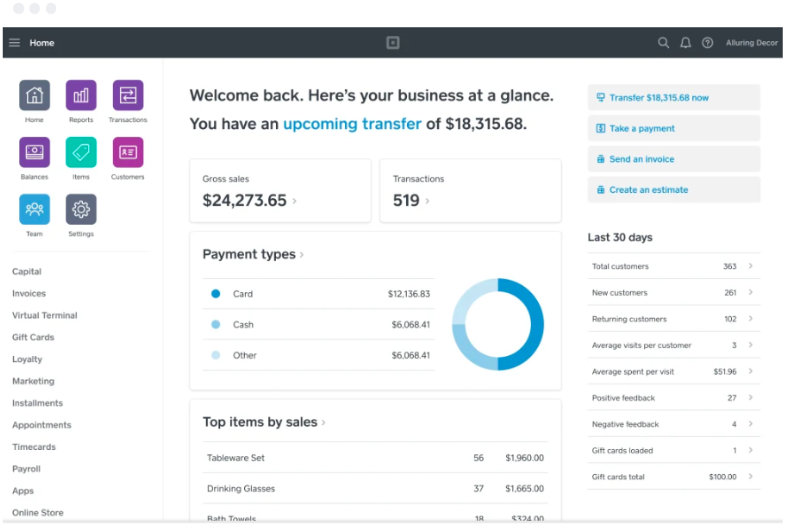 Results
This round's a tie. Both systems are easy to use, with modern, uncluttered interfaces, and both offer compatibility with multiple devices.
---
ShopKeep vs. Square: Pricing
It can often be confusing to decipher POS software pricing. Some vendors charge you on a monthly basis plus payment processing costs, while others charge you for the hardware and certain features.
Your business model will dictate which POS software you choose. Below, we go through each solution's pricing model to help you compare.
What ShopKeep offers
ShopKeep offers customers pay-as-you-go monthly subscriptions, with no obligatory contract. However, there's no fixed-rate pricing on offer, which means their pricing varies from business to business.
You'll need to call the ShopKeep sales team directly to obtain a quote. ShopKeep offers pricing quotes based on each individual business's needs, and you'll be asked a variety of questions to determine which features you'll require. Additionally, in terms of ShopKeep credit card processing rates, the vendor doesn't publicize these either. New customers receive their first ShopKeep card reader for free.

We like the idea of customizable software packages and pricing, but we don't like the lack of ShopKeep's pricing transparency.
However, the free plan for small businesses supports a single register, single staff member, and a single location, and includes unlimited inventory and sales reporting. If you use their free plan and begin to process more than $5,000 per month, you'll need to upgrade your account.
What Square offers
The Square app is free to use, there are no monthly fees applied, and you don't need to process a certain amount of sales before you can begin using the software. Your first card reader also comes for free.
Here's a quick breakdown of Square's processing fees:
Normal transactions cost a flat rate of 2.6% + $0.10
Keyed transactions are charged at 3.5% + $0.15
Online transactions will cost you 2.9% + $0.30.
The free app includes robust features such as inventory management, employee management, and sales reporting.
Results
There's hardly any contest here. Square beats ShopKeep in this round for its simple pricing model and well-publicized processing rates, combined with robust (and free) features.
---
ShopKeep vs. Square: Integration with other software
Your POS system is likely to be the most important piece of software you use on a daily basis, but it also needs to play nice with other systems, such as inventory management, e-commerce, and accounting.
What ShopKeep offers
ShopKeep offers integration with accounting solution QuickBooks, email marketing tool MailChimp, and e-commerce solution BigCommerce. However, looking at ShopKeep's own FAQ page, it appears these are the only third-party integrations available.
ShopKeep offers its own integration add-ons, such as ShopKeep eCommerce and ShopKeep Gift Cards.
What Square offers
Square's App Marketplace offers a huge laundry list of third-party app integrations — so many it's impossible to list them all here.
Some of the most notable integrations include content management solution Wix, MailChimp, Zoho Books, and WooCommerce.
Square also offers in-house integrations for payroll, marketing, and a loyalty program.
Results
There's little contest in this category. Square takes this round for its huge App Marketplace. Given the importance of integrations for POS solutions, ShopKeep's offering is more than a little disappointing and limits a merchant's ability to pad out their POS to match their business requirements.
---
How They Compare: ShopKeep vs. Square
| | ShopKeep | Square |
| --- | --- | --- |
| Inventory management | | |
| Large integration library | | |
| Advanced reporting | | |
| 24/7 Phone support | | |
| Customizable dashboard | | |
| Customer management | | |
| Free online store | | |
| Free mobile card reader | | |
---
It's super close, but ShopKeep narrowly edges out Square
To be perfectly honest, there's almost nothing in it when it comes to evaluating both solutions as a whole. In our full reviews of each solution, ShopKeep received a 7.8/10, while Square received a 7.6/10.
Whereas Square's customer service could be vastly improved, the same could be said for ShopKeep's range of integrations and, in part, its pricing model, which effectively balances the two systems out.
Both are excellent POS cloud solutions, and choosing between them will ultimately come down to what you value more in a POS system. Square offers a large range of robust features for free, a simple payment processing model, and a wide array of integrations, whereas ShopKeep also offers a more limited free version, but offers 24/7 customer support and equally great features.
For insight into ShopKeep and Square alternatives, take a look at our roundups of the best retail POS systems, and the best POS systems for restaurants.