Those in the trucking industry are accustomed to regular changes in hours-of-service regulations. This state of flux, however, can confuse those in the field service, fleet, and freight industry who need to comply with these rules to avoid penalties and ensure the safety of drivers.
In 2020, the Federal Motor Carrier Safety Administration (FMCSA) changed the rules regarding the short-haul hours of service exemption to offer drivers more flexibility while maintaining safety standards.
In this article, we go through the new FMCSA short-haul exemption regulations (that extend beyond hours-of-service rules) and cover best practices for qualifying and complying with the exemption.
---
Overview: What is the short-haul exemption?
The short-haul exemption governs how some fleet companies might be exempt from using electronic logging devices (ELDs) to track their drivers' activities. Additionally, drivers who use the ELD timecard exemption are not required to keep records of duty status (RODS). These rules are intended to govern the hours of service of short-haul drivers who drive shorter distances and for fewer hours.
ELDs were introduced by the FMCSA in 2017 to "help create a safer work environment for drivers, and make it easier and faster to accurately track, manage, and share records of duty status (RODS) data."
Once a driver no longer qualifies for the ELD short-haul exemption, they must both keep RODS and use an ELD.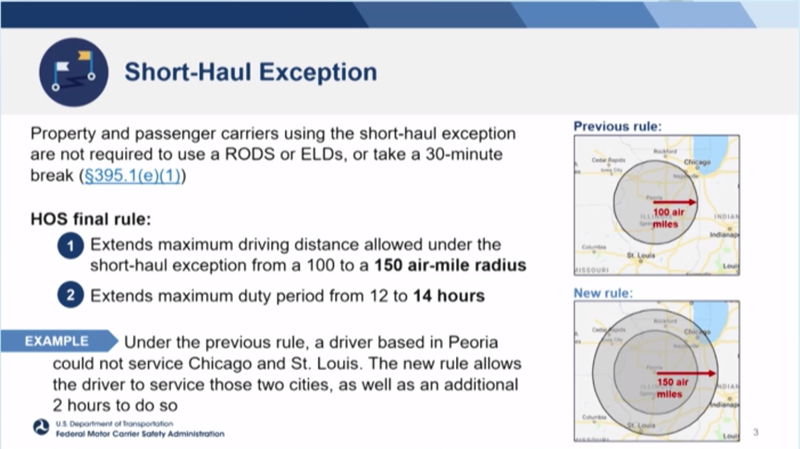 ---
Requirements for the short-haul exemption
To qualify for the short-haul exemption, drivers must meet certain requirements. Below, we go through the short-haul requirements that are necessary to meet the exemption rules.
Your employees must drive no more than 11 hours at a time within a 14-hour period
Drivers must adhere to a maximum driving duty period of no more than 11 hours within a maximum 14-hour shift and must take a 30-minute break after eight hours of driving.
When driving in unforeseen adverse weather conditions (snow, sleet, fog, and other unfavorable weather conditions) or when drivers encounter unusual road or traffic conditions (such as an oil spill), there is also a 16-hour short-haul exemption. This means that the driving window can be extended by two hours to accommodate for adverse weather and traffic or road conditions.
Your employees must only drive within a 150-air-mile radius from their starting position
Drivers are not allowed to follow routes that extend past a 150-air-mile radius of their starting position. An air mile is classified as the distance in a straight line between two points. Many companies use field service management software or other fleet technology solutions to help them adhere to air-mile distances and qualify for the short-haul exemption.
Your employees must have at least 10 consecutive off-duty hours between shifts
Drivers must have at least 10 consecutive hours off duty before starting their next driving shift.
The company must maintain driving time records
For your drivers to qualify for the short-haul exemption, you must, as a company, keep records of your drivers' working hours. These records must include:
The time each driver reports for duty every day
The total number of hours each driver is on duty every day
The time each driver goes off duty every day
Total driving time for each driver for the previous seven days
These records must be kept for six months and must reflect that you and your drivers are adhering to the hours-of-service regulations. These time records are not the same as RODS, insofar as it is the company that must keep the records as opposed to each individual driver.
Your employees must return to the same location where they began the journey every day
Drivers must begin and end their working days at the same location. Regardless of the distance, if your drivers begin their duty at your facility and end it at another, they automatically do not qualify for the short-haul exemption.
This rule definitively excludes long-haul drivers who, by definition, do not begin and end their journeys in the same place.
---
3 best practices for qualifying for the short-haul exemption
If you don't currently qualify for the short-haul exemption or want to ensure that you can maintain your current exemption, we've compiled a few best practices for you to follow.
1. Reconfigure current driving routes
If your short-haul drivers don't currently meet the 150-air-mile radius requirement, you can reconfigure the routes your drivers take to ensure that their journeys do not extend outside of this radius.
2. Readjust workloads to conform to shift requirements
If you meet all of the other short-haul requirements except the regulation governing driver shift hours, you can often tweak your drivers' schedules to ensure you meet requirements.
Using a worker scheduling tool, you can easily pinpoint where adjustments can be made to shorten drivers' shifts and balance the workload by creating schedules where none of your drivers need to work beyond the 11-hour limit.
3. Use tracking software even if you meet the exemption rules
ELDs are often seen as an expensive requirement that only add to the amount of record-keeping in the industry. This is why many companies seek to comply with the short-haul exemption rules.
However, ELDs can be a valuable tool for you and your drivers. For example:
ELDs record a massive amount of data that can be used to optimize route and shift planning, in turn reducing mileage and saving money spent on fuel.
ELDs provide data on driver behavior, which can be used as evidence in the event of an accident.
In case of doubt, ELDs can be used as evidence of compliance with the short-haul exemption rules.
---
Stay up to date with FMCSA short-haul exemption rules
As you know, FMCSA rules are prone to change, and the best way you can stay informed and ensure short-haul exemption compliance is by keeping abreast of the regulations. Your drivers, too, should be informed at all times of the current rules to properly adhere to regulations and should receive regular training to make sure they're fully aware of requirements.