When a user signs onto your learning management system (LMS), you want them to focus on learning your material, not the software.
SkyPrep LMS gets that. In the increasingly crowded LMS training industry, SkyPrep is setting new standards in user-friendliness. Its clean, intuitive user interface is a pleasure to use and can be customized to suit your brand, even with the Core (basic) package.
The software does everything you need to train employees, educate customers, or sell online courses. Their interface that does the heavy lifting for you.
---
Who is SkyPrep LMS for?
SkyPrep LMS is ideal for businesses that provide employee training online and create courses for partners and customers. Its mobile-friendly, cloud-based platform supports in-person classes, webinars, and asynchronous learning, including downloading courses to complete offline. This is ideal for businesses with remote workforces with spotty internet access.
Unlike some learning management systems, SkyPrep is not tailored for academic institutions. It was created with businesses in mind, and the result is a highly focused, functional LMS.
Monthly pricing is competitive, but probably out of reach for very small businesses. You need a critical mass of users and training needs to justify the investment, which starts at $300 per month with up to 100 users.
---
SkyPrep LMS's features
SkyPrep includes a comprehensive feature set for building custom online training, creating learning paths, and managing users.
Clean, customizable user interface
SkyPrep's user dashboard supports administrators, managers, and content creator roles. Administrators have an overview of existing courses, deadlines, enrollments, and tasks due.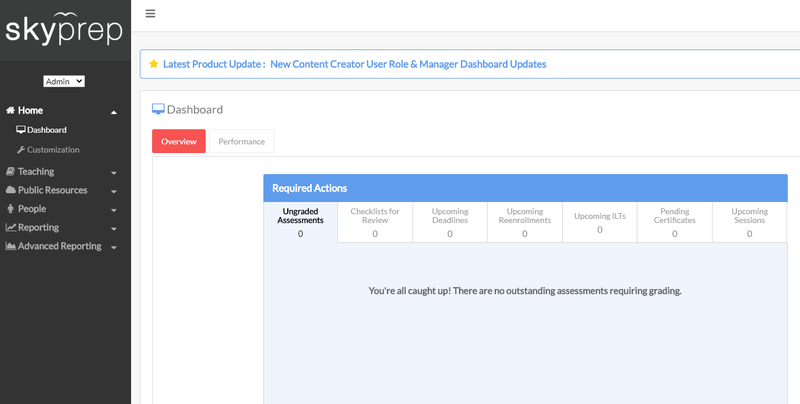 Under Customization, admins can tailor the SkyPrep interface to their brands, a deluxe feature available with all accounts. Simply upload a logo and favicon, dial in your company's colors, and you're done.
You can't customize the learner interface until you reach the Premium tier, however, which does limit its value.
Admins can also create custom course certificates and email notifications from this tab. They can further set parameters for selling LMS classes and tailor information visible only to managers and content creators.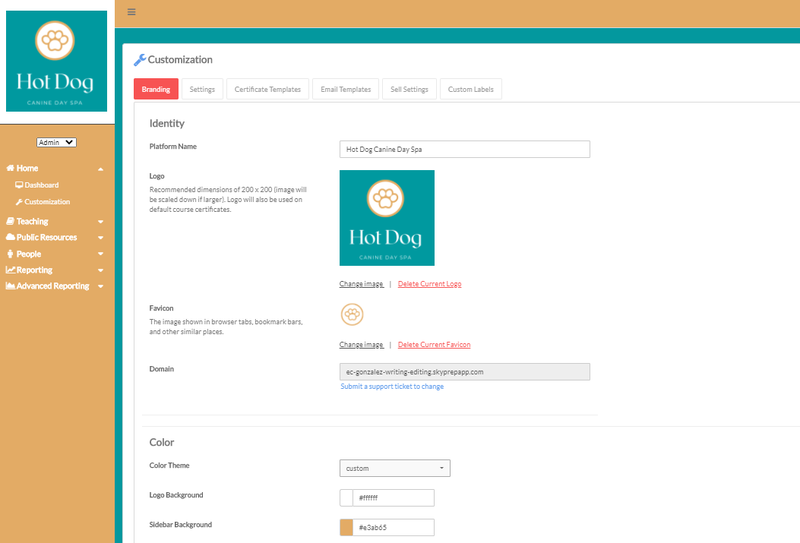 Under the main dashboard Performance tab, admins can track system use by user groups. Simple graphics break down usage by logins, progress toward goals, assessments, and learning paths.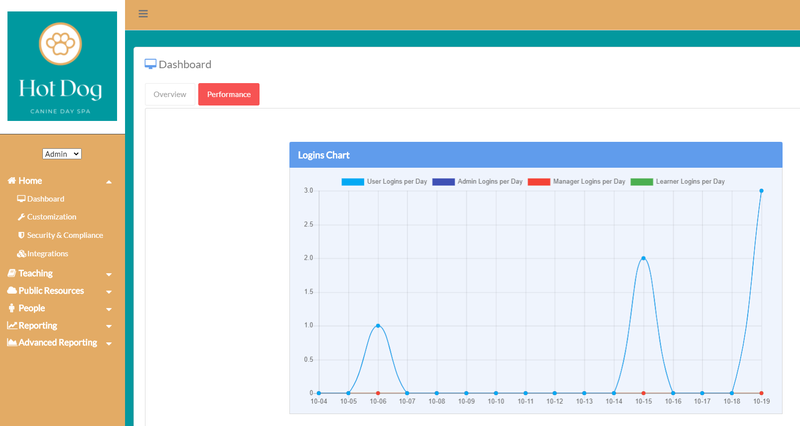 Users can access all platform features easily from the main dashboard and create courses and reports, and manage learners.
Simple course builder and learning paths
The course-building tools in SkyPrep are equally easy to access and use. With a couple of clicks, you can start creating online training programs.
Uploading course materials couldn't be easier. Files can be dragged and dropped, uploaded, and bulk imported into the system. Files can be pulled in directly from Google Drive, DropBox, Box, OneDrive, Facebook, Instagram, and other integrated platforms for quick and easy course creation.
SkyPrep supports a full range of file types, including SCORM, PowerPoint, multimedia, embedded links, videos, and rich HTML.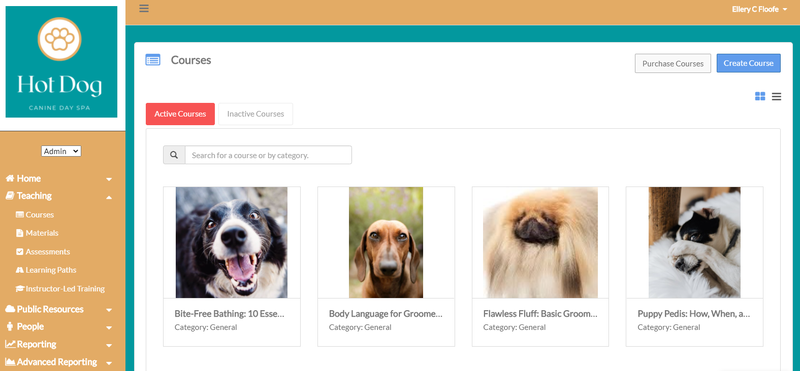 You can sort courses into folders and tag them for search and filtering. You can also share them with different groups, included in a course catalog, and sort them into learning paths.
Thoughtful features at every turn make it easy to set parameters such as course dates, credits, prerequisites, certificates, and more.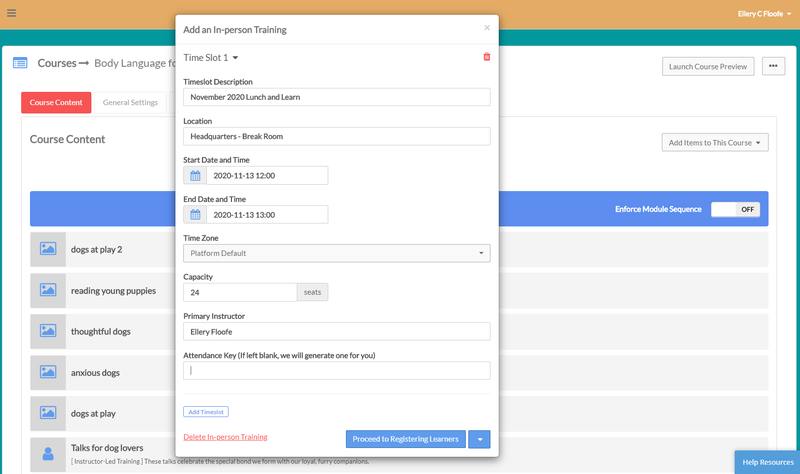 In addition to on-demand training, you can create in-person or instructor-led training (ILT) sessions including live classes and webinars. Once again, it's easy to navigate with clear, intuitive tools for each task.
All of these features make it easy to create rich internal training programs, share courses online with partners and customers, and sell online courses.
Key integrations
SkyPrep connects with a host of cloud-based software platforms and media to provide key functionalities and a better user experience. These include:
Single sign-on through Okta, SAML 2.0, Google Suite, and social media (available with Premium accounts)
Payment for course registration through Stripe, Paypal, Shopify, and other e-commerce platforms
Human resources (HR) software such as ADP and Bamboo HR
Webinar and meeting tools such as Zoom, GoToMeeting, Big Blue Button, and ClickMeeting
External calendars
Ready-made courses through OpenSesame
Content management through Google Suite and Office 365
SkyPrep's own knowledge-sharing platform, Boost HQ
These integrations facilitate scheduling, tracking, and sharing coursework to promote engagement with your offerings.
Assessments and grading
SkyPrep includes features for creating tests, grading them, tracking student progress, and sharing results with participants. Simply click on the Assessments option and start building your tests. Content for exams can also be uploaded from spreadsheets or other existing files.
The system supports multiple choice, true or false, fill-in-the-blank, and written response questions, and grades all but the last question type for you.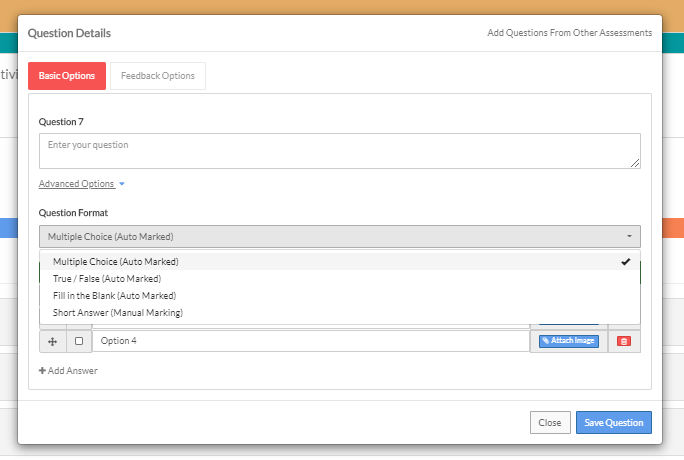 Under Assessments Settings, you can randomize questions, set time limits, limit permitted attempts, and lock users out of the course during testing. You can also decide what feedback to provide learners upon completion.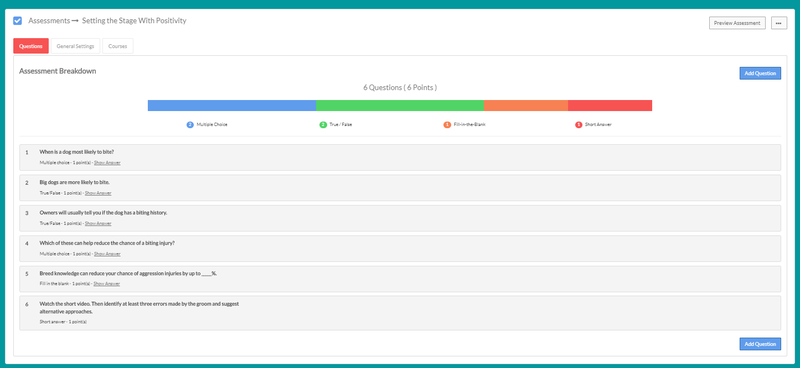 Once you create a test, it's easy to assign it or remove it from courses. You can also reuse questions in other tests.
Automated emails and notifications
SkyPrep provides numerous email templates for automated course notifications. For example, you can trigger an email to confirm enrollment, starting date, or course results. You can customize the emails or use them as is for a quick start.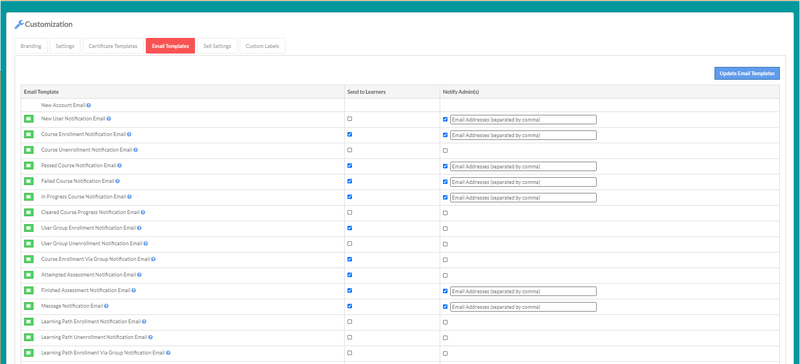 For each course, you can create custom email notifications for admins, managers, and learners, to keep everyone on the same page. SkyPrep can also fire off custom course certifications automatically as soon as a learner completes a course.
All of these automated steps can be a tremendous time saver for your instructors and administrators.
Easy user management
Another key aspect of managing a learning system is efficiently handling users. This is especially important for businesses providing external training with erratic user activity.
In addition to customizing user roles and permissions, SkyPrep allows learners to be grouped and tagged for assigning course content and materials. The system also tracks user groups for reporting and notification purposes.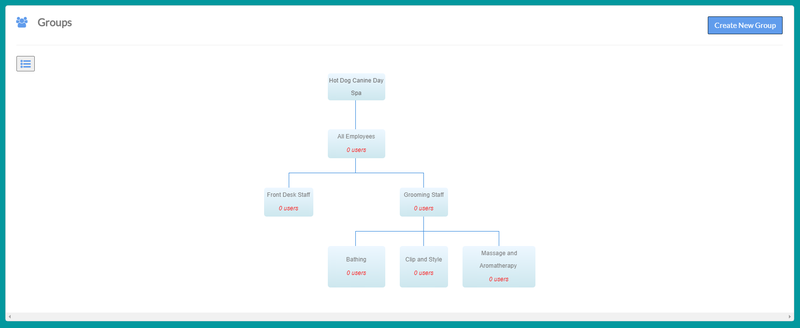 Courses also include bulletin boards for instructors and learners to share notices and comments.
All these tools can help your learning community connect, engage, and monitor progress more effectively.
Gamification
SkyPrep recently introduced gamification for its Premium and Enterprise clients. This includes features such as leader boards, badges, and award points for learning achievements. This can be a great tool to encourage a culture of learning, engaging users in your content, and even enhancing employee morale.
User-friendly learner interface
SkyPrep's learner interface is as user-friendly as its instructor and admin interfaces. Learners can easily see what courses they're enrolled in, where they stand on the road to various milestones, and what certificates they've attained.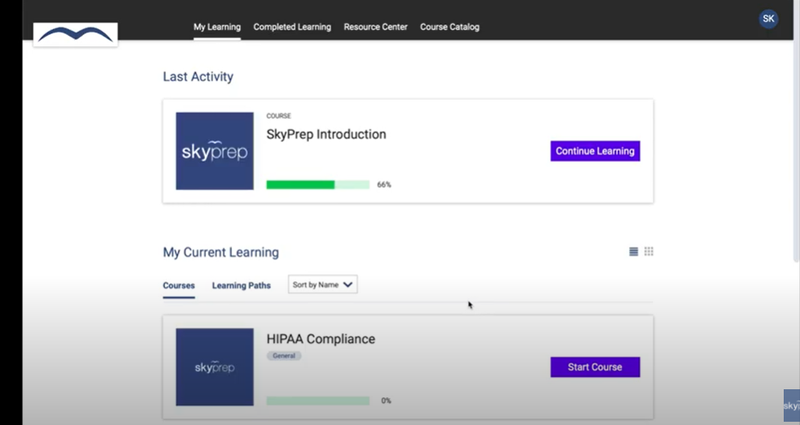 Learners can also upload and manage their own certifications. This can be invaluable to organizations with heavy training requirements to maintain compliance.
Premium and Enterprise clients can also customize the learner log-in screen and user interface.
Advanced reporting
Finally, SkyPrep offers solid reporting capabilities. Admins and other users can pull pre-built and custom reports on courses, learning paths, user groups, assessments, and more.
Users can store favorite reports to run again, another time-saving feature.
---
SkyPrep LMS's ease of use
Ease of use is a standout for SkyPrep. Its interface is so easy, the tool tips are basically there to make you feel better. If you need to click one, it answers your question sensibly. If you miss a field or incorrectly format your entries, the system responds with a clear prompt to correct the issue, keeps all your data in place, and moves you straight on.
With clear, simple tools and a clean, intuitive interface, you can get up and running and start building courses with little to no training. Users of all experience levels should be able to jump in and handle tasks without much hand-holding. Its helpful administrative features and employee training tools can support a busy, complex learning environment in companies of all sizes.
In addition, SkyPrep has been known to build features in response to customer support requests and later roll them out as upgrades. That attention to the user experience shows throughout the platform.
---
SkyPrep LMS's pricing
SkyPrep's thoughtfulness extends to the company's pricing plans, which start at $199/month with an additional $100 charge for 100 users. There's no long-term commitment, and you can upgrade, downgrade, or cancel anytime. This includes unlimited content and courses.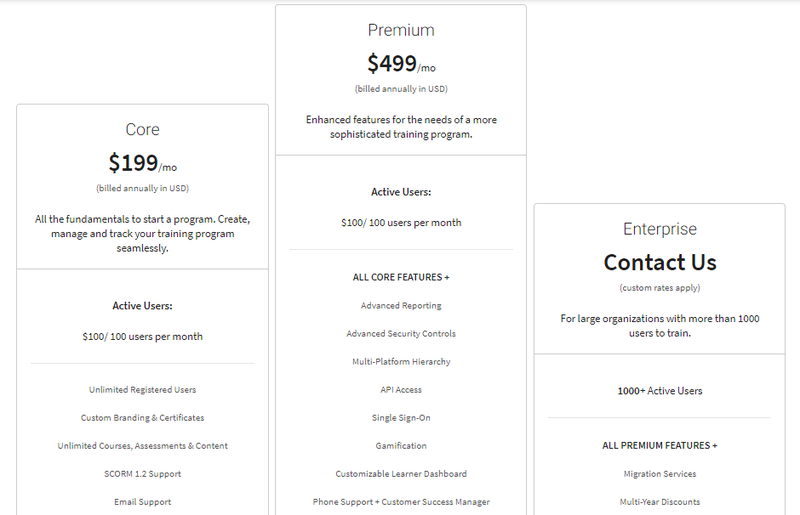 You pay an additional monthly fee for users in bundles of 100, with a monthly overage of $5 per user. Yet the company only charges you for active users each month.
What does that mean? Say you have 290 users enrolled in your system, but only 95 actually log in and use the system this month. SkyPrep only charges you $199 for your subscription (that doesn't change) plus $100 for your 100 active users. You don't pay for users with accounts who don't log in.
Say the following month, you have a massive training event and your total user accounts increase to 800. By the end of the month, 380 have logged in. You would pay $400 for 400 users. If your active users fell to 95 the following month, your user fee would drop back to $100.
Premium accounts are $499 plus $100/100 users, and Enterprise accounts with more than 1,000 users are priced individually. These accounts include extra features such as gamification, enhanced reporting, learner interface branding, and single sign-on.
This flexible, scalable pricing can be particularly attractive to companies providing external training, or those with erratic training needs. SkyPrep also offers a free 14-day trial with no credit card needed.
---
SkyPrep LMS's support
SkyPrep's support includes an online knowledge center, email support for all customers, and support by phone and customer success representatives for Premium and Enterprise clients.
In addition, SkyPrep is continually adding videos to its YouTube channel.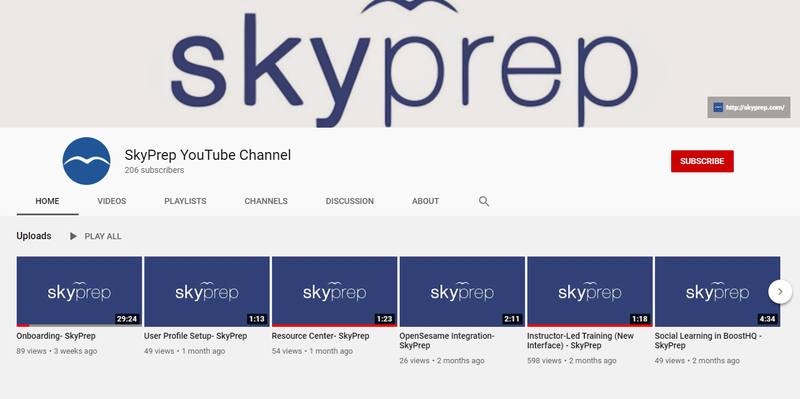 SkyPrep garners a lot of praise for its customer support. When I called the SkyPrep line, it was picked up so quickly by a real person I thought I might have the wrong number.
Seriously, the entire call clocked in at about 38 seconds. That's about how long it usually takes for phone bots to run through their COVID disclaimers.
---
Benefits of SkyPrep LMS
With an interface that works for you, not against you, learners, instructors, and admins can focus on the real work at hand — creating and supporting great learning experiences. SkyPrep is a powerful LMS with all the functionality you need without needless complication and clutter.
While the pricing might not be accessible to very small businesses, it is very competitive in the industry and a good bet for companies with sufficient training needs.
---
Out of the box and into the classroom
When you're putting all the pieces of a course together and share it with learners, the last thing you want to do is spend hours agonizing and wrestling with the LMS. SkyPrep does its job well so everyone can focus on the material, not the delivery system.
---
Frequently Asked Questions for Skyprep LMS
Can I use SkyPrep to sell online courses?
Yes, SkyPrep has dedicated features for selling courses, including integrating with e-commerce systems and payment processors such as PayPal.
Is SkyPrep mobile-friendly?
Yes. Courses can be accessed and completed from any laptop or mobile device. Users can also download course materials and entire courses to complete offline where the internet may not be available.
Is SkyPrep good for small businesses?
SkyPrep's pricing is competitive, but may be impractical for very small businesses with few potential users and a low volume of training needs. Once your learning community reaches that critical mass, SkyPrep is definitely a contender.

SkyPrep is a stellar, mobile-ready LMS for business training and selling online courses. Get your free trial started and jump in to explore on your own.
SkyPrep is a stellar, mobile-ready LMS for business training and selling online courses. Get your free trial started and jump in to explore on your own.
The Motley Fool has a Disclosure Policy. The Author and/or The Motley Fool may have an interest in companies mentioned.