Given how cutthroat e-commerce competition has become, now is the perfect time to learn about Smart Shopping. Smart Shopping campaigns streamline your digital advertising efforts through automated ad placement and bidding to promote your business and products on various channels.
Data from Google's early testing showed advertisers who used Smart Shopping drove more than 20% more conversion value at a similar cost to standard shopping campaigns.
In this guide, we'll look into how Google Smart Shopping works, its benefits, and how you can leverage it to optimize your conversion value.
---
Overview: What is Google Smart Shopping?
Google defines Smart Shopping as a "campaign subtype [that] combines Standard Shopping and display remarketing campaigns."
It automates your bidding and ad placement using Google's machine learning and your existing assets and product feeds. This streamlines showing your ads to a display network, Google's search and shopping networks, Gmail, and YouTube (depending on your ad's relevance to the target audience).
With Artificial Intelligence (AI) and data insights in play, Smart Shopping simplifies managing your campaigns and reduces the hours and effort you spend on running and optimizing them. This makes Google Smart Shopping an excellent solution for companies with small budgets and less time to strategically run display and pay-per-click (PPC) campaigns.
---
3 benefits of using Google Smart Shopping
Uncover the game-changing benefits of using Google Smart Shopping for your small business advertising.
1. Easy to use
Through automation, you won't need to manually add data and other relevant information to create Smart Shopping campaigns.
Smart Shopping pulls product feed data you already have in your Google Merchant Center account, creates and tests different text and image combinations for your campaigns, and shows the most relevant ads throughout Google networks.
It also eliminates potential errors and missing information from your shopping ads, such as missing product groups and incorrect priority settings.
This makes Smart Shopping easy to use and tough to mess up, meaning it's perfect for beginners and those who don't have the time to set up a full-scale advertising strategy or the money to pay an expert to build and run campaigns.
2. Improves campaign performance
Because Smart Shopping uses machine learning and your existing data, it will automatically use the audience lists you added to Google Ads and automate bidding on the search term level. This streamlines running your campaigns, from product shopping, display to local inventory (including dynamic remarketing and prospecting), and optimizing their performance.
3. Optimizes conversion value bidding
Smart shopping uses smart bidding algorithms to optimize conversion value, which means it will try to generate as much revenue as possible out of your set budget within the campaign. When done right, this can help you hit your Return on Ad Spend (ROAS) targets without spending a lot of time and effort running your campaigns manually.
---
How does Google Smart Shopping work?
Essentially, Google Smart Shopping works by using machine learning and pulling data from your existing product feed within your Google Merchant Center account.
Once you set your campaign goal, Google Smart Shopping optimizes your campaigns by showing the right products from your inventory to the most relevant customers at the best time.
Smart Shopping uses real-time signals, such as the user's device, query, and time of day, to show your products to audiences more likely to purchase and spend more.
Here's an illustration of how Google Smart Shopping works. Once you're in the Google Ads user interface, click the icon to create a new campaign, select Shopping and the applicable Google Merchant Center account, and then choose "Goal-optimized."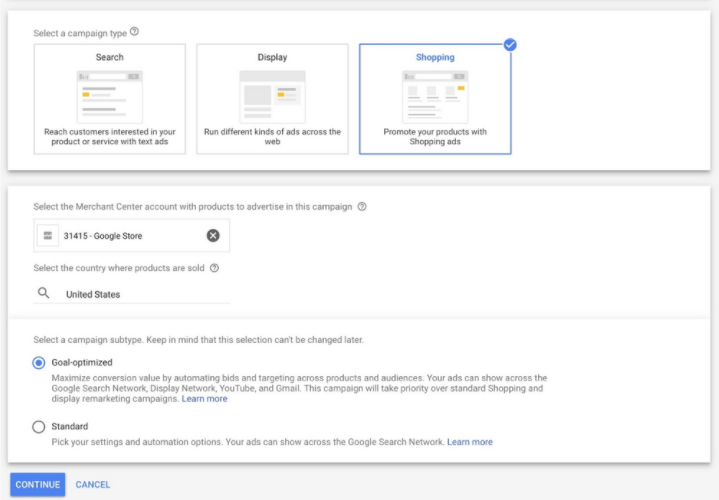 Next, upload your creative assets (if you haven't yet) and choose a product group. Google will include all the products in your existing product feed unless you specify otherwise.
Google will also automatically test various combinations of your ad asset texts and images to determine the most relevant products to show and campaigns to display, such as Google shopping ads, PPC, and retargeting ads, that have the highest conversion value.
After completing the setup, Google will start displaying the created ads on relevant networks, such as responsive video and image ads via the Google display network and a carousel of product listings on the Google search results page.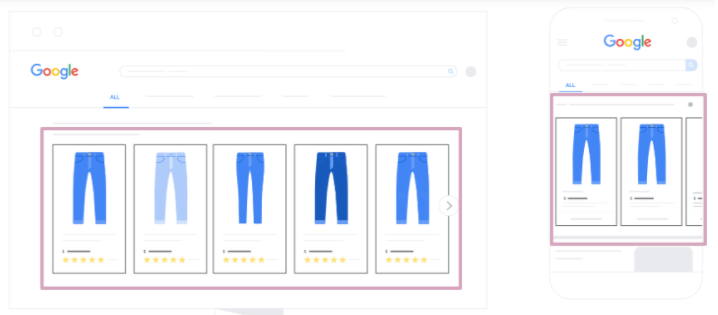 With Smart Shopping automated ad creation and placement, your campaigns will appear in relevant ad spaces, and your bids are set to optimize your conversion value.
Additionally, according to Google, the optimization process of producing ads that gain the highest conversion value can take about 15 days, so you're better off not changing anything within that period.
---
4 tips to create and manage your Google Smart Shopping campaigns
Google Smart Shopping campaigns generally run automatically, but you can always do a bit more to help optimize your campaigns' performance.
Here are some tips on creating and managing Google Smart Shopping campaigns that deliver excellent results.
1. Refer to past data to allocate the right budget
Google Smart Shopping will try to get you as many conversions as possible within the budget you set.
Optimize your budget by analyzing your historical data, such as the combined daily spend of your display remarketing and current standard shopping campaigns, and setting your Smart Shopping campaigns budget based on those.
Additionally, set a minimum for your Return on Advertising Spend (ROAS) target or the average conversion value you would like to get for each of your ad dollars spent to achieve your campaign goals.
2. Ensure data integrity
Your Smart Shopping campaigns' success hinges on the quality of the data you feed the system, such as your Key Performance Indicators' (KPI) historical performance. After all, Smart Shopping is powered by machine learning, and these algorithms are fueled by data, such as clicks and the best converting keywords backed by keyword research.
The more quality data you provide, the better Google Smart Shopping can maximize your campaigns for greater returns.
Google also recommends choosing a group of products with at least 100 conversions in the past 30 days when building a new Smart Shopping campaign since these will be the ones with the most reliable data.
Also, be sure your data are accurate and complete to avoid skewing the AI's decision-making, which could seriously impact your campaigns and results.
3. Categorize products
Narrow down your product ad targeting to make sure your product advertising and campaigns get to the most specific audiences through categorization. Doing so allows Google's algorithms to create and deliver the right ads to your most relevant audiences, increasing your conversion value potential.
4. Keep an eye on targeting exclusions
Google Smart Shopping campaigns use multiple targeting parameters to find the best combinations that enhance audience targeting.
If Google uncovers a low-performing method, it stops spending on it and switches focus to more effective methods. While this might sound good for your budget, it can also cut out audience groups that best suit or need your product.
Keep an eye on these kinds of exclusions that Google's algorithm creates in your campaign to guarantee they don't leave out valuable audience groups and areas, such as your main geo-location areas. That will help you avoid losing out on targeting relevant audiences to help move your prospects along your marketing funnel and boost your conversion value.
---
Ready to leverage Smart Shopping?
In a nutshell, Google Smart Shopping simplifies your campaign management, expands your reach, and helps you get the best value from each ad by automating your ad placement and bidding at your given budget.
Know the difference between your marketing and advertising efforts, set your goals, and make sure you comply with the requirements, and you'll run hassle-free Smart Shopping campaigns with massive ROAS potential.