The success of your social media strategy depends on your company's ability to cut through the noise and figure out what your audience truly wants to hear.
That social media management challenge is heightened by the sheer volume of data created by each channel, every day. If you have campaigns live on Facebook, Instagram, Twitter, and Pinterest, it can be difficult to keep track of what works and what doesn't across all of these platforms.
As we move into the era of social commerce, this complexity looks set to increase further.
With so many social media metrics to monitor, how can your business keep up?
This is where social media management software proves its value.
---
Overview: What is social media analytics?
Social media analytics tools collate and display data from multiple social media platforms in intuitive reporting dashboards.
These dashboards are highly customizable and can be used to make important strategic decisions in your marketing plan.
For example, social media analytics can help you understand which social media content formats resonate best with your target audience, or which competitors are growing fastest on each platform.
As a result, these tools have become an indispensable component of the modern marketing technology stack.
---
What to look for in a social media analytics platform
Our top five social media analytics tools all excel in the three essential areas outlined below.
1. Intuitive dashboards
It's likely that a number of internal teams will want to access social media insights, to influence everything from brand positioning to marketing kpis.
As such, it is essential that the dashboards in your social media reporting tool contain impactful charts that anyone can understand.
To aid this process, it may also be useful to opt for a tool that provides a social media analytics app, so that different teams can keep up to speed with latest performance figures on the go.
2. Audience insights
Every social media interaction reveals something about your audience. Your social reports should collate and display this information in a way that allows you to use this crucial information to improve campaign performance.
For example, an effective social media management tool will provide tips on which types of content to create, when to post the content, and on which platforms it will perform best.
They should also integrate with multiple social media networks, so that you can gain a rounded picture of your audience's behaviors across all channels.
3. Competitor analysis
Of course, you will also want to see how well your competitors cater to your audience's needs. The best social media analytics tools will help you identify your competitors and then track their performance across multiple platforms.
This can provide invaluable insight into new content trends that you can implement into your own marketing campaign.
The right social media analytics tool will help you conduct a competitors' social media audit.
---
Our top 5 social media analytics tools to improve your marketing efforts
These five tools will help you extract maximum value from every social media campaign.
They all stand out in different ways, so it's worth considering your specific marketing objectives before deciding which one would be best for your business.
---
1. Sprout Social
Sprout Social boasts an impressive number of user-friendly features, ranging from a social media content calendar to influencer marketing recommendations.
It's an enterprise-level social media management platform and, as such, is designed for a wide range of stakeholders. Everyone from the company executives to the social media managers should be able to use the reporting dashboards in this tool.
The interface is simple to use and is aesthetically pleasing, which makes Sprout Social stand out even more in this crowded field.
The social media analytics features in Sprout Social are certainly among the most comprehensive on the market today.
For example, this software recommends the best time to post content based on your audience's interactions. Many other platforms can offer a similar functionality, but the Sprout Social recommendations are updated regularly and have a positive impact on content performance.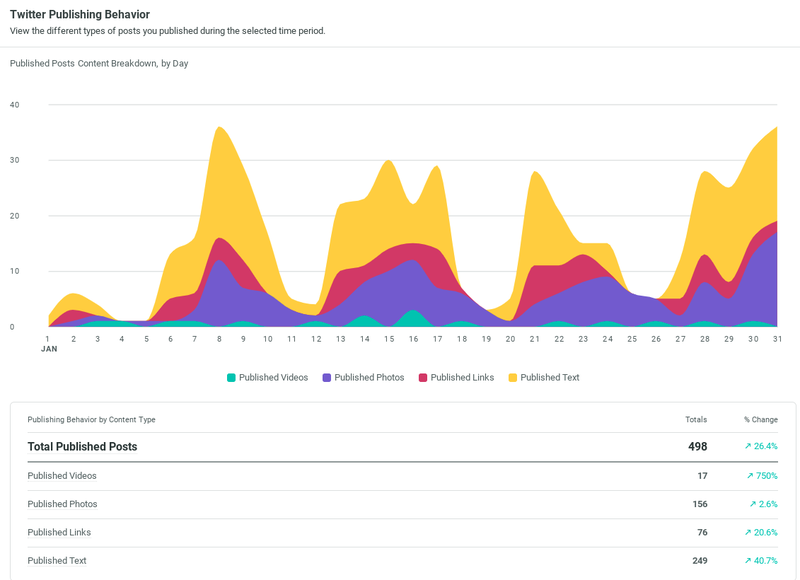 As noted in our Sprout Social review, this platform provides a variety of sophisticated features including automation tools and chatbot creation. This comes at a price, of course, so it is worth weighing up how important these features are to your business before signing up.
Sprout Social offers a 30-day, no credit card trial, so you can try it out before you make that commitment.
---
2. Hootsuite
Hootsuite is a stalwart of the social media management industry with an enviable list of customers and remains a highly reliable option for social media analytics.
Hootsuite connects to all major social media platforms and offers two main reporting options within the main interface.
First, you can check in on the performance of an individual post. This will show a number of social media metrics, including video views, reach, and shares.
Next, you can delve into the more expansive 'Reports' section of the platform. This will provide a snapshot of performance across all of your social media accounts and the reports can be easily customized.
A handy feature in Hootsuite is the ability to monitor your team's response time to customer comments and messages. This is an essential component of social media strategy and staying on top of comments can have a huge impact on your brand's reputation.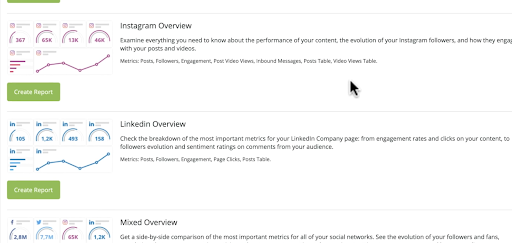 Hootsuite even offers a free account option, which provides limited reporting. Still, free social media analytics of any kind is certainly to be welcomed.
---
3. SocialFlow
SocialFlow has been designed with the news and publishing industries in mind. It takes an advanced approach to data and analytics to inform its content recommendations for journalists and publishers.
The content optimization tools within SocialFlow are highly effective and can help publishers gain an important advantage over the competition. To inform these recommendations, SocialFlow can take data from a brand's website and analytics platforms, as well as their social media profiles.
The reporting tools in SocialFlow are less intuitive than those on the likes of Buffer or Hootsuite, but they are detailed and insightful.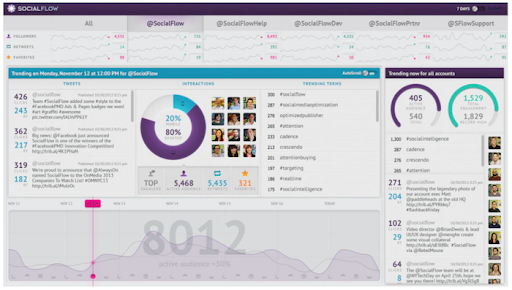 The specialist nature of SocialFlow is clear in its feature set. For example, support for platforms such as Pinterest, LinkedIn, and Instagram is limited. The focus is on Twitter and Facebook, where publishers spend most of their time.
SocialFlow adopts advanced analytics and goes beyond the surface metrics of reach or follower counts to deliver improved performance. For businesses with a large inventory of content and a need to react quickly to breaking stories, SocialFlow is an excellent option.
Pricing is only available on request for this social media analytics platform.
---
4. Buffer
Buffer is one of the most popular social media metrics tools available today. In fact, it now has a dedicated product that focuses on social media reporting, called Buffer Analyze.
Buffer's new interface is highly accessible for novices, which is a tremendous benefit for both large and small businesses. This means you can sign up and start using the insights in the platform with minimal effort.
However, Buffer does lack some of the advanced social media advertising features you'll find in Hootsuite or Sprout Social for Pinterest and LinkedIn campaigns.
Its reporting is great for tracking your engagement levels and content performance, but may lack the level of detail larger businesses require to analyze their full range of social media marketing tactics.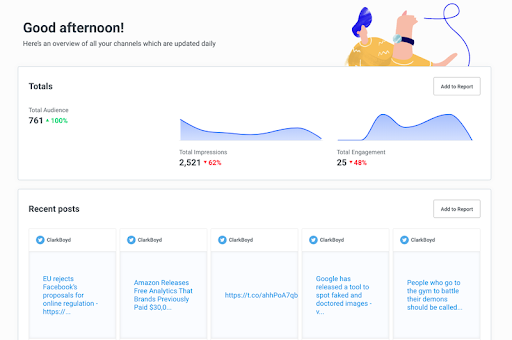 It's worth noting that Buffer offers a free account plan and a free trial, making it a fantastic option for businesses that need a reliable social media scheduling tool that reports on all the basic metrics.
---
5. SocialPilot
SocialPilot is a flexible social media marketing tool that offers all the capabilities most businesses will require, including automated post scheduling and content curation.
The platform's marketing analytics tools integrate with a healthy array of social media networks, including Twitter, LinkedIn, Facebook, Pinterest, and Google My Business. Instagram integration is in development, but will be a notable absence for many businesses in the interim.
SocialPilot's reporting dashboards are clean and simple. They display the core metrics and performance highlights from your accounts in digestible visual formats.
It lacks the polish of its bigger rivals, but offers value for money to multiuser social media teams. The Professional plan costs $30/month and provides access for three team members, for example.
If you do not need features such as social listening or chatbot creation, SocialPilot offers a cost-effective solution for social media management.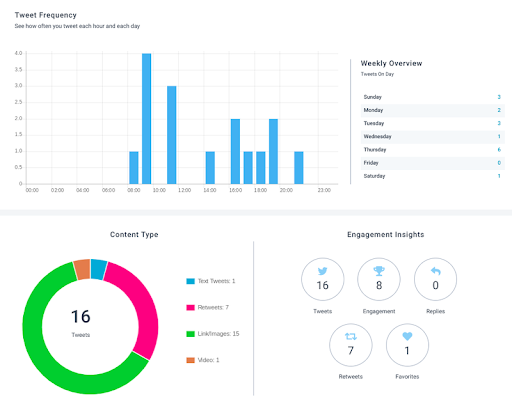 ---
Selecting the right social media analytics tool for your business
All five of the technologies in our list of best social media analytics platforms have reasons to recommend them.
Some cater to big-budget brands that need the latest audience insights, while others strip back the fancy functionalities to provide what most businesses truly need, at a reasonable price.
Take stock of your marketing objectives, your team requirements, and your budget, then weight up the options on this list.
The most important aspect of selecting a vendor partner is that they will help you improve performance against your specific goals. Each of these companies can help you do that, albeit at varying costs and to varying degrees.