"Audit" is typically a scary word. It's the word that creeps into so many minds the closer we get to the April tax deadline in the United States — everyone is afraid of the IRS knocking down their doors to ask questions about deductions or credits they've claimed.
However, when it comes to social media, audits aren't necessarily scary at all. Social media audits are opportunities for reflection and improvement when it comes to your online marketing efforts.
---
Benefits of performing a social media audit
The purpose of any audit is to examine the health and history of any kind of account for the purposes of establishing a clear picture of current operations. When it comes to social media audits, this clear picture of your current efforts provides you with several key benefits.
1. Gaining a comprehensive understanding of your social media performance
What are the goals you're trying to reach, and what metrics will you use to achieve those goals? A social media audit will give you a benchmark for where you already stand along with detailed metrics about your performance so far. These metrics include:
Likes or reactions
Shares or retweets
Comments
Clicks
Reach
Views
Numbers of followers
Top posts
Audience demographics
And many others
Using these metrics, you can create a plan for improving on all of these fronts as well as define how they benefit your overall strategy, whether it's traffic, clicks, or conversions you're looking for.
2. Uncovering new opportunities through your competitors
Your social media marketing audit will also give you an idea of what works best on your social channels and compare that with what your competitors are doing — including how you can either mimic or exceed their successes.
Assess their branding, messaging, and other social actions to determine what would fit best into your future social media strategy.
3. Discovering unhelpful social media content practices
Social media audits are all about contextualizing the impact all of your social media activities have made and finding out what works and what doesn't. Consistency is the key to success when it comes to social media marketing, and a deep dive into your numbers is a great way to surface any inconsistencies in your strategy.
---
How to conduct a social media audit
Besides developing marketing materials, conducting audits is one of my favorite parts of managing social media channels. I love diving into what makes a social channel tick and discovering what exactly needs to be done to improve on current efforts. It's like putting together a puzzle.
However, if this is your first time conducting one of these audits, I understand how daunting the process can seem.
That's why I've laid out the process in six simple steps that you can replicate over and over with each audit. Consider this your social media audit checklist.
Step 1: Create your audit spreadsheet
This is one of the most important tools you'll need throughout this entire process. Your audit results must be accessible to everyone involved with your marketing plan, and that's why I recommend using a program such as Google Sheets, or Microsoft Excel if your team uses Office365.
I wouldn't recommend creating your audit spreadsheet in a program not connected to a centralized cloud since other viewers won't be able to see any live changes you make to your report, forcing you to send out updated spreadsheet files every time a change is made.
To help make the process easier for you, I've created an audit spreadsheet template in Google Sheets that you can use for your business. The link will prompt you to make a copy of our template so you can use it for yourself.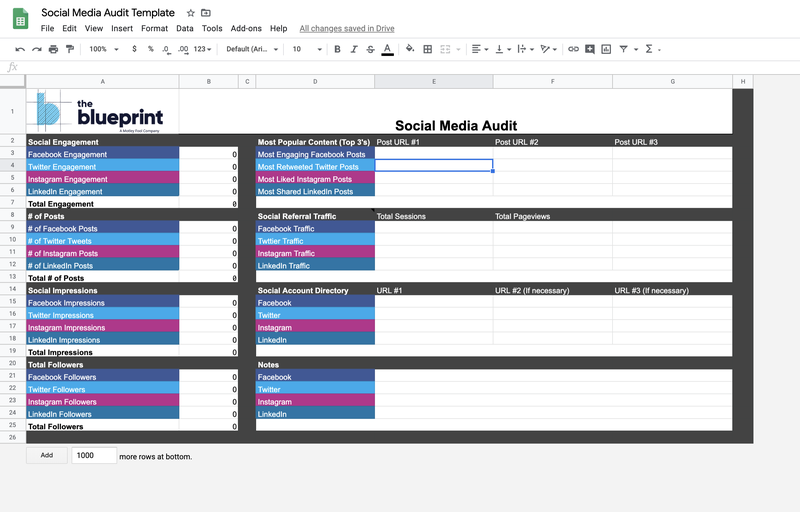 You'll be able to edit and adjust the template in any way you see fit for your needs — it's meant to be a framework for you to work from.
Tips for using our audit spreadsheet template:
Since you didn't create this spreadsheet from scratch, I've come up with a few tips for helping you fill out this audit template.
Regarding multiple accounts: As you'll notice, I've created extra spaces for multiple accounts on each platform in case you're looking to consolidate the marketing analytics from several profiles. This doesn't apply to most businesses, but I've created space for it in case it does.
Where to find the data: Most of the data you'll need for this social media audit can be found either in the analytics section provided on each social account page or through a social media management tool. I conduct my audits using Sprout Social, and I'll be using this platform as my example throughout this piece. However, you can use whichever tool works best for you.
Step 2: Record the analytics of each social media profile
Now that you're set up with your own audit spreadsheet, it's time to start recording all of your social media analytics. Most of the data you'll need to fill out your spreadsheet is available using either the analytics tools provided by the social platform or through a social media management tool.
I prefer Sprout Social's analytics reports because of the amount of detail they offer and the consistency of data when switching between different networks. It's my favorite social media audit tool.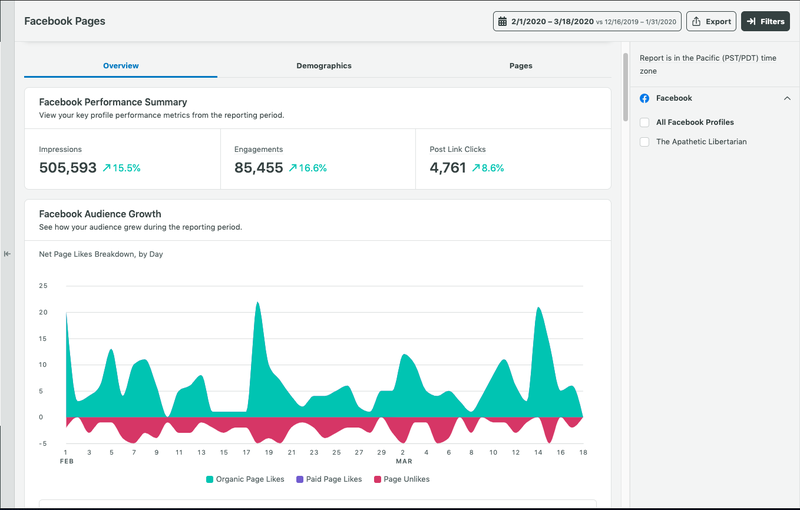 I've performed social media assessments using the native analytics tools provided by each platform in the past, and the inconsistency is just not worth the money you save.
That's why I've modeled parts of my audit template after the types of metrics you'll find in Sprout Social; however, other tools such as Hootsuite or Buffer will provide a lot of the data you need.

The only data you'll need to find elsewhere will be your social referral traffic (the traffic to your website stemming from social media), which is available in the Google Analytics results for your website.
These are the key analytics you'll want to find for each social platform:
Facebook:
Page likes
Post likes
Followers (these are

different from page likes

)
Engagements
Top most engaging posts
Clicks
Shares
Follower demographics
Twitter:
Followers
Number of people you're following
Top most engaging tweets
Top most engaging hashtags you've used
Engagements
Clicks
Retweets
Follower demographics
Instagram:
Followers
Number of people you're following
Top most engaging posts
Top most engaging hashtags you've used
Engagements
Likes
Follower demographics
LinkedIn:
Followers
Engagements
Clicks
Likes
Shares
Top most engaging posts
While I'd certainly recommend you gather all of the analytics I've laid out in the template for a comprehensive snapshot of your social activities, these are the most important metrics you'll want to target.
Tips for recording your social media analytics:
If this is your first time ever auditing your social media, here are a few tips that'll help you avoid little mistakes that can create bigger problems down the road.
Wait for data to populate: If this is your first time connecting your social platforms to your social media management software, be sure to wait anywhere from an hour to 24 hours for all of the data to populate.
Set your date parameters correctly: Whether you're auditing your marketing campaign every month or you're doing an overall audit of your entire social presence from the beginning, make sure the date parameters are set accordingly in your SMM software.
Step 3: Identify and analyze your most popular social posts
If anything, a social media audit is the perfect way to find out exactly what you are doing very well in order to help you replicate that success. That's why It's important to identify the most popular posts you've made on each social platform and try to get to the bottom of why those posts were successful.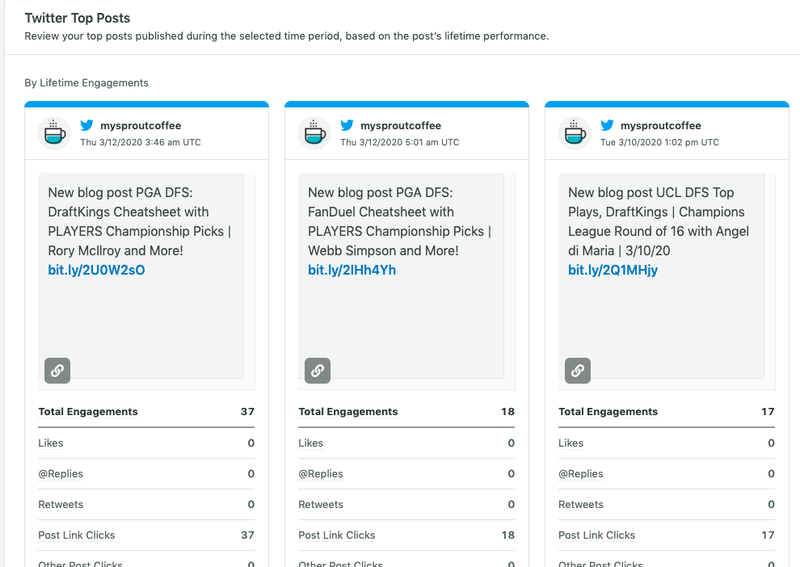 Sprout Social gives you a detailed view into your top posts for each social network, including the date and time, content, likes, replies, shares (or retweets), post clicks, and link clicks.
The main dashboard gives you a layout of the top three, but if you want more information, all you have to do is click on "post performance report" below these three posts.
Tips for analyzing your top posts:
Data is meaningless if you don't understand what you're supposed to learn from it. Here are a couple of tips for determining the value of your top posts.
Determine when these posts went live: Sometimes it's not what you post, but when you post it. Use the information you collect from these top posts to average out when your audience is most likely to see and react to your content.
Identify the most popular content types: Certain types of content do better on specific social networks. For example, Facebook users tend to love image and video posts. Determine the most popular content types and try to replicate that in your future plans.
Step 4: Evaluate your referral traffic
If the purpose of your social media channels is to drive more traffic to your website, then you'll want to know which networks are driving that traffic and which provide those quality conversions you're looking for.
This is the only step in your social media audit where you'll look outside of your SMM tool for information and instead rely on Google Analytics for your answers.
In order to find this information, access your website's Google Analytics account, click on Acquisition, then Channels, and finally click on Social from the channels list.
This will then break down the referral traffic based on the individual social media sources, including their number of sessions, the number of pages they visited, their bounce rate, their conversion (or transaction) rate, and their average duration.
All of this information is key for identifying which channels provide you with the best quality traffic so you'll know which marketing tactics are worth investing in over others. This is the perfect time to start considering a reinvigoration of your social media content calendar.
Tips for evaluating your referral traffic:
This is the real bread and butter of your social strategy if your ultimate goal is to drive traffic to your website. Here are a couple of tips for evaluating and optimizing the relationship between your social media and your website.
Match up posts with spikes in traffic: If you're finding spikes in referral traffic from specific sources, all you have to do is match up the posting data from your SMM tool with your Google Analytics data to identify which posts are contributing to this increase.
Find out if the pages you're sending traffic to are quality pages: This is a big topic that deserves more space, but in short: Your bounce rate (the rate at which traffic enters the site and leaves soon after without exploring other pages) is the perfect metric for determining whether or not your website is the problem — not your social media. If you're sending your social traffic to poor-quality web pages, you should expect to see a high bounce rate. This poor quality can be because of long page loading times or unmet expectations when visitors finally reach your site (think clickbait).
Step 5: Evaluate your branding
Conducting a brand audit throughout all of your social platforms is crucial for establishing the consistency I mentioned earlier. Brand consistency establishes a rapport of professionalism and trust with your audience so they know you are the real deal and not some off-brand social page.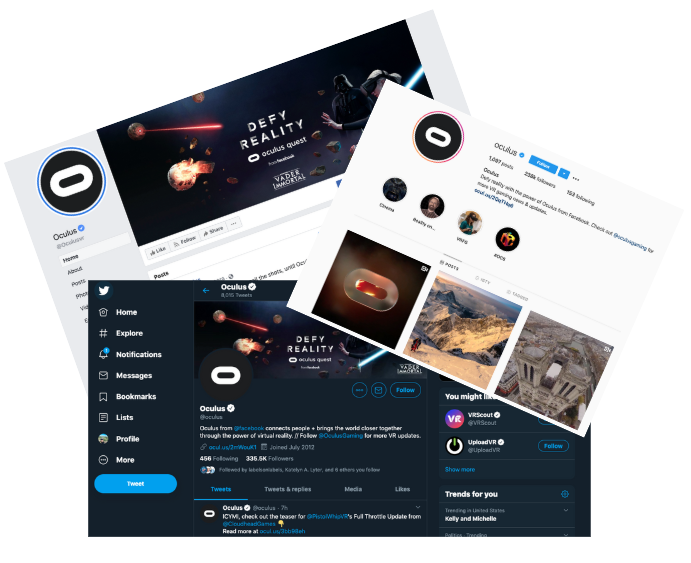 All of your social networks should share similar colors, fonts, and elements between your profile pictures, banner photos, and image/video posts. On top of all of that, your brand voice should also remain consistent between all of your social accounts.
Decide on specific social media brand guidelines, and stick with them so you don't end up with a super-professional Facebook account but a Twitter profile reminiscent of Nihilist Arbys (you're welcome, if you still haven't discovered that beautiful work of art).
Tips for evaluating your branding:
Branding gives your audience a look into what you stand for as a company and what you're offering them, whether that's news articles, a product, video content — you name it. Here are some tips for evaluating your branding and finding ways to improve.
What does your branding "say": Does you branding effectively communicate your purpose? Does it show a product or deliver a message? Establish the purpose of your branding, and make sure it communicates that purpose.
Platform-specific branding: Make sure your pictures, banners, and profile images all fit the social platform on which you're sharing them. Each social network has their own specific dimensions for these elements, and a mismatch can mean certain crucial aspects of your images are cut off or blurry.
Step 6: Establish new goals
Once you've evaluated all aspects of your current social media practices, it's time to look toward the future. Sift through the data and find what works in order to replicate that success, embrace new opportunities you didn't take advantage of before, and discard the material that isn't beneficial to your marketing efforts.
With all of this knowledge in mind, set new goals for your social channels with better engagement, traffic, and referrals in mind. Of course, with these changes, there will be a ramp-up period while you find your footing before you start seeing regular improvements in your analytics.
Consider this first audit to be your launchpad for bigger and better things.
Tips for establishing new goals:
I can't tell you exactly what your goals should be since they are specific to you and your company. That said, here are a couple of tips that might help you clarify what those goals are.
Make sure your goals fall within a "SMART" framework: A "SMART" goal is one that is Specific, Measurable, Attainable, Relevant, and Timely. Any goal you set for your social media efforts should fit within this framework so you aren't left with lofty and unreachable standards the next time a review period rolls around.
Use a SWOT analysis for evaluating your platforms and setting goals: More acronyms, yay! SWOT (if you don't know) stands for Strengths, Weaknesses, Opportunities, and Threats. This analysis will help you brainstorm the possible outcomes for adopting new practices and goals in your social media strategy.
---
The next steps in your social media plan
Once you've completed your first social media assessment, you should have a better idea of the direction you're looking to take. Just remember that this isn't your last audit.
Regular social media audits are important, whether they're conducted once a month, semi-annually, or annually. Measure your year-over-year performance so you can find what is working and what isn't.
In the last 15 years, social media has grown from a small time-waster with friends to a multibillion-dollar marketing machine that is crucial to the success of most businesses.
That's why we at The Blueprint want to help you succeed in your marketing efforts with in-depth social media software reviews, how-tos such as this one, and beginner guides that'll supercharge your likes, clicks, and shares. If you enjoyed this guide, be sure to check out the rest of our resources.