"After years of polished ad copy and perfect images on social media, it has become clearer that human-to-human conversations are better," said Mark Irvine, one of the most influential digital marketers and data scientists, in this interview about digital marketing trends.
And human-to-human conversations are the original promise of social media: a place where brands can converse directly with end users. Managing your social media accounts to live up to that promise can be a challenge for businesses.
Those who succeed at it have established a crystal-clear social media strategy for their businesses and have structured the way they manage their social media efficiently.
---
Overview: What is social media management?
Social media is the multi-faceted interaction interface your business has with the online environment of clients, prospects, institutions, and its own employees.
Social media management defines the social networks a business should communicate through, the audiences it targets, and what content to publish. It defines how to respond to customers and how to drive users to other communication channels, or even toward an online purchase.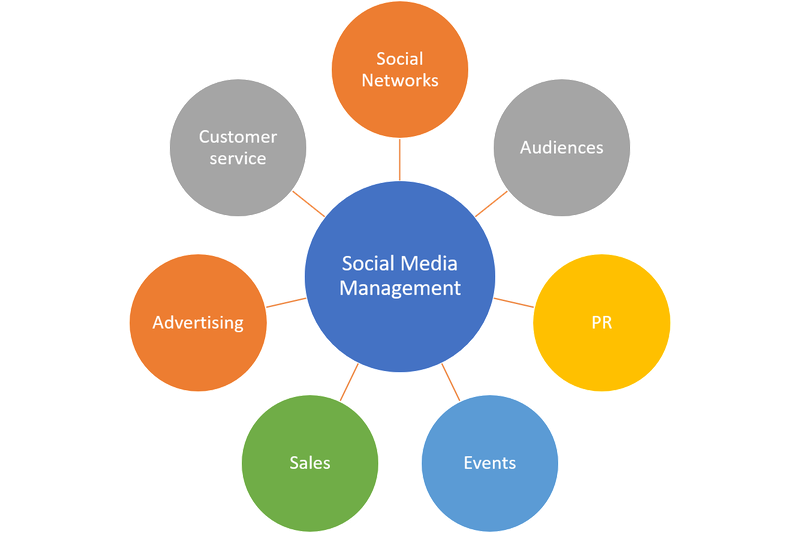 The social media manager has a key role. This function is often embodied in one person, but if the activity is well organized, the role can be split into several functions. And in a streamlined social media setup, it can even be outsourced.
---
Benefits of managing social media
Among the many benefits of social media, a significant one is the efficiency that online media brings to the marketing function. Let's look at some of these.
1. Find time for real-time interactions
The most important benefit of efficiently managing your social media is that it will free you up to focus on real-time interactions. Communication is fast-paced on social media.
If you don't plan ahead, you won't be available when someone asks you an urgent question on one of your social networks, because you'll be tied up executing your plan. This can cause lost opportunity and disappointment among users.
2. Optimize content usage
By managing your social media efficiently, you can optimize the content you create. Content creation is an investment. If you don't optimize/repurpose content, you are not getting the best return on that investment.
3. Centralize stats in one place
Structure and manage your social media in an organized way, and it will be easier to centralize your reporting, get homogeneous data back, and be able to appreciate the value of your activity.
---
How to easily manage your social media accounts
Bringing structure and organization to your work will enable you to work more efficiently. Let's go through five steps to organize your social media approach.
Step 1: Define your social networks
You first need to define your scope. Decide what social networks you'll be active on, and which platform is your primary focus. Rather than spreading yourself thin across many social networks, excel on one primary social network, and use other social networks as support and additional reach.
Step 2: Define publication frequencies
One important planning step is to define your publication frequencies and content mix for each social network. Enter publication dates for each social network in a content calendar to keep track of all publications.
The calendar allows you to plan all of your social network posts ahead of time. A social media management tool can organize the actual process of posting content.
Most tools can schedule posts to all social networks. They even have a workaround for the challenge of scheduling posts on personal Instagram profiles via notifications.
Step 3: Decide on your management mode
You can manage your social networks manually. All social media platforms provide you with a management interface for posting, and they have their own reporting.
If you're managing only one social network, that's a good solution. Facebook allows you to schedule posts as well as Twitter via its integrated tool, Tweetdeck.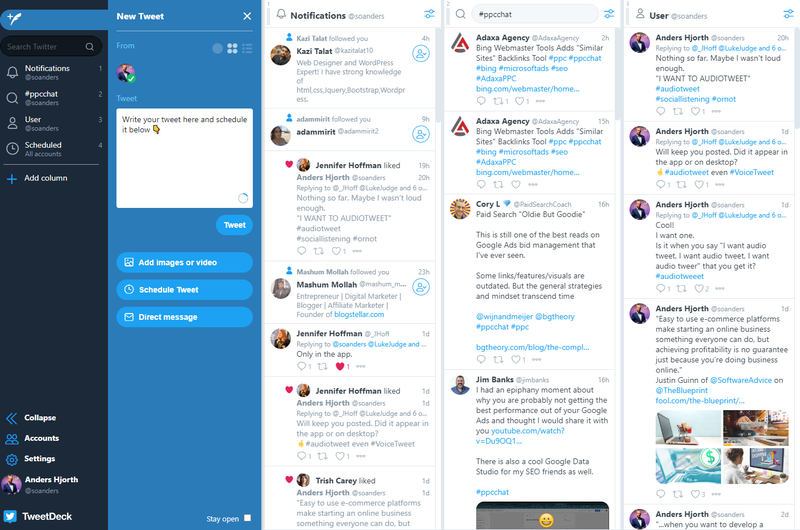 There are a few more free social media management tools, but they limit the number of social platforms and posts per month you can manage and schedule:
If you're serious about social media, you'll soon reach the limits of the free plans. At this stage, you may upgrade the above tools and also consider the full range of social media management tools available in the market.
They'll be useful when you're researching topics, when you set up your publication calendar, when you automate publications, and when you report on your activity. They can even integrate with some of the social advertising platforms to expand your campaigns with paid media.
Step 4: Create content ahead
All of the management solutions you've looked at have one thing in common: They're fueled by social media content. To get the best out of social media, you need to prepare your content in advance.
Creating a content strategy takes you through the steps to align and optimize your content for distribution. And when you've connected your content with your management solution, you'll free up time to engage with users.
You can create conversations with individual users, and you can incentivize for user-generated content: content that users create on your social platform about you and your brand.
Step 5: Report on activity, connections, engagement and reach
Social media activity generates a lot of data. To efficiently manage your social media and constantly improve your performance, track the most important social metrics: activity, connections, engagement, and reach.
Gathering the right data will allow you to set up a dashboard showing the most important social media KPIs for your strategy. To get the best out of your reporting, establish a weekly or monthly review. Extract learnings and insights from the data that can inform your future path to success.
---
The better organized you are, the better you perform
Social media management comprises many moving pieces. To maximize the results from your online presence, you need to organize them and structure your approach to managing your activity.
When organized for recurring tasks, you can dedicate your creativity, time, and resources to optimizing for real-time human-to-human interaction and get the most out of your social media activity.