If you're a project manager, the concept of using social media in the workplace may be mystifying. What could you possibly use social media for while you manage a project?
But social media is for both marketing and project management, and it involves many software platforms beyond just the ones you use for posting pictures of your dog or reconnecting with long-lost friends.
Social media offers many project management tools that will help you improve the efficiency of a project and boost the odds it will be completed on time and on budget.
This guide breaks down what social media for project management can do for your business and how to know whether you should implement it.
---
What role does social media have in project management?
Social media improves project management by connecting all the people on a team and making it easier for them to talk to each other, while helping you share important information such as deadlines, essential files, and progress reports.
When you think of social media, you probably think of platforms like Twitter, Facebook, and Instagram — and they don't seem to make much sense for project management because they are mostly about sharing things with the public and promoting your brand.
But social media is about a lot more than that — any platform that lets users create and share content or communicate and network with each other qualifies as a social media platform. For example, Slack is a social media platform that allows a team to instantly communicate with each other internally.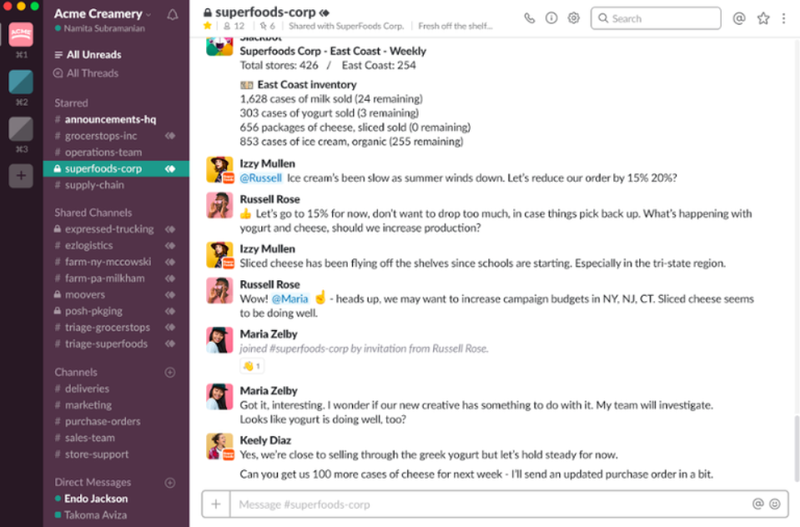 ---
3 benefits of using social media for project management
A thoughtful implementation of social media in your project will work wonders for overall execution. Here are three benefits you'll enjoy if you do it right.
1. Improved communication
Social media improves communication between members of your team. These platforms allow users to immediately contact another team member to communicate important information or get a status update, which improves team collaboration and therefore boosts the efficiency of the project.
Good communication is vital to a successful project, and social media helps make this happen.
2. Access to essential documents and files
Social media platforms make it easy to share documents and files.
Rather than taking a picture at a job site, uploading the file to a computer, and then attaching it to an email to send to the appropriate recipients, social media software enables users to upload the photo straight to the platform, attach it to an automatically generated progress report, and immediately send it to everyone who needs to know — a process that takes seconds and can be done from your mobile phone or tablet.
File sharing is instantaneous and easy thanks to social media platforms.
3. Better project monitoring
Spotting problems in a project and dealing with them promptly is key to successful project execution. Social media platforms allow you to monitor the project thoroughly.
You'll be able to see everything going on in the project, study how resources are being managed, check progress photos, watch data coming in, and observe every aspect of a project, so if something is going awry, you can jump on it immediately before it becomes a big issue.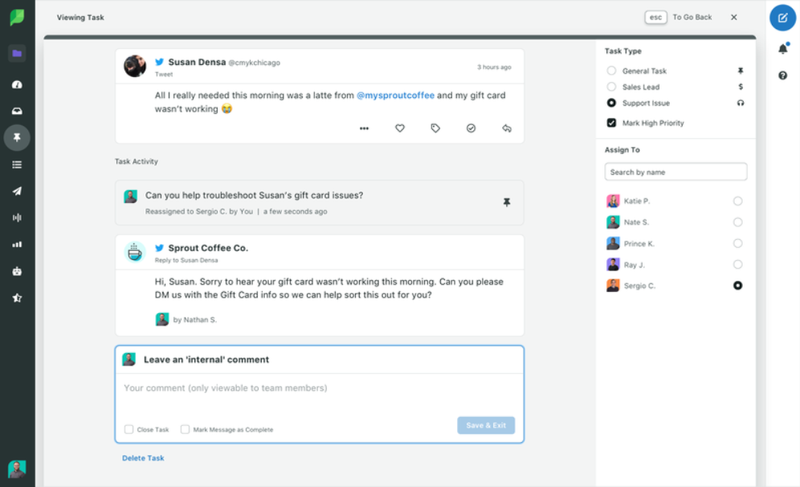 ---
3 disadvantages of using social media for project management
Social media has potential drawbacks, however, and you should be aware of them lest the platform become an inhibitor rather than a facilitator of work. Here are three possible disadvantages to keep an eye on:
1. Distractions
Social media makes communication easier, so that means more distractions for workers who may be tempted to spend too much time chatting on the platform about subjects unrelated to work — or, even if it is about work, it goes beyond the level of communication needed to do the job.
This is unlikely to be a big problem, but keep an eye on the platform and ensure it does not become a distraction.
2. Information shared too broadly
Sometimes, sensitive project information will find its way to those who don't have a need to know due to the often broad reach of social media platforms. You may be uncomfortable with, say, financial information about the project being available to everyone on your team.
Usually, you can limit this by adjusting the settings so only specific members are invited to certain channels. Look for software that offers you this level of control.
3. Too much information
There is such a thing as too much information. If you bombard your team with a lot of data and details they don't need to know, they may become bogged down with this info and it may inhibit their productivity.
You may find your workers are spending most of their time responding to reports and information posted on social media that aren't essential to their jobs.
---
Should you use social media for project management?
While social media and online collaboration tools have advantages and disadvantages for project management, most project managers should be using it. The benefits are just too great: you'll be in better control of the project, your team will be working together as one, and sharing essential documents will be a breeze.
Most of the disadvantages are manageable — you can keep an eye on discussion to keep distractions at a minimum, you can limit permissions to prevent the wrong people from accessing information they shouldn't have, and you can consciously limit what you're sharing with the team to avoid information overload.
As a result, using social media in project management is a no-brainer if you can find the right software for it. There are situations that will help you be confident in your decision.
When social media project management makes sense:
The project has many interlocking parts: If you have a small team and a simple project, you can get away without a social media platform. But for large projects with multiple pieces, coordination is essential, and therefore you need the communication tools offered by social media.
The project uses a lot of documentation: A construction project is a good example of this — you have to manage permits, blueprints, bids, change orders, and lots of paperwork that would be a nightmare to manage and share if you didn't have a social media platform.
Unforeseen problems have derailed past projects: If past projects have been hampered by unforeseen problems that crop up in the middle of the effort, that's a sign you need social media software to provide better visibility of all of the moving parts in your project so you can spot issues early.
When social media project management is not right for you:
Your team is small: If it's just you and a couple of other people, and you all work in the same office, a social media platform probably is overkill. Keeping a simple spreadsheet, exchanging emails, and meeting in the conference room every couple days could be more than enough management to ensure the project gets done properly.
The project is simple: If the project is simple — maybe your sales team has been tasked with increasing calls to a certain industry and recording the results to determine if there is a corresponding revenue increase — then a social media platform probably is more of a distraction. If you suspect this, monitor the project's process and determine later if software is necessary.
It's just not working: Perhaps you've implemented a social media platform and there's too much unproductive activity going on. If that's the case, shut it down and evaluate what you did wrong — maybe it's the wrong platform, or maybe you need to lay down rules, or perhaps your team is just better off without it.
---
Look for software with social media capabilities
A lot of software has social media tools built in to improve how you run your projects. The Blueprint has reviewed the top project management software options, and many offer these communication and document-sharing tools. Try a few of them and settle on one to manage your next project.