If you think social media recruiting is a waste of time, then you're doing it wrong. Yes, it requires a different approach than other online recruiting methods, such as posting to job boards, but it should play a crucial role for any company that wants to attract the best candidates.
If you're spamming candidates by sending them unsolicited messages on Facebook, writing irrelevant and slightly odd comments on their Instagram posts, or adding them as a connection on LinkedIn with no explanation, then you aren't going to get results.
Used in conjunction with other more traditional recruiting channels such as job boards and phoning candidates, social media recruitment can become a very profitable strategy.
---
Overview: What is social media recruiting?
Social media recruitment involves searching social networks to find promising candidates for open positions.
It also covers researching these candidates to find out their interests, contacting them with relevant messages, engaging and screening them, and then moving them to the next stage of the recruitment cycle.
---
The 6 most effective social recruiting strategies
Hiring top talent is a real challenge these days. Competition for candidates is fierce. That's why you need to tap into social recruiting to source the best candidates. Here is how you do it.
1. Expand your target social media networks
When most people think of social media, Facebook, LinkedIn, Twitter, and Instagram are often the first (and sometimes only) channels that come to mind. Yet they are just a few of the channels that can be classified as social networks.
Have you thought about TikTok?
Or considered Reddit?
What about Quora?
Don't just go for the social networks with the biggest audiences; pick the ones that work best for your business.
2. Find the right network for your audience
Don't choose the same social network no matter what role you're recruiting for. Instead, you need to find out where your target audience spends most of their time.
For developers, that could be GitHub. For salespeople, that might be LinkedIn. For marketers, that might be Twitter.
If you're not sure, ask existing employees in similar roles which social networks they use the most. Or if it's a completely new department, ask people in your network which channels they prefer. You can even google the type of job and see which channels most job postings appear on.
3. Personalize your approach
I recently received a LinkedIn message asking whether I'd be interested in chatting about development opportunities. Nowhere in my LinkedIn profile do I mention programming. This was a case of the recruiter using a program to automatically filter by criteria such as university and not looking at my profile.
This is a slightly more refined approach of "spray and pray," whereby a recruiter sends as many connection requests or emails as they can in the hopes that something sticks.
Recruiting is not a numbers game; it's about personalizing your approach. If you're going to send potential candidates an unsolicited message on social media, you need to have done your homework.
Show that you've read their profile. Include information that you've gleaned from their social media account in your message. Make it a personal message rather than just a template that you send everyone.
Candidates can smell a mass messaging campaign a mile away, and your social media recruiting campaign will have dire results.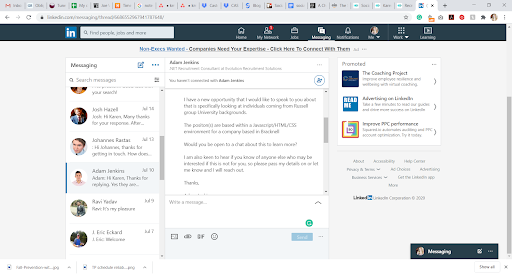 4. Use your own social media pages wisely
Often, recruiters think about social media as an outreach tool. But that outreach tool misses out on one of the most important recruiting strategies for attracting candidates: creating an employer brand.
You can use your social media pages to create an image of your company that will get potential candidates lining up to apply for your open positions.
Here are some tips to use your social media page as a recruitment tool:
Emphasize perks and benefits
Use a tone of voice in line with your business brand
Post relevant content in line with your values
Be helpful
Publicly congratulate and reward your employees
Show your support for causes you care about
Get everyone involved — ask employees to share content, too
Feature user-generated content to showcase your impact on customers' lives
While B2C companies working in more on-trend industries might find this easier, even if you sell printer paper, you can still showcase why your target audience should want to work at your company.
Consumer goods company Upfield does a great job of showcasing its values and providing helpful, useful, and informative content while also showing its fun side.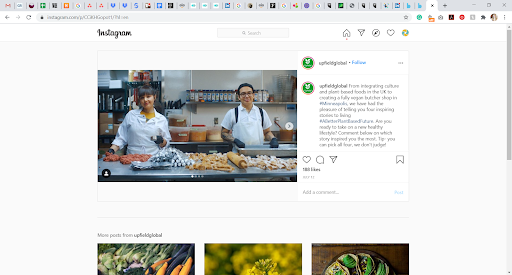 5. Test and measure
As with any other recruiting strategy, it's difficult to get this right the first time. That's why you need to track the success of your social recruiting campaigns.
First, define your objectives and what you're looking for from these campaigns. Then, set up metrics that you plan to track. Here are some metrics to consider:
Source of candidate
Time to hire
Time in each stage
Drop-out rate per stage
Using a recruiting solution or applicant tracking tool will make your life much easier. The benefits of an applicant tracking system (ATS) are that you can automate this process, use more accurate and complete data, and save time creating reports manually.
Zoho Recruit ATS provides a ton of built-in reports and analytics to track the performance of your recruiting efforts and identify areas where you can improve.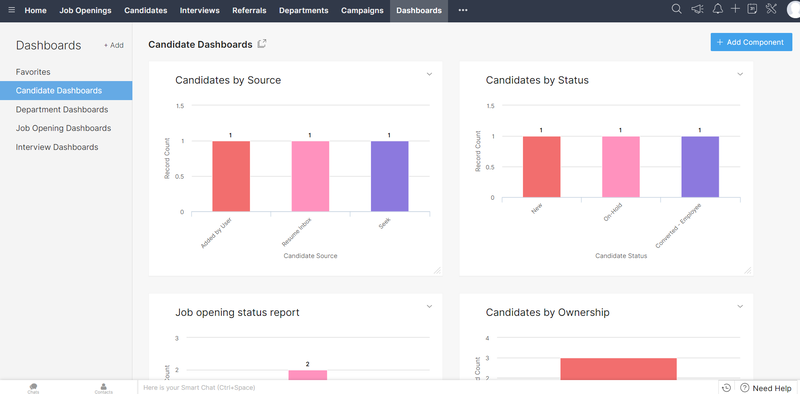 6. Get help from marketing
Using social media recruiting as part of your talent acquisition strategy is a lot like marketing and community management.
You need to create a brand, identify your target audience, tailor the channels you use and your tone of voice to this audience, and nurture candidates down the pipeline (the candidate pipeline rather than the sales pipeline).
It's not a recruiting idea that requires straight-up sales; it's a subtler approach, which is why you should get your marketing department involved. Ask them which channels work best for your audience and which metrics you should track.
Get their input on the copy you send to potential applicants and the tone of voice you should use.
---
Gain trust and build relationships
Candidates are more than just keywords or search results, so get to know your candidates before you get in touch with them. Find out what they are talking about on their social media profiles and research what they care about.
Then, think about whether that matches up with the company and job on offer. An environmental activist might not want to work for an airline. And if you're going to get in touch with them, you need to be mindful of this and tailor your approach.
Remember: Potential candidates are people, not just a number on your list.